6 Largest Cities in Colorado
Want to move to Colorado? Well, firstly you've got great taste and there's 5.94 MILLION people living in Colorado who'd probably agree with us on this. Now there's several reasons why people move here, the most obvious one is for the love of staying outdoors! Whether you like to hike, swim, fish or climb, Colorado has something that quenches the thirst of outdoor lovers.
The mountains of Colorado surely get to take credit for this (yes, there's 15 mountain ranges running throughout the state!). Mount Elbert, and Pikes Peak are just a few of the famous ones that draw people in. Also, farm-to-table food and staying fit is the lifestyle that Colorado endorses.
If you resonate with these few things about Colorado but confused about which city you'd fit right into? Worry not, because we've lined up some interesting options for you.
Largest Cities To Live In Colorado
1. Denver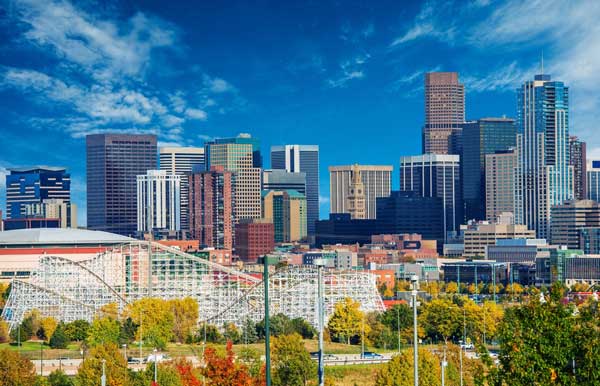 City Overview
The city of Denver sits at an elevation that's exactly one mile above sea level and is hence popularly called 'The Mile High City'. It is the star city of the state and even the capital. An attitude or energy that you're sure to experience in Denver is that people love being outdoors. There's a crazy enthusiasm about exploring the world outside four walls. You can surely grow to love the city's energy if you love activities like skiing, hiking, cycling or anything that's sure to give you an adrenaline rush.
The city is also oftentimes recognized for having a large composition of young adults. To give you the stats, believe it or not but 23% of the city's population fall in the age of 25-34 years. Now that's even more young people than both New York and Los Angeles can get to boast of! Several reports even proclaim that Denver is for the young and the vibe here attracts millennials and those young at heart.
Another reason why young people are attracted to Denver is because there's ample jobs, to the extent that Denver is called to be the 'Wall Street of the West'. Denver also gets plus points for having great intra-city transit options. For instance, the light rail is the lifeline of the city and makes it easy to get around without a car.
Upsides
The spirit of the city of Denver is adventurous, there's plenty of outdoor and recreational spots like the Red Rocks Amphitheatre and the Rocky Mountain Arsenal National Wildlife Refuge. The way of life is vibrant since it is the hub and most populated city in Colorado.
Downsides
The city can be slightly touristy since loads of people flock to explore Denver if they choose to visit Colorado. The dry climatic conditions can be extremely uncomfortable, losing moisture from your skin and feeling dehydrated is common.
Quick Facts
Population – 2.8 million
Median Value Of Home – $390,600
Median Rent – $1,311
2. Colorado Springs
City Overview
Colorado Springs is the second-most populated city in the state of Colorado and is another preferred city that people flock to reside in. A common thread that draws people to the city is that there is easy access to mountains, especially the majestic Pikes Peak. If you choose to live here, the mountains are always going to be there, sitting still and forming the backdrop of the city.
The city is also home to other natural landscapes like the Garden of the Gods. This is a super fun place to maybe take your dog for a walk or go on a challenging hike. The place truly looks like it could fit right on the National Geographic's front cover. It can be crazy to digest that such a place exists in the first place and second is that you get to live in such close proximity to it.
Colorado Springs is situated an hour's drive away from Denver. Something to remember is that it isn't as big as Denver so it lacks few of the modern conveniences that Denver has to offer. You can consider Colorado Springs to be a mid-size city that's still growing in numbers.
It still does have its own trendy places to eat and plenty of festivals. It's also more affordable than Denver. Most residents feel that it is slightly conservative too; for instance you'd find plenty of churches and close-knit community run activities.
Upsides
Everywhere you go, you get to capture the beauty of mountains. Residents here also have quick access to lakes for camping, trails and tons of greenery.
Downsides
The city is situated 6,000 feet above sea level, so the elevation can take a toll on you. You have to give yourself time to get used to it. Nose bleeds, dry skin, and feeling breathless is something that new residents need to learn to overcome.
Quick Facts
Population – 668,000
Median Value Of Home – $269,800
Median Rent – $1,131
Also See: Best Neighborhoods in Colorado Springs for Families | Top 7 Neighborhoods In Colorado Springs For Singles And Young Professionals
3. Boulder
City Overview
The city of Boulder is largely a college town since it is home to the University of Colorado which is the largest university in the state. The campus attracts thousands of students and this increases the number of young people occupying Boulder and its streets. It should come as no surprise that many of the stores and activities here are oriented towards students.
The communities in Boulder are also known for being proactive regarding matters that affect people's health and the environment. You'd easily find that a larger number of people like to give importance and are preoccupied in activities that encourage staying fit and active. This is probably because there's an impressive amount of things to do outdoors in Boulder.
Overall, if you personally feel that you'd like to live in a city where the sunshine is plentiful and there's an incredible number of bike lanes and equal number of trails (like Flagstaff) to explore, Boulder is a great pick for you.
Upsides
The scenic landscape in Boulder is unbeatable. You get to live in close proximity to Flagstaff mountain, Flatirons and Eldorado Canyon State Park. There's all kinds of outdoor communities. You can join cycling groups, kayaking, hiking groups, and even rock climbing communities.
Downsides
The city of Boulder is built for outdoorsy and young people. It might lack the diversity of Denver where there's a good composition of people of all ages and at all stages of life. It's also pretty expensive to live in Boulder compared to the affordability of other cities.
Quick Facts
Population – 105,003
Median Value Of Home – $700,000
Median Rent – $1,554
4. Aurora
City Overview
Aurora is the third-largest city in the state of Colorado. The city shares a ton of similarities with Denver, almost as if it's a smaller-sized replica of the capital city. It sits to the east of Denver and residents here have access to all types of modern amenities. So if you choose to live here, you'd have easy access to the light rail, buses, and even the Denver International Airport, which is just 15 minutes away from the city center.
Also, the personality of Aurora is such that you'd find both local eateries and international food stores in the same locality. There's equal importance being placed on both community and big brands. There's also a good number of notable companies that have their base in this growing city. Boeing and Panasonic are the most recognizable companies among others. Aurora is also home to a massive number of healthcare-related organizations.
Upsides
You get to commute easily into Denver for jobs as it isn't too far away, although Aurora itself also has a decent standing in terms of jobs. Residents here have quick access to lively recreational spots such as the Aurora Reservoir and Cherry Creek Reservoir which also has small-sized beaches!
Downsides
The city is huge and there could be neighborhoods that are run-down or sleepy. You've to be careful of the locality you pick as not every part of Aurora gets points for a good standard of living. Dayton Triangle, Meadow Hills, Park Villas, and Heather Gardens are some of the best neighborhoods to choose from.
Quick Facts
Population – 388,732
Median Value Of Home – $290,000
Median Rent – $1,328
See Also: Top 5 Neighborhoods in Aurora for Families
5. Fort Collins
City Overview
It's easy to see why Fort Collins continuously ranks well on various lists. This city has been ranked on lists that name 'the best place to live in America', 'best biking towns', 'best city to raise a family' and even young professionals! The fact that it makes it on several lists says a lot about the standard of living it offers.
Location-wise, it's situated far away from the three biggest cities in Colorado which is Denver, Boulder, Aurora, and it still manages to be one of the most desirable places to live in. Do note that geographically, Fort Collins doesn't lie in close proximity to the mountains like the other cities on this list, but the mountains are always a short drive away.
Fort Collins is home to tech giants like Hewlett Packard, AMD, and Intel. In terms of the culture and lifestyle, you'd find that residents are into biking because of which there's over 200 miles of protected bike lanes. Fort Collins is also a pretty progressive and diverse place to reside in since it is home to Colorado State University that contributes to keeping the town atmosphere somewhat diverse.
Upsides
There's plenty of open green and natural spaces like the Pineridge Natural Area, Cathy Fromme Prairie Natural Area, and the Running Deer Natural Area. It's a top city to live in Colorado and has a bustling downtown area with a diverse economy.
Downsides
The housing cost is increasing since there's an influx of people moving into Fort Collins. It's a growing city so there's a pressure on expansion of infrastructure that does change the community-like atmosphere of the city.
Quick Facts
Population – 337,000
Median Value Of Home – $367,900
Median Rent – $1,346
6. Lakewood
City Overview
Lakewood is the sixth-largest city in Colorado and if you choose to live here, you're bound to fall in love with the beautiful lakes and the parks! Bear Creek Lake Park and William Federick Hayden are just two of the many recreational spots you can find in Lakewood. The sole reason Lakewood is a favorite place to reside in Colorado is because of the location it enjoys.
Residents here can easily plug into Denver at times when they're looking for bigger entertainment options and also reach recreational hotspots like Red Rocks in less than 20 minutes. The Denver Federal Center (DFC) also lies in Lakewood creating ample federal agency jobs for those who locate here. Overall, you can expect to have everything you need within a mile or two from your home. You won't find yourself burning lots of fuel just to find a getaway but it would most probably be right in front of you.
Upsides
The city is conveniently located from Denver and plenty of natural scenery going about for it. Lakewood is affordable, it has all the amenities of a big city and it is sparsely populated compared to all the other cities in this list.
Downsides
The city can come across as commercial to an extent. There's plenty of malls and big-box establishments setting up camp in Lakewood because of which the community-like atmosphere of Lakewood has reduced. This could be a downside if you don't like being surrounded by retail and shopping centers.
Quick Facts
Population – 160,441
Median Value Of Home – $364,800
Median Rent – $1,361
Who Is Colorado Ideal For?
Colorado has lots of natural landscape and lies in close proximity to the mountains, so this makes it ideal for outdoor enthusiasts. Are you looking for an active lifestyle? Then Colorado could be it.
Final Thoughts
It can be hard to separate the outdoors from the cities in Colorado. All the largest cities lie in close proximity to beautiful natural landscapes. Most cities also have the mountains for their backdrop.
Fort Collins, Denver and Colorado Springs are the top-tier cities that people consider first. It's easy to notice that none of these large cities are situated on the eastern side of Colorado or the extreme western side as it tends to be a pocket that's for off-the-grid living.
When it comes to pace, we've to say that the social pace in Denver is the highest and it can be slower in other cities like Lakewood, Colorado Springs, and Boulder. Now that you've a good idea of the offerings of each of these cities, we bet you can make a better choice.
FAQs
What are the top largest cities in Colorado?
Denver, Colorado Springs, Aurora, Boulder, Lakewood and Fort Collins are few of the largest cities in Colorado. Denver is the most populated city one and the state capital too.
Which is the most dangerous city in Colorado?
The city of Pueblo is ranked to be the most dangerous city in Colorado. Other cities that are considered to be rough parts of Colorado are Trinidad, Walsenburg, and Canon City.
What are the safest neighborhoods in Colorado?
Frederick, Lamar, Firestone, Cherry Creek, and Castle Rock are some of the safest neighborhoods to live in Colorado.
What are three major cities of Colorado?
Denver, Colorado Springs, and Boulder are the three major cities of Colorado.
What is the wealthiest city in Colorado?
Cherry Hills Village is one of the wealthiest cities in Colorado where the median income is almost $215,299. To add to that, the city has an unemployment rate of 3.7% and a very low poverty rate of 2.1%.
What is the prettiest town in Colorado?
Telluride is the most picturesque town in Colorado which will take you back in time when you greet the Victorian-style buildings here. This town has the most breathtakingly beautiful mountain views and plenty of outdoor activities like skiing, hiking, and snowboarding. You'll also find some of the best eateries and resorts here and still get to see mountains from every direction.
What city in Colorado has the most black population?
Aurora has the most black population in Colorado. Around 15.94% of the population here are African Americans.
What city in Colorado starts with ab?
Abarr, Abeyville, Abeyta, Abeyton, and Able are the cities with names starting with 'ab'.
What is the most dangerous city in Colorado?
Pueblo is ranked as the most dangerous city in Colorado because of its increasing violent crimes. The other dangerous cities in the state are Glendale and Alamosa.
What is the wealthiest county in Colorado?
Douglas County in Colorado can be considered the wealthiest in the entire state. The median income in this county is $119,730.
What is Colorado most famous for?
Colorado is known for its breathtakingly beautiful landscapes and outdoor activities like hiking, biking, canoeing, skiing, and whitewater rafting. You'll find yourself surrounded by beautiful mountains and you can explore the state's most famous breweries and craft beers.
Where do billionaires live in Colorado?
Many billionaires live in Denver which is one of the largest cities in Colorado. According to Forbes Real Time Billionaires List, there are around four billionaires residing in Denver including Philip Anschutz, who has a net worth of almost $10.1 billion.
What is the richest suburb of Denver?
Cherry Creek is one of the richest suburbs in Denver with a median income of almost $124,277. The other rich suburbs in Denver are Stapleton, Washington Park, Central East Denver, and Auraria.
What is the fastest growing city in Colorado?
John is one of the fastest-growing cities in Colorado with a population of almost 14,910. Apart from John, Frederick, Wellington, Firestone, and Windsor are the other fastest-growing cities in Colorado.
What is the cheapest town to live in Colorado?
Craig is one of the cheapest towns in Colorado. According to Zillow, the median home price in Craig is around $215,700 which is lower than the national median of $281,370. La Junta, Sterling, and Fort Morgan are some of the other cheap towns in Colorado.
What is the best small town in Colorado?
Holly Hills is one of the best small towns in Colorado with a population of around 2,835 people. Columbine Valley, Acres Green, and Castle Pines Village are some of the other best small towns in Colorado.
What is the best city to stay in Colorado?
Aurora is one of the best cities to live in Colorado where you'll find some of the most beautiful neighborhoods and lots of parks where you can enjoy several recreational activities. Other than that, Boulder, Castle Rock, Colorado Springs, and Denver are some of the best cities to live in Colorado.
See also: Best Places to Live in Colorado