Moving from Chicago to Dallas – Expert Tips and Advice


VanLines Inc
Secure Storage
Easy Booking Process
Fully Trained Employees
GET QUOTE

Colonial Van Lines
Storage Services
Long-Distance Moves
Corporate Relocations
GET QUOTE

Moving APT
Available Nationwide
Award-Winning Movers
Extensive Vetting Process
GET QUOTE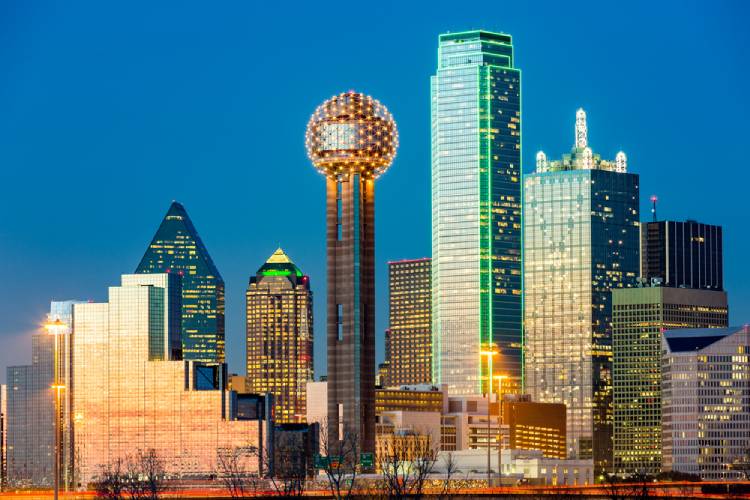 The city of Chicago offers a lot to its residents and if not for the extreme winter, many from the Windy City wouldn't even consider moving but as they say, you can't control the weather but you can clearly decide where to move and the city of Dallas is certainly a good pick. The city of Dallas is a wonderful place to build a home in because it is known for its rich cultural activities, opera, musicals, and high concentration of restaurants and shopping centers. If you enjoy the sight of skyscrapers such as Bank of America Plaza (1985) and Reunion Tower (1978) creating a mesmerizing night skyline, you'll fall in love with Dallas.
Moving from Chicago to Dallas can be a bit challenging but the Big D (no pun intended) will be a good shift for you because it will be more or less affordable and has plenty of good Tex-Mex varieties, restaurants, bars, and adorable coffee shops. It is pretty diverse like Chi-town and you are bound to enjoy the urban feel and amazing food of the city. You will find that 43.1% of Dallas are speakers of a non-English language. In 2019, the most common non-English language spoken in Dallas, TX was Spanish. Here are some of the things that will help you during this transition from Chicago to Dallas.
Factors To Consider Before Moving From Chicago To Dallas
Weather Conditions
Chi-town is a great place to live in before the winter officially begins and you are bothered by the unbearable cold. The climate of Dallas, contrary to Chicago's, is humid subtropical with hot summers. It is also continental, characterized by a wide annual temperature range. The Dallas summers are hot and muggy while the winters are cold and windy as contrary to Chicago, the weather of Dallas remains partly cloudy year-round. While summer temperatures in Chicago can fluctuate between 78°F and 92°F, Dallas temperatures in summers usually fall between 76°F to 95°F.
Chicago winters are no secret and can be harsh and long with temperatures dropping as low as 30°F to 38°F with the average annual snowfall of approximately 37 inches (949 mm). But Dallas will not hurt you as much because the winters are comparatively better in the Big D, varying between 39°F to 57°F.
Cost Of Living
Moving to Dallas will reflect well on your bank account because the overall cost of living is cheaper in the city of Dallas as compared to the city of Chicago. You would need around $5,006 in Dallas, TX to maintain the same standard of life that you can have with $5,500 in Chicago, IL which we will further elaborate in the breakdown based upon the housing, rental, and utility costs below:
Buying A House
The cost of living is largely determined by the housing cost that you would incur in any city if purchasing a house for you and your family is in the cards. According to Zillow, the median home price in the city of Dallas is around $302,809 which is cheaper when compared to the median home value of $309,268 in Chicago. The overall home value also greatly depends upon the neighborhood you decide to live in but it certainly will be cheaper upon shifting to Dallas.
Renting A House
Renting a house is the preferred way for the majority of the population residing in the city of Dallas and the rents here are also a lot more affordable when compared to many big cities. The average monthly rent for an apartment in the city of Dallas is approximately $1,423 while you were used to paying higher rental costs in the city of Chi-Town which is around $2,091. This is good news if you are a young professional or student who aren't yet ready for the commitment of being a homeowner in America.
Utilities
The overall utility expenses in Dallas will cost you less than what you used to pay in the Windy City. You will pay 8.87% less for groceries and 9.20% less for restaurant prices in the city of Dallas. According to Numbeo, the basic utilities, including electricity, heating, water and garbage, will cost you $159.6 in Dallas, the rate of which is higher in the city of Chicago – $165.38. The internet will cost you more in the city of Dallas as the average internet cost is around $62.85 while in the city of Chicago, it is a bit cheaper at $58.96 per month.
Job Market
The city of Chicago has a bustling job market with plenty of opportunities, but fear not, because the city of Dallas has a strong economy and a pretty solid job market too and it will offer you various opportunities in the field of your choice. You'll be relieved to know that the city of Dallas is third in the U.S. for highest salaries because of the many massive corporations that have made their headquarters in or near Dallas like American Airlines, AT&T and Southwest Airlines.
The city of Chicago has an average household income of $90,713 with a poverty rate of 18.39%. Due to the corporate market, the Dallas population enjoys a high income and the average household income in Dallas is $86,393 with a poverty rate of 18.94%. Healthcare is also a pretty big industry in Dallas which offers high-paying jobs and contributes largely to the economy. Other than that, customer service representatives, managers, sales representatives, assistant managers, and cashiers are some of the high demand jobs in the city of Dallas. Here are some of the companies which can probably offer you a high paying job that will help you pay your bills easily while you enjoy all that Dallas has to offer:
Bank Of America Corp.
J.P Morgan Chase & Co.
Lockheed Martin
Texas Health Resources
Baylor Scott & White Health
Haynes and Boone
Holly Frontier
Comerica
Also Read: The Best and Worst U.S. Cities for Job Seekers
Transportation
You must be used to Chicago's brilliant public transportation which, we are sure, have made your life convenient in various ways but the city of Dallas will not disappoint you in terms of public transportation. If not greater than Chi-town, we can safely say that Dallas has an equally good public transportation system which is called the Dallas Area Rapid Transit, also known as the DART. DART is DFW's largest transit network which includes 64 stations system-wide out of which 46 are located within the city of Dallas itself. DART includes light rail and bus services and is regarded as the fastest-growing mass transit network in the entire United States.
As the city of Dallas enjoys a good football culture that invites a large influx of tourists every year, it is well connected by airways too and has two major airports. The Dallas Love Field (DAL) and Dallas/Fort Worth Airport (DFW) are the two international airports connecting Dallas to the rest of the world. The Dallas/Fort Worth Airport can be considered as the major airport of the city and is also the largest hub for American Airlines.
Dallas' Strong Points
Pleasant weather.
Ethnically and culturally diverse.
Distinct and vibrant neighborhoods.
Home to the best Tex-Mex cuisines.
Affordable housing.
Top Neighborhoods To Move To In Dallas
Lakewood
Lakewood is a charming neighborhood that is located on the east shore of Dallas. It is one of the most eye-pleasing neighborhoods in the city as it is surrounded by hiking points, biking trails, boathouses, gorgeous wildflower areas, and adorable picnic spots. It is safe to say that living in Lakewood will provide you with plenty of options when it comes to outdoor activities and a wonderful environment to raise children and build a family in. If you enjoy an urban life amalgamated with suburban charm then you should certainly consider Lakewood as your future home.
Median Home Value: $791,378
Monthly Median Rent: $1,377
Deep Ellum
If you are into arts and want to move somewhere where art is appreciated and every corner is home to some kind of artistic mastery, Deep Ellum is exactly that and a lot more. Deep Ellum is widely popular for its indie music scenes, stunning galleries, and vibrant comedy scene. Art and its history run pretty deep in Deep Ellum which was earlier known as 'Deep Elm' because it was centered around the famous Elm Street. It is one of the edgiest neighborhoods in Dallas with its colorful murals, multiple thrift shops, and diverse population making it a fun choice to carve a home in.
Median Home Value: $302,809
Monthly Median Rent: $2,043
Oak Lawn
In the heart of a thriving queer scene, an inclusively vibrant community, and the upscale Cedar Springs road, Oak Lawn is a beautiful and fancy neighborhood that can liven up anyone's spirit with its wonderful music, karaoke venues, drag shows, and country and western dancing. Very conveniently close to public hospitals and transportation, Oak Lawn is a perfect neighborhood for young individuals and families as it possesses various good schools, safe places, and outdoor activities.
Median Home Value: $302,809
Monthly Median Rent: $1,876
Uptown
Almost every American city has a neighborhood called Uptown and it lives up to its name. The neighborhood of Uptown in Dallas is exactly how it sounds. It is a luxurious neighborhood with shops and boutiques known for their high-end fashion and accessories. It has some of the best restaurants, vibrant nightlife and bars along with various options when it comes to outdoor activities too. Uptown has an impeccable safety rate because it has a dedicated public safety program including cameras, monitored 24 hours a day by the local police department. It is especially preferred by renters as most of the population rents out their homes making it a renter-friendly neighborhood.
Median Home Value: $699,000
Monthly Median Rent: $1,845
Greenland Hills
If you enjoy the old-world aesthetics and the facilities of contemporary neighborhoods, Greenland Hills can be an ideal place for you. Greenland Hills is also known as M Streets because the majority of its street names start with the alphabet 'M' and has been a loved and preferred neighborhood by its residents for decades. Greenland Hills is conveniently close to everything you might need for a comfortable life.
The Hills are located just east of 75 Central Expressway and south of Mockingbird and offer centralized access to prime locations such as Lower Greenville, the Katy Trail, Knox-Henderson, and Glencoe Park. The neighborhood of Greenland Hills also has a wide selection of restaurants, bars, pubs, shops, coffee houses, specialty food stores, walking trails, parks, not to mention a thriving nightlife like all the other neighborhoods on this list.
Median Home Value: $850,000
Monthly Median Rent: $1,423
See Also: Top 5 Neighborhoods in Dallas for Singles and Young Professionals
Things To Take Care Of When You're Moving From Chicago To Dallas
You might experience huge traffic jams while traveling in the Big D.
Dallas is a city prone to tornadoes, so you should be careful.
Your mobile bill might be more expensive in Dallas as compared to Chicago.
The Dallas heat can be excruciating, so keep yourself hydrated.
Some areas in Dallas have a relatively high crime rate so you should look out for your personal safety.
You might face occasional hail storms too, so be careful while driving in such weather.
Chicago to Dallas Moving Costs
Moving from Chicago to Dallas is a long-distance one so keep in mind that it will cost you a handsome amount of money, much more than a small or inter-state move. You will need all the help you can get and nothing better than having professionals overlook your move. Though the moving costs can vary greatly based upon factors such as the moving company, the size of your place and even the time of your move, it can cost you roughly from $1,700 and go as high as $6,000. So, a better idea will be to get estimates and quotes from various licensed, bonded and reputable moving companies before making your choice.
See also: Best Moving Companies in Chicago
Conclusion
Hot and cold are the two extremes and you have decided to move away from the Chicago cold to experience the Dallas heat. If you are a summer person, it can be good for you as long as you have plenty of sunblock and breezy clothing. You will enjoy a vibrant and historic city and we are hopeful that you will make the best of it. Just plan your move carefully and always be cautious before making any big decision or purchase and you shall be fine.
FAQs About Moving From Chicago To Dallas
Is Dallas Safer Than Chicago?
Chicago has all the glamor, hustle and bustle of a big city but it comes with a price and that price is the high crime rate of Chi-town. However, Dallas is comparatively safer and has pleasant weather too. Overall, Dallas is a safe city but even the safest cities have dangerous neighborhoods like South Dallas, Fair Park, Oak Cliff, Pleasant Grove, and parts of East Dallas, North-West Dallas, and North-East Dallas. Just be cautious around these neighborhoods and you should be fine.
Is Dallas Hotter Than Chicago?
You are escaping Chicago's winter but let us warn you that Dallas has really hot summers that can be bothersome if you aren't a fan of the heat. Dallas has cruel, humid, and long summers and it gets a lot hotter as compared to Chicago during its summer season.
Is Dallas Worth Moving To?
We are hoping that this detailed article has an answer to this precise question but to summarize, Dallas certainly is worth moving to if you want a place with warm weather, an affordable cost of living, and safe neighborhoods. The city of Dallas certainly is a nice city for families and young professionals alike.
See also: Moving from Houston to Dallas | Moving From Los Angeles To Dallas | Moving from Chicago to San Diego | Moving From Seattle To Dallas | Moving from Chicago to Denver | Moving from Chicago to Los Angeles