Moving from Chicago to Denver – Expert Tips and Advice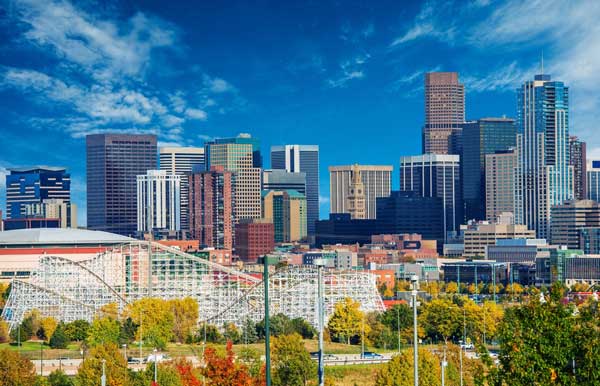 The city of Denver needs no introduction and the fact that it earned the nickname "Mile High City" owing to its high altitude positioning is reason enough to plan a move here. A switch from the dense corporate structures (literally and metaphorically) in Chicago to relatively calm and eye-soothing greenery is something that is bound to cross one's mind at least once in their lifetime. If the same is the case with you, let us give that thought some more wings by painting the image of life in Denver for you.
Factors To Consider Before Moving From Chicago To Denver
Weather Conditions
Both Chicago and Denver enjoy four distinct seasons making them ideal all-year-round locations weatherwise. While Chicago experiences cool ocean currents thanks to Lake Michigan, Denver experiences a continental semi-arid climate owing to its location. The city of Denver positions itself on the High Plains and at the base of the Rocky Mountains thus, experiencing erratic climate occasionally.
Summers in Chicago are bearable but are characterized by frequent heatwaves. If we talk about summer weather in Denver, the city experiences warm to hot weather conditions with occasional intense heat. Temperatures rarely cross the 100°F mark around here since the neighboring mountains help bring down the heat a few notches. To help you get a better understanding of the weather in both cities, below is a comparison between the two.
Here's the difference in temperature that you can expect during peak winters:
Chicago in January (the hottest month) – Average daily temperatures range from 21°F to 30°F.
Denver in January (the hottest month) – Average daily temperatures range from 20°F to 41°F.
Both Chicago and Denver stand on equal footing when it comes to winter weather. The reason behind Chicago's cold nature is the polar outbreaks from time to time. Meanwhile, Denver is no stranger to freezing temperatures complemented by more than enough snowfall with temperatures reaching the 15°F mark at times. If you have a knack for outplaying your friends in winter sports, Denver might just be the stage you're looking for!
Here's the difference in temperature that you can expect during peak summers:
Chicago in July (the hottest month) – Average daily temperatures range from 71°F to 82°F.
Denver in July (the hottest month) – Average daily temperatures range from 61°F to 87°F.
Few Things To Bear In Mind About Denver Weather:
You might experience occasional thunderstorms in the Mile High City during the summer season.
Denver experiences ample snowfall registering up to 20 inches of snow each month during winters.
You might not experience your usual sunny spring season as the city keeps reminiscing about the winter weather thus leaving trails of cold climate around this time too.
Cost Of Living
According to BestPlaces, your life in Denver will be slightly on the expensive spectrum as compared to that in Chicago. To give you a number, Denver is 19% more expensive than Chicago and the major reason behind this is the housing rates which are punching the ceiling every chance possible. To give you an in-depth look at it, below is a comparison of different housing aspects and the expenses that come with it in the two cities.
Buying A House
If you are looking to own a property in the vibrant city of Denver, you might have to cash in your savings for this as the house rates in the city are no joke. Though you will have no regrets once you buy a new abode in the city, you must prepare to go from a city (Chicago) with fairly less house values to a city (Denver) with unapologetically high rates. Given below is a comparison for the same.
Median Home Value in Chicago: $320,010
Median Home Value in Denver: $609,150
Renting A House
There is no denying that renting a house in Chicago and Denver will certainly cost you more than the majority of the US cities. However, if we pit these two cities against each other, rent prices in Chicago are more expensive than that in Denver. Keeping the national average rent of $1,650 as a reference, you will splurge about $2,110 in Chicago while the same will cost you about $1,890 in Denver.
Utilities
Coming down to the very basics of life, your utility expenses will be the driver of your economic car in the city. Your monthly utility bills (Heating, Water, Electricity, and Garbage) in Denver are almost similar at $160 as compared to Chicago's $163. While a gallon of milk in Chicago will cost you about $2.99, the same will see you spend $2 in Denver. A carton of eggs in Denver cost $1.85 as compared to $2.22 for the same in Chicago.
Healthcare in Denver is about 5% higher than the national average while the same is just 1% higher than the national average in Chicago. Given the overall cost of living in both cities, healthcare is still relatively cheaper than in other metropolitan cities.
Also read: 6 Largest Cities In Colorado
Job Market
The capital city of Colorado plays a significant role in uplifting the state's economy. The city of Denver isn't limited to just one particular industry driving the economy. It has a stronghold in multiple sectors, each playing its role and helping the city maintain its position among the top economies in the country.
Diving a little deeper into the economic pages of the city, energy and high-tech industries are the frontrunners of this booming economy. Being ranked among the top 10 technologically talented cities in the entire nation, Denver sees a large influx of tech firms and telecommunication companies looking to expand their reach.
Apart from this, the city also owes its success to a lot of chain restaurants that have not only revitalized the economy but also put Denver on the map for top food destinations in the country. Your favorite toasted submarine sandwich provider Quiznos also has its base in Denver. Some other key industries in the city include aerospace, healthcare, bioscience, and broadcast services. So, if you are seeking employment in this diversified economy, here's a list of the largest employers from which you can start your search.
Some Of The Largest Employers In Denver Are:
DaVita
Denver Public Schools
Western Union
Dish Network
Arrow Electronics
Re/max
ING Security Life of Denver
Omaha Holdings
Virgin Media
Qwest Communications
Speaking of unemployment rates, you will see an obvious difference between both these states. As of March 2022, the unemployment rate in Chicago stands at 5.80% while the same in Denver is at 4.30% and is steadily decreasing too. Considering the national average unemployment rate of 4%, Denver isn't too far off which is not the case with Chicago.
Before we conclude this section, here is a quick comparison between the average Household Income In The Two Cities:
Median annual income in Chicago (According to Payscale)- $74,000
Median annual income in Denver (According to Payscale) – $73,000
Transportation
When it comes to getting around in the city of Chicago, the Chicago Transport Authority takes good care of its residents by providing one of the best public transportation networks the country has ever seen. The Metra railroad service is the most prominent commute option for the people of Chicago.
Speaking of the Mile High City, Denver is one of those places which will actually make you feel good about not owning a car. Not that this city despises the concept of cars and private vehicles, it's just easier to get around Denver on foot (thanks to all the popular and essential spots being within walking distance). For the part where you cannot traverse merely by walking, the city's public transportation network takes care of you in that aspect. Let us take a look at all the options you will have when it comes to getting around in the city.
Light Rail: A robust network of nine rails serving more than 50 stations, this is the most commonly used public transport in the city. An average one-way trip will cost you around $2.60.
Bus: The Regional Transportation Department runs the show when it comes to bus services in Denver. It has nearly 120 bus routes under its belt of operation with buses running round the clock all days of the week. The bus fare may vary depending on the distance you wish to travel.
Biking: A bicycle-friendly city, Denver has several bike paths that which you can use to commute to your favorite spots in the city. The city ranks among the top 5 bike-friendly locations in the country.
On Foot: Easily the most common means of traveling in the city is by walking. It is the 16th most walkable large city in the entire nation!
Denver's Strong Points:
Booming tech industry.
Plenty of green spaces.
A dream location for craft beer lovers.
Ideal weather conditions all year round.
Great place for a variety of outdoor activities.
Top Neighborhoods To Move To In Denver
1. Washington Park
One of the best places to call home is this little greenery-filled neighborhood called Washington Park. Your outdoorsy nature will have enough room to spread its wings as this region has ideal climatic conditions to enjoy a quiet, peaceful evening. Its close proximity to the renowned Washington Park makes it a popular residential location for many. It has the perfect mixture of a calm, free of hustle-bustle space with many hip bars and restaurants just around the corner. The house rates in this part of the city run a little high so if you can afford to splash some extra bucks, there is no better place than Washington Park!
Median value of homes: $1,200,000
Monthly median rent: $1,900
2. Capitol Hill
Despite being one of the oldest and historically rich neighborhoods of Denver, the affordability in Capitol Hill makes it an amazing relocation destination. This neighborhood is largely occupied by singles and young professionals looking to spend their 20s and early 30s in a vibrant and hip neighborhood. The area has a lot of top-notch bars and restaurants that keep the nightlife bustling year-round. The neighborhood is also lined with picturesque vintage buildings that hold great historical value. You can also enjoy the beautiful sights of the Colorado Capitol building and the Denver Art Museum here. The only drawback in this part of the town is the lack of parking space since it is a densely populated neighborhood.
Median value of homes: $342,500
Monthly median rent: $1,800
3. Cherry Creek
There is always this one neighborhood that stands out from the rest and is usually way more expensive than the others. Cherry Creek takes that crown in the city of Denver. Your dream to live a lavish lifestyle that involves a random shopping spree at three in the afternoon will come to fruition right here in Cherry Creek. The high-end boutiques and shops are the cherry on top of the already interesting neighborhood. Owing to its location, you might feel the need to have a car from time to time in this part of the city. Apart from that, this area is the perfect place to live an elegant lifestyle.
Median value of homes: $900,450
Monthly median rent: $2,080
4. Five Points
Contrary to the name, there are more than five reasons for you to move to this neighborhood. One of the many reasons to live in this part of the town is the excellent jazz scene. Jazz lovers, you might want to be a part of the Five Point Jazz Fest held every year in this neighborhood. Though the River North Art District, also known as RiNo is a separate neighborhood of sorts, it is still counted as a part of Five Points. RiNo is the epitome of nightlife in Denver and has the vibe to prove it. So, if you are a youngster looking for a hip culture, Five Points is the place for you.
Median value of homes: $620,300
Monthly median rent: $2,290
5. LoDo
A neighborhood filled with major attractions like Larimer Square, Union Station, and Coors Field is definitely one of the best places to move to in Denver. Short for Lower Downtown, LoDo is known to hustle in the morning and chug beers during the night. With all kinds of amenities and easy access to other parts of the city, the prices in this neighborhood will make you dig a little deeper. But every dollar put down here is worth it and you will have no complaints in any regard whatsoever.
Median value of homes: $720,200
Monthly median rent: $2,415
See Also: Top Neighborhoods In Denver For Families | Popular Neighborhoods In Denver For Families
Things To Take Care Of When You're Moving From Chicago To Denver
The distance separating the two cities is exactly 1000 miles and what that means is a DIY move is completely out of question. It is a great opportunity to pass over the stressful responsibility to someone else and who better than a professional moving company?!
But before you shake hands with the first company you come in contact with, it is wise to get at least three moving estimates from various companies to know what rates are going around in the market currently.
Do a complete background check on the company, right from its licensing to customer reviews and feedback regarding its modus operandi.
Once you have zeroed in on a particular company, ask whether they have any hidden costs which you might incur at a later point of time during the move.
Now that everything has been taken care of in terms of hiring, look for ways to save a few extra bucks. You can consider selling some old items, packing your belongings by yourself, etc.
Planning & preparation is key and hence you will need to schedule your move well in advance to build your entire moving process around that date.
Chicago To Denver Moving Costs
Moving is a strenuous process and when you add exorbitant moving costs into the mix, all hell breaks loose. To keep your expenses in check, it is important to know what the total expense of your relocation process is going to look like. The move in question, that is Chicago to Denver will cost you around $2,875 on average. However, this cost depends on multiple factors like the location, services you avail of, cargo space that your items acquire, etc.
To make sure you don't break the bank on moving costs, prepare a solid moving budget in advance and take an unbreakable oath to stick to it no matter what. Trying various cost-effective methods will see you save a ton of money one dollar at a time. Consider moving during off-peak season to avoid surge charge!
See also: Best Moving Companies in Chicago
Conclusion
Now that you have got the gist of life in Denver, there is absolutely nothing that can stop you from starting your life in the Mile High City as soon as possible. Whether you love a quiet "me-time" of a city or the fast-paced hustling nature of a city, Denver makes sure you get the best of both worlds!
FAQs About Moving From Chicago To Denver
How Much Would It Cost To Move From Chicago To Denver?
An average move from Chicago to Denver will cost you anywhere around $2,875 on average. You can bring down this cost by implementing multiple cost-effective methods during the entire process.
Is It Worth Moving To Denver?
If living in a capital city that has fewer cars and more walks, high elevation and gorgeous landscapes excites you, then moving to Denver is worth every penny you spend on it.
Is Denver More Expensive Than Chicago?
If we talk with respect to housing, living in Denver will be more expensive than in Chicago. Otherwise, the everyday cost of living in both these cities is almost similar.