Moving to Ohio | 2022 Cost of Living and Relocation Tips


VanLines Inc
Secure Storage
Easy Booking Process
Fully Trained Employees
GET QUOTE

Colonial Van Lines
Storage Services
Long-Distance Moves
Corporate Relocations
GET QUOTE

Moving APT
Vetting Process
Award-Winning
Available Nationwide
GET QUOTE
Our Take
Price
Rating
Minimum Shipment Size
Storage
Booking Deposit
Cancellation Policy
Quoting Options
Discounts

Best Overall Value


GET QUOTE

2+ bedrooms




Free 30 Days




10%

Free up to 72 Hrs

Phone / FaceTime / Text

Senior / Same day Booking

Best Industry Reputation


GET QUOTE

1+ bedrooms




30 Days




20%

Free up to 72 hrs

Phone / Facetime

Seniors Discount

Best Customer Service


GET QUOTE

1+ bedrooms







Free up to 72 hrs

Phone / Virtual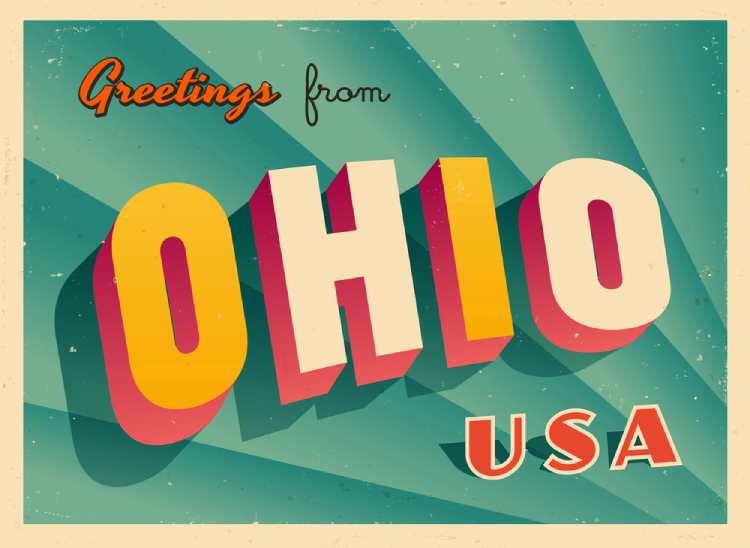 The state of Ohio is located in the east-north central region of the Midwestern United States. It is the seventh most populous state in the nation and is filled with wonderful possibilities. It has pockets of island life, cosmopolitan lifestyle, moderate size metro areas, rural small-town retreats, the Appalachian mountain range and a countryside with Amish culture.
When residents are looking for a cosmopolitan way of living, they can easily turn to the 3C's – Cincinnati, Cleveland and Columbus. At the same time, a 3 hour drive in any direction can help them escape the cities to lounge in the company of breath-taking meadows, rolling hills, forests, rivers, lakes, beaches, caves, cliffs and even islands.
Ohioans don't just take pride in the balance of their landscape and cities, but also on the fact that they've left an indelible mark on the nation with their creations. Some of Ohio's notable concepts that the world is probably extremely grateful for is the Man Of Steel 'Superman', Quaker Oatmeal, the American hot dog and Steven Spielberg for Jurassic Park. Did we mention they also invented the canned potato chips 'Pringles'? Let's not forget, King Lebron James is also from Ohio!
The Buckeye state has also been constantly ranked to be one of the best places to live, start a family and run a business. Now, we're sure you aren't completely convinced to move to Ohio by just hearing about the state's selling points. But by making the above statements, we just wanted you to know a little bit more about what makes up the state's profile. Since you're considering moving here, let's move on to acquainting you with the other aspects you should know about.
Weather In Ohio
The state of Ohio has four distinct seasons. In a nutshell, residents get to enjoy the typical eastern midwest weather. By this we mean, the summers are hot and humid, winters are chilly and pleasant conditions are in spring and fall. Below is a short description of the seasons to give you a rough estimate of the temperatures.
Winters (end October to mid March) – Winters in the state of Ohio are usually mild with days where you'll find dumps of roughy 2-5 inches of snow that melt the next day. It doesn't stay intensely cold for days in a row, but the temperature bounces from 40F-20F. The only month where the state does see a lot of snowfall is January, which is the coldest month. However, winter in the northeast portion of Ohio is comparatively rough (around 8-10 inches of snow). But this means you can head North to hit the snow filled slopes to ski and snowboard.
Summers (June through August) – Summers in Ohio are hot and humid. Temperatures range on an average around 70F-90F. On occasional peak days (like in July), the temperature could possibly soar above 90s. The state is also prone to thunderstorms in the summer but aren't that severe or destructive. Residents actually look forward to the mild thunderstorms that help cool down the land. Lake Erie and Cedar point are popular summer spots that tourists and residents rush towards.
Spring (mid March to end May) – Spring is the time when the climate begins to play with everyone's emotions. There could be days when it's as warm as summer (around 80F) and then the temperature could drop to roughly 35F-40F on the same day. The regions in the North, for instance Cleveland would receive colder temperatures (30F-40F). While Cincinnati in the South would enjoy (35F-55F). Ohio also gets a good amount of rainfall (around 4-5 inches) during the spring. However, residents are grateful to enjoy the longer hours of daily sunshine.
Fall (September and October) – Autumn is the most pleasant time of the year for Ohioans and temperatures range around 50F-80F. To catch peak foliage, visitors and residents make visits to Cuyahoga Valley National Park, Berea Falls and Lake Erie islands. People also visit several pumpkin patches and corn mazes at this time.
See also: Most Sunniest Cities in the US
Transportation In Ohio
Roadways
The state of Ohio shares its border with Pennsylvania to the east, West Virginia to the southeast, Kentucky to the southwest, Indiana to the west and Michigan to the northwest. To help residents and visitors connect to these 5 neighboring states, Ohio does have an extensive network of both state highways and interstate roadways in place.
Below is a brief introduction to the main interstate roads that are most frequently used:
The interstate highways that run in the North-South direction include:
Interstate 71 – This road serves both Kentucky and Ohio. Helps residents connect to major cities like Louisville, Cincinnati, Columbus, and Cleveland.
Interstate 75 – This road in Ohio crosses into Michigan and Kentucky. Hence, giving access into two neighboring states.
Interstate 77 – This route goes all the way from South Carolina to North Carolina, covers parts West Virginia and then links itself to Ohio.
Interstate 275 – A full beltway that serves as a link between Kentucky, Indiana and Ohio.
Some of the other Major east-west routes include:
Ohio Turnpike – serving as a connection to Illinois, Chicago and Pittsburgh, Pennsylvania.
Interstate 76 – Running from Ohio all the way to New Jersey in the east-west direction.
Interstate 70 – Providing Ohio access to Indiana and West Virginia.
See also: Ohio DMV Change of Address
The state in its entirety doesn't have a public transit system. However, in the big metropolitan cities like Cincinnati, Columbus and Cleveland, residents use ridesharing apps, car rentals, bike share services and humble bus services. Few downtown areas are pedestrian-friendly so you can also always choose to walk. For instance, downtown Cleveland is a highly walkable place and is considered 'a walker's paradise'.
Airports
Ohio has a handful of what people define as 'medium-size airports', since it doesn't really have huge shopping outlets, chain restaurants or tons of terminals. The four most-travelled international airports include:
Cleveland Hopkins International Airport – Serving Cleveland and the surrounding areas, Cleveland Hopkins happens to be the largest and busiest airport of the state.
John Glenn Columbus International Airport – It's definitely the most accessible one from the city of Columbus.
Dayton International Airport – This one is particularly convenient for those occupying the southwestern part of the state.
Rickenbacker International Airport – Once again, closest to those residing in the Columbus area.
Railways
Amtrak, which is the passenger railroad service that serves most of the cities in the United states has 2 major train services running through the state of Ohio that goes by the name 'Capitol Limited' and 'Cardinal'. And in total, the whole state has 6 Amtrak train stations. Below is a short snippet of these two train lines
The Capitol Limited – Major stops are Washington D.C., Pittsburgh and Chicago. Ohio stations include Alliance, Cleveland, Elyria, Sandusky and Toledo.
The Cardinal line – Major stops are Chicago, Indianapolis, Charleston in West Virginia, Alexandria, Washington DC, Baltimore, Philadelphia, Newark and New York City. Ohio station includes just Cincinnati, Union Terminal.
Job Market In Ohio
The job market of Ohio is a powerhouse of several booming industries that have a strong foothold in the state. But to keep things simpler, we've limited it to a few of the dominant sectors so that you can have a rough idea of the ones that are presently leading the economy. So, Ohio's largest sectors are transportation, manufacturing, healthcare and the education sector. The other top performing industries are retail organizations, insurance companies, banks and technical services.
To give you more perspective, here is a list of some of the largest employers of the state:
Cleveland Clinic Health System (a medical center)
The Ohio State University (higher education)
JP Morgan Chase (bank and financial service)
Nationwide (insurance company)
Kroger (classic multinational retail company)
OhioHealth (healthcare provider)
Honda Motor Company (automobile manufacturer)
Procter & Gamble (classic multinational consumer goods company)
Best Buy, Amazon, Wendy's, Walmart, The Home Depot, Target, Bath & Body Works, Goodyear Tire & Rubber, AK Steel, Abercrombie & Fitch also have major distribution centers in Ohio.
Well, this is Ohio's economy at a glance. If you're considering moving to the state, chances are, with such a diversified compilation of employers, you won't struggle to find lucrative job opportunities in a career path you desire.
Renting
According to reports by HomeSnacks, the average median rent of houses in Ohio is $1,095, while the national average is roughly $1,650 (so that's a 33% difference in cost). Renters can surely rejoice about this data since this difference makes renting incredibly cheaper than the rest of the nation. While in comparison to its neighboring states, Ohio is still doing reasonably well.
To put things into perspective for you, run over the below list of tentative rent costs for a 1 bedroom, so you can compare things with a rough price point:
1 bedroom home in Ohio – $799
1 bedroom home in Pennsylvania – $1,200
1 bedroom home in West Virginia – $620
1 bedroom home in Kentucky – $866
1 bedroom home in Indiana – $795
1 bedroom home in Michigan – $894
Also, just a heads up that in certain neighborhoods such as Hudson, Powell, Beachwood, New Albany and Dublin, the cost of rent will be much higher, since these are the more affluent parts of town with competitive costs.
Cost Of Living In Ohio
Upon consideration of the average median value of homes in Ohio, ($162,933, according to Zillow), it is safe to say that home ownership in Ohio is more affordable than most other states. This means that you would be paying roughly $140,700 in Ohio, while in different parts of the nation the same house could cost approximately $231,200.
However, do keep in mind these are just rough figures. If you choose to stay in a bustling city like Cincinnati, the median value of homes is $179,685 which is even higher than the state average.
When it comes to matters of groceries, the funds you'll spend is almost en par with the national average. However, utilities are 22% cheaper than other states. For instance, the average gas bill is $65 and electricity bill is $97. Along with cable, internet and water total costs could round up to $447-$550/month.
To live comfortably in Ohio, the median household income requirement is $54,533 (according to Niche). Once again this is just to give you a price point. Depending on your lifestyle choices and the way you prefer spending your income, you could see this as a positive attribute.
See Also: Most Affordable Places to Live in Ohio
Education
Top-Rated Ohio Colleges
1. Case Western Reserve University, Cleveland
2. Kenyon College, Gambier
3. The Ohio State University, Columbus
4. Denison University, Granville
5. University of Dayton, Dayton
6. Oberlin College, Oberlin
7. University of Cincinnati, Cincinnati
8. Miami University, Oxford
9. College of Wooster, Wooster
10. John Carroll University, University Heights
Top-Rated Ohio Schools
1. Indian Hill Exempted Village School District, Cincinnati
2. Solon City School District, Solon
3. Wyoming City Schools, Wyoming
4. Mason City School District, Mason
5. Oakwood City School District, Dayton
6. Beachwood City School District, Beachwood
7. Dublin City School District, Dublin
8. Ottawa Hills Local School District, Toledo
9. Hudson City School District, Hudson
10. Madeira City School District, Cincinnati
Top Cities To Move To In Ohio
1. Columbus
Columbus is the state capital and the third most populous city in the entire Midwest region. It is also home to Ohio State University and 4 Fortune 500 companies. The city wears many hats and is located in the heart of the state. It's family-friendly, has a steady diverse economy and top-notch neighborhoods. Bexley, Dublin, Grandview Heights are some of the best suburbs of this city.
Median price of homes sold: $182,454
Median rent: $928
Also See: 8 Best Neighborhoods In Columbus OH For Families
2. Cincinnati
This city has a little bit of everything. A bustling college town with the University of Cincinnati, historic districts, clean public parks and art organizations that host a bunch of events. The city is aesthetically set up and was even called the 'the Paris of America'. The vibrant atmosphere, cityscape, jobs and close-knit communities are the most appealing traits of Cincinnati.
Median price of homes sold: $179,685
Median rent: $709
3. Athens
Although, in Greek mythology, Athens was the largest city, don't be mistaken that it's the same with Athens of Ohio. This city is located in the South-east region of Ohio. It is extremely green in comparison to other cities and lies in close proximity to nature trails. The Ohio University is a large contributor to the atmosphere and vibe of this city. Overall, Athens has a small town charm with a slow pace of life and breathtaking landscapes.
Median price of homes sold: $173,508
Median rent: $805
4. Mason
Mason is located in the Southwest region of Ohio and is popularly defined as 'Ohio's Largest Playground'. This is possibly because of the fun things there is to do in this part of the city. There's amusement parks, amazing shopping centers, malls, playgrounds, parks and much more. Mason is an ideal place for outdoor activities and families, since it also has high-quality school systems. However, the housing here is comparatively more expensive.
Median price of homes sold: $332,492
Median rent: $1,200
5. Powell
Powell boasts of top-notch schools, outdoor oriented communities, premium stores, malls, parks and quirky restaurants. Since it is a suburban area, it has clean dedicated paths for jogging, bicycling and running. The city is also just 20 minutes away from the metropolitan hub of Columbus. However, do note that Powell is one of the more affluent parts of the state where housing and cost of living is on the upper-end.
Median price of homes sold: $367,000
Median rent: $1,597
FAQs about Moving to Ohio
Is Ohio a good state to move to?
The Buckeye State is generally considered a flyover state, and it's a crying shame. It's because Ohio has so much to offer!
Ohio has a perfect blend of urban and rural living. Chances are high that you'll be moving to the 3Cs – Columbus, Cincinnati or Cleveland, and they highly value art too. And if you're looking for a quieter life in the countryside, you can have that too.
As Ohio is bordered by Lake Erie, a life in the islands is a possibility. Kelleys and South Bass are just a couple of them in the lake. Here you can relax and unwind in the lap of nature.
One important factor that you'll be considering is whether you can afford to live in Ohio. Well, good news! According to BestPlaces, Ohio has a cost of living index of 82.6, and compared to the US average of 100, it's a great sign.
If you're looking to start a business, then Ohio is the place to be as it's ranked among the best states in the US to do so. Along with it, Ohio is where 20 Fortune 500 companies are headquartered, so you there are plenty of job opportunities here too.
What should I know before moving to Ohio?
Ohio is home to one of the largest Amish settlements in the US. We recommend that you pay it a visit and get a glimpse into their culture, cuisine, and their arts and crafts.
Ohio's central location makes it ideal for those who want to be in proximity to Chicago or even Illinois for that matter, but still far enough from the chaos of these metropolises.
Ohioans are passionate about sports, with over six teams in the NBA, NFL, NHL and MLB. To put it simply, the fans are known to be crazy and at times even obnoxious!
If you're accustomed to life along the coastline, the Buckeye State simply might not be for you. It's because the winters here are no joke, with heavy snowfall and blizzards. So you might want to stock up on your winter wear when in Ohio.
Considering that Ohio is a swing state, the political campaigning in Ohio can get overwhelming in the months prior to the elections.
Is Ohio a bad place to live?
The prominent negative aspects of the Buckeye State is that two of its biggest cities – Cleveland and Cincinnati, are among the poorest in the US. The median household income in Ohio is $56,602, which is lower than the national average of $61,937. This along with a rather high crime rate adds to the negatives of living in Ohio.
Like every other state, Ohio has its share of good and bad. With its rural-urban balance, low cost of living and a great art scene makes it worth moving here.
What is the poorest city in Ohio?
With a poverty rate of 30.8%, Cleveland is not just the poorest major city in Ohio, but also in the whole of the US. The annual median household income here is just about $27K, which falls much short of the national average.
Why is living in Ohio so cheap?
You may notice that moving to cities along the coastlines are much more expensive than in the interiors, and Ohio is no exception!
The average home value in Ohio is just $164,968, according to Zillow. And if you're planning on renting, you'll be spending a mere $1,033 monthly. While housing is the major expense when moving, even the other expenses including groceries, healthcare and transportation are cheaper here.
What is the nicest city in Ohio?
The capital Ohio, Columbus, is the nicest place to live in Ohio. Lower cost of living, fairly low crime rates, great educational institutions, and a strong job market are huge positives that are sure to draw you here.
What is the most common job in Ohio?
About 3.22% of the population in Ohio are employed as counter workers in fast food chains. Retail salespersons and registered nurses come right after.
What is the cheapest city to live in Ohio?
Youngstown in Mahoning County is the cheapest city to live in Ohio, with the cost of living about 14% lower than the national average. But bear in mind that this is quite a poor city with a relatively high crime rate.
How dangerous is Ohio?
Crime may be a concern if you're planning on moving to Ohio, as it's slightly on the higher side. According to NeighborhoodScout, the overall crime rate in Ohio is 23 per 1,000 residents, with a one in 341 chance for you to be a victim of a violent crime, and a one in 49 chance of you falling victim to a property crime.
---
Our Take On Ohio
The biggest perks of living in Ohio is that there's a city and rural life balance. You get to experience the best of big cities and the charm of small towns. This is something that lacks in popular cities that stick to just growing into bigger concrete jungles. So, if you're someone looking for that balance, chances are you would find it in Ohio. However, this is just our take on the state, but there's a very high possibility that you will agree with us. In any case, now that you also know more than just the selling points of Ohio, you can probably decide if moving to Ohio is the right choice for you.