Moving to Virginia | 2021 Cost of Living and Relocation Tips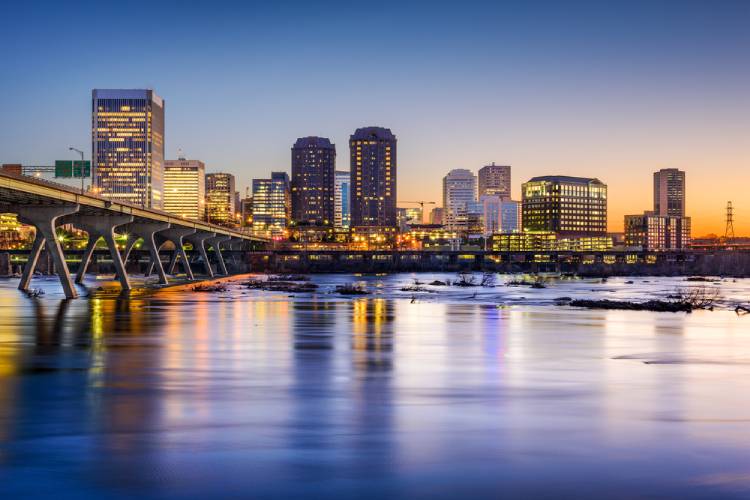 Virginia lies in the southeastern part of the United States and is a Mid-Atlantic state. If you pay close attention to the state map, you'll realise that the geographical features of Virginia is a thrilling fusion. It offers residents a mix of mountains, beaches, coastal plains and bay areas. On the extreme western side of the state, you have quaint mountain towns, off the grid villages and authentic cultures that can truly take you back in time.
While in the Northern part of the state (popularly called NoVA), you have something extremely contrasting. NoVA comprises of DC outskirts, has a phenomenal standard of living and is completely tech-oriented. Since this is the fastest growing urban region, it has gained a population of 2.5 million people. It even contains 4 of the richest counties of the nation, where the average household incomes fall in the impressive range of $140,382-$137,551.
This proves that the state offers extremely diverse living conditions to people who move here. You would have small charming towns living in the past as well as progresssive futuristic cities that help you stay ahead in time. The state is also recognized for its world class healthcare system, strong navy presence and a relatively high per-capita income.
Presently, Virginia has convinced nearly 8.65 million people to call it home. But before you take the call to jump on this bandwagon, let's understand a few of the other aspects you should learn about before moving to Virginia.
Weather In Virginia
Virginia's climate is humid and to an extent subtropical. This means the state enjoys mild winters and hot summers. But something that you will need to factor in about the weather here is that Virginia receives roughly 43 inches of rainfall throughout the year. Otherwise, the state still enjoys 4 seasons and has five distinct climate regions: the Tidewater, Piedmont, Northern Virginia, Western and Southwestern Mountain. Below is a gist of the temperatures you can expect during each season.
Winters (end November to March) – Winters in Virginia are mild to cold throughout the state with temperatures ranging from 26F to 35F. The mountainous regions receive around 8 to 12 inches of snowfall during peak winter month in January. While coastal regions have average temperatures (34F-53F) with way less snowfall. Although, skies are grey during this time, the state manages to get 6 hours of weak sunshine during the winter.
Spring (mid March to May) – High temperatures are in the range of 51F-61F, but do note that springs in Virginia are still a bit chilly during the transition phase. You can also expect roughly 4-5 inches of rainfall, so it's good to keep an umbrella handy. Other than that, spring is a great time of the year with comfortable weather conditions returning back to life. Most residents also head to Shenandoah National Park and Blue Ridge Mountains during this time.
Summers (June to August) – Summers are hot, sticky and humid with temperatures in the range of 80F upto 100F. During peak summer month, it's best to avoid stepping out in the afternoons. However, morning and evening temperatures are comfortable. Tropical storms are also prominent during summers and you can expect 4-5 inches of rainfall. On the plus side, summers are the best time for picnics, spending time at the beach and waterparks. A lot of tourists visit the state during these months.
Autumn (September to mid-November) – Fall is the most pleasant time of the year with temperatures in the range of 48F to 83F. Mabry Mill, Blue Ridge Parkway, Sherando Lake are few of the best places to catch a glimpse of the fall foliage.
Transportation In Virginia
The Virginia Department of Rail and Public Transportation (DRPT) is the agency that is responsible and operates all the modes of commute in the state. Over 69% of the commute in Virginia is catered towards 4 urban areas, solely because most of the population resides there. These areas are Northern Virginia, Richmond, Hampton roads and Fredericksburg. Overall, DRPT makes it easier for residents to commute by the following strings of transit options –
By the metro service in Northern Virginia, that is part of DC's world class metrorail system.
By the Greater Richmond Transit Company (GRTC), which is an urban-suburban bus line serving downtown Richmond.
Via the agency 'TRAFFIX' in Hampton Roads that helps implement parking management plans, the formation of carpools, vanpools, telework options and many more
And lastly, through the Virginia Breeze Bus Lines that is your connection to small cities throughout the Shenandoah Valley.
Overall, the DRPT surely makes effort to provide residents with a choice for different modes of commuting rather than driving a private vehicle to get around. The state has public transit services in operation, but depending on the area you'll reside in, you may or may not have access to these public transit options.
On another note, the state also has an extensive network of roadways. The 6 major Interstate highways are 64,66,77,85,81 and 95. These collectively make it easy to connect residents to the neighboring states of Maryland, West Virginia, Kentucky, Tennessee, and North Carolina.
See also: Virginia DMV Change of Address
Airways
The state of Virginia has 66 public use airports, 9 commercial airports and 21 regional airports. However, some of the most extensive and largest airports are:
Washington Dulles International – Easily accessible from the state's 2 richest counties (Loudoun and Fairfax) and serves more than 24 million passengers in a year.
Reagan Washington National – Located next to the Washington D.C. border and most convenient for residents in the Arlington region in NoVA.
Richmond International – Serves central Virginia and easier to reach from Richmond.
Newport News/Williamsburg International Airport – Serves the Hampton roads area.
Norfolk International – Most convenient for the Hampton road area and Norfolk.
Railways
Like most states in the US, Virginia also has its fair allocation of Amtrak railway stations. The state of Virginia has 21 Amtrak stations, spread across cities, coastal towns and even the mountainous regions. By taking advantage of the Amtrak railway line, residents can travel to the Northeast, South or Midwest portions of the state. A special perk of the railway system is that you can even bring your car or other vehicles on the Amtrak Auto train line.
Below is a description of the 8 Amtrak railways lines in operation:
Auto Train – This an overnight train that gets residents to the state of Florida.
The Cardinal Amtrak route – Travels 3 times a week between New York and Chicago. Indianapolis, Cincinnati, Charleston, Washington DC, Baltimore, Philadelphia, Newark and New York City are the popular stops on this route.
Amtrak's Carolinian route – This route travels between New York City and Charlotte in North Carolina. It helps residents connect to most of the stations that the Cardinal route covers.
The Crescent Amtrak route – This line runs between New York and New Orleans. New York City, Philadelphia, Baltimore, Washington D.C., Charlotte, NC, Greenville, SC, Atlanta and Birmingham are the major stops.
The Northeast Regional route – Runs between Boston and Newport News in Virginia. Efficient way to get around the cities on the east coast.
Amtrak Palmetto – Runs everyday between New York City and Savannah. Popular stops are Delaware, Pennsylvania, Maryland, North Carolina, South Carolina and Georgia.
Silver Meteor – Great option to reach vacation destinations between New York and Miami.
Silver Star – Once again, like the Silver Meteor, this also runs daily between New York and Miami, but makes stops at North Carolina and Tampa too. You can board this train at Richmond or Petersburg in Virginia.
Job Market In Virginia
The state of Virginia is home to a wide variety of industries across several sectors. But the ones dominating the economy are the high-tech companies, finance, farming, military, the local and federal government. Virginia also has 21 of its companies that are part of the elite Fortune 500 list, while 35 companies make it to the Fortune 1000 list. This definitely sends out a positive message about the strength of Virginia's business base.
We'd also like to mention that most of the firms that made it to these lists are headquartered in Richmond and scattered around counties in Northern Virginia. It is true that the bustling work culture is concentrated within the urban areas of the NoVA region. The reason for this is there's an overlapping of employers from the larger Baltimore–Washington metropolitan area that is part of the state of Virginia.
While you're on the lookout for jobs in Virginia, you will notice that some of the thriving, high-paying companies are all situated in and around Loudon, Prince William, Henrico, Chesterfield, Wise, and Suffolk counties. These are all located up in the northern region of the state. However, that doesn't mean that the rest of the state doesn't have industries to boast about. Sectors such as manufacturing, retail, hospitality and tourism also have a great scope in the state. Especially since Virginia has great vacation spots on its Eastern shore. Below is a list of the largest employers to give you an idea of the diverse nature of Virginia's economy.
Few of the top employers of the state are:
The Hilton Brand (hospitality)
Navy Federal Credit Union (largest global credit union)
Capital One (finance)
Custom Ink (retail)
Mars, Incorporated (multinational manufacturer)
DXC Technology (I.T services company)
Do note that another huge contributor to the economy is the US Army that is headquartered in Virginia and generates an annual revenue of 10 billion dollars with 500,000 employees. Overall, the state has clusters of a variety of industries creating lucrative job opportunities for residents.
Renting
According to reports by HomeSnacks, the average median rent of houses in Virginia is $1,660 while the national average is roughly $1,650 (that's a 0.6% difference in cost). This proves that renting here is practically just skimping its way above the national average. However, don't be completely taken aback with these costs. The fact is the average median household income in Virginia is also relatively high, so you would probably just be able to afford renting in this price range. On the other hand, you may also be able to find decent homes for rent within the $900- $1,200 range.
Having said that, some of the areas where the average median rent is expected to be exorbitant are:
Vienna (average rent $2,042)
Herndon (average rent $1,954)
Fairfax (average rent $1,929)
Falls Church (average rent $1,899)
Alexandria (average rent $1,779)
Manassas Park (average rent $1,749)
Do run over this list so you can form your perspective on the rent with a price point.
Cost Of Living In Virginia
Now, the cost of living is at times the dealbreaker for people considering moving to Virginia. It is true that Virginia is an expensive state to live in the nation. However, expensive is a relative term and depending on the lifestyle choice you make or the things you aspire towards, you may or may not find living in Virginia out of bounds. To give a better picture of things from a price standpoint, let's get down to the crux of it all, which is numbers!
Probably the first factor you'd consider is housing value. So when it comes to housing, Zillow suggests that the average median value of homes in Virginia is $299,164. This means you would be paying roughly $258,400 for a house in Virginia, while in different parts of the nation that same house would cost approximately $231,200. There's surely a considerable difference that makes housing here more expensive than the national average. However, do keep in mind these are rough figures, depending on the locality you reside in you could possibly find more reasonable housing prices. Also, on the plus side, the average wage for most jobs in the state is somewhere in the range of 60k-85k. That's certainly relatively higher than the national average. This means that it is possible to withstand the high prices in Virginia since the estimated annual incomes are also higher.
When it comes to matters of utilities, homeowners are suggested to budget between $400-$500. Whereas for living a comfortable life in Virginia, the median household income requirement is $71,564 (according to Niche). Once again, this is just to give you an example of how much you should ideally be getting annually. Depending on your lifestyle choices and the farther away you move from North Virginia, the lower the cost of living gets.
Interesting: Cheapest States to Move To
Top Cities To Move To In Virginia
1. Arlington
Arlington is situated in Northern Virginia on the southwestern bank of the beautiful Potomac River. According to Niche, Arlington is ranked as the number one best place to live in America in 2020. Doesn't this speak volumes about the city? Arlington is also home to some of the best academic institutions in the country and the United States Department of Defense. The city is modern and well-kept but it can be expensive to live here.
Median price of homes sold: $669,400
Median rent: $1,936
2. Alexandria
The city of Alexandria is also located in the NoVA region and like most cities here, its close proximity to Washington D.C. has a huge influence on the city. In its entirety, it is attractive because of its thriving job market. This city is also aesthetically pleasing to walk around and it also has an old town charm to it. Historic districts, brick lined streets, excellent neighborhoods and an outgoing culture are the peculiarities of the lifestyle here.
Median price of homes sold: $557,000
Median rent: $1,702
3. Charlottesville
Charlottesville is a great small city to live in. The University of Virginia, which is also a UNESCO world heritage site, is situated in the heart of this city. There's a vibrant college town feel to the place and there is a lot of emphasis placed on communities. A great perk of Charlottesville is that housing and cost of living here is relatively cheaper. It is also progressive in nature, while mimicking the pace and standard of living of Washington D.C.
Median price of homes sold: $283,800
Median rent: $1,118
4. Richmond
The city of Richmond is the state capital with great potential. Few among the other perks of living here is that you can easily access the mountains as well as the beaches of the state. It has an impressive number of locally owned businesses, great educational systems and an affordable housing market. Richmond also hosts some of the most vibrant festivals and family-friendly events and has a very diverse population.
Median price of homes sold: $220,700
Median rent: $979
5. Virginia Beach
Although your first impression of Virginia Beach may be that it is a tourist attraction, it actually does have a lot to offer to residents as well. The city works towards staying modern, is extremely diverse, has a low crime rate and is filled with family-friendly neighborhoods. You can also easily plug into the hubs of Norfolk, Portsmouth, and Chesapeake from here. The city also boasts of clean sidewalks, great parks and spots for cultural activities.
Median price of homes sold: $274,300
Median rent: $1,339
---
Our Take On Virginia
Living in the state of Virginia is like getting the opportunity to time-travel. You get to be part of extremely old historic cities, modern futuristic cities and rural towns that are unspoilt by the aspects of modernization. The Northern portion of the state has huge influences of the iconic Washington D.C. and if that's a lifestyle that you lean towards, you can always reach out for it. Overall, we believe by moving here, one is spoilt for choices. But that's probably a great thing about moving to Virginia. As long as you love these aspects of the state, you can easily find a place to call home here.
Related: Planning to move out of state to relocate in Virginia, here's the list of best cross country movers in USA.