Moving To West Virginia – 2022 Cost of Living & Relocation Guide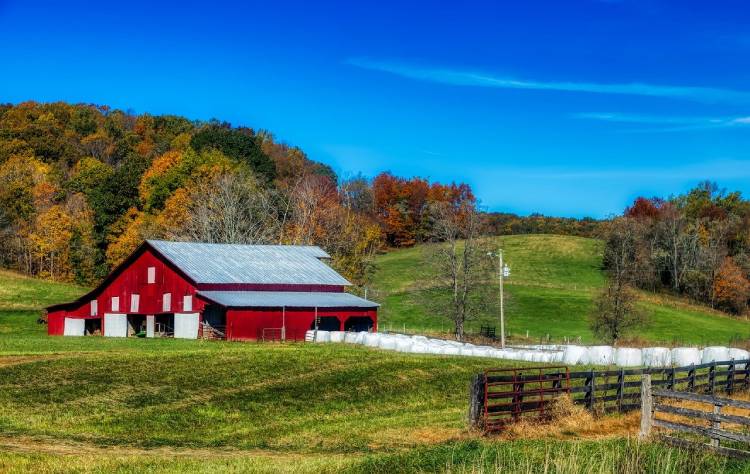 When Americans think of moving, they often overlook the hidden gem of West Virginia. Surrounded by a national historical park, the town looks as it did in the 19th century, with many of the buildings open to the public as living-history museums. If you are someone who is looking for an affordable lifestyle, lives and breathes the outdoors, and has an affinity towards nature, the state of West Virginia might be the right place for you to settle in.
With a flourishing job market and great weather conditions along with plenty of fun and adventure activities, the state of Virginia is going to prove to be unforgettable for you. If you enjoy strong communities and friendly folks who feel like family, West Virginians take pride in being exactly that. Here are some of the things you should keep in mind while considering moving to West Virginia:
Weather In West Virginia
Seasons are nature's blessings to humankind and the states that have all four seasons are the special ones. The state of West Virginia experiences all four seasons so you can enjoy everything each season has to offer. Just pack loads of heavy and comfortable winter clothes as the winter season tends to be the longest and sometimes, even harsh, with heavy snow and rainfall.
Winters
As stated, the state of West Virginia has really cold winters that begin around late November and lasts till the beginning of the month of March. The cold season lasts for 3 months with an average daily high temperature below 49°F. The coldest month of the year in the state is January, with an average low of 25°F and a high of 41°F.
Summers
The summertime is pleasantly hot in West Virginia where even tourists prefer to visit and schools are on break. Summers are also the longest and last for nearly 4 months. The summer season begins around the end of May and stays till mid-September. The average daily high temperature during the season is around 73°F. The hottest month of the year in West Virginia is July, with an average high of 81°F and a low of 63°F.
Spring
The spring season in West Virginia is peaceful and pleasant and begins around the month of March. This beautiful season stays till May and the weather is usually warm and wet. In spring, you will be spoiled by various fests and the many spring-based activities that are extremely popular in the state such as Lewisburg Chocolate Festival, Ramp Festival, etc.
Autumn
The season of fall is the hunting season in the region. It is when nature changes its hues. West Virginia during autumn is a sight to behold and you will fall in love with the pleasant weather and gorgeous views. Autumn visits the state around late September and stays through late October. The weather is temperate and windy in the majority of the state during autumn and it is the best time for outdoor activities and exploration.
Transportation In West Virginia
Transportation is going to be quite the journey in West Virginia because although it is known as the Friendly State, it's not too friendly when it comes to public transportation. Here are some of the ways you can traverse the pretty state of West Virginia:
Roadways
If you prefer roadways, there are plenty of cab and taxi services here but sadly, there are no intercity bus services to help you travel from one city to another within the state itself. Intercity bus services in West Virginia are limited, other than Morgantown which has a good public bus system due to it being a university town. It also runs West Virginia's only rapid transport system which has five stops and connects downtown Morgantown with various university campuses and buildings.
Airways
If you plan to travel by air, West Virginia International Yeager Airport is the main airport in the state of West Virginia. It witnesses regular flights to and from all the major airports in the world as well as other major American cities like Atlanta, New York, Detroit, Chicago, Charlotte, Houston, and Washington, DC.
Railways
Amtrak runs two railway lines that pass through West Virginia; the Cardinal Route and the Capitol Limited Route. There are also a number of scenic train rides throughout the state for those wishing to enjoy the picturesque landscapes. The Potomac Eagle follows the Potomac River, the Durbin and Greenbrier Valley Railroad travels the eastern region of the state, and the New River Gorge Mystery Train goes through the stunning New River Gorge Valley.
Job Market In West Virginia
This is where it can get complicated because West Virginia used to be a major coal-producing state and after its decline, the overall job market has been deteriorating giving rise to unemployment and making it difficult to find a job here. However, don't start sweating just yet! Health aid and personal care assistant jobs are in high demand in the state. The majority of residents work as cashiers, sales workers, truck drivers, and registered nurses. Cheat Lake, Vienna, and Bridgeport are some of the West Virginian cities with high job opportunities and household incomes. Here are some of the companies that are hiring in West Virginia:
U.S. National Park Service
GEICO
Osmose Utility Services
West Virginia University
Dominio Energy
Also See: Tips For Moving To A New State Without A Job
Real Estate In West Virginia
Buying A House
This is one of the biggest pros of living in the Mountain States because they are pretty budget-friendly when it comes to housing. If you want a simple life away from the extremely populated states, you should consider a house in the state of West Virginia where, according to Zillow, the average median home value is $126,948. Grafton, Clarksburg, and Oakhill are some of the more affordable cities to buy a house in West Virginia.
Renting A House
Renting a house is the cheapest option in the state of West Virginia and the average monthly rent is $725, which, according to World Population Review, is the lowest in the entire U.S. So, scouting for rental options here will be a piece of cake for you.
Crime Rate In West Virginia
It's no secret that the U.S. has a pretty high crime rate in general hence, it only makes sense for you to inspect the crime rates in a place before moving there. In the case of West Virginia, you are in luck because it is one of those rare states that have relatively low crime rates. Many cities of West Virginia like Hillsboro, Davy, Gary, etc have had remarkably low numbers of reported crimes in the recent past. The total crime rate per 1000 people is 17.47% with 3.54% crimes being violent in nature and 13.92% being property-related. Heroin addiction is a big problem in the state so be on the lookout for that.
Cost Of Living In West Virginia
In the entire country, the median household income of West Virginia is the second-lowest at $46,711 but the overall cost of living is also cheaper in the Mountain State. The overall cost of living is 78.1 on the cost of living index which is cheaper than the national average score of 100. Goods and services in the state cost 12.2% less than they do on average nationwide. Housing is the cheapest in West Virginia and you would also save a lot on transportation. However, West Virginia is known for being expensive in terms of groceries.
Education In West Virginia
Education is no longer a luxury. A state with good educational infrastructure is said to offer more opportunities to further your station in life in the future. The West Virginia Department of Education is the body that overlooks public schools in the state and plans out public education. With regard to education, West Virginia still has miles to go as it is said to be one of the least-educated states in the country. The physical and curriculum-wise infrastructure of the schools in the region needs quite a lot of work to be considered high-quality.
Top-Rated West Virginia Schools
Bridgeport High School
Evans Elementary School
Burke Street Elementary School
Hometown Elementary
John Adams Middle School
Top-Rated West Virginia Colleges And Universities
West Virginia University, Morgantown
Concord University, Athens
Shepherd University, Shepherdstown
Marshall University, Huntingtown
Fairmont State University, Fairmont
Top Neighborhoods To Move To In West Virginia
Bridgeport
Bridgeport is a city that is located in Harrison County in the state of West Virginia. It is home to Meadowbrook Mall, a 100-store regional shopping complex serving North-Central West Virginia. Bridgeport is ideal because it has one of the highest average household incomes in the state at $104,595. The poverty rate is pretty low at 4.30% and the majority of the population owns their homes. The city has top-rated public schools so it is ideal to raise a family in. Retirees also prefer this city because of its convenience and suburban feel. The population leans towards the conservative side and it has a low crime rate.
Median Home Value: $222,800
Monthly Median Rent: $1,104
Athens
Home to Concord University and surrounded by stunning views, Athens is a town located in Mercer County, West Virginia. It is a small town with a population of just 107,579. If you enjoy nature, big parks and a simple lifestyle where your kids can grow up studying in good public schools and amidst friendly neighbors, Athens can be a good offering. The average household income in Athens is $63,897 with a poverty rate of 20.42%. If you are a young professional looking to live somewhere peaceful, Athens is the city for you. Concord University in the region is also one of the biggest employers in the city.
Median Home Value: $114,100
Monthly Median Rent: $663
Vienna
The cities situated on river banks have an undeniable charm of their own and the city of Vienna is one such charming place to live in. Vienna is a city in Wood County in the state of West Virginia and is situated along the Ohio River. It's an industrial city hence the employment opportunities are good and rent is affordable which is why many young professionals prefer to stay in Vienna. The restaurants and bar scenes in the city are also happening due to its young crowd. Just keep in mind that the public schools in Vienna aren't the best and that it's not one of the safest cities when it comes to crime. The population here leans more towards the conservative side.
Median Home Value: $143,100
Monthly Median Rent: $597
Cheat Lake
Cheat Lake is one of the best places to raise a family in, in the state of West Virginia. Cheat Lake is a census-designated place in Monongalia County wherein there are 10 public schools providing you with enough and more options for the education of your kids. People enjoy swimming and boating on the weekends and the majority of the population owns their homes. Cheat Lake is also known as 'the backwaters' among locals because of its proximity to water, and swimming, canoeing, kayaking, and fishing are pretty popular sports here. If you are into water sports, you will be pleased because the other parts of the lake also cater to more adventurous sports like power-boating, inner-tubing, jet skiing, and water skiing.
Median Home Value:$298,900
Monthly Median Rent: $908
Hurricane
With a small population of 6,389, the city of Hurricane is located in the southwest corner of Putnam County in the state of West Virginia. Interestingly, the city of Hurricane was named after Hurricane Creek, which was, in turn, named after a group of trees at the arm of the river bent in one direction So don't worry as you will not be facing hurricanes frequently in the city of Hurricane as the entire state of West Virginia doesn't get a lot of hurricanes. It has a blossoming job market and many local shops and restaurants, beautiful parks, and gorgeous outdoors. The cost of living is lower than the national average and crime rates are also relatively low with affordable housing options and good public and private schools. Hurricane is suitable for young professionals, families, and even retirees to start a life in.
Median Home Value: $200,100
Median Rent: $650
Also See: Moving to Virginia | 7 States with Lowest Taxes
FAQs About Moving To West Virginia
What Are The Cons Of Living In West Virginia?
You will be far away from the benefits of the modern world because of the fact that even the big cities in the Friendly State aren't big enough. Even the biggest cities in the state of West Virginia have the population of a small town when compared to actual big states like California and Michigan. Drug use, limited opportunities, and inaccessible facilities can be some of the biggest hurdles you will face if you decide to live in West Virginia.
Is West Virginia A Good Retirement State?
Yes, West Virginia is a great place to retire in because of its simple living and low cost of living. It's surrounded by nature and is a lot calmer than many populous states of the U.S.A. If your ideal retirement home resembles a place covered in big mountains, lush greenery, lakes where you could spend all your free time finishing, reading, and being close to water, West Virginia will be more than ideal for you.
What Is The Racial Makeup Of West Virginia?
If you are looking to move to a state with diversity, do not consider West Virginia because it is blindingly white in its population and well, most of them lean towards the conservative side. 92% of the West Virginian population is Non-Hispanic White, 3.63% are Non-Hispanic Black or African American, 1.03% are White Hispanic, and only 0.786% of the population are Non-Hispanic Asians.
See Also: Best Affordable Moving Companies in the USA | The Lowest Cost of Living Cities in the U.S.