Moving From Chicago To Las Vegas – Expert Tips & Advice


VanLines Inc
Secure Storage
Easy Booking Process
Fully Trained Employees
GET QUOTE

Colonial Van Lines
Storage Services
Long-Distance Moves
Corporate Relocations
GET QUOTE

Moving APT
Vetting Process
Award-Winning
Available Nationwide
GET QUOTE
Our Take
Price
Rating
Minimum Shipment Size
Storage
Booking Deposit
Cancellation Policy
Quoting Options
Discounts

Best Overall Value


GET QUOTE

2+ bedrooms




Free 30 Days




10%

Free up to 72 Hrs

Phone / FaceTime / Text

Senior / Same day Booking

Best Industry Reputation


GET QUOTE

1+ bedrooms




30 Days




20%

Free up to 72 hrs

Phone / Facetime

Seniors Discount

Best Customer Service


GET QUOTE

1+ bedrooms







Free up to 72 hrs

Phone / Virtual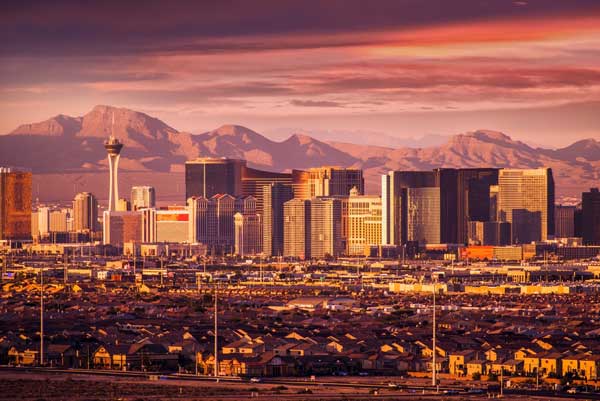 If you feel like you need a change from Chicago's deep dish pizzas and gangster museums, you can always move to Sin City to experience all of life's pleasures. Apart from being a major pop culture reference in movies and music, Las Vegas will ensure that you take your socks off – quite literally because of its hot summers. From bustling scenes at the LV Strip to casinos, Las Vegas will teach you all the legitimate ways in which to party.
But before jumping into planning the move, what other factors should you consider? We will answer this question and more in our article on moving from Chicago to Las Vegas. So, read on to learn more.
Factors To Consider Before Moving From Chicago To Las Vegas
Weather Conditions
If you're calling Las Vegas your home, you better bring out those sun hats, sunscreens, and light-colored floral shirts because this city has some of the country's harshest summers. Also, you'll have to stay hydrated during this time because the climate is quite dry. So, stock your fridges with juice boxes and mineral water to ensure that you're always hydrated. On the other hand, Chicago's summers are pretty temperate as compared to Las Vegas, so in that regard, Chicago scores a few brownie points.
Las Vegas' harsh summers are attributed to its location. It is situated in the Mojave Desert, America's driest and hottest region that lacks rainfall. States such as Utah and California are part of this region, and Nevada just happens to be one of them.
Here's the difference in temperatures that you can expect during peak summers:
Chicago in July – Average temperature falls in the range of 70°F to 82°F
Las Vegas in July – Average temperature falls in the range of 67°F to 107°F
Even Las Vegas' winters are warm, but they're short and pretty mild. Daytime temperatures are rarely chilly, so just a warm jacket or two in your car's trunk would do. However, due to Las Vegas' elevation, its winters are much cooler than other areas of the Mojave Desert. Even then, compared to Chicago's winters, Las Vegas' winters are extremely mild and perfect for snowbirds or those who hate the cold. Take a quick look at the difference in winter temperatures between Chicago and Las Vegas.
Here's the difference in temperatures that you can expect during peak winters:
Chicago in January – Average temperature falls in the range of 18°F to 31°F
Las Vegas in January – Average temperature falls in the range of 28°F to 60°F
Cost Of Living
People move to new cities for various reasons, but it's mainly to reduce the cost of living. And if you're moving from Chicago to Las Vegas for this precise reason, then you're heading to the right place. Las Vegas is 13% cheaper than Chicago, all thanks to its affordable transportation, childcare, and groceries. Although buying a house and attaining utilities are a bit more expensive in Las Vegas than in Chicago, the overall difference is nothing if not negligible.
Buying A House
Everyone has a dream of owning their own home. And if you are planning to achieve that dream, you should know that real estate in Las Vegas is 32% higher as compared to the rates in Chicago. Even though you might find it pricey, Las Vegas has a lower property tax rate compared to Chicago. That means you won't have to worry a whole lot about the budgeting aspect of buying a home in Las Vegas because you can be assured that a large chunk of your hard-earned money won't go into paying property taxes. Below are the median house rates of both cities for you to compare:
Median Home Value in Chicago: $309,268
Median Home Value in Las Vegas: $410,302
Renting A House
If you still feel that buying a home in Las Vegas is expensive and beyond your financial abilities, the next best thing you can do is rent an apartment. Rent in Las Vegas is 17% less in Las Vegas than in Chicago, and this is because Las Vegas has a better supply of apartments for rent than Chicago does. For a 2-bedroom apartment, you will pay $1,570 per month, whereas in Chicago the median rent rate is around $1,895 per month.
Also Read: Best Real Estate Markets
Utilities
The cost of utilities in Las Vegas is a bit higher than in Chicago. This is mostly because of Las Vegas' intense summers that require a lot of electricity to power up coolers, air conditions, etc. The average utility bill in Las Vegas that includes electricity, water, and sewage for a 915 sq. ft. apartment averages around $174 per month. In Chicago, the average utility bill comes to around $165 per month, which is just $9 from Las Vegas' utility costs. Therefore managing utility bills in Sin City is completely manageable.
Another reason to cheer about living in Las Vegas is that their gasoline prices are much lower than Chicago's. So, if you're fond of long drives, indulging in them in Las Vegas is more economical. For a gallon of gas, you'll pay around $4.79 whereas in Chicago, you'll spend around $5.16.
Job Market
Las Vegas has been one of America's most prominent tourist destinations. So it won't come as a surprise when we say that tourism garners a lot of the revenue for Nevada while providing thousands of jobs to many employees. Casinos are a big thing in Las Vegas and that's why the gaming industry is also full-blown in Sin City.
Chicago's job market is quick-paced in its growth and relies heavily on the fields of finance, pharmaceuticals, healthcare, engineering, transportation, and other corporations. Contrary to popular belief, however, not everything in Las Vegas is about tourism and gambling because healthcare and information technology are other booming industries in the state, providing diversity to the job market. To help you get an understanding of what Las Vegas offers, take a look at their major employers and decide for yourself:
MGM Resorts International
Caesars Entertainment
Johnson Electric
Aristocrat Technologies
Station Casinos
Australis Capital
When it comes to finding jobs, the unemployment rate in Las Vegas is 5.9%, which is a bit higher than Chicago's unemployment rate of 4.3%. This is because Las Vegas has a tight competition for purple-collar jobs, and hence, many people do get left behind. On the brighter side, Las Vegas is one of America's most tax-friendly cities. There's no sales tax, personal income tax, or gift tax. So, if you're looking to start your own business in Las Vegas, great opportunities lie within the state.
You'll earn a bit less in Las Vegas than in Chicago, but there's no need to worry. Las Vegas has a low cost of living, so you won't have to cut down on many expenses.
Median Household Income in Chicago: $58,247
Median Household Income in Las Vegas: $56,354
Transportation
There are many ways to get around Las Vegas. Although people prefer driving around the city since it's convenient, you can also use public transportation in Las Vegas to get around. The Regional Transportation Commission of Southern Nevada (RTC) is the regional body that overlooks public transportation projects and planning in the state. Here's one thing that might come as a relief to you; the state of Las Vegas has two international airports located centrally. These include the Harry Reid International Airport and Las Vegas McCarran International Airport.
Below are some of the ways you can get around Sin City:
Monorail: Runs along the eastern part of the Strip with frequent stops at Las Vegas Convention Center, and other hotels. Unfortunately, it doesn't travel to downtown Las Vegas or the airport.
Tram: Trams cover the western side of Las Vegas. The three major ones are the Mandalay Bay Tram, the Aria Express, and the Mirage-Treasure Island Tram. They travel between major hotels such as the Excalibur, Park MGM, Bellagio, and The Mirage.
Bus: DVX will take you to some places in Downtown Las Vegas and Fremont Street. If you want to visit places on the Strip, the Deuce will take you there.
Las Vegas' Strong Points
If you're thinking of starting a business, then Las Vegas is the place for you to do so because it's one of America's most entrepreneur-friendly cities.
Las Vegas' pleasant winters compensate for its harsh summers. So, enjoy Las Vegas' outdoors during the winter season without worrying too much about getting sunburnt.
Las Vegas has a low cost of living and also has cheap gasoline rates. If you drive a lot, you'll find traveling to be a lot cheaper here.
Las Vegas is called the Entertainment Capital of the World, so you will never face a dearth of entertainment, clubbing, or gambling options in the city.
Las Vegas levies no income tax and very little property taxes on your real estate.
Top Places To Move To In Las Vegas
Rancho Charleston
If you're looking to buy an affordable property in Las Vegas, then Rancho Charleston is the place to do so. Its homes sport a mid-century aesthetic, which can be easily seen from the quiet, beautiful streets of Rancho Charleston.
Apart from its beautiful homes, this neighborhood is also known for its outdoors and shopping areas. With places such as Meadows Mall, Springs Reserve, and Palace Station Hotel & Casino, we can say with some conviction that your stay at Rancho Charleston will always be vibrant. This neighborhood is also close to the McCarran International Airport, Downtown Las Vegas, and the Arts District. With such proximity to the major spots, you know life in Rancho Charleston is going to be very convenient.
Median Home Value: $160,585
Monthly Median Rent: $920
Centennial Hills
If you're looking for a place that's far from the hustle and bustle of city life, then Centennial Hills will suit you well. Located approximately 18 miles from Las Vegas' tourist hub, the Strip, Centennial Hills doesn't get a lot of tourists, so raising a family or retiring in this neighborhood is suitable. When it comes to the outdoors, you can play a game of basketball or skateboard at the Mountain Ridge Park, or you can let your Pomeranian run freely in the Centennial Hills Dog Park's velvet turf.
Median Home Value: $216,570
Monthly Median Rent: $1,127
Tule Springs
Tule Springs is one of Las Vegas' best neighborhoods when it comes to property value and standard of living. It's far from the Strip and Downtown Las Vegas, so you'll be distanced from all that frequent chaos. Also, the crime rate is lower than Las Vegas' surrounding cities, so if you ever plan on raising a family in the future, you know you have a place at Tule Springs. Floyd Lamb Park and Tule Springs Ranch are some ideal places for you and your children to experience Las Vegas' serene and picturesque side.
Median Home Value: $253,170
Monthly Median Rent: $1,310
Lone Mountain
Looking for a life that's more laid back? Then you'll certainly enjoy living in Lone Mountain. Many families and retirees have been moving to this side of Las Vegas because it's so versatile. The place is decked with various recreational spaces such as basketball courts, parks, as well as high-ranking schools, and shopping areas. When it comes to real estate, Lone Mountain is dotted with a variety of Spanish Colonial horse ranches, gated communities, and three-story mid-century types of homes.
Median Home Value: $224,900
Monthly Median Rent: $1,300
Downtown Las Vegas
With major attractions such as Fremont Street and the Arts District, Downtown Las Vegas is the place where all the action resides. This bustling neighborhood is home to a variety of chic restaurants, extravagant boutiques, ancient museums, and beautiful art galleries. Downtown Las Vegas is also home to many startups, so if you're looking for lucrative job opportunities, add this place to your moving list. To sum up your living experience in Downtown Las Vegas, you'll have a more work hard, play hard kind of lifestyle than other neighborhoods.
Median Home Value: $369,800
Monthly Median Rent: $1,729
Also See: Moving to Las Vegas
Things To Take Care Of When You're Moving From Chicago To Las Vegas
If you're visiting the Strip during peak tourist season, get ready for increased traffic and longer commutes home. Locals usually avoid visiting that side of Las Vegas till the tourist season cools down.
Las Vegas is called Sin City for a reason. There's a high chance of you falling prey to the glitzy appeal of the Las Vegas Strip that contains enough adult entertainment, gambling, and alcohol to trap you in. If you're still struggling with any of those vices, then it's better to move to this city later until after you've dealt thoroughly with your inner demons.
Las Vegas has harsh summers, all thanks to its location. This desert climate encourages temperatures to cross even 100°F, so it's best to stay indoors during summers in the region.
Public transportation is not that great in Las Vegas. Although there are several ways to get around, people prefer driving since it's more convenient and efficient. The monorails and buses only get to a few major landmarks of Las Vegas and they have long commute times.
Chicago To Las Vegas Moving Costs
Long-distance moving is generally expensive, especially if you hire a professional moving company to help you move as your estimate will average at least a couple of thousand dollars. When it comes to moving from Chicago to Las Vegas, the move could approximately cost you between $3,525 to $10,067. But again, factors such as time, size, and location of the move influence costing heavily. So, the rates that we've given above shouldn't be taken as the final price.
If you're looking for cheaper alternatives, you could hire containers or a rental truck. Although they are much cheaper than a professional moving company, they are also a bit strenuous. If you're wondering why, it's because truck rentals and containers don't come with services to pack, unpack, load, or unload your items. All the lifting and unloading will have to be done by you. Hire a container or rental truck only if you're on a tight budget. If not, stick to hiring a professional moving company and leave all the heavy-lifting to them.
Here are some rough estimates of moving from Chicago to Las Vegas for a one bedroom apartment:
Professional Moving Company: $1,800 – $2,500
Container: $1,905 – $2,402
Rental Truck: $1,173 – $1,485
See Also: Best Moving Companies in Chicago
Summing Up
Now you know what it takes to move from Chicago to Las Vegas. Las Vegas is a great city if you're a fan of entertainment and the glam of living in a busy big city. However, there are multiple neighborhoods within Las Vegas that cater to different groups of people. So, do your research and choose a neighborhood that fits the bill well. We've told you everything that you need to know, but now the decision entirely rests on you. However, if you choose to make the move, we recommend hiring a professional moving company. They will do all the work for you without you even lifting a finger. Happy moving!
FAQs About Moving From Chicago To Las Vegas
How Much Does It Cost To Move From Chicago To Las Vegas?
For you to move from Chicago to Las Vegas, it'll cost you roughly between $3,525 to $10,067. Other factors such as distance, size, time, and location of the move also influence the net cost of the move.
How Much Do I Need To Make To Live Comfortably In Las Vegas?
According to LivingWage, you'll have to make a salary of $28,643 per annum to live a comfortable life in Las Vegas. If you have one child, then you'd have to make around $60,709 per annum to enjoy Las Vegas to its fullest.
Is It Cold Or Hot In Las Vegas?
Las Vegas has harsh summers and warm winters. Summers in Las Vegas can see temperatures rising above 100°F. So, it's better to stay indoors and stay hydrated during this period. Winters in this city are lenient and this is when it becomes comfortable to explore Las Vegas outdoors.
Also Read: Moving from Chicago to Dallas