Moving to Utah | 2022 Cost of Living & Relocation Tips


VanLines Inc
Secure Storage
Easy Booking Process
Fully Trained Employees
GET A QUOTE

Colonial Van Lines
Storage Services
Long-Distance Moves
Corporate Relocations
GET A QUOTE

Moving APT
Available Nationwide
Award-Winning Movers
Extensive Vetting Process
GET A QUOTE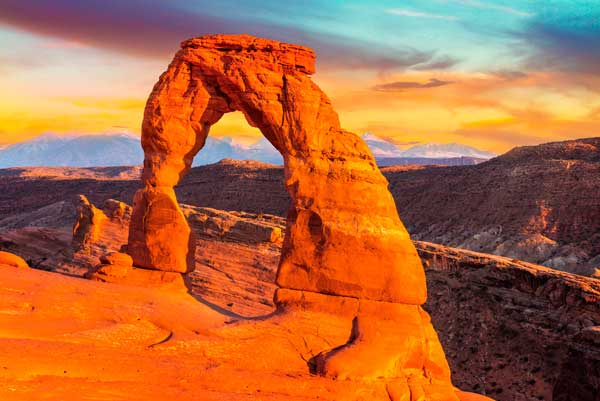 The hiker, runner, and cyclist are sure to be awakened by the Mighty 5 national parks in Utah. The state is naturally blessed with so much stunning landscape that it embodies the personality of an outdoor enthusiast. This is probably what attracted you to Utah as well.
But besides being the perfect place for adventure, there's a lot more that makes Utah a beautiful state to reside in. We shall cover everything you need to know about living here in case you plan on moving to Utah soon.
Weather In Utah
The weather of a place can make or break your decision of moving to Utah. Utah is considered to be a desert state so expect the year-round weather to be semi-arid. Even so, if you're one who enjoys all four seasons, Utah is the place for you. Here's what each season in Utah looks like:
Summers (June to August) – The average weather conditions in the summer is between 63°F to 96°F. It gets very hot with temperatures reaching 100°F in the month of July. But summers in Utah are still super arid. Humidity in the summer is low so you would need to have lotion and moisturizer with you at all times.
Spring (March to May) – In the spring, expect plenty of sunshine during the day with temperatures in the range of 37°F to 62°F. Spring is the best time to be near water and go river rafting or canoeing.
Autumn (September to October) – With temperatures in the 49°F to 78°F range, fall is generally the most pleasant time in Utah. You'll need to have your jacket with you because temperatures do tend to get chilly often.
Winter (December to February) – Winters in Utah are the time to deal with freezing temperatures and snowfall that invites you to ski or go snowmobiling. In the month of December, expect temperatures to be between 10°F to 30°F. Cities would get blanketed with snow but due to climate change, it can really be said for certain. The mountain ranges in the north gather a good amount of snow for winter sports.
Cost Of Living In Utah
If you're at the stage of deciding whether or not you want to move to Utah, you'd definitely want to factor in how much is enough to live comfortably here. Let's go over the few main factors that you should consider inquiring to gauge if Utah financially meets your expectations:
Housing Costs
According to Zillow, the median value of which homes are sold in Utah is $477,484. This is considerably higher than the U.S. national average which stands at $231,200 but it's lower than the neighboring Colorado ($501,345). There are many people from the neighboring states rushing towards Utah for job opportunities due to which the housing costs in Utah are on the rise. Don't let that worry you, because even in $340,000 you could get decent housing in some of the popular counties in Utah.
Median Household Income
The median household income in Utah is at $71,621 (from Niche.com). This is slightly higher than the national average which remains at $62,843. If you get a job where on a yearly basis you pull in a figure in the range of 70k to 75k, consider yourself to be earning the state average. Anything above this range could mean that you can aim to live more comfortably.
Cost Of Utilities
Utilities in the state of Utah are not as expensive as the national average. But due to the cold weather, you should expect a spike in your energy bills. On an average, a single person's estimated monthly cost is $2,314 for gas, groceries, and utilities. This will of course differ from person to person.
Renting In Utah
According to HomeSnacks, the average median rent in Utah is $1,500 which is marginally lower than the national average which is $1,650. Some of the neighborhoods in Utah with rent that's higher than the state average are:
Cedar Hills
Highland
Alpine
Syracuse
Santa Clara
Transportation In Utah
Utah Transit Authority (UTA) is the organization that runs all the different types of public transportation available in the state of Utah. Here is a list of the public transportation in Utah that makes intracity travel a breeze:
FrontRunner Commuter Rail
This is a commuter rail line operated by none other than UTA. This train line covers 82 miles and runs from Ogden (a city in the north of Utah) to Provo (a city in central Utah). Salt Lake Central Station and North Temple Station are the stations that connect residents to lively hubs.
TRAX Utah Light Rail
A light rail system that will get you to important places of interest especially in Salt Lake City and other cities in Northern Utah. The light rail connects to universities and shopping areas. This commute system consists of three lines namely –
Blue – Best to take to get connected to the south end of the Salt Lake Valley to Draper Town.
Red – Going eastward, you can use this line to get to the University of Utah. This line also goes towards southwestern suburbs.
Green – Great to explore Downtown Salt Lake Valley and even connects to the Salt Lake International Airport.
UTA Bus
You can also travel by bus that has good coverage. Buses follow routes that cover the Wasatch Front, also go west towards Grantsville, and there are routes going east in Park City. There are approximately more than 120 bus routes to choose from that cover over 1,400 miles, making this a convenient way to get around if you don't have a car.
Ski Buses
UTA also operates a few buses that especially drive to ski resorts. So, if you're making a trip to any ski resort in Salt Lake City, Ogden or Provo, you can consider taking the bus to get there.
Amtrak
The popular railroad service Amtrak has one railway line that runs through Utah going by the name California Zephyr. The train can easily get you to Yellowstone National Park. It's a great option if you wish to make a trip beyond the borders of Utah to states like Illinois, Iowa, Colorado, Nevada, California and Nebraska.
The four Amtrak stations in Utah are –
Green River
Helper
Provo
Salt Lake City
Airports In Utah
The major airport that remains busy throughout the year is the Salt Lake International Airport. Provo Airport and Ogden-Hinckley Airport are the other important airports in Utah.
See also: Utah DMV Change of Address
Job Market
The economic state of Utah is diverse in nature but the 6 industries that contribute largely to the strength of the state's job market are –
Software and I.T
Financial Services
Energy Production Sector
Biomedical Sector
Aerospace And Defence
Tourism
These are the 6 sectors that are flourishing well in the state and if you tap into any of these fields, you could find plenty of strong job opportunities.
We'd also like to share that there is a thriving startup environment in Utah. The growing number of micro-businesses is the reason that the job market in Utah is quite diverse.
Keep in mind that tourism is also huge in Utah since it is blessed with natural scenery that is unlike any other in the U.S. If you head into the tourism industry, you'll most likely find several attractive work opportunities.
To give you a gist of the top companies that are dominating the state, refer to the list below.
America First Credit Union (Financial services)
ARUP Laboratories (Hospital and healthcare)
Dell Technologies (Information Technology)
Edwards Lifesciences (Medical devices)
Cricut, Inc. (electrical services)
Domo, Inc. (software services)
Health Catalyst (healthcare)
Progressive Leasing (financial services)
We've named the top best companies that have a huge presence in Utah for you to get an essence of the industries that are most significant in Utah's job market. This information should help you stay a step ahead when it comes to planning things on the job front.
Top Schools And Universities In Utah
Among the top educational institutions in Utah that students flock to are Westminster College and The University of Utah. You'll find both these institutions in Salt Lake City which is the capital and most populated city in Utah. When it comes to elementary schools, the Canyons, Alpines, and Davis districts are where you should begin the hunt for the best schools since these are the largest school districts in Utah. To make your search easy, we've listed out the best of the lot –
Top 5 Best Rated Universities
The University of Utah, Salt Lake City
Westminster College, Salt Lake City
Brigham Young University, Provo
Southern Utah University, Cedar City
Utah State University, Logan
Top 5 Best Rated Schools
Edgemont School
Mountainville Academy
George Washington Academy
Canyon Rim Academy
Edith Bowen Laboratory School
Top Cities To Move To In Utah
1. Salt Lake City (SLC)
SLC is the capital and most populated city in Utah. It's the first choice for new residents as it's an active hub and centrally located. The lifestyle of the city is extremely relaxing and you can reach ski resorts within 30 minutes from here. Not too far away from the city are spots to camp, hike, and enjoy the outdoors. There's also no shortage of bars, eateries, and places of entertainment in SLC. The airport is in close proximity to the city and you also get to enjoy scenic views of the mountains if you make SLC your residence.
Median Value Of Homes Sold – $314,500
Median Rent – $985
2. Murray
Murray is attractive to many because of its affordable housing options and that it offers the lowest city tax rate. It's easily accessible to the TRAX light rail and rapid bus transit. The communities are tightly-knit and family-friendly. You'll be just 15 minutes away from the canyons and can easily get to hiking trails. There are lots of parks in the area for picnics and exercising. This area also has a good number of quality schools and is close to the University of Utah.
Median Value Of Homes Sold – $287,100
Median Rent – $1,109
3. Orem
If you don't enjoy the urban sprawl at all and would like to live in a place where the crowds are spread out, Orem is the perfect place for you. Residents here enjoy the benefits of staying in close proximity to Utah Lake. The city is clean and great for families. There are a lot of community events and festivals that take place in Orem. It's filled with plenty of restaurants and places of entertainment as well.
Median Value Of Homes Sold – $272,000
Median Rent – $1,034
4. West Valley City
West Valley City lies extremely close to the Oquirrh Mountains and the Jordan River, which means you get the best of both worlds! What you might enjoy most in this city is the diversity. There are people from all cultural backgrounds residing here and it's also pretty touristy. The city remains active because of the number of tourists that flock here. There are always new businesses opening to cater to tourists and residents, so you can find a lot of interesting ways to stay busy in West Valley City.
Median Value Of Homes Sold – $219,500
Median Rent – $1,126
5. Provo
Provo is home to Brigham Young University due to which plenty of students occupy the city. This keeps the atmosphere in Provo young at heart. There are many benefits to living in Provo such as the lake that offers stunning views. There's the Provo River Parkway which is a beautiful trail to explore. The place is wholesome and boasts of malls, good eateries, and hospitals.
Median Value Of Homes Sold – $271,300
Median Rent – $877
Our Take On Utah
The stunning landscapes and laid back atmosphere of Utah can make you fall in love with it. You can also easily connect to other major western states from Utah as it's only going to be a one-day drive away.
Utah is a treasure of a place to reside in if you love traveling and not being bound to a city sprawling with buildings and no scenery. If you're thinking of moving here, you've got all the information you need on Utah and we can even help you with finding the right movers to transport you here.
See also: Top-Rated Moving Companies for Your Upcoming Relocation | Best Moving Companies In Utah
FAQs about Moving to Utah
Is It Expensive To Live In Utah?
The cost of living in Utah is slightly higher than the national average. It's not as expensive as neighboring western states like California or Colorado which is a plus. Expect median home values to be at roughly $477,484.
See also: Cheap States to Move to
How Much Money Do You Need To Live Comfortably In Utah?
The average household income in Utah is $71,621. 70k to 75k is a comfortable yearly income to live well in Utah. If you make up to 85k a year as a single person you can live more than comfortably in Utah.
Is It Cheaper To Live In Utah Or Arizona?
It is cheaper to live in Arizona as the housing prices and cost of living are significantly lower. The median value of homes in Arizona is $366,342 while it is at $477,484 in Utah.