Moving to Arkansas | 2022 Cost of Living and Relocation Guide


VanLines Inc
Secure Storage
Easy Booking Process
Fully Trained Employees
GET QUOTE

Colonial Van Lines
Storage Services
Long-Distance Moves
Corporate Relocations
GET QUOTE

Moving APT
Available Nationwide
Award-Winning Movers
Extensive Vetting Process
GET QUOTE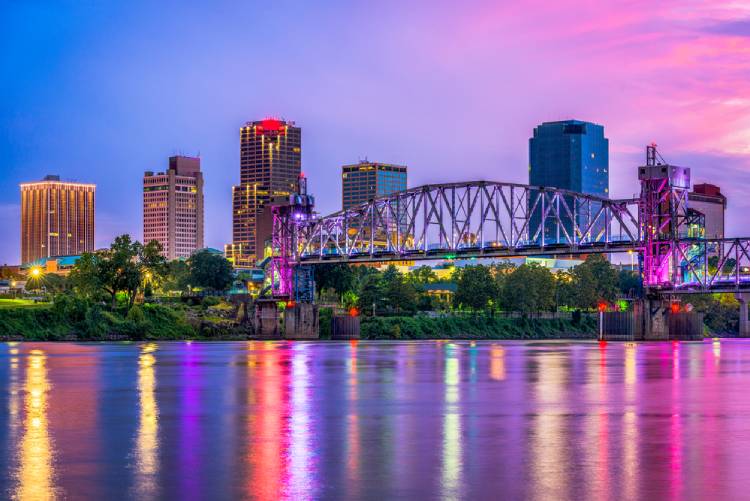 Arkansas sits at a juncture in the South and Midwest region in the United States. It is rightly called a 'Natural State' and it doesn't take one long to realise that Arkansas is truly packed with countless natural wonders. The state is blessed with some breathtaking vistas, making it an outdoor lover's playground. You have hot springs, lakes, waterfalls, rivers, innumerable hiking trails in mountainous regions of Ozark and Ouachita. Minimal traffic, minimum pollution, extremely low cost of living and slow pace of life are the other advantages of living here.
Besides all of this, you have to keep in mind that Arkansas calls to live a simple comfortable life and is still predominantly a rural state. So depending on where you'll be coming from, you may have to brace yourself to make certain adjustments to the pace and way of life. Although things remain more traditional in outlook, don't be mistaken that all areas are sleepy towns.
Cities situated in Northwest Arkansas (also called NWA) lie on a completely different tangent from the rest of the state. And NWA is actually at a pace to beat other fast growing cities of the nation. This makes Arkansas a blend of densely populated metropolitan areas and small towns. Letting you get the best of both worlds.
Presently, the state is also recognized as one of the cheapest states to live in the US. It has a population that's just crossed the 3 million mark. However, before you decide on moving to Arkansas, let's run over other aspects that you should take into consideration.
Weather In Arkansas
The state of Arkansas enjoys 4 distinct seasons year round. The climate is mainly classified as humid subtropical in nature. In simple terms, it rarely gets extremely cold or hot. And none of the seasons falls under oppressive or severe conditions. And on an average, the annual rainfall ranges from 40-60 inches. But do note that the Ozark and Ouachita Mountains are wetter than the rest of the state. Below is a snippet of the temperatures you can expect during each season throughout the year.
Winters (end November to February) – Winters in Arkansas are extremely mild, where residents enjoy 6 hours of sunlight even during peak months. You would rarely notice any snow making a presence in December. However, parts of the north of the state receive light snowfall (around 2-4 inches). High temperatures fall in the range of 47°F (8.3°C) to 58°F (14.4°C). While during peak time, temperatures can drop to 26°F (-3.3°C) to 36°F (2.2°C) zones. Winters are truly short here and by the end of February, you can expect temperatures to rise.
Spring (March to May) – Spring is the time when things return to comfortable conditions across the state. It is considered to be the most pleasant time of the year. Temperatures fall in the range of 59°F (15°C) to 68°F (20°C) during this time. However, you may need to carry an umbrella or jacket because there could be light showers occasionally.
Summers (June to August) – Summers in Arkansas are hot and humid. But the humidity doesn't drain you or stop you from stepping outside. It is actually pretty moderate with temperatures ranging from 83°F (28.3°C) to 92°F (33.3°C). The lakes, rivers and nature trails are visited most during the summer months.
Autumn (September to mid November) – Fall tends to be the most wonderful time of the year. The landscape of Arkansas comes to life with colors and the weather is favourable. The temperatures are at a lovely range of 51°F (10.6°C) to 80°F (26.7°C). However, the north can register slightly cooler temperatures than the South. Some of the top places to catch a glimpse of the fall foliage are Yellow Rock Trail at Devil's Den State Park and Whitaker Point Trail in the Upper Buffalo Wilderness.
Transportation In Arkansas
The Arkansas Department of Transportation (ArDOT) is the agency that is responsible and operates all the modes of commute in the state. The main agencies working towards helping residents get around by non-car modes are:
Central Arkansas Transit Authority (Rock Region Metropolitan Transit Authority)
This is the largest transit agency in the state with a fleet of 59 buses. The 21 fixed routes and 4 express commuter routes provide service to roughly 10,000 riders every day. Major stops are at College Station, Hensley, Jacksonville, Little Rock, Maumelle, Natural Steps, North Little Rock, Roland, Sherwood, Sweet Home, Woodson and Wrightsville.
Ozark Regional Transit
Once again, this is also a bus service providing bus services in the Northwest Arkansas region, including Fayetteville, Springdale, Rogers, and Bentonville.
Overall, the Arkansas Transit Association also has over 200 other similar agencies across the state to provide rural and urban public transit options to the residents of Arkansas. However, even though the transit options in Arkansas have a presence, it is relatively scarce. And depending on the area you reside in, you may or may find these modes feasible.
On another note, the state also has an extensive network of roadways. The 4 major Interstate highways are 30,40,49 and 55. These collectively make it easy to connect residents to the neighboring states of Missouri, Louisiana, Texas, Oklahoma, Tennessee, and Mississippi.
Airports In Arkansas
The state of Arkansas has a good number of regional airports in most of the central and northwest parts of the state. Major domestic airports are located in the city of Siloam Springs, Rogers, Harrison, Fayetteville, Mountain Home, Batesville, Jonesboro, Paragould, Blytheville, Little Rock, Stuttgart, Helena, Pine Bluff, Camden, Magnolia, El Dorado and Crossett.
Arkansas has just 1 international airport known as the 'Arkansas International Airport' located in the city of Blytheville.
The most traveled airports are:
Fort Smith Regional Airport
Little Rock National Airport (named changed to Clinton National Airport)
Northwest Arkansas Regional Airport
Railways
Amtrak, which is the passenger railroad service that serves most of the cities in the United states has 1 major train service passing through the state of Arkansas. The train line goes by the name 'Texas Eagle'. This rail line is the longest in the United States. It runs from the city of Chicago upto Los Angeles. It connects residents to major cities in the state of Illinois, Missouri, Arizona and California. Although it isn't a train service for intra-city travel, it is a great option for residents to get access to out-of-state cities.
The six railway stations in Arkansas are located at:
Arkadelphia
Little Rock, Union Station
Malvern
Hope
Texarkana
Walnut Ridge
Job Market In Arkansas
When it comes to looking out for jobs in Arkansas, do keep in mind that the market varies by geographical location. Like we said earlier, the Northwest corner of Arkansas is developing at a pace that's unimaginable and remarkable for the rest of the state. If you're looking out for white collar jobs in some of the largest employers, there's a high possibility that these companies are concentrated in the Northwest.
Another notable aspect is that Northwest Arkansas is home to seven times the US average of headquarters. Walmart, J.B Hunt, Tyson Foods, Dillard's, Murphy USA, and Windstream are 6 of the Fortune 500 companies that have a huge presence in this region. These are the giant companies that are not just providing job stability for millions but also are the ones improving the growth of Arkansas's economy structure.
Besides the success and potential of the job market in Arkansas, the state's economy also depends on other sectors such as agriculture, healthcare and transportation.
Here is a list of some of the largest employers of the state alongside the sector they are linked towards. This helps you get a fair idea of the job profiles that are in demand.
Rogers School District (education)
University of Arkansas for Medical Sciences (academic health and science)
Fayetteville School District (education)
Signature Bank of Arkansas (finance)
Sam's Club (retail company)
George's Poultry (processes poultry products)
Simmons Foods (leading supplier of poultry)
Key Takeaway – Arkansas' primary industries are agriculture, business services, manufacturing, and transportation logistics. Some of the giant companies have their roots planted deep in the state, alongside small homegrown businesses springing up here. Fayetteville, Springdale, Rogers, and Bentonville, the surrounding towns of Benton and Washington counties are where most of the largest employers are concentrated.
Renting
According to reports by HomeSnacks, the average median rent of houses in Arkansas is $1,050, while the national average is roughly $1,650 (so that's a 36% difference in cost). This is surely refreshing news for renters, since this difference makes renting incredibly cheaper than the rest of the nation. While in comparison to its 6 neighboring states, Arkansas is still doing reasonably well.
To put things into perspective for you, we've compiled a list of the tentative rent costs for a 1 bedroom. You can refer to this list to compare things with a rough price point:
1 bedroom home in Arkansas – $660
1 bedroom home in Missouri- $825
1 bedroom home in Louisiana – $1,019
1 bedroom home in Texas – $1,200
1 bedroom home in Oklahoma – $715
1 bedroom home in Tennessee – $1,100
1 bedroom home in Mississippi – $730
This shows that renting in Arkansas is extremely affordable and nowhere en par with the higher prices in its neighboring states.
Having said that, just a heads up that in certain neighborhoods such as Pea Ridge, Centerton, Maumelle, Bentonville and Bryant, the cost of rent will be much higher. Since these are the more affluent parts of town with competitive costs.
Cost Of Living In Arkansas
Arkansas is known for its super affordable housing and low cost of living. Moreover, it has been ranked several times as one of the cheapest places to live in the United States. The average median value of homes is $141,806 (according to Zillow). This proves that home ownership is incredibly cheaper than the rest of the nation. To further emphasize, this means on an average you'd roughly pay $128,800 for a home in Arkansas, while the national average for the same home would be $231,200. The margin here is really big, isn't it?
When it comes to the cost of utilities, a single person would probably need to budget around $750-$850 per month (without rent). However, what one must keep in mind is that the median household income in Arkansas is also pretty low (approx $45,726 annually). On the other hand, the national average income is roughly $55,322. So depending on where you'll be moving from, Arkansas is going to be relatively inexpensive. But at the same time, odds are that your employer is going to take into account the decrease in expense. So overall you should factor in wages to also be lower than the national average.
See also: Utility Bills 101
Do keep in mind that the price ranges we've mentioned are just an average so you can form a perspective on the cost of living. Depending on if you choose to reside in Northwest Virginia, costs could look slightly different.
Education
Top-Rated Arkansas Colleges
1. Hendrix College, Conway
2. University of Arkansas, Fayetteville
3. Ouachita Baptisit University, Arkadelphia
4. Harding University, Searcy
5. John Brown University, Siloam
6. Arkansas State University, Jonesboro
7. University of Central Arkansas, Conway
8. Lyon College, Batesville
9. Arkansas Tech University, Russellville
10. University of the Ozarks, Clarksville
Top-Rated Arkansas Schools
1. Haas Hall Academy, Fayetteville
2. Greenwood School District, Greenwood
3. Bentonville Public Schools, Bentonville
4. Fayetteville School District, Fayetteville
5. Bryant School District, Bryant
6. Greenbrier School District, Greenbrier
7. Benton School District, Benton
8. Northwest Arkansas Classical Academy, Bentonville
9. Lakeside School District, Hot Springs
10. Pottsville School District, Pottsville
Top Cities To Move To In Arkansas
1. Fayetteville
Fayetteville is the third largest city of Arkansas and is also home to the University of Arkansas. Thousands of students occupy the city, dramatically changing the atmosphere of the region. The perks of living in Fayetteville is that residents are in close proximity to the best hubs of the state. Cities like Rogers, Bentonville, Branson,and Springdale are all within reach. The town is also appealing for its low crime rate, warm people and relatively progressive lifestyle.
Median price of homes sold: $202,700
Median rent: $770
2. Bentonville
The city of Bentonville is ranked as the best place to live in Arkansas. This city is also the birthplace and world headquarters of Walmart. Bentonville has an exciting culinary scene, lively atmosphere and over 44 trails for jogging and walking. This also makes the town super bicycle friendly with very minimal traffic. Downtown, Crystal Bridges, and the Holler are some of the most vibrant cultural centers of this city.
Median price of homes sold: $221,400
Median rent: $918
3. Little Rock
Little Rock is the capital and most populous city of Arkansas. The city is located smack right in the middle of the state map. The city enjoys a central location but still maintains a low profile. It comes across as a quiet little town with family-friendly communities and short commute time. Residents here also have access to top-notch universities, schools and hospitals. Interestingly, it is also regarded as one of the best places to retire in the state.
Median price of homes sold: $162,800
Median rent: $850
4. Conway
The city of Conway is located just 30 minutes away from the state capital (Little Rock). It is recognised as the 'City of Colleges', since it is home to 3 educational institutions. Acxiom, University of Central Arkansas, Hendrix College and Insight Enterprises are few of the largest employers that have their headquarters here. Conway even has its designated industry and office sites, making it extremely business-friendly. It also serves as a hub for several tech companies.
Median price of homes sold: $167,000
Median rent: $788
5. Springdale
The city of Springdale is the fourth largest city of the state. It is located in Northwest Arkansas and has a reputation for being an important industrial city for the region. Depending on your line of work, you may find the job market in this area pretty impressive for a small city. There's also many opportunities for outdoor activities from this city. If you're looking for balance of work and play, Springdale is your safest bet.
Median price of homes sold: $146,400
Median rent: $762
FAQs about Moving to Arkansas
What should I know before moving to Arkansas?
Arkansas is a place abound with parks and wilderness, along with rivers and mountains. No wonder it's also known as the Natural State. So an outdoorsy person won't lack for things to do here.
Arkansas won't be heavy on your wallet at all. Of course, it still depends on many factors, but you'll find this state to be much affordable.
This Southern state is among the most gun-friendly places in the US, with no registrations required for getting a shotgun, rifle or a handgun. If you're over 18, you can get one.
Speaking of Arkansas being a Southern state, you'll get to experience the famed Southern hospitality as well. To save you a bit of embarrassment, remember that it's pronounced 'AR-KAN-SAW' and not 'AR-KAN-SAS'.
Traffic won't be a problem when you're getting around in Arkansas. But if you're driving through the many rural areas in the state, keep a lookout for deer crossing the roads.
Keep in mind that the crime rate in Arkansas is higher than the national average, so you'll need to be a bit more careful here!
Is Arkansas a good state to live in?
One of the first things to consider when moving is if it's going to be affordable. When it comes to Arkansas, it definitely is! Along with it, this is a relatively tax-friendly state for retirees, thanks to Social Security benefits being completely exempted from the state income tax.
The median household income in Arkansas, at $47,062, is lower than the US average. The poverty rate and crime in Arkansas are also relatively high, so you'll need to factor that before deciding to move here.
Also, the scenic beauty coupled with mild weather all-year round makes it for a great place for those who love an outdoor life. But beware of the wild animals when you're out in the wilderness.
The food scene in Arkansas is awesome too. The restaurants may not sell the most healthy food, but you can be assured that they'll be delicious.
Arkansas may not be the best when it comes to schools overall, but if this is a priority, you can move to Rogers in Benton County, whose public schools are highly rated.
Like all states, Arkansas has its share of good and bad, and if you're looking for a quieter life in the countryside, this move will be perfect for you.
Is moving to Arkansas a good Idea?
In Arkansas you'll get to embrace the outdoors in the rural areas and get in touch with your artistic side in the cities. But at the same time, you need to consider the high rate of crime and rather lower quality of education.
The job market in Arkansas is quite strong, with plenty of employment opportunities in agriculture and the six Fortune 500 companies that are headquartered in this state.
The average home value in Arkansas is just $81,752, according to Zillow. Combine this with a property tax as low as 0.61%, buying a house here sure sounds appealing. But there's a state sales tax of 6.5%, which is added to the county and city taxes too.
How much do you need to make to live in Arkansas?
Based on the estimates by LivingWage, a family of four with both parents working would have to make at least $60,896 annually before taxes.
What are the benefits of living in Arkansas?
Low cost of living: Arkansas is among the most affordable states in the US. The cost of living index is 79.0, according to BestPlaces. This means that you'll have a bit more money in your pocket after expenses.
Great views: Arkansas is called the Natural State for a reason. Thanks to its mountains and forests, you're sure to get amazing views and reconnect with nature.
Outdoor activities: The wilderness of Arkansas makes it ideal for outdoor activities. Backpacking, caving, and biking are only some of the most sought after activities here. When in Arkansas, make sure that you go on a relaxing floating trip as well. You can fish too, but make sure that you get a license for it.
Low traffic: Even when you're in Little Rock, the capital and biggest city of Arkansas, you'd find that traffic here isn't bad at all. This and the eight public transportation systems here make getting around the state quite effortless.
What is the safest town in Arkansas?
With an overall crime rate of just 412 incidents per 100,000 people (compared with 2489 incidents per 100,000 in the US), Cave Springs in Benton County is where you'll be the safest in Arkansas.
Is it expensive to live in Arkansas?
Arkansas is among the most affordable states in the US, with a cost of living index standing at a mere 79.0.
Is Arkansas a tax friendly state?
Arkansas isn't necessarily a tax-friendly state, with a state sales tax of 6.5% and depending on the county/city, there'll be additional taxes. They can even add up to a staggering 11%.
But for retirees, Arkansas is relatively tax-friendly as the Social Security benefits are exempted from the state income tax.
How long do you have to stay in Arkansas to be a resident?
Spending more than six months of the taxable year in Arkansas or if one person has a residence in the state makes them an Arkansas resident.
Does Arkansas have snow?
Arkansas has a rather mild cold season, with small amounts of snowfall throughout the state. The northwest part of the state, where the Ozarks are located, get much more snow while the southeast tends to get rain.
What are the most dangerous cities in Arkansas?
Osceola: Crime would be a concern if you've moved to Osceola, Mississippi County. Standing at 74 per 1,000 residents, it's among the highest in Arkansas. There's a one in 39 chances that you could be a victim of a violent crime, and one in 21 chances to face a property crime.
Helena-West Helena: This city in Phillips County has a crime rate of 74 per 1,000 residents.
The chance of you becoming a victim of a violent crime is one in 55, but it's property crime that Helena-West Helena has more trouble, with the odds of one in 18 for you.
El Dorado: Located in Union County, El Dorado is quite a charming place to live in, but a crime rate of 70 per 1,000 residents remains a troublesome fact. There's a one in 74 chances of you being a victim of a violent crime, and one in 18 chances for property crime, in El Dorado.
What's the average income in Arkansas?
The median household income in Arkansas is $47,062, which is lower than the US average of $61,937.
---
Our Take On Arkansas
It is true that Arkansas has way more clusters of employment and cultural opportunities in the northwest and central areas of the state. The Northeast, southeast and southwest are generally off the grid and slow paced. But this gives residents the chance to experience different ways of life.
Arkansas also has a fantastic outdoor scene and the great weather is a huge motivator. You have the Ozark Mountain region, the Ouachitas, Arkansas River Valley, the Delta and Gulf Coastal Plain. The state also boasts of a very affordable cost of living and that might just be the one that fits the bill (Quite literally too!). Overall, the state does have a lot of character that varies from region to region. As long as you find an area cut out for you, moving to Arkansas can be a good decision you make, since it is easy to find reasons to call Arkansas home.