Moving To Wisconsin – 2022 Cost of Living & Relocation Tips


VanLines Inc
Secure Storage
Easy Booking Process
Fully Trained Employees
GET QUOTE

Colonial Van Lines
Storage Services
Long-Distance Moves
Corporate Relocations
GET QUOTE

Moving APT
Vetting Process
Award-Winning
Available Nationwide
GET QUOTE
Our Take
Price
Rating
Minimum Shipment Size
Storage
Booking Deposit
Cancellation Policy
Quoting Options
Discounts

Best Overall Value


GET QUOTE

2+ bedrooms




Free 30 Days




10%

Free up to 72 Hrs

Phone / FaceTime / Text

Senior / Same day Booking

Best Industry Reputation


GET QUOTE

1+ bedrooms




30 Days




20%

Free up to 72 hrs

Phone / Facetime

Seniors Discount

Best Customer Service


GET QUOTE

1+ bedrooms







Free up to 72 hrs

Phone / Virtual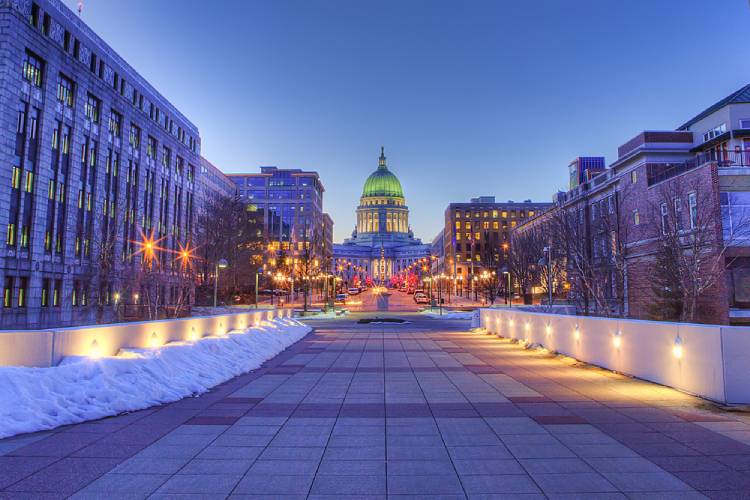 The state of Wisconsin is located in the Midwest and Great Lakes region and is famous for being the largest producer of cheese in the US. If this is the only reason you're moving to Wisconsin, we wouldn't even blame you! Also known as the Badger State, Wisconsin gained statehood in 1848 and became the nation's 30th state. In the livability index, the state has been consistently ranked high for quite a few years. There are many reasons for this like affordability, a healthy job sector, quality education, booming startup culture, and above all, its super friendly people.
A heaven for all nature lovers, Wisconsin offers some of the most stunning sceneries as it has its shores on Lake Michigan and Lake Superior. As far as adventure-seekers are concerned, they get to enjoy multiple options for hiking and mountain biking. Also, the state organizes a lot of amazing events like the Summerfest in Milwaukee and the Oshkosh Airshow.
Since you're considering moving to Wisconsin, you must be having a lot of questions in mind. Let's try and answer as many of them as possible.
Weather In Wisconsin
Thanks to the Great Lakes nearby, Wisconsin experiences a humid continental climate. This means its summers are really hot and the winters are really cold. The state's highest and the lowest temperatures to be ever recorded are 114°F and -55°F, respectively. The diverse topography of Wisconsin includes lowlands, highlands, central plains, farmlands, forests, mountains, lakes, and rivers. All these factors play an important role in affecting the climate of the state throughout the year.
In a year, Wisconsin gets 188 sunny days whereas the national average is 205. The average rainfall that the state receives is 34 inches (the national average is 38) and the average snowfall it gets is 48 inches which is way more than the national average of 28 inches. May to October is generally the best time to visit Wisconsin. This means you have at least three seasons to get the most of the state — spring, summer, and autumn.
Winters
Wisconsin's winters last for around 3 months from December to February and since it gets pretty harsh, it's not the best time to be around. The amount of snowfall often goes past the mark of 100 inches in the northern highlands and the region near Lake Superior. The average daily high temperature during the three-month period is 27°F while the average daily low temperature is around 7°F. This makes Wisconsin colder than most other states in the US. Fog and snowstorms are common and January is usually the coldest month of the year.
Summers
The summer season in Wisconsin lasts for three months starting in June and ending in August. With an average high temperature of 81°F, July is the hottest month of the year. During these three months, the average daily high temperature is around 78°F while the average daily low temperature is 55°F. While you can experience thunderstorms and it can also get pretty humid in Wisconsin at times, June, July, and August are still the most pleasant months of the year and the best time to visit for tourists.
Spring
The spring season in Wisconsin usually lasts for three months from March to May. The average daily high temperature during these months of spring is 54°F while the average daily low temperature is 31°F. The three months see amazing and pleasant weather along with quite a lot of rainfall. Spring is as good as the summers to enjoy the outdoors of Wisconsin. However, the state can experience thunderstorms, flooding, and tornadoes in the month of May.
Fall
People of Wisconsin enjoy the beautiful fall season from September till November as it offers the perfect weather conditions for hanging out with friends and family. The average daily high temperature during the fall season is 56°F while the average daily low temperature is 36°F. This is also the wettest season with 37% precipitation in the year.
Transportation In Wisconsin
Given the central location of Wisconsin, the transportation system is at an advantage over many other states. Under the supervision of the Wisconsin Department of Transportation, the residents of the state enjoy well-maintained highways, roads, airports, railways, etc.
Railways
Amtrak is a passenger railroad service that provides both medium and long distance intercity rail services in the US. It runs two national network trains in Wisconsin:
The Empire Builder runs on a daily basis between Chicago (Illinois) and Seattle (Washington) or Portland (Oregon). The total length of the route is around 2,200 miles and it takes approximately 45 hours for one trip. The train stops at stations in Illinois, Wisconsin, Minnesota, North Dakota, Montana, Idaho, Washington, and Oregon. In Wisconsin, the train serves the cities of Milwaukee, Columbus, Portage, Wisconsin Dells, Tomah, and La Crosse.
The Hiawatha Service runs between the cities of Chicago and Milwaukee and completes 7 round trips daily. The total length of the route is 86 miles and it takes just 90 minutes per trip. The train halts at three stations in Wisconsin out of which two are in Milwaukee while the third one is in Sturtevant.
Metra is a commuter rail system serving Chicago and its surrounding areas. It has only one train which comes to Wisconsin and it is called the Union Pacific North Line. It has its northern terminus in Kenosha and the train begins its journey in Chicago. This Metra train operates on a daily basis.
Roadways
Highways: Wisconsin is known for the 14 US highways and 5 interstate highways along with its low traffic. Some of them are as follows:
Interstate 43 is a 192–mile long interstate highway located in Wisconsin and it goes from Beloit in the south to Howard in the north.
Interstate 39 runs from the city of Normal in Illinois to Rib Mountain in Wisconsin. The length of the highway in Wisconsin is approximately 182 miles.
Interstate 90 is the longest (3,021 miles) interstate highway in the country stretching from Seattle in Washington to Boston in Massachusetts. It serves as many as 13 states. The length of the highway in Wisconsin is 192 miles.
Bus Services: Wisconsin has a huge bus transit system but your experience will vary from city to city. Here are a few bus services you might start remembering the names of:
Amtrak Thruway Bus Service
Indian Trails
Greyhound Bus Service
Jefferson Lines
Autobuses Mares
Badger Bus
Airways
There are eight commercial service airports serving the state of Wisconsin.
Milwaukee Mitchell International Airport, Milwaukee
Appleton International Airport, Appleton
Austin Straubel International Airport, Green Bay
Central Wisconsin Airport, Mosinee
Chippewa Valley Regional Airport, Eau Claire
Dane County Regional Airport, Madison
La Crosse Regional Airport, La Crosse
Rhinelander-Oneida County Airport, Rhinelander
The airports in Milwaukee and Madison are the busiest airports in Wisconsin.
Also See: Cities With The Best Public Transport In The USA
Job Market In Wisconsin
Wisconsin's strong GDP in 2021 stood at $344.5 billion. The overall job satisfaction among the people is quite high due to the decent average commute time and around 39 working hours in a week. The state is among the top 20 when it comes to creating jobs. According to the State Department of Workforce Development, in December 2021, Wisconsin made a new record for itself as its unemployment rate fell to 2.8%.
Some of the flourishing professions in Wisconsin are business analyst, web developer, operations manager, personal care assistant, marine mammal trainer, and taxi driver. The job opportunities in the state are immense as a result of which, people in large numbers move in every year. Some of the top employers in Wisconsin are:
Johnson Controls (Electronics and technology), Milwaukee
State of Wisconsin (Government), Madison
Northwestern Mutual (Financial services), Milwaukee
Menards (Home improvement), Eau Claire
Kohl's (Retail store chain), Menomonee Falls
Tyco International (Security systems), Glendale
ManpowerGroup (Staffing), Milwaukee
Real Estate In Wisconsin
Buying A House
According to Zillow, the median home value in Wisconsin has seen a growth of 14% from January 2021 to January 2022 and is now standing at $246,162 which is significantly below the national average of $325, 677. Considering one of the biggest expenses you'll be facing when moving is buying a house, you needn't worry about that much when you're moving to Wisconsin!
Renting A House
Wisconsin is one of the very few states where renting apartments is considered better than buying your own house. The average rent for a studio apartment in the state is $569. Accordingly, it is $637, $817, and $1,075 for 1-bedroom, 2-bedroom, and 3-bedroom apartments, respectively.
Crime Rate
For Wisconsin, it will be a good idea to compare its crime rate with that of the whole country. You'll be a bit relaxed to know that Wisconsin wins this round as well. According to NeighborhoodScout, Wisconsin has violent and property crime rates of 3.20 and 14.70 per 1,000 residents, respectively. The national average for violent crimes is 4, while it is 19 for property crimes.
Cost Of Living In Wisconsin
Here comes the part you were waiting for. If you lock the national average at 100 in the cost of living index, Wisconsin has a score of 94.7. This means that you will be saving a little more and spending a little less on healthcare, housing, food, transportation, groceries, etc. than an average US citizen. The median household income in Wisconsin is $61,747. While the average utility bill for the country is $236 per month, it is just around $198 a month in Wisconsin.
Education In Wisconsin
The education system of Wisconsin is yet another aspect for its residents to be proud of. With around 92% of the adults in possession of high school diplomas and 53% having college degrees, Wisconsin has an overall education rank of 11 in the country. The teacher-student ratio in the state is 15:1 which is better than the national average of 16:1.
Top Rated Wisconsin Schools
School District of Whitefish Bay, Whitefish Bay
Elmbrook School District, Brookfield
Greendale School District, Greendale
Middleton-Cross Plains Area School District, Middleton
Top Rated Wisconsin Colleges And Universities
University of Wisconsin – Madison, Madison
Edgewood College, Madison
Lawrence University, Appleton
Milwaukee School of Engineering, Milwaukee
Best Places To Live In Wisconsin
Whitefish Bay
Home to nearly 15,000 people, Whitefish Bay is a suburb in Milwaukee and easily one of the best places to live in Wisconsin. It sits along the shore of Lake Michigan and enjoys all the necessary amenities, a great job market, top-quality public schools, etc. The village is considered among the best areas to raise a family. Although the cost of living, real estate, and rental prices are higher than in Wisconsin, the quality of life is just as good. Whitefish Bay comfortably beats Wisconsin and the national average when it comes to the crime rate. It has violent and property crime rates of 0.47 and 10.77 per 1,000 residents, respectively.
Median Home Value: $510,382
Monthly Median Rent: $1,451
Madison
Located in Dane County, Madison is the capital city of Wisconsin and has a population of 269,840. The city is often hailed as one of the best college towns in the US and among the most beautiful cities in the country. Madison is surrounded by two stunning lakes — Mendota and Monona. The options for outdoor recreation activities are insane with hiking and biking trails. Plus, the city has been performing really well in building a stable economy, high employment rates, brilliant educational institutions, having a great arts and culture scene, etc. Madison has violent and property crime rates of 3.18 and 27.68 per 1,000 residents, respectively.
Median Home Value: $349,786
Monthly Median Rent: $1,365
Also See: Best U.S. Cities to Rent | Best Cities To Move To Start A New Life | Top US Cities with Best Parks
Milwaukee
Milwaukee is not just Wisconsin's largest city but also the most popular one. The population of the city is close to 600,000 and it is situated on the western shore of Lake Michigan. With the high quality of life, affordable cost of living, all the amenities, amazing food, and festivals, you will enjoy life in Milwaukee like no other place. In addition, you can add extra points to the city if you love the winter season. A major con of living in Milwaukee is the high crime rate. It has violent and property crime rates of 16.48 and 28.74 per 1,000 residents, respectively.
Median Home Value: $167,722
Monthly Median Rent: $1,291
See also: Best Movers in Milwaukee
Green Bay
The city of Green Bay in Wisconsin is home to 107,395 people. The biggest reason you probably know about Green Bay is because of its football team, the Green Bay Packers. But there's more to the city. Youngsters, in particular, are in love with Green Bay because of the vibrant art and entertainment scene. Wisconsin's oldest settlement, Green Bay, offers its people some mind-blowing experiences of water skiing on the Fox River as well as a biking trail. The city has violent and property crime rates of 5.14 and 15.01 per 1,000 residents, respectively.
Median Home Value: $189,634
Monthly Median Rent: $749
Summing Up
Wisconsin is a great place to live, work, and raise a family. The cost of living is affordable, there are plenty of job opportunities, the public schools are excellent, and you can enjoy all types of outdoor recreation activities. Plus, there are some amazing cities in Wisconsin that offer an incredible quality of life. The only downside to living in Wisconsin is the high crime rate in some cities, but overall, it is a great state to call home.
See Also: Most Affordable Places to Live in Wisconsin
FAQs On Moving To Wisconsin
Is Wisconsin A Good State To Settle Down?
A big YES! Wisconsin has consistently been among the best places to live in the US for a number of years. The reasons are many like affordability, schools, colleges, hospitality, its scenic beauty, etc. The options for entertainment and adventure are endless as you can enjoy biking, hiking, kayaking, etc. The overall quality of life is great in the state.
What Is Wisconsin Famous For?
Apart from its mesmerizing natural beauty, affordable housing, and decent cost of living, Wisconsin is known for being the largest producer of cheese in the entire country. As a result, it's often referred to as the American Dairyland.
What Is The Crime Rate In Wisconsin?
According to NeighborhoodScout, Wisconsin has violent and property crime rates of 3.20 and 14.70 per 1,000 residents, respectively. The national median for violent crimes is 4, while it is 19 for property crimes.
Also See: Top Interstate Moving Companies in the USA | Leaving Milwaukee? 5 Best Places To Move From Milwaukee