Leaving Milwaukee? 5 Best Places To Move From Milwaukee


VanLines Inc
Secure Storage
Easy Booking Process
Fully Trained Employees
GET QUOTE

Colonial Van Lines
Storage Services
Long-Distance Moves
Corporate Relocations
GET QUOTE

Moving APT
Available Nationwide
Award-Winning Movers
Extensive Vetting Process
GET QUOTE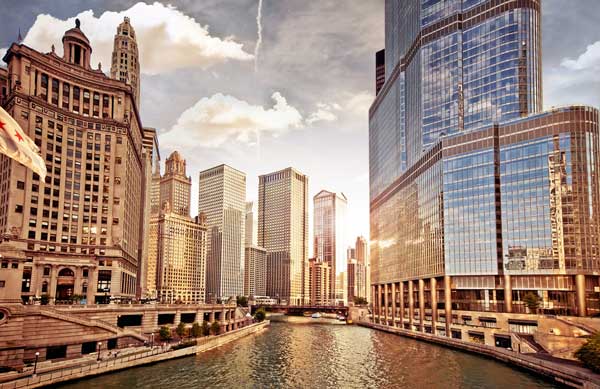 Living in the largest city of Wisconsin while sipping on its authentic beers sure sounds delightful. Add to the mix a bustling nightlife with a groovy music scene and you have a recipe for a happening lifestyle. However, there comes a time when the various flaws of the city begin to come to the surface.
For starters, traffic in the city is no longer a breeze. Another real kicker is the high violent crime rate which tends to make one question the city's safety. With a declining job market, the city has seen itself being placed among the top 3 poorest cities in Wisconsin. So, another reason why loads of people are choosing to move away from the city. If you find yourself being one of those people or have a reason of your own for this move, the below list of best places to move from Milwaukee should help you.
5 Best Places To Move From Milwaukee
Madison
Sheboygan Falls
Green Bay
Chicago, Illinois
Grand Rapids, Michigan
Madison
If you're wondering where thousands of Milwaukee residents are going, the answer is Madison. With its vibrant cultural scene, Wisconsin's capital city knows how to turn up the heat. There are numerous music events and art galleries to keep your creative mind occupied. The architecture in this area of town is unmistakable, as much of it was designed by the great architect Frank Lloyd Wright, who left his mark on the city.
It is no secret that Wisconsin is called "America's Dairyland" and Madison is the promised land for cheese lovers. While we are on the subject of serving up a good appetite, you'll be pleased to know that Madison has a number of wineries and craft breweries too! The food scene in Madison is something that has been talk of the town for the longest of times, all thanks to its number of restaurants ranging from farm-to-table to high-end ones.
The city of Madison doesn't shy away from popularity even in the education sector as it has one of the best schooling systems in the country. It also houses the famous University of Wisconsin which has been the driving force behind this city's success. The thriving job market here which has an impressive below-average unemployment rate is the reason why many job seekers settle in Madison. Some of the prominent sectors in the city's economy are retail, healthcare, and biotechnology.
Downsides: Madison does come with a few downsides, the cold winters being one of them. The winter temperatures dangle between the 20°F to 31°F range making it a bit difficult to step out of the house at times. If you are moving in with your family or looking for a quiet place to retire, Madison's always upbeat nature is something you might want to take into consideration.
Population: 265,170
Median Home Value: $364,750
Monthly Rent: $1,425
Median Household Income: $66,000
Unemployment Rate: 2.1%
Best Neighborhoods To Live In: Vilas, Middleton, Shorewood Hills, and Maple Buff.
Also read: Emergency Moving: Steps To Survive A Last-Minute Move
Sheboygan Falls
Bagging a move from Milwaukee to Sheboygan Falls has a major upside to it. The city is considered to be one of the safest places in the entire state. According to Neighborhoodscout data, the Sheboygan Falls is 82% safer than most cities in the nation. The city also frees you of the traffic problems you have had the misfortune of experiencing in Milwaukee. With an above national average level of education, it is also a great place to raise your kids.
Sheboygan Falls, although its tiny size in comparison to other Wisconsin cities, has a lot to offer. The Aviation Center Of Wisconsin is located in the center of the Sheboygan County Airport as well. To unwind, you can visit Sheboygan Falls View Park to see the relaxing cascade, which makes for a great backdrop for a family picnic. Furthermore, the Downtown District has its own distinct history, which is excellently narrated by its architecture.
Sheboygan Falls is located in the middle of both Madison and Green Bay, you will have convenient access to both. In terms of the economy, the city offers a burgeoning job market and a lower-than-average unemployment rate, making your relocation here all the more promising.
Downsides: The idea of living in a city with such a small population isn't that appealing for some. Owing to its small size, the city doesn't have plenty of options for any public transportation as well.
Population: 8,010
Median Home Value: $230,300
Monthly Rent: $1,150
Median Household Income: $59,000
Unemployment Rate: 2.6%
Best Neighborhoods To Live In: Darmstadt, Melody Hill, Newburgh, and Boonville.
Green Bay
Located in Brown County, the city of Green Bay checks all the boxes for being an ideal moving destination. You can experience the all-inclusive benefits of affordability, amenities, and culture. Should you choose to move to Green Bay, you must know of the city's undying love for the NFL team Green Bay Packers.
It's also the reason why Red Forman from That 70s Show got excited whenever the word "Packers" was mentioned. So, it won't be long until you find yourself donning that green and gold jersey, rooting for them in the famous Lambeau Field Stadium. There's so much following for the sport and Oneida Nation Walk of Legends is proof of it. This is a free art walkway featuring 24 statutes of the legends of the team.
The city has a long list of attractions for when you are out and about for a good time. The wildlife lover in you will be delighted to visit the Bay Beach Wildlife Sanctuary which is spread across a whopping 700 acres of land! From birdwatching to hiking trails, it has just about everything you're looking for in an adventure.
Something unusual yet exciting, the Baylake Bank Tall Ship Festival will let you in on the maritime fun experience. Not just adults, the city has something in store for kids too. The Children's Museum of Green Bay is sure to keep your little ones occupied with interesting facts and knowledge. The city is also the oldest settlement in the state of Wisconsin, so it is safe to assume that it has seen a fair bit of the state's history.
Downsides: Like every other city, Green Bay has certain pitfalls too. The cold weather here can really test your patience at times and compel you to change your wardrobe too for that matter. The schooling system here is not at par with the average standards you'd expect them to be. So, you might want to consider this aspect if you are planning a move with your kids in this part of the state.
Population: 103,830
Median Home Value: $200,000
Monthly Rent: $800
Median Household Income: $50,000
Unemployment Rate: 2.5%
Best Neighborhoods To Live In: Astor, Allouez, Kaukauna, and De Pere.
See Also: Best Neighborhoods In Milwaukee For Singles And Young Professionals
Chicago, Illinois
If you are moving beyond the state lines of Wisconsin, make sure you consider moving to the charming city of Chicago. The moment you step foot in this city, you'll feel a distinct aura as compared to the one back in Milwaukee. The experience of a proper metropolitan area with all the modern amenities is something you cannot miss out on. Though the house rates here are a tad bit more expensive than the national average, the city makes up for it in other aspects comfortably.
The load of owning a car will also be lifted off your chest thanks to the city's robust network of the public transportation systems. The Chicago Transport Authority will ensure you don't spill money on gas prices and have a rather comfortable ride to your destination. While on the ride, you'll have the good fortune of witnessing some of the tallest sky-scrapers you've ever seen.
Once your hunger for architectural beauties cools down and the actual tummy-growling hunger kicks in, you can head to literally any food joint in your vicinity and munch on some delectable cuisines. The city is known to be the best in terms of food and drinks not just in the state of Illinois but the entire nation! Bon appetite!
Apart from that, the music scene in the city, particularly the blues has a following of its own. If you ever feel the need to get in touch with the city's historic days, the myriad of museums here will take care of that.
Downsides: The cost of living in Chicago is higher than the national average. Since you're planning a move from a pocket-friendly city like Milwaukee, you can see yourself splurge some more bucks in Chicago. This probably goes unnoticed but if you own a car, the high parking fees here will put you down a few extra bucks.
Population: 2,671,650
Median Home Value: $320,010
Monthly Rent: $2,096
Median Household Income:
Unemployment Rate: 5.4%
Best Neighborhoods To Live In: West Loop, Lincoln Park, Lake View, and Hyde Park.
Also read: Largest Cities In Illinois To Move To | Chicago, IL: Surrounding Suburbs Guide
Grand Rapids, Michigan
On the other side of Lake Michigan lies the beautiful Beer City called Grand Rapids in Michigan. As you would have suspected, when it comes to the best beer in the country, the city is unrivaled. Aside from that, the city's lower-than-average housing expenses will make it easier for you to acquire a home and live comfortably. Grand Rapids boasts a deluge of attractions for you to feast your eyes on, so it's safe to say you won't be bored here.
Frederik Meijer Gardens & Sculpture Park, Meyer May House, John Ball Zoo, and the Grand Rapids Art Museum are just a few of the many attractions. The Grand Rapids Symphony is the band that will make you fall in love with the orchestra if you are even mildly interested in it. You can travel to these places using the city's superb public transportation system. The city is ideal for young professionals and people in their early adult years who are searching for a fresh start in their careers. Some of the key industries that contribute to the city's economy are education, manufacturing, trade, and health services.
Downsides: As the city receives heavy downpours in the prime monsoon season, Grand Rapids is prone to floods. The melting of snow also contributes to this cause at times. Being a tourist hub, the city experiences a large influx of vacationers making it a bit crowded for residents around here.
Population: 203,700
Median Home Value: $252,700
Monthly Rent: $1,295
Median Household Income: $52,000
Unemployment Rate: 5%
Best Neighborhoods To Live In: Creston, Heritage Hills, Alger Heights, and Fulton Heights.
Also read: 6 Largest Cities In Michigan To Move To | Best Neighborhoods in Milwaukee for Families
Conclusion
Moving to a new location brings with it a slew of new adventures and experiences. However, to ensure that it remains that way through and through, your relocation choice should be flawless. The cities listed above are intended to provide you with the knowledge you need to make the best decision possible. So go ahead and embark on this new adventure that awaits you.
FAQs On 5 Best Places To Move From Milwaukee
What Are The Problems With Milwaukee?
The city of Milwaukee is ridden with difficulties that are driving people away from the city. To name a few, its unbearable traffic, the high violent crime rate, and lack of employment opportunities don't make the life of residents here any easier.
Is Milwaukee Poor?
If not the first, Milwaukee most certainly ranks 2nd when it comes to the poorest cities in the state of Wisconsin. The declining job market and lack of opportunities contribute greatly to it.
How Safe Is Milwaukee?
If we talk about the most unsafe cities in all of Wisconsin, Milwaukee tops the list with one of the highest crime rates. According to Neighborhoodscout's data, the city scores a mere 5 out of 100, the latter being the safest.
Also See: Top 10 Out Of State Movers in the US