6 Largest Cities in Michigan to Move to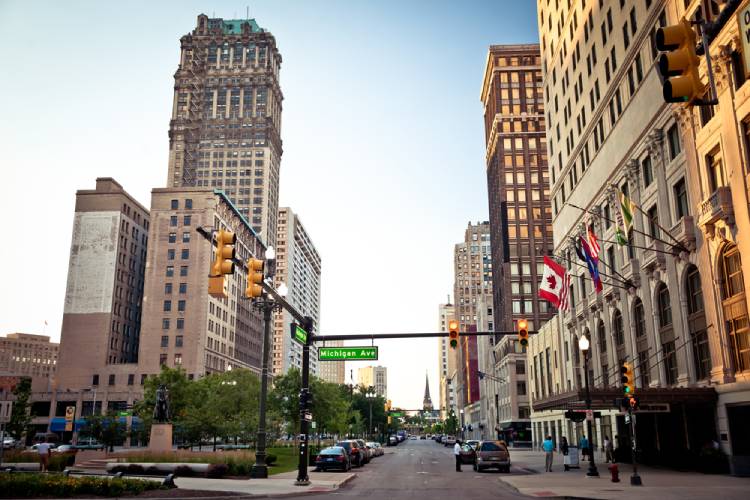 Since you're probably looking to move to Michigan, which is located in the Upper Midwest and the Great Lakes regions, it's won't be surprising if love the winter season. Gaining statehood in 1837 and becoming the country's 26th state, Michigan has a population of over 10 million today. Along with many other temptations, the state's low cost of living automatically makes it a desirable place to settle down in, especially for families. Michigan is the only state in the US that's in contact with four of the five Great Lakes — Lake Michigan, Erie, Superior, and Huron. Love watersports? You'll be thrilled when you're here!
Also known as the Wolverine State, Michigan is famous for being the center of the country's automobile industry. However, there are a huge number of flourishing industries in the state like military equipment manufacturing, aerospace, tourism, copper and ore mining, and Christmas tree-farming. Michigan will keep you hooked with its awe-inspiring landscapes and options for outdoor activities, public attractions, museums, shopping, restaurants, bars, etc. You obviously must have heard of the University of Michigan. It's one of the best educational institutions in the entire country.
Read on to find out which are the largest cities in Michigan where you can consider moving to.
Michigan's largest city, Detroit, is located in Wayne County. It was founded in 1701 by a French trader and is located on the northwest bank of the Detroit River that connects Lakes Erie and St. Claire. Also, it is the largest US city on the US-Canada border. Detroit is best known for being the epicenter of the automotive industry since the great Henry Ford started the mass production of cars in this very city. Ford Motor Company, General Motors, and Stellaris North America are based in Detroit and are also the major employers in the city which is a financial, cultural, and business hub and produces more vehicles than any other US state.
Although the last few years have been difficult for Detroit as people abandoned their homes and moved out, things have started to change and get back to normal. Small businesses, young entrepreneurs, and artists are back in the city and on a spree to convert the abandoned buildings into cafes and restaurants. Detroit is one of the least expensive cities to live in as its cost of living and housing prices are unbelievably low (much lower than the national average). It's most suitable for remote workers, students, and anyone who doesn't want to spend too much on other utilities.
Some of the city's best neighborhoods are Palmer Woods, Downtown Detroit, Sherwood Forest, Brush Park, Bagley, and West Village. The city has violent and property crime rates of 14.13 and 27.61 per 1,000 residents, respectively.
Population: 674,841
Median Home Value: $64,450
Monthly Median Rent: $1,554
2. Grand Rapids
Grand Rapids is a city that is located in Kent County in Michigan and is hailed among the best places to live and retire in the US. It's the state's second-largest city after Detroit. Grand Rapids is best known for its affordable housing and extremely low cost of living. Creston, Alger Heights, John Ball Park, Eastgate, Fulton Heights, Ottawa Hills, and Westside Connection are some of the city's top neighborhoods.
In Grand Rapids, you'll get to enjoy a high quality of life, great public transportation, magnificent art and cultural hub, a low crime rate, a healthy job market, a strong economy, breweries, etc.
In the 19th century, Grand Rapids came to be known as the Furniture City, and today, it's home to some of the biggest furniture companies in the world. A huge number of people come and look for jobs in the furniture industry. Other than this, the best industries in the city are healthcare, consumer goods, technology, automotive, education, manufacturing, and grocery. For families, the top-rated schools in the city are Northern High School, Meadow Brook Elementary School, Catholic Central High School, etc. On the other hand, Calvin College, Aquinas College Michigan, and Compass College of Cinematic Arts are some of the best colleges in the city.
As far as entertainment options are concerned, the residents have biking, hiking, golf courses, fishing along the Grand River, etc. Grand Rapids has violent and property crime rates of 7.31 and 20.00 per 1,000 residents, respectively.
Population: 203,644
Median Home Value: $247,075
Monthly Median Rent: $1,287
3. Ann Arbor
Since it's home to the best public university in the US — The University of Michigan, Ann Arbor is regarded as one of the best college towns you can find in the country. The city is located in Washtenaw County and some of its best neighborhoods are West Park, South Main, Downtown, Burns Park, Old West Side, and Allen. You'll definitely come across Ann Arbor's name in most of the 'Best US Cities To Live In' lists and the reasons for that are never-ending. But we'll try, anyway.
Whether you're moving in with your family or alone, this city is suitable and accommodates everyone. A few of Ann Arbor's best-performing industries are data security, IT and software, research and development, and artificial intelligence development. Also, it's known for being a hub for startups.
If you're worried about the education of your young one, let us tell you that Ann Arbor is considered the most educated city in the entirety of America. There's no dearth of options for education in the city. There are numerous high-quality public and private schools like Skyline High School, Pioneer High School, Clague Middle School, Michigan Islamic Academy, Greenhills School, etc. Apart from the University of Michigan, the city has colleges like Washtenaw Community College, Ross Medical Education Center, Concordia University, etc.
But that's not all. Ann Arbor offers a great variety of options for arts and entertainment as well. Every July, a fair is organized called the Ann Arbor Arts Fair. The city is loved by creative minds, nature lovers, sports enthusiasts, music addicts, foodies, and anyone who wants to enjoy life. The city's proximity to Detroit is also something that gets the residents excited. Another major advantage of the city is its low crime rate. According to NeighborhoodScout, Ann Arbor has violent and property crime rates of 2.91 and 15.84 per 1,000 residents, respectively. The national median for violent crimes is 4 while it is 19 for property crimes.
Population: 120,735
Median Home Value: $456,802
Monthly Median Rent: $1,749
4. Warren
The city of Warren is located in Macomb County in the southeastern part of Michigan. Until 1893, it was a tiny village before being incorporated from its initial settlement. It remained a rural area till 1904 when it was linked to the city of Detroit via rail and streetcar. If you want to live in a peaceful environment, but not too far from the hustle and bustle of the city, Warren is the perfect place for you. People in the city experience all four seasons — winter, summer, spring, and fall. At 83°F, July is the hottest month of the year but it suits people for outdoor activities. January is the coldest month of the year with an average low temperature of 20°F. Warren receives 34 inches of rain and 31 inches of snow.
Can you take a wild guess what could be the slogan for Warren? It's 'Small Town Lifestyle, Big City Commerce'. Slowly but surely, the unemployment rate in Warren is improving with every passing month. The city's biggest employers are General Motors Technical Center, Chrysler, US Army technical and research facilities, St. John Macomb Hospital, and Art Van. The best neighborhoods to live in Warren are PiperVan Dyke, Warrendale, and Northeast Warren. The city has violent and property crime rates of 4.86 and 14.02 per 1,000 residents, respectively.
Population: 134,797
Median Home Value: $183,113
Monthly Median Rent: $910
5. Lansing
Located in Michigan's Ingham County, Lansing is the capital city of the midwestern state and is home to a historic state capitol building that dates back to the 1870s. The city was discovered by a British trader and his team in 1790 while canoeing in the Grand River. In 1847, the capital was moved from Detroit to Lansing because of its central location. Whenever you move from one place to another, the biggest factor is the cost of living. You'll be thrilled to know that the cost of living index for Lansing is just 76.5. This is much lower than the national average (100) which means that you'll be spending significantly less than the average US citizen.
The best industries in the capital city are insurance, education, manufacturing, healthcare, and most importantly, the automobile. While the government sector creates a lot of job opportunities, other top employers are Michigan State University, Sparrow Health System, General Motors, Auto-Owners Insurance Group, McLaren Health, and Lansing Community College. Lansing experiences a humid continental climate with cold winters and hot summers. July is the hottest month of the year with an average high temperature of 82°F and January is the coldest month of the year with an average low temperature of 17°F. People get to enjoy 33 inches of rain and 46 inches of snow.
There are a huge number of elementary schools, middle schools, and high schools in Lansing. The three colleges in Downtown Lansing are Lansing Community College, Davenport University, and Cooley Law School (the country's largest law school). Michigan State University is situated in East Lansing.
For all the history buffs, you can treat yourself to a tour of the Michigan State Capital, The Michigan History Museum, and Lansing Art and Gallery. While there are sports fans all over the state, Lansing takes the craze to the next level.
The city has violent and property crime rates of 15.22 and 32.00 per 1,000 residents, respectively.
Population: 117,159
Median Home Value: $137,625
Monthly Median Rent: $990
6. Kalamazoo
Located around 50 miles to the south of Grand Rapids, Kalamazoo is a city in Kalamazoo County in the southwestern part of Michigan. The big cities of Detroit and Chicago are about the same distance from Kalamazoo. The climate of the city is humid continental which means that the residents experience extreme summer and winter temperatures. While the city receives 36 inches of rain, there are 60 inches of snow in a year. Once again, the cost of living for Kalamazoo residents is way below the national average (100) at 79.2. Thus, you'll be able to save quite a bit of money. Additionally, Kalamazoo is one of the country's cheapest cities to find a residence in. Few of the best neighborhoods in the city are Colony Farm, South Side, West Main Hill, Hill N' Brook, and Oakland,
The unemployment rate is at 4% and the city offers affordable housing options. There's a program in place known as The Kalamazoo Promise that offers a 4-year scholarship covering tuition fees to students of the Kalamazoo Public School system. Kalamazoo is home to the renowned Western Michigan University.
There are multiple options for entertainment since the city is a hub for arts and culture. You can choose from its theaters, live music venues, museums, fairs, amazing nightlife, top-quality restaurants, bars, etc. The city organizes Art Hop, a free event for the public on the first Friday of every month. Kalamazoo has violent and property crime rates of 15.01 and 50.99 per 1,000 residents, respectively.
Population: 75,351
Median Home Value: $204,396
Monthly Median Rent: $1,091
See Also: Most Affordable Places to Live in Michigan
FAQs On Largest Cities In Michigan
Which Are The Safest Places To Live In Michigan?
Michigan has violent and property crime rates of 4.73 and 13.46 per 1,000 residents, respectively. Some of the safest places in the state are Ann Arbor, Oakland Township, Rochester, South Lyon, Milford, and New Baltimore.
See also: 10 Safest States in the U.S.
How Is The Climate In Michigan?
The people of Michigan experience a continental climate throughout the year with hot, warm summers, and cold, icy winters. The state receives 34 inches of rainfall, 64 inches of snowfall, and 170 days of sunshine annually. January is the coldest month in Michigan with an average low temperature of 14.1°F. July is the hottest month with an average high temperature of 81.2°F.
Is Michigan An Expensive State To Live In?
No. In the cost of living index, Michigan has a score of 93.4 which is lower than the national average of 100. More importantly, a majority of the cities offer affordable housing to the people. While the cost of living varies from city to city, generally speaking, Michigan is quite inexpensive.
Also Read: Best Moving Companies in Detroit | Best Neighborhoods in Detroit for Families