Moving to Detroit | 2022 Cost of Living & Relocation Tips


VanLines Inc
Secure Storage
Easy Booking Process
Fully Trained Employees
GET QUOTE

Colonial Van Lines
Storage Services
Long-Distance Moves
Corporate Relocations
GET QUOTE

Moving APT
Vetting Process
Award-Winning
Available Nationwide
GET QUOTE
Our Take
Price
Rating
Minimum Shipment Size
Storage
Booking Deposit
Cancellation Policy
Quoting Options
Discounts

Best Overall Value


GET QUOTE

2+ bedrooms




Free 30 Days




10%

Free up to 72 Hrs

Phone / FaceTime / Text

Senior / Same day Booking

Best Industry Reputation


GET QUOTE

1+ bedrooms




30 Days




20%

Free up to 72 hrs

Phone / Facetime

Seniors Discount

Best Customer Service


GET QUOTE

1+ bedrooms







Free up to 72 hrs

Phone / Virtual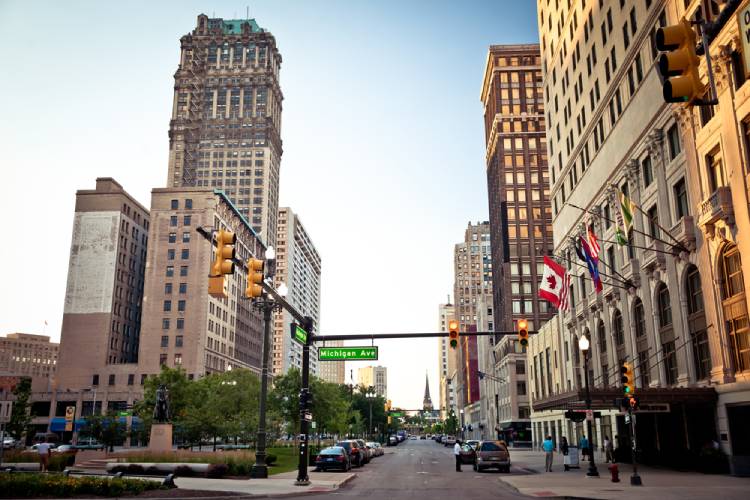 Apart from being the shoot location for Clint Eastwood's iconic film Gran Torino, the city of Detroit is Michigan's urban playground that has plenty of things going on for it. It has a vibrant music scene, plenty of diversity, a large volume of restaurants and is dotted with unique architectural marvels. From all its features, inexpensive housing, low cost of living and inviting communities are the most appealing ones of the city.
As a transplant, you're most likely to be drawn to the affordability of the city in comparison to other metropolitan areas. But before you commit to Detroit completely, there are few other things you should know about. Let us take you through the weather conditions, transit options, best neighborhoods and more, so that you can be the judge of its potential for you.
Weather In Detroit
One of the larger concerns for those making the jump to Detroit is the cold spells and dreary winters. In all honesty, if you're going to be moving to Detroit, from a city that has never experienced winters, you would need to give yourself some time to adjust to the bitter cold. For locals, the long winter conditions are a slice of Detroit life where it's time to ski, ice fish, ice skate, snowmobile or hike. But as a transplant, you'll first probably need to prepare yourself to drive safely, shovel snow and get the appropriate gear to survive the cold.
The Chilly Winters Of Detroit: Winters in Detroit begin in November and end in February. You can expect regular single digit temperatures during these months. Average low temperatures would fall in the range of 23°F (-5°C) to 37.4°F (3°C). But temperatures drop even further in the night. So your typical winter in December, January and February would be severely cold air, grey clouds, moderate snowfall and temperatures in the 20s or 30s. It's best to take up a winter activity to make the season a bit more fun.
The Spring In Detroit's Step: Residents of the city experience spring temperatures in the month of March and April. Spring temperatures fall in the range of 35°F (1.7°C) to 46°F (7.8°C). It surely is a good break from the extreme winters, but it still is chilly, gloomy and damp. The increase in sunlight can be assuring in the spring, but then you have to be prepared for the occasional drizzle. Overall, temperatures would either be in the 30s, 40s and only touches the 60s when it's time for summer to take over.
Of Summers and Fall In Detroit: Summers and fall in Detroit truly make up for all the sunshine hidden during the winter months. The start of May to mid-October is cue for heavenly temperatures and a real good break from the cold. The city comes back to life and you'd actually end up thriving outdoors in the stellar weather conditions. Summers in Detroit are high in humidity with temperatures touching 95F regularly but are still embraced. Our suggestion would be that you make the most of your time outdoors, exploring lakes and nature trails, as the pleasant weather from May to October truly complements that.
Transportation
The city of Detroit was a global hub for automobiles and even got nicknamed the "Motor City". Perhaps this is why having a car is not only mandatory, but it is the most ideal way to commute in the city. A car would preferably be the first choice to explore what Detroit and the state of Michigan has to offer.
Avec a car, your reach is limited to the fixed bus routes and you might be cut off from places of entertainment. Detroit does have a couple of bus systems, but they aren't up there in terms of frequency and running on schedule. Additionally, it can also be a hassle to wait for a bus when it's freezing cold.
The only area that is supposedly tightly knit with a reliable network of public transit is the downtown area of the city. In terms of practicality, those who reside in the downtown area can take advantage of the following services:
Detroit People Mover (DPM) – DPM is an elevated train service that circles key spots in downtown Detroit. It covers a distance of 2.94 miles and consists of 13 stations. It costs residents 75 cents to ride it and is a convenient option to reach areas such as Renaissance Center, Greektown and Aloft Detroit.
QLine – A streetcar system that helps link residents to other services like the SMART or DDOT bus stop, DPM and even an Amtrak station. It consists of 12 stations and a monthly pass would cost you $30.
SMART Bus – SMART is the local bus service that helps you get to the suburbs of the city. This same service also offers a FAST service that works the same way an express bus would. The standard bus fare is roughly $2.
DDOT Bus service – Another city bus service that travels within the city and also covers a few key areas outside the city borders.
MoGo – If you love getting around on two-wheels, you can opt for the MoGo bike-share program. This service travels to 75 stations across 6 cities in Detroit and consists of 620 bikes. It costs 25 cents for each minute on the bike.
Apart from these services, you can also take advantage of Uber and Lyft in case you don't have a car.
Airports In Detroit
The two most extensively used airports in the city are:
Windsor International Airport – Sits 9 miles away from the city center
Detroit Metropolitan Wayne County Airport – This is the state's busiest airport since it has international and domestic flights.
Job Market
The mix of skyscrapers and the tall office buildings definitely contributes to the stunning skyline of the city and is a subtle reminder of the multiple companies that chose to set up in Detroit. There's no doubt that the city of Detroit is home to several productive pockets such as the remarkable Renaissance Center, the renowned Financial District, New Center and TechTown Detroit. A simple walk or drive to these notable commercial hubs prove that the city is home to thousands of multinational corporations across several fields.
Few of the most notable companies that have their headquarters set up in the city are:
Deloitte
HP Enterprise
KPMG
Ernst & Young
Detroit Medical Center
Henry Ford Health System
Quicker Loans
Most of the companies on this list are well-known and have a good standing in the global market. A second glance at the list also proves that financial companies are a huge contributor to Detroit's economy. Due to this, more and more accounting firms are setting up their headquarters in the city.
All in all, the economy is steadily growing out of the financial crisis it faced in 2013. And it can be concluded that the economy is progressing and probably in a rebound state. Apart from finance, there are lucrative job opportunities in the field of healthcare, automobile manufacturing and technology. However, it completely depends on whether you'd like to be part of that momentum.
See also: Top 10 Cities in the U.S. for Job Seekers
Renting In Detroit
According to reports by RENTCafé, approximately 34% of the renters in the city shell out an amount that falls somewhere between $700 to $1,000 for monthly rent. To give you a rough price point, the average median rent in Detroit is $1,088.
Few of the neighborhoods where rent is exorbitant are – Lower Woodward, Jeffries and Downtown Detroit.
Cost Of Living In Detroit
According to PayScale, the cost of living in Detroit is 3% lower than the national average. But to give you a better idea of the actual figures, we've considered the average amounts that would go into housing and utilities.
Housing
Upon referring to Zillow for data, you would notice that on an average, the median value of homes is $43,113. This is roughly 6% lower than the national average, making housing prices extremely inexpensive in comparison to similar sized metropolitan areas. In other words, it is relatively easier to own a large property in your 20s, which would otherwise remain a far off dream in another metropolitan city. To further emphasize on figures, you would be paying approximately $53,700 for a property in Detroit, which could otherwise cost you roughly $231,200 elsewhere in the nation. There's a huge 5 to 6 digit margin in costs.
Utilities
When it comes to utilities, you have to keep in mind that your energy bill would be higher during the cold months. Therefore, the higher average of your gas and electricity bill would be $100 to $150, while the lower average is $60 to $80. Internet bills could round up to a figure somewhere between $25 to $30 per month. All is all, your utility bill would most likely not hit the $1,000 per month mark.
We'd like to give you a heads up though. One particular area where costs are astronomical in nature is car insurance. It is considered to be among the highest in the nation and amounts to 5k to 6k a year.
See also: Utility Bills 101
Median Household Income
The median household income in Detroit is $29,481 (according to Niche). This is way below the national average which stands at $55,322. Thus, the salary you reel annually will probably be low. However, on the plus side, the cost of living is also low which balances things out to an extent.
But then again, if you wish to apply the logic of spending 50% of your salary on basic needs, 30% on wants and 20% for savings, reports state that you should be earning a figure between 35k to 45k annually. This is the average figure to live comfortably in the city of Detroit. Do note this average would vary based on individual spending habits and lifestyle.
Upon looking at these figures, there is a visible downside here. This is mainly because the median household income in Detroit stands at $29,481, creating a gap of 6,000 to 16,000 in comparison to the ideal figure to be "well-to-do" (which is 35k-45k).
Top Schools And Universities In Detroit
Top 5 Best Rated Universities
University of Detroit Mercy
Wayne State University
University of Michigan in Dearborn
College for Creative Studies
Oakland University
Top 5 Best Rated Schools
Deerfield Elementary School
Wass Elementary School
Bemis Elementary School
Novi Woods Elementary School
Thornton Creek Elementary School
Best Neighborhoods In And Around Detroit
When it comes to selecting a region in Detroit, it is extremely important to be smart about it. This is mainly because Detroit presently has a high violent crime rate. There are several areas that are run down, abandoned and crime-ridden. As transplants, you have to be vigilant about dangerous areas and sketchy places to avoid, just like you would in any other big city. Below we've curated some of the top areas that are safe residential neighborhoods and feature the essence of living in Detroit.
Woodbridge
The town of Woodbridge is ranked as the number one neighborhood to live in Detroit and is the most popular residential area of the city. It is dotted with iconic Victorian styled brick houses and is an extremely walkable area. The region is surrounded by parks, recreational spots and excellent educational systems. Woodbridge boasts of being centrally located, making it easy to connect to downtown Detroit, Midtown and even the New Center area.
Median value of homes – $142,261
Median rent – $826
Corktown
The neighborhood of Corktown is located just west of downtown Detroit. A large percentage of the area is residential in nature and the town is also part of a historic district. Many of the homes here follow a Victorian style of architecture or are restored buildings. It can be hard to maintain these homes, but you can also opt for newer residential developments. Residents here enjoy the proximity to downtown, Bagley (another appealing neighborhood) and riverfront parks. A great perk of living here is that you aren't in the center of where the hustle takes place, but are close enough to take advantage of the opportunities.
Median value of homes – $207,808
Median rent – $1,187
Ferndale
Ferndale is an incredible little suburb of the city of Detroit. If you're on the hunt for a place with good schools, playgrounds, warm community and parks around, then Ferndale could be the right place for you. This city also has an active art and music scene. Housing here isn't outrageously expensive and it is also relatively safer than other neighborhoods. You have several chain restaurants like Taco Bell, Wendy's, Subway, Pizza Hut and so on, within the vicinity.
Median value of homes – $148,100
Median rent – $998
Royal Oak
Royal Oak is located just outside Detroit. It would take you roughly 15 to 20 minutes to reach Detroit city center from this residential area. The region is extremely familiar to the features found in Ferndale, but is slightly more developed and expensive. If you don't wish to deal with the hassle of maintaining older homes, you would technically find a good deal of renovated apartments in Royal Oak.
Median value of homes – $264,816
Median rent – $1,131
Lafayette Park
Lafayette Park is located in the heart of the city of Detroit. Residents here have access to the Renaissance Center and can also make use of the people mover transit system. This part of Detroit is a mix of businesses, entertainment and residential areas all muddled together. You can also walk or bike to the Riverfront, downtown Detroit and the financial district.
Median value of homes – $185,639
Median rent – $854
Also read: Top 7 Neighborhoods In Detroit For Singles And Young Professionals
FAQs about Moving to Detroit
Is it dangerous to live in Detroit?
According to FBI reports, Detroit is one of the most dangerous cities to live in America. Detroit has one of the highest numbers of violent crimes committed in a year across the nation. If you are staying in Detroit, you have a one in 23 chance to become a victim of a property crime, meanwhile, you have a one in 51 chance to become a victim of violent crime.
How much do you get paid to live in Detroit?
Many cities in the USA try to attract people by offering several incentives like money and scholarships, and Detroit is one of them. Numerous employers from Detroit (including Quicken Loans, Blue Cross Blue Shield, etc.) pay their employees to live downtown. An employee can receive up to $3,500 when he/she rents a home and about $1,000 when he/she renews a lease.
Moreover, you can also receive $20,000 in forgivable loans if you buy a new home. Similarly, you can also receive paid fellowships to move to and work in Detroit. This fellowship program ensures that all newcomers mandatorily get a salary in their first year.
Where should I not live in Detroit?
Detroit is truly an iconic city, no one can deny this. However, the crime rates are at an all-time high and the unemployment rates are rising steadily as well. So if you want to keep yourself safe, avoid living in these parts of Detroit:
Fishkorn
Carbon Works
Von Steuben
Warrendale
Franklin Park
Barton-McFarland
Fitzgerald
Riverdale
The Eye
East English Village
Why is Detroit so dangerous?
Detroit has been in financial difficulty for several years now. The city is in a state of urban decay. A lot of factories shifted to the outskirts of the city and this led to the deindustrialization of Detroit. As a result of this, many white families took off from the city and settled in the suburbs. There was a decline in the population of Detroit and the black community was left to fend off for itself in midst of discriminatory loan policies.
This has led to several social issues like massive growth in the unemployment rates, poverty and decaying quality of the public services. It had a domino effect on things and gave rise to crime rates in the city, because of which Detroit is one of the most dangerous cities to move to.
Why is Detroit property so cheap?
The biggest factor that has affected the cheap property rates in Detroit is the decline in its population. Because of several reasons, people have taken off from the city. Many houses and businesses were abandoned in this process.
The city hasn't witnessed much development because of which no one wants to move there. Now, the real estate market is filled with houses that nobody wants to buy. Due to a high supply and minimal demand, the property is super cheap in Detroit.
Is it expensive to live in Detroit?
Staying in Detroit is not expensive at all. Detroit's economy has taken a hit because of which the costs of living have gone down. Just to give you an idea, the cost of living in Detroit is 17% less than the national average cost of living. This is mainly because of the cheap real estate market.
The cost of housing in Detroit is 61% lower than the national average. The median home price in Detroit is $53,700. Other than this, utilities, transportation, food and groceries, and healthcare is also pretty cheap in Detroit.
Is Windsor safer than Detroit?
Crime reports clearly indicate that the crime rate in Windsor is much lower than that of Detroit. When it comes to Violent crimes, you have a one in 51 chance to become a victim in Detroit, whereas the chance of you being a victim in Windsor is 1 in 468. Similarly, you have a one in 23 chance to be a victim of a property crime in Detroit, meanwhile, the chance of you being a property crime victim in Windsor is one in 102.
Is Detroit a ghetto?
The city of Detroit has certainly turned into a ghetto. The city has fallen apart due to economic instability. Social issues like rising poverty, unemployment rates, crime rates, vacant houses, etc., have put Detroit in gruesome troubles. If you are in Detroit, avoid moving to some of the ghetto areas like Gratiot Avenue, Forest Park, Chaldean Town, and Milwaukee Junction.
What percentage of Detroit is white?
14.7% of the population residing in Detroit, Michigan is white.
What state pays you to move there?
You might be surprised when you find out that several states of the USA are willing to pay you money to move there. Why? Well, many states as well as local governments wish to bolster their economy because of which they are trying to motivate people to move there. Let us look at some of the states that will pay you to move there.
Maine
Oklahoma
Northwest Arkansas
Kansas
Vermont
Alaska
Iowa
Nebraska
Tennessee
Ohio
What is a good salary in Michigan?
The average annual household income of Michigan residents is $59,093. This means that if you earn anything above this amount, it will be considered to be a good salary. Earning above the average income will ensure that you live a comfortable life.
---
Our Take On Detroit
The city of Detroit has a ton to offer in terms of culture and affordability. But at times, people are apprehensive of moving here because of its negative versions that are sensationalized in cinema and the press. We believe it's important to have an equal understanding of the welcoming and diverse communities of the city to make a decision. Our suggestion? Get a gist of things alongside the practicalities to know if moving to Detroit makes sense for you.
See also: Top-Rated Movers in America | 5 Best Neighborhoods in Detroit for Families