Best Moving Companies in Detroit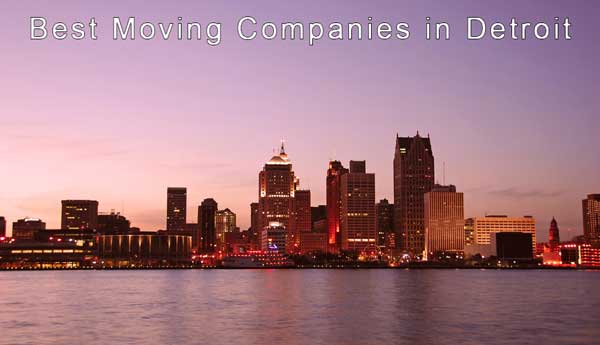 Top-Rated Detroit Movers to Consider for 2020
Moving can be very exciting. Perhaps you got a new job opportunity and now you would like to move closer to your new work location, or perhaps you are leaving your old home for your dream home you have been working so hard for. Either way, moving can be exciting, but it can also be stressful. Managing your weekly activities such as going to work, school, taking care of the kids, meetings, appointments, shopping, etc. can make moving hard if you are not organized. Below are some great tips to help you get started on making your move the most stress-free successful move, and stay tuned to get some resources on the best moving companies in the Detroit area.
Moving Tips
Preparing Mentally
As noted above, moving can be stressful, and it can especially be stressful if you do not have much time or are making an unexpected or sudden move. Whatever your situation may be, make sure you are mentally prepared so you may be able to handle what comes next. The best thing to do is to expect and plan to have long days and long nights. If you are mentally prepared for these long days coming up, it will be easier to navigate and plan through them. The most important thing to remember when preparing mentally, is to remember this is a temporary situation. You will be in your new home soon enough. Anticipate the day you are settled into your new home to motivate you during your move.
Plan, Activate, and Execute
Plan what is best for your situation. Decide what your budget is for moving. Think of expenses you will incur while moving. These expenses could be for renting a truck or van, hiring a moving company, buying equipment such as boxes and tape, and gas if you are driving. If you do not have a huge budget, then you may not be able to hire someone to help you pack. If this is your case, you should plan to do a little packing each day depending on how much time you have to pack. You can categorize your pack by room. Pick a room you least use and start in there, or you can also categorize your packing by items. For example, you may want to start by packing all items that are NOT your everyday items. These items could be items you use during special occasions such as clothes, shoes, dishes, etc.
Be Organized
Make your life easier by being as organized as possible. Label any and everything. Label your boxes by category. Create separate boxes for your dishes, paperwork, clothes, shoes, house supplies, etc. Create an inventory list or sheet. On the sheet, keep track of how many boxes you have for each category. This will help you keep track of your items as they are in transit. You should also keep a daily and weekly task sheet. Cross off all tasks you have completed while keeping track of things that still need to be done. If you are traveling at a far distance, you may have to ship some of your items, so organize which items will be shipped.
Shop Around and Check for Moving Discounts
Always plan to shop around. You may find an independent moving company in your area that offers top-notch services for less than what big named companies offer, and there is a chance their services could be better. Do not always go with the most known company first. Check your neighborhood moving company's social media pages. Look at their reviews and ask around. You may know someone that has used their services. Word of mouth from someone you know is the best way to shop. Also, make sure you are looking for discounts. Some companies give new customers discounts. Look for online coupons by searching for them using your search engine. If you are a part of any club, check to see if they are associated with any company that will help your move run smoothly. They may offer discounts. You can also, inquire about discounts at your current job if you are employed. A lot of companies offer their employees discounts on renting moving vans and so much more to help them move. Some companies even help their employees by doing all the research for them. If you are privileged enough to work for such a company, take advantage, and if you are moving because of a new job, do not hesitate to ask if they have any assistance available to help you in your move. Sometimes companies will pay for your moving services and outsource other companies to help you get settled into your new home. Make sure you inquire about these possible benefits.
Packing Tips
When you are packing your boxes, make sure all the boxes are able to contain what you are packing and be sure to put all the heavier items at the bottom. As mentioned before, make sure you label each box. Label each box not only with its name but label whether the items are fragile or soft goods. It is also helpful to label each box with room destinations so that you or your movers will know where to take each box. Be sure to not mix items from different rooms into one box, otherwise, you will have more work to do than you would have to do. Make things simple.
Now that you have some great tips to help you get started on your stress-free successful move, let's help you find some really great companies to help you during your move.
If you are moving to or from the Detroit area, here is a list of some of the best moving companies to help you:
1. Frisbie Moving & Storage
If you are in the Detroit Metro area, Frisbie Moving and Storage is a great option for you. Not only do they serve the metro area, but they also serve surrounding areas and cities such as Ann Arbor, Dearborn, Livonia, Sterling Heights, Southfield, Warren, Birmingham, University of Michigan, and many more. They have been in business since 1930 and have been able to maintain a 5-star rating as of now on their website. They are qualified and equipped to help not only residential movers but commercial and international movers, and if you are moving across the country, they can successfully help you with that move as well. All Frisbie labor workers must go through 200 hours of supervised training and 30 hours of in-class training before they are able to obtain their "Quality Labor Certification" guaranteeing them being ready to move your precious valuables. Frisbie also offers a free in-home survey with a written estimate, a designated move coordinator, long and short-term storage options, custom crating options, and timely and exceptional customer service. Be sure to check them out.
2. Stevens Moving & Storage of Detroit
Stevens Moving and Storage has been around since 1905. With a Google rating of four stars, Stevens is known for being courteous, reasonable, professional, and caring, according to some of their customers. Stevens Moving serves Midland, Bay City, Saginaw, and the surrounding communities. They also now have over 400 agents all around the world serving their communities. For local moves, they offer a free quote, bulky item moving, packing services, long and short term warehouse storage services, apartment and senior moves, as well as crating. For those who are moving further away, Stevens offers a free quote, packing and unpacking services, gun safety moving, warehouse storage, heavy furniture moving services, piano moving, and motorcycle shipping. If you need to inquire about commercial moving, Stevens Moving and Storage offer services to companies as well. They have a specific department for office relocation services as well as for corporate relocation services, and if you are a corporation, you will be assigned a personal corporate relocation consultant to ensure your move goes smoothly.
3. Five Pointe Moving
Five Pointe Moving, named after the five Grosse Pointes cities in Michigan, has been around since 2005 serving the Metro Detroit area, including Macomb County, Oakland County, and Wayne County. According to their customer testimonies found on their website, they are known for being very professional, courtesy, responsible, and thoughtful. Many of their customers have noted how careful they were while handling their valuables. Five Pointe Moving offers its customers full moving services. This is best if you would like the movers to wrap and move your belongings from your house to the van and then to your new location. Once they have arrived at your new home, they will unload the truck and put all your belongings where you would like them to place them. If you change your mind and decide perhaps you would like the couch in a different room, do not worry. They will move the item for you and not leave until you are satisfied. They also offer partial moving services. This is best for those who only need some of their items to be moved out of their home. This could be for a college student or anyone in the home who is moving out. This can also be used for someone who is moving into your home such as a parent. They also offer other services such as in-home moving (setting up a room, moving around furniture, etc), packing services, and labor services (only hiring movers and not using their trucks). They are also not shy about offering discounts for new customers, students, and seniors. Five Pointe Moving has a lot of great options.
4. Palmer Moving Services
Having over 100 years of experience dating to the start of the company back in 1910, Palmer Moving Services has been serving Warren, Michigan and surrounding areas, including Detriot, with the best customer service they can provide. Since their start, they have grown tremendously, having over 300 employees who manage over 10,000 relocations annually. They offer services for local movers, long-distance movers, and office and corporation movers as well. They pride themselves on having a "customer comes first" mentality which enables them to only make arrangements that are cost-effective, efficient, and timely for the customer. They also offer free quotes, international moving, senor moving, storage, packing and unpacking services, vehicle transporting, furniture installation, inventory and records management, and employee relocation services.
Moving can be stressful but it does not have to be. It can be very exciting. Remember to always think positively and prepare to have long days and nights, but keep in mind it is temporary. Be sure to plan your move ahead of time so you will be able to decide what is best for your situation. Always look for discounts and the best companies to help you, and be sure to be organized. It will save you a lot in the long run. Happy moving!
Also See: Top 5 Neighborhoods in Detroit for Families | Popular Neighborhoods In Detroit For Singles And Young Professionals