Moving From Florida To Tennessee – Expert Tips & Advice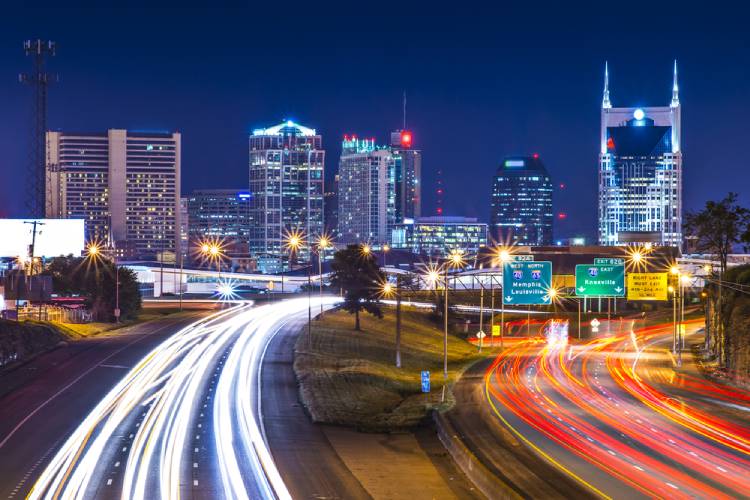 If you're a Floridian, you'll agree that beach life may become monotonous after a while. Tennessee, being an inland state, could be the secret to escaping boredom, as it is full of hustle-bustle that will keep you occupied. Given the state's ties to a variety of musical genres, we doubt there will ever be a dull moment here. But this isn't all the information you'll need to relocate to a new state; there's a lot of thought that goes into selecting the perfect location for you. As a result, we've compiled a list of everything you need to know about moving from Florida to Tennessee.
Factors To Consider Before Moving From Florida to Tennessee
Weather Conditions
Florida is known to have skull-scorching heat during summers. Your employer wouldn't be surprised if you took a day off from work just to avoid getting out of the house in the intense heat. Although Tennessee too gets similar hot summers from time to time, it has a fairly enjoyable climate, thanks to its sub-tropical weather conditions.
Here's the difference in temperatures that you can expect during peak summertime:
Florida in July – Average temperature falls in the range of 72°F to 92°F.
Tennessee in July – Average temperature falls in the range of 67°F to 89°F.
As mentioned earlier, Florida heat can be really unbearable as it tends to touch the 100°F at times. Even reading that kind of number would make you sweat! Tennessee, unlike Florida, is a landlocked state and thus, experiences normal and bearable temperature the majority of the year.
Here's the difference in temperatures that you can expect during peak wintertime:
Florida in January – Average temperature falls in the range of 57°F to 70°F.
Tennessee in January – Average temperature falls in the range of 48°F to 32°F.
Few Things To Bear In Mind About Tennessee Weather:
The state enjoys a mild climate all year round, making it an ideal place to live in.
Snowstorms are frequent visitors of Tennessee in the months of December to February.
You can experience the rich music culture of Tennessee in its full glory during the summer season as the state tends to put on a stellar line-up of music events around this time.
Cost Of Living
No matter the reason behind your move, at the end of the day, you are bound to consider the cost of living in a new state. From utility bills to the average price for owning a house, you will have to factor in all the expenses you might incur. If you are moving from Florida to Tennessee, you will be relieved to know that the cost of living is 7.6% less expensive than in Florida.
Remember that Florida also has the 15th highest cost of living while Tennessee is the 14th lowest. In terms of taxes, both Florida and Tennessee have no state income tax. However, in sales tax you'll see a slight difference. The general state tax in Tennessee is 7% while it remains at 6% in Florida.
Buying A House
Moving on to the housing costs, here's a quick comparison between the two states, according to the Zillow database.
The median value of homes in Florida – $348,732
The median value of homes in Tennessee – $270,000
As evident from these numbers, Tennessee is a much more affordable choice if the major reason for your move is to save money. Let that not distract you from the fact that, despite the less cost of living and household costs, Tennessee has pretty much everything to offer when it comes to spending a decent lifestyle.
Renting A House
Nashville is the capital and most popular choice among cities to live in Tennessee. If you plan to move here, you can expect the median rent to be $1,428. On the hand, the median rent in Florida's most populated city Miami is $1,998. Whether you're buying or renting it is evident that real estate prices is going to be cheaper in Tennessee. Of course this is barring certain posh neighborhoods where prices can be higher than Florida as well.
Utilities
If we talk about everyday expenses, a carton of eggs will cost you around $1.70 in Tennessee whereas the same would cost you $2.40 in Florida. A liter of milk is valued at $0.80 in Tennessee as compared to the $0.95 in Florida.
Utility bills which include what you pay for electricity, water, and gas will cost 6.5% less in Tennessee. But remember that this cost will vary depending on where you choose to reside in Tennesse. The cost you pay will boil down to your usage. Do note that Nashville-Davidson-Murfreesboro-Franklin metro areas are more in demand and hence more expensive than the rest of the state.
Job Market
The unemployment rate in Florida remains at 4.4% and Tennessee is not too bad either at 4%. In terms of flourishing industries contributing to the economy of both these states, the tourism, healthcare and real estate industry are the dominating sectors in Florida.
On the other hand, Tennessee's economy is dominated by a wide array of industries that fall in sectors tied to healthcare, agriculture, transportation, and financial services. You should also know that Florida's economy ranks 4th in being contributing to the nation's GDP. In this regard, Tennessee ranks 20th which showcases that the state's GDP contribution is not nearly as big as that of Florida.
According to Zippia, the top employers in Tennessee are:
Dolgencorp
Dollar General
HCA Healthcare
FedEx
Autozone
Here is a quick comparison between the two states in terms of median annual incomes:
Median annual income in Florida (according to Niche) – $57,100
Median annual income in Tennessee (according to Niche) – $54,400
Though there is not that big a difference when it comes to the median annual income between both these states, the low cost of living in Tennessee provides a much better and more cost-effective lifestyle as compared to Florida. It goes without saying that the exact costs may change depending on your spending patterns.
Transportation
When it comes to commuting in and around Tennessee, you will be well taken care of thanks to the Tennessee Department of Transportation (DOT). The DOT is responsible for maintaining the transportation infrastructure of the state.
The Interstate 40 (I-40), also known as "Tennessee's Main Street" is the state's longest and most important highway. It connects the three major cities of Knoxville, Nashville, and Memphis. Having said that, the state constantly faces traffic problems in congestion-prone metropolitan areas like Memphis and Nashville.
Speaking of airways, famous airports like Memphis International Airport, Nashville International Airport, and Chattanooga International Airport are located in Tennessee. It also has a number of general and private airway options.
Here's a list of a few commute options you can choose from within the state:
Railroad passenger carriers like the Amtrak and the Music City Star.
Regional Transit Authority (RTA) of Middle Tennessee that provides commuter service between downtown Nashville and outlying communities of Rutherford, Sumner, Dickson, Robertson, Williamson, Wilson, and Montgomery counties.
WeGo Public Transit is a facility available in the city of Nashville only.
As you would have probably figured it out by now, Tennessee has a multitude of transportation options. If that is not all, the fact that the state is one of only five states with no transportation debts speaks volumes about its effective management system.
Tennessee's Strong Points
● You cannot talk about music and not mention the state of Tennessee. Home to a culture of a variety of music styles ranging from country to blues, there is no better place than this for music aficionados.
● As compared to Florida, the cost of living in Tennessee is quite low and thanks to the no income tax policy, Tennesseans won't see a tax deduction come payday.
● A mild climate all year round is one of the main reasons for the state's popularity.
Top Cities To Move To In Tennessee
One of the most famous and pivotal cities of Tennessee state is Memphis. The Memphis International Airport is located in this city and it remains the busiest cargo airport in the United States and the Western Hemisphere. There is no denying that the entire state is rich in music history and culture. But Memphis is particularly known to be the home of the Blues and the birthplace of Rock 'N' Roll.
Apart from music cultures, you get to witness the historic and cultural diversity in this city which have been the key attractions for people all over the state.
Median Home Value: $270,000
Median Rent: $985
Also See: Top 5 Neighborhoods in Memphis for Families
Brentwood
Quite possibly the plushest and most expensive side of the state is Brentwood. If you are all for that luxury lifestyle, Brentwood is the place for you. You can send your kids to the famous Brentwood High School, which is well-known for its excellent educational program.
Median Home Value: $924,550
Median Rent: $2,470
Nashville
If you are looking for a city with breathtaking sceneries and the true essence of country music, then Nashville is the ideal place for you. Not only this, this city has a solid economy and has an affordable average cost of living. With such an ideal package this city has to offer, you don't need to think twice before relocating here.
Median Home Value: $405,230
Median Rent: $1,645
All the budding entrepreneurs and tech enthusiasts are moving to Chattanooga lately. The reason behind this is the constant efforts the city has been putting into encouraging startups. If you cannot survive the day without the internet, then Chattanooga will practically extend your lifespan thanks to its well-known high-speed internet throughout the city.
Apart from this, the city is also known for its stunning mountain ranges which have very rightly earned this city the title "Scenic City".
Median Home Value: $245,105
Median Rent: $1,210
Things To Take Care Of When You're Moving From Florida to Tennessee
With 720 miles separating the two states, you might want to choose a moving company over a DIY move to ensure the safety of your items over such a long distance.
Get rid of all the items you won't be required in your new home to save cargo space and even earn a few bucks should you choose to sell some of the items.
Make sure you consult at least 3 moving companies and get rough estimates from them. Many companies have ongoing discounts and offer periods that might prove beneficial to you, look out for those!
Book the moving company well in advance to avoid last-minute hirings and unnecessary surge charges.
It is going to be a long drive from Florida to Tennessee and the weather conditions might take a turn for the worse as Tennessee experiences severe thunderstorms during winters. So, make sure you have proper clothing to help you better adapt to the weather conditions there.
See Also: How to Get Organized for a Move
Florida To Tennessee Moving Costs
A DIY move is practically out of question for a move over a distance of 720 miles. Hiring a good moving company is the best option for you. The total cost of the move will depend upon the number of your items, the location, and the kind of services you require. So, make sure you discuss every aspect of the move with the company you hire for your relocation purposes.
The average cost of hiring full-service movers from Florida to Tennessee will set you back around $2700- $3600. Again, the cost may vary depending on the kind of services you require. You can cut down on costs by renting a moving container instead of a full-service moving company. This could save you around $1000 on average.
Conclusion
So, if you're thinking about moving to a new state and want to live in an affordable yet decent environment, consider moving to the state of Tennessee. Also, if you've ever been a fan of Elvis Presley, a visit to his Graceland residence in Memphis, Tennessee, will undoubtedly be on your itinerary. The mild climate of Tennessee makes it a wonderful place to live in.
FAQs About Moving From Florida To Tennessee
Why Are Floridians Moving To Tennessee?
The major reason behind Floridians moving to Tennessee is the unbearable heat in Florida. Tennessee has four distinct seasons and has overall moderate climate conditions.
How Much Does It Cost To Move From Florida To Tennessee?
The total cost of your move from Florida to Tennessee may vary depending on a number of factors, but an average cost for the said move would put you down about $2,900.
Is It Worth Moving To Tennessee?
Tennessee is a paradise for music lovers and if you are one of them, this state should be on top of your list. Furthermore, Tennessee's cost of living is lower than the national average. In addition, the state does not collect income tax!
Is It Cheaper To Live In Tennesee Or Florida?
The cost of living in Tennessee is 7.6% lower than that in Florida. There's a stark difference in housing costs between the two states as well. This makes Tennessee the less expensive state to reside in.
Also Read: Moving From Michigan To Tennessee | Best Cities To Move To Start A New Life | Moving From California To Tennessee | Best Moving Companies In Florida