Moving to Memphis | 2022 Cost of Living and Relocation Tips


VanLines Inc
Secure Storage
Easy Booking Process
Fully Trained Employees
GET QUOTE

Colonial Van Lines
Storage Services
Long-Distance Moves
Corporate Relocations
GET QUOTE

Moving APT
Vetting Process
Award-Winning
Available Nationwide
GET QUOTE
Our Take
Price
Rating
Minimum Shipment Size
Storage
Booking Deposit
Cancellation Policy
Quoting Options
Discounts

Best Overall Value


GET QUOTE

2+ bedrooms




Free 30 Days




10%

Free up to 72 Hrs

Phone / FaceTime / Text

Senior / Same day Booking

Best Industry Reputation


GET QUOTE

1+ bedrooms




30 Days




20%

Free up to 72 hrs

Phone / Facetime

Seniors Discount

Best Customer Service


GET QUOTE

1+ bedrooms







Free up to 72 hrs

Phone / Virtual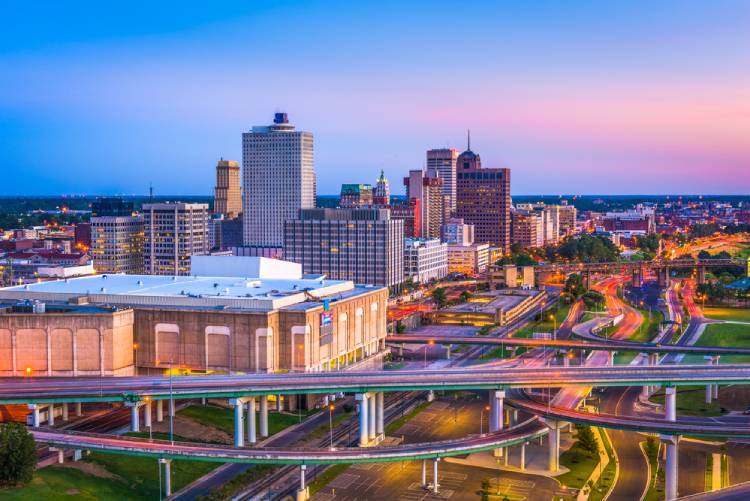 Memphis has long been known as a great place to live by long-time locals and new residents alike. This city in Tennessee is famous for its vibrant music scene, friendly locals and great hangout spots for after-work entertainment.
With a population of roughly 675,000 residents, Memphis offers new residents plenty of chances to get to know people from different walks of life.
Named after the ancient Egyptian capital along the Nile River, Memphis, Tennessee was founded in 1819 as an important center for travel and commerce thanks to its ideal location along the Mississippi River.
Whether you're moving here for work or school purposes or to start a new life with the family, you'll quickly understand why Memphis is such a great city after settling here. Memphis is a great place to live for people of different ages and interests.
The most qualified professional movers have everything that's needed to transport your belongings safely and make your relocation to Memphis a smooth process.
See also: States with No Income Tax
Climate
If you like experiencing the splendor of all four seasons, you'll love living in Memphis. The city's humid subtropical climate usually produces hot summers with winters that aren't too cold.
The coldest winter temperatures often hover just above the freezing mark, and light snowfall can usually be expected during the season. Summer temperatures can reach into the 80s and 90s with humid conditions.
Most storm activity occurs in the spring and can be rather severe at times. The heaviest rainfall is known to occur during the months of March, April and May with monthly totals sometimes surpassing five inches. August through October is usually the driest period.
See also: 13 Reasons to Move to the Southeast
Economy
Since its early days, Memphis has been regarded as a top transportation hub along the Mississippi River. In addition to its riverboat transportation, the city sees a lot of air traffic coming in and out of the Memphis International Airport each year. The airport also serves as the world's second-busiest cargo airport.
Major corporations have also established their headquarters in Memphis. FedEx and Auto Zone are among the top companies that have chosen the city as their main home. Other companies that have major corporate offices in Memphis include City Gear, Perkins Restaurant and Bakery, and Gibson Brands. Inc.
See also: Lowest Cost of Living States in the US
Main Sights and Attractions in Memphis, TN
Graceland is arguably Memphis's top attraction. This former home of superstar entertainer Elvis Presley has been transformed into a museum where people from all around the world flock to visit. Graceland is located less than 10 miles from Memphis's city center and includes a massive collection of the King's personal belongings.
Take a stroll down the Memphis Walk of Fame to see commemorations that pay tribute to notable figures in the music industry who hail from the city. The Memphis Walk of Fame can be found along a roughly two-mile stretch of Beale Street. This street also features some of the city's finest restaurants, shops and blues clubs. Unique street performers are additionally known to perform here.
If you're looking for some outdoor fun, Mud Island River Park offers the perfect setting. The 52-acre park is actually situated on a peninsula of the Mississippi River and can only be accessed by a footbridge. The park features different walking trails along with an open-air theater. A suspended monorail rides through the park and offers a unique viewpoint of Memphis.
Memphis is one of the best cities in the world for live music and other forms of performance art. Many of the city's best music and theatrical productions are staged inside the Orpheum Theatre. The Mud Island Amphitheater is an outdoor concert venue that attracts large crowds during the summer months.
If you want to see some wildlife creatures, Memphis Zoo features more than 4,500 animals that are on display. The zoo features a special panda bear exhibit along with habitats for elephants, primates and birds. A massive aquarium holds colorful fish that come from different parts of the world. African lions, cheetahs and cougars can also be seen.
You can learn more about the stars, planets and other inner workings of our solar system by spending an afternoon at the Pink Palace Museum and Planetarium. The planetarium is one of the largest in the U.S. and includes an IMAX theater. The museum's other exhibits pay homage to natural history, education and technology.
Memphis is also home to several other museums that give visitors further insight into the history and culture of the city. The Lorraine Motel, which was the sight of Dr. Martin Luther King, Jr.'s assassination, has been turned into the National Civil Rights Museum. The Children's Museum is the perfect place to spend the day with the kids. Exquisite artworks can be seen inside the Brook's Museum of Art.
If you're a sports fan, you'll be pleased to know that Memphis has its own basketball team along with a series of highly acclaimed college sports teams. FedExForum can seat more than 18,000 fans during a Grizzlies basketball game. The Memphis Tigers football and basketball college teams have earned the University of Memphis many accolades.
The city even hosts exciting annual festivals that provide further entertainment. The Beale Street Music Festival features three days of live music and is held each May. Acclaimed independent films are showcased during the Indie Memphis Film Festival. The Memphis International Jazz Festival provides a pre-holiday treat every November.
Moving to Memphis, TN
When relocating to Memphis, you'll want help from a professional moving company that can get your belongings there with minimum hassle. The best professional movers can take the heavy lifting off your hands and transport all your belongings using trucks and equipment that ensure greater safety.
Are you moving to Tennessee from another state? This list of best-rated out of state movers will help you choose the right company for your relocation to Memphis, TN.
The moving company that you choose should have positive online reviews that can be used to gauge its reputation. It's also best to request a firm price quote beforehand to help you budget for your move better.
Getting to Memphis can be accomplished in a few different ways. If you're driving to the city, interstates 40, 240 and 55 can take you to many parts of Memphis. You'll likely fly into Memphis International Airport if you're coming by air. The City of New Orleans Amtrak train can get you to the city by rail.
The Memphis Light, Gas and Water Division distributes utilities to most homes and businesses in the city, and these utilities can help make living in your new home more comfortable. The company's administrative offices are housed downtown in a building on South Main Street that has a statue of Elvis Presley in front of it.
Other city services include the Tennessee Department of Safety & Homeland Security, which administers new driver's licenses and handles renewals, and the Memphis Area Transit Authority, which manages the city's public transportation. The Memphis Advisory Council for Citizens with Disabilities oversees many of the programs and other services for residents with disabilities.
If you ever need medical care in Memphis, Regional One Healthcare (or simply "The Med") offers a variety of services. Le Bonheur Children's Hospital is one of the region's top medical centers for pediatric patients. Memphis is also home to the Saint Jude Children's Research Hospital.
Interesting Facts About Memphis, TN
"Memphians" is the name by which city residents are known.

Nicknames for the city include "The Home of the Blues" and "Bluff City."

The city helped shape the early music careers of B.B. King, Johnny Cash and W.C. Handy.

Historic Elmwood Cemetery is the final resting place of many Civil War veterans and yellow fever victims. Musician Wayne Jackson, novelist Shelby Foote and U.S. Senator Thomas B. Turley are among the most famous people who are buried here.

Former U.S. President Andrew Jackson was one of the city's founders.

Molasses is an ingredient that's used in the city's barbeque sauces and helps give them their distinct flavor.

Piggly Wiggly, America's first self-service grocery store, opened its first location in Memphis in 1916.

The original lion that served as the mascot for MGM Studios was housed at the Memphis Zoo after retirement and died there in 1944.

The "Memphis Sound" originated in Memphis in the 1960s and includes a mix of blues, R&B and soul music.

A magnitude 5.0 earthquake struck the city in 1865 and was felt as far away as St. Louis, Missouri and Jackson, Mississippi.

The Busch and Craftsman Truck series presented by NASCAR along with other motor racing events are held at the Memphis Motorsports Park.

Sister cities of Memphis include Kanifing, Gambia and Shoham, Israel.
Moving to Memphis can open the door to new experiences that will bring more positivity to your life. No matter what your reason for moving to Memphis may be, you're sure to find plenty of great ways to entertain yourself while enjoying the good life when you choose to call the city home.
Hiring the right professional movers can help make your entire move less difficult to manage when relocating to Memphis. You'll also want to shop around for the best price quotes to help make your move to the city more affordable.
Also read: Top Neighborhoods In Memphis For Singles And Young Professionals
FAQs about Moving to Mephis TN
Is Memphis TN A Good Place To Live?
Memphis is a lively city that's constantly buzzing with music and people, but it also has its share of quieter, family-friendly neighborhoods. You're likely to need your own car if you're a night owl since the public transportation stops at night. The cost of living is affordable but the weather can be exhausting, with muggy summers and icy winters. If you're the type to weather the weather and prefer a vibey atmosphere, Memphis is the city for you.
Is It Expensive To Live In Memphis TN?
The cost of living in Memphis is actually 17% lower than the national average, and its healthcare costs are 15% lower than the national average. The median home value of houses in Memphis is $105,596, and the average monthly rent is $825. This makes it a comfortably affordable city to live in.
Is Memphis Dangerous For Tourists?
Memphis is relatively safe for tourists. You'll see some police presence around Beale Street and downtown, but don't let that deter you as you'll have loads of tourists for company. Sticking to tourist haunts is safe but beware of pickpockets and panhandlers. Avoid straying too far into emptier, abandoned areas of the city at night, and definitely avoid being alone. Follow these basic safety protocols to remain as safe as possible.
What Areas Of Memphis Should You Avoid?
There are certain areas in North and South Memphis that are magnets for trouble and should be avoided when traveling to Memphis. If you're looking at living in Memphis, there are dangerous neighborhoods that you shouldn't be living in. These include Shelby Forest-Frayser, Berclair-Highland Heights, Parkway Village-Oakhaven and East Memphis-Colonial-Yorkshire.
What Is A Good Salary In Memphis?
The average salary in Memphis is $61k, and the cost of living is 17% lower than the national average. A salary of around or over $61k is more than enough for you to live comfortably in Memphis.
Is Memphis Or Nashville Better?
Memphis and Nashville are both very similar across a lot of aspects, so a lot of your decisions may come down to finances. The cost of living in Memphis is 17% lower than the national average, while the cost of living in Nashville is only 3% lower. People in Memphis earn an annual salary of $61k, while people in Nashville earn $63k, a marginal difference. Your choice comes down entirely to your preferences and financial situation.
Is Memphis A Dangerous City?
When you consider the notorious reputation it holds, Memphis unfortunately is a dangerous city. Its crime rate is certainly high; your chances of being a victim of violent crime is 1 in 51, and nearly 65 out of 1,000 residents can be victims of property crimes like burglary, theft or motor vehicle theft. Avoid going out alone at night to empty areas, and stay away from the troublesome areas of North and East Memphis. Avoid the dangerous neighborhoods and practice safety measures, and you should be fine.
Which Part Of Memphis Is Safest?
There's several safe neighborhoods in Memphis that make for great places to settle down. These include Downtown, Oakland, East Memphis, Brighton, Horn Lake, Germantown, Midtown and Munford.
Is Memphis Walkable?
Memphis is a big city and walking all around is neither possible nor advisable. But it has several walkable neighborhoods, and is excellent for people who like riding cycles. Memphis does have designated footpaths so it makes for a fine city to walk around in general.
See also: Moving to Nashville, TN | 5 Best Neighborhoods in Memphis for Families