Moving From Michigan To Tennessee – Expert Tips & Advice


VanLines Inc
Secure Storage
Easy Booking Process
Fully Trained Employees
GET A QUOTE

Colonial Van Lines
Storage Services
Long-Distance Moves
Corporate Relocations
GET A QUOTE

Moving APT
Available Nationwide
Award-Winning Movers
Extensive Vetting Process
GET A QUOTE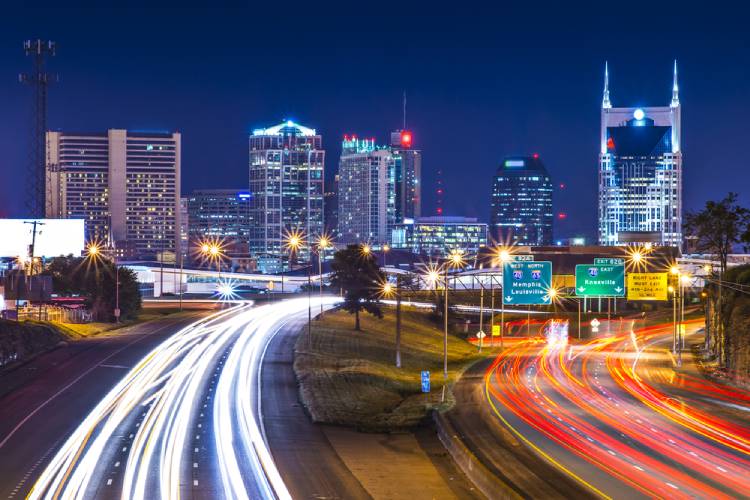 What is the one thing that is a deal-breaker for you when it comes to relocating to a new state? If the answer is a stable economy, then your search for the ideal state ends right here! Tennessee, being the flagbearer of a booming economy is the perfect choice for your relocation. Plus, if you've been living in Michigan for a while now, you are probably aware of the economic struggles the state is currently facing which is why a move to Tennessee should be on the cards for you. Before we go on about how great this state's economy is, have a look at all the other aspects that will help you make your decision to move here easier.
Factors To Consider Before Moving From Michigan To Tennessee
Weather Conditions
Michigan has a humid climate with drastic seasonal changes in temperature while mild climatic conditions are one of the highlights of the state of Tennessee. Though both the states stand on equal footing in terms of summer weather, Michigan takes the cake when we talk about the coldest winters between the two.
With an average annual precipitation of 51.2 inches of precipitation annually, Tennessee is one of the rainiest states in the entire country. Safe to say, Michigan experiences average annual precipitation in the range of 30 – 40 inches.
Here's the difference in temperatures that you can expect during peak wintertime:
Michigan in January – Average temperature falls in the range of 19°F to 28°F.
Tennessee in January – Average temperature falls in the range of 32°F to 48°F.
Winters in Tennessee fluctuate between mild and cool at best, which is nothing compared to that in Michigan. Michigan winters fall below zero quite frequently, making it a hub for multiple winter sports.
Here's the difference in temperatures that you can expect during peak summertime:
Michigan in July – Average temperature falls in the range of 66°F to 82°F.
Tennessee in July – Average temperature falls in the range of 67°F to 89°F
As you would have probably figured it out from the above data, there is a heated competition between the two states during summer, which Tennessee wins by a sly margin. Regardless of this, moving to Tennessee wouldn't affect your way of handling hot and damp weather conditions. So, bring out your entire stock of Capri-Sun and Dr.Pepper to fight the intense hit Tennessee plans to unleash on you.
Few Things To Bear In Mind About Tennessee Weather:
Tennessee is known to be hit by frequent thunderstorms particularly in the months from December to February.
Although Tennessee experiences mild climatic conditions throughout the year, it does soar to high temperatures in the range of 92°F at times.
The rain gods adore Tennessee a bit too much which is why this state experiences heavy rainfall.
Cost Of Living
The upside of changing your place of residence from Michigan to Tennessee is that the cost of living in both states is almost en par. Tennesse is merely 0.4% cheaper than in Michigan. Now in comparison to the national average, goods and services in Tennessee costs 10.1% less. You must also note that Tennesse has is the 14th lowest cost of living nationwide. One thing you're bound to love after moving to Tennessee is the fact that there is no state income tax. This will surely make your life easier as you save tons of money that you can put towards other things.
Buying A House
When it comes to housing, you'll notice that real estate is slightly more expensive in Tennessee. This is probably because of the influx of people choosing to move here. Ont the plus side, the disparity in prices isn't enormous. Here's breaking down the house values in both states so you have a general comparison between the two.
Median Home Value in Michigan (According to Zillow): $222,741
Median Home Value in Tennessee (According to Zillow): $269,950
Renting A House
The median average rent in Tennessee remains at $1,375 while the national average is at $1,650. That being said, it's clear that rent in Tennessee is definitely way cheaper than the nationwide rent average. In Michigan, the average median rent is even lower at $1,150 but isn't drastically lower in comparison to Tennessee.
Utilities
Commenting on the monthly utilities like gas, electric, water, and heating, the average cost is $128 in Tennessee as compared to $126 in Michigan, a difference of about 1.4%.
Though there is not much difference between the average cost of living between the states, basic necessities like groceries tend to be about 3.6% more expensive in Tennessee than it does in Michigan.
Job Market
Tennessee has seen tremendous growth in terms of employment opportunities over the past few years. If the numbers are to be believed, the future job growth over the period of next ten years is predicted to be 41.6%, which is quite higher than the national average of 33.5%.
The healthcare industry is one of the main contributors to the state's GDP. It also accounts for 5.2% of all jobs in Tennessee. The state also relies on different sectors like agriculture, manufacturing, and service sectors. With so many contributing components to the state's economy, there are always new opportunities for employment searchers.
If you are looking for employment in some of the largest employers in the state, you can refer to the following list.
Some of the biggest companies in Tennessee are:
HCA Healthcare
Dollar General
FedEx
Dolgencorp
Autozone
Similar to the economic dependency in Tennessee, Michigan also relies on manufacturing and agriculture for growing its economy. A few of the largest companies that drive the economy of the state of Michigan are Ford Motor Company, Dow, General Motors, and Penske Automotive Group. All things considered, there is room for job opportunities in both these states and the next decade or so would play a pivotal role in their economic growth.
To get a general sense of the strength of both states' economic conditions, you should also note that Michigan takes 15th place in contributing to the GDP of the United States. On the other hand, Tennessee isn't too far away taking 20th place. If you're curious, the unemployment rate in Michigan stands at 4.4%, and in Tennessee is at 3.8%.
Before we move on to the next aspect, here is a gist of average household income in the two states:
Median household income in Michigan (World Population Review): $57,200
Median household income in Tennessee (World Population Review): $53,340
Transportation
Although the major chunk of rail services in Michigan is dedicated towards freight trains, there are passenger rail options like the ones provided by Amtrak that connect southern and western Michigan cities to Chicago, Illinois. When it comes to airways, Michigan is home to some of the largest and busiest airports like the Detroit Metropolitan Airport and Flint Bishop International Airport among others. Apart from these, the state has a number of local and regional airports too.
Speaking about transportation in Tennessee, the Interstate 40 (I-40) covers almost the entire length of the state. All the major cities like Knoxville, Memphis, Nashville, etc. come under its belt.
The one airport which you are often going to hear about in this state is the Memphis International Airport, one of the world's biggest cargo airports. There are many general aviation airports and heliports in the state.
Here are some of your options for commuting in Tennessee:
Chattanooga Metropolitan Airport
Heritage Railroad (HR)
Tennessee Valley Authority – A federally owned electric utility corporation.
Amtrak
Music City Star – commuter rail service between Nashville and Lebanon, Tennessee.
Tennessee's Strong Points
Being one of the only 9 states in the entire country with no income tax, Tennessee is a pretty affordable state to spend a decent lifestyle in.
Tennessee is on top of every music lover's list without a doubt. There is no place you'd rather be to experience the true essence of country music.
With a mild climate all year round, Tennessee makes for the perfect destination to move to if you wish to enjoy all four seasons.
You will find a plethora of quality educational opportunities. Home to several top-notch schools and universities that have earned a decent reputation over time.
Top Cities To Move To In Tennessee
With a stellar reputation for country and rock 'n' music, Memphis is the hub for musicophiles. The cultural diversity is another feather in Memphis's cap which makes it a great attraction for people of all ages. It is also home to the busiest cargo airport in the United States – the Memphis International Airport. As you can see, the city has a lot to offer in multiple aspects and can very comfortably check all the boxes on your list of places to move to.
Median Home Value $270,000
Median Rent: $985
See Also: Best Neighborhoods in Memphis for Families
Knoxville
With a strong job market and potential for future growth in its resumé, Knoxville is a strong contender for one of the best cities to live in. Meanwhile, arts and entertainment in Knoxville is something that has strong backing from the local community. If you are the kind of person who loves to explore a place on foot rather than a vehicle, then you are in for a treat! The street art in various alleys of the city will leave you mesmerized for sure.
Median Home Value $295,000
Median Rent: $1,320
Often referred to as America's "Music City" because of its comprehensive list of music festivals which never seem to end. If you crave the experience of lavish nightlife, Nashville is the place to be. What makes this city stand out is how it nails the combination of preserving its historic significance and being up-to-date with the current hip culture. It would cost you a good amount of money to be a part of this community, but it is totally worth it.
Median Home Value $405,230
Median Rent: $1,645
The prime destination for entrepreneurship and tech industries, Chattanooga is an up-and-coming neighborhood that is going all out to encourage startups constantly. Being famous for having high-speed internet is something you don't hear very often, which is what gives Chattanooga a unique element to take pride in. To further add to that, affordability is one of the main reasons this city is gaining traction.
Median Home Value $245,105
Median Rent: $1,210
Brentwood
Your lifelong fantasy of living near a famous celebrity has a very high chance of coming to life if you decide to move to Brentwood. One of the cleanest and plushest neighborhoods to reside in, Brentwood does fall on the expensive side of the spectrum. However, every dollar you put down would be totally worth it considering the amenities this area has to offer.
Median Home Value $924,550
Median Rent: $2,470
Things To Take Care of When You're Moving from Michigan To Tennessee
Michigan To Tennessee Moving Costs
The average cost of a move from Michigan to Tennessee would set you short $1,950 to $3,875. You can always bring that number within your pre-decided moving budget by implementing various cost-effective methods. While preparing a moving budget, you must take into consideration the time of the move and the quantity of your belongings you wish to relocate.
To give you some idea of what your average move between these two states would look like, here is a quick summary of the same for a 2–3-bedroom apartment considering three different types of moves.
Do keep in mind that a full-service moving company will take care of the move right from packing to unloading and unpacking. However, a moving container or a freight company will not offer packing and unpacking services which would mean you're going to have a field day getting those items in appropriate boxes. So, it is advisable that you hire a full-service moving company for your entire relocation needs and get the unwanted load off your chest.
FAQs About Moving From Michigan To Tennessee
Is Tennessee A Good State To Move To?
You cannot really go wrong with a city that has a booming economy and the accolades to prove the same. With a steadily decreasing unemployment rate, this city is one of the best places to find employment. Apart from the job opportunities, the low housing costs make it even more difficult to pass up the opportunity to live here.
What Are The Benefits Of Moving To Tennessee?
Among the many benefits Tennessee has to offers, the prominent ones are
Negligible tax rates.
Low cost of living.
Home to rich music culture.
Pleasant weather conditions.
Scenic treasures.
Why Are So Many Moving To Tennessee?
The affordable cost of living combined with a mild climate is a great combination that has been attracting people of all age groups to the beautiful city of Tennessee.
Also See: Relocating from Florida to Tennessee | Moving from Michigan to Florida