Moving from Michigan to Florida – Expert Tips & Advice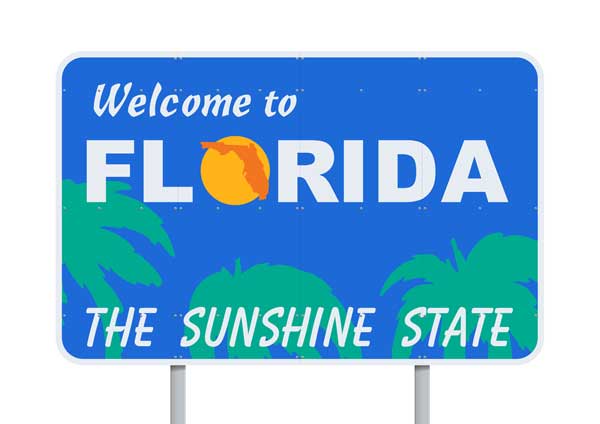 Switching from a state with ice-cold winters to one with intensely hot summers is a pretty bold move and we applaud you for it. No matter your reason for the said move, you can rest assured that Florida will fulfil all your expectations of a lavish lifestyle. But don't let our high praises of the state be the only reason you choose to relocate here. Take your time and read through this in-depth article to form an impression of what things would like with a move from Michigan to Florida.
Factors To Consider Before Moving From Michigan To Florida
Weather Conditions
When it comes to weather conditions in both the states, Florida's climate feels like a warm tight hug as opposed to Michigan's claws of colds. While both the states have earned good names owing to their climatic conditions, the weather can still surprise you at times. (all thanks to global warming). In general, you can expect temperatures to be between 52°F to 91°F in Florida, and 17°F to 82°F in the cause of Michigan throughout the year.
Here's the difference in temperatures that you can expect during peak winters:
Michigan in January – Average temperature falls in the range of 19°F to 28°F.
Florida in January – Average temperature falls in the range of 57°F to 70°F.
As you can see, if low temperatures were the goal, Michigan is going to be the clear winner by a landslide! The fact that the temperature in this state falls below zero on many occasions, is proof enough of its bone-chilling winters. Florida, on the other hand, is pretty bearable during winters and will probably not compel you to dress like a 10-layered-walking robot.
Here's the difference in temperatures that you can expect during peak summers:
Michigan in July – Average temperature falls in the range of 66°F to 82°F.
Florida in July – Average temperature falls in the 72°F to 92°F zone.
Florida gets a lot of heat because of well, its heat. If you are feeling bold on a peak summer day in Florida, consider going out on a beach for a good tanning session. Although the results of the same may not be as pretty as you wished it were.
Few Things To Bear In Mind About Florida Weather:
If you are not big a fan of hot and intense summers, staying at home is probably your best bet during these times in Florida.
From May through October, there is a definite rainy season, during which air mass thunderstorms form in the heat of the day and drop copious but brief summer rainfall.
Hurricanes are a frequent source of pain during summertime. The reason behind it is the close proximity of the state to water bodies.
Cost Of Living
There is no denying the fact that you are going to have to spend a bit more money in popular and high-crowd attracting states. Florida, being a good example of the same, could see you digging a little deeper in your pockets than you had to in Michigan. After all, Florida does have the 15th highest cost of living in comparison to the rest of the states. Michigan on the other hand has the 21st lowest.
To give you an even clearer understanding of what your expenses will look like in the Sunshine State, let's look at costs tied to housing, renting, and utilities –
See also: Moving to Florida
Buying A House
Starting off with the overall home value in these states below is a comparison of the same between the two:
Median value of homes in Michigan (According to Zillow) – $222,741
Median value of homes in Florida (According to Zillow) – $349,015
Well, if a beachfront property in Florida has been your dream for the longest time, it is going to demand a little more than what you have been paying for your current home in Michigan. But take our word for it, every dollar you put down is money spent well in this state if it gives you the kind of luxury and satisfaction that it generally does.
Renting A House
Zillow reports the median rent in Florida to be at $1,825 and that of Michigan to be $1,215. Comparing it with the national average of $1,680, Florida seems to be on a slightly expensive spectrum while Michigan scores low (an acceptable one) in that department. Despite the expensive nature, the idea of spending at least a few years living the beach life lives rent-free in our heads.
Utilities
You cannot decide on what state to move to without factoring in your monthly and even daily expenses in that state. To give you a rundown of a few basic necessities and their costs, a dozen eggs in Michigan and Florida will cost you around $1.90 and $2.42 respectively. While a liter of milk will see you spend $0.97 in Florida and $0.66 in Michigan. A loaf of bread, $2.27 in Michigan and $2.84 in Florida.
Job Market
Tourism plays a key role in maintaining Florida's stable economic conditions. The Healthcare sector is also one of the major players that contribute greatly to the state's economy. It is also one of the reasons many retirees choose Florida to embark on their new journey in life. The construction industry is another big contributor to the economy of the state. With a plethora of versatile job opportunities the state has to offer, you can take a look at some of the largest employers across all domains.
Some Of The Largest Employers In Florida Are
Publix
Winn-Dixie
SFN Group
Jabil
Akerman
Bloomin' Brands
Speaking of the economic conditions and job market in Michigan, the state owes its impressive financial conditions to the manufacturing and agriculture industries. The household car company that goes by the name 'Ford Motor Company' is one of the largest contributors to Michigan's economy.
Both these states stand on equal footing when it comes to unemployment rates. Sharing the podium at 4.4%, it is still quite low as compared to the national average of about 5.8%. Although the unemployment rates are the same in both these states, there is quite a distinction between the two if we consider their GDPs. While Michigan takes the 15th spot in contributing to the nation's economy, Florida stands at an impressive 4th position.
Before moving to the next factor, here is a comparison between the two states in terms of annual incomes:
Median annual income in Michigan (According to World Population Review) – $57,200
Median annual income in Florida (According to World Population Review) – $55,660
See also: The Best and Worst U.S. Cities for Job Seekers
Transportation
While the state of Florida fares pretty well in almost all areas, creating a robust and well-connected transportation system throughout the state is still under works. You will require a car for a fair amount of your outings, particularly the ones that involve exploring the outskirts of the state. But there are a few major cities which have been ahead of the curve in providing a well-established transport system. The same is mentioned below.
Orlando – The travelers and residents around this part of the state are well taken care of for their transit needs thanks to the services of SunRail and Lynx.
Tampa – Just like Iron-Man, this city also has its own HART (Hillsborough Area Regional Transit Authority). This bus service ensures that the city is well-connected and travelers face no hardships to move from one place to another.
Miami – The Magic City enjoys the services of three major transit systems, MetroMover, Metrobus, and Metrorail. If you are still not satisfied, the intercounty rail line by Tri-Rail is yet another recourse you can opt for.
Florida's Strong Points
This one needs no mention at all, Florida is flooded with exotic beaches which easily make it a popular tourist destination.
The joy of getting the full monetary value of your hard work is another feather in Florida's cap, thanks to its no-state income tax policy.
Being home to a number of famous amusement and theme parks like Disney World and Universal Studios, Florida ensures the influx of tourists and residents only grows all year round.
The Sunshine State is a rather appealing place for people who enjoy warm weather conditions the majority of the year and which is why it is a great spot for retirees to spend the remainder of their lives in peace.
Top Cities To Move To In Florida
Known for its rich nightlife and a mecca for migration, Miami is one of the most diverse cities you will ever come across. Beaches like the West Palm and Miami Beach are popular crowd attractions. For basketball fans, to see the powerhouse Jimmy Buttler in action for Miami Heat at the city's iconic FTX stadium is something that just cannot be missed.
Median Home Value: $470,570
Median Rent: $1,999
Naples
A city rich in tourist attractions and sightseeing places, Naples has its own fan-following owing to its pleasant weather conditions. You will find a multitude of excellent fine dining and even boutique stores at walkable distances to make sure your lifestyle only enhances each day. While it provides you with a lavish and luxurious lifestyle, it also does cost you a fair bit more than it does in other cities of the state.
Median Home Value: $507,101
Median Rent: $203,450
If you are looking for a city with good employment opportunities, Tampa is the up-and-coming hub for the same. Urbanization being one of its strong suits, this city continues to attract crowds from all over. Not just employment-wise, Tampa also takes pride in its excellent colleges, technical schools, and universities. To summarize, the city is a great place for young adults and people intending to turn a new leaf in their lives career-wise.
Median Home Value: $365,700
Median Rent: $1,765
Another suitable city for job-seeking professionals is the city of Orlando. A couple of famous employers in this city are OrlandoHealth and AdventHealth which provide a plethora of job opportunities all year round. Nicknamed 'The City Beautiful', the city also has breathtaking views to die for. If you are looking for a city with the right amount of work-life balance, Orlando should be your go-to choice.
Median Home Value: $338,300
Median Rent: $1,735
Compared to a host of expensive cities that you will come across in Florida, Jacksonville is a rather affordable city where you can earn a decent livelihood in. Given the fact that it is the largest city in the entire country by land area, Jacksonville provides a great suburban feel to its residents. An ideal place to raise your kids too, this city is not one to be slept on.
Median Home Value: $273,740
Median Rent: $1,415
Things To Take Care Of When Moving From Michigan To Florida
The distance separating Michigan and Florida is close to 1400 miles. When you see the total distance crossing the 4-digit mark, a DIY move is out of the picture, without a doubt. Hiring a moving company is your safest bet.
Stay ahead of the game and get moving quotes from multiple moving companies before hiring one. This will help you get the best deals for the kind of services you require.
To save on moving costs, ensure that you have a conversation with the moving company about any hidden costs that might come off as an unpleasant surprise once you have a look at the final bill.
Take it from Batman, planning well in advance always yields desirable results. The same goes for your relocation, planning the move a month or two in advance will allow you to take into consideration a lot of things that you might miss out on should you plan to pull off a last-minute superhero-wannabe move!
Scheduling your move in an off-peak season will not only save you money, but also you will have more available dates and moving companies to choose from.
It is time to bid goodbye to the things that you know cannot make it to the other side with you. Take your moment, let this feeling of separation from those belongings sink in. After you have wiped your tears, consider donating, giving away, or even selling these items as you desire. This way you can space cargo space and in turn, save a few bucks.
Michigan To Florida Moving Costs
Considering the distance separating the two states, your best option is to hire a moving company that offers all the services that you desire for a safe and secure relocation.
Be prepared to splash money in the range of $3,100 – $5,550 on average, should you avail of the services of a full-service moving company for this move. You can always bring that number down to some extent by proper planning and some smart money-saving methods.
Here is a rough outline of pricing for a two-three-bedroom apartment considering various types of services for a move from Michigan to Florida.
By the looks of it, it is going to cost you a few thousand bucks but when you are looking at a 1,400-mile relocation, it is bound to set you back a little in the financial aspect. If you don't mind spending a few extra bucks, hiring a full-service moving company can relieve you of the stress of packing and unpacking your belongings. This might not be the case if you decide to go with a moving container company or a freight company for that matter.
FAQs About Moving From Michigan To Florida
How Much Does It Cost To Move From Michigan To Florida?
An average move from Michigan to Florida will cost you about $3,100 – $5,550. Again, it may vary depending on the type of services you avail of, the location, and many other aspects of the relocation.
Is It Cheaper To Live In Florida Or Michigan?
Owing to its major attraction of beaches and great climatic conditions, Florida is the expensive one of the two. But the money spent on securing a good lifestyle in Florida will not make you regret it at the end of the day.
What Are The Benefits Of Moving To Florida?
Florida will be a paradise for you if you have a thing for warm and sunny weather conditions. The state also enjoys a no-state income tax policy which makes it one of the only nine states that enjoy the absence of income tax.
Also See: Moving from Colorado to Florida