Moving from Colorado to Florida – Expert Tips & Advice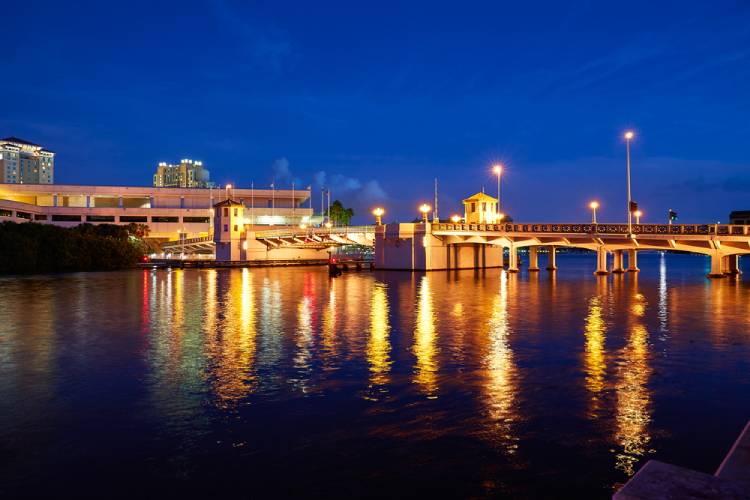 Hands down, the mountains of Colorado are breathtaking but if you've always pictured yourself living by the beach, it's possible that you'd enjoy calling Florida home. Though the serene beaches might not be the only reason for your move from Colorado to Florida. The Sunshine state's stable economy, fantastic warm weather conditions, and astounding scenic views make it to the list too. To give you some more compelling points to seal the deal on the idea of moving from Colorado to Florida, scroll through the article below and see what the buzz is about.
Factors To Consider Before Moving From Colorado To Florida
Weather Conditions
Starting off with the weather, it is hard to draw a well-demarcated line on Colorado's weather. The reason behind this is that the state is a mixture of desert and mountain areas making the overall climate a bit complex. Florida on the other hand enjoys a humid subtropical climate throughout the year with temperatures falling in the range of 52°F to 91°F.
Speaking of winters in Colorado you may know that temperatures remain mild with minimal days of snow. In certain parts of the state, it's extreme and creates opportunities for recreational activities like snowboarding and skiing. But on the flip side, Florida just isn't cut out for winter sports. In terms of measurable snowfall, Florida gets nada! Now to better understand the differences in temperatures to expect for winters, here is a quick comparison of the same between the two states.
Here's the difference in temperature that you can expect during peak winters:
Colorado in January – Average daily temperatures range from -8°F to 22°F.
Florida in January – Average daily temperatures range from 57°F to 70°F.
Something that you will also have to get used to after moving from Colorado to Florida is the glorious sunny days! After all, Florida is part of the sunbelt in the USA and even nicknamed the Sunshine State. The state's average sunny days remain 237, meaning that it's safe to wear shorts and flip flops year-round which isn't the case in Colorado.
Here's the difference in temperature that you can expect during peak summers:
Colorado in July – Average daily temperatures range from 68°F to 84°F.
Florida in July – Average daily temperatures range from 72°F to 92°F.
All in all, Florida, known to be a hotbed during the summers, will test you with its scorching heat from time to time. But if you can stomach this dual with the sun, there is no better place for warm weather throughout the year than Florida.
Few Things To Bear In Mind About Florida Weather:
If hot weather and tanning are favorable climate conditions for you, Florida weather will feel like the missing piece of the puzzle. Because boy does it get hot around here!
While the state scores full marks in summer weather, it seems to not have understood the concepts in the winter subject. It is not like Florida doesn't have cold weather at all, but you won't have any hassle with snow shoveling or layering your clothes even during peak winters here.
Considered as one of the wettest states in the country, Florida gets ample rainfall and some parts are prone to thunderstorms and hurricanes. Many residents that stay in zones prone to floods, also consider getting flood insurance.
Also read: 6 Best Places To Retire In Florida
Cost Of Living
Time to patch up with your old best friend, your wallet! It will forgive you for moving from Colorado to Florida without a fight! The reason going to be for this patch-up is the cost-of-living difference in both the states. As you may know, the cost of living in Colorado is about 21% more expensive than the national average.
You can rejoice at the fact that it is just about 2.8% higher than the national average in Florida. With a no-income-tax policy in the state of Florida, life gets much easier for its residents. To give you more insights about differences you'll notice with other factors, here is a detailed comparison of costs for housing and utilities.
Buying A House
While we are riding this train of happiness, let us put an even bigger smile on that face by telling you how much less you would be paying in Florida when it comes to buying a house. Here's a comparison between the two states.
Median Home Value in Colorado (According to Zillow): $546,110
Median Home Value in Florida (According to Zillow): $349,015
Renting A House
The rent prices in Colorado depend on which part of the state you are residing in. For instance, prices in Denver will soar as high as $1,824 as compared to Colorado Springs with $1,458. In the case of Florida, the average rent in this state amounts to about $1,790. With the national average of $1,650 as the reference point, both these states fall on a fairly expensive spectrum.
Utilities
Speaking of utility costs, Florida stands at a slightly expensive footing. A loaf of bread is priced at $2.85 in Florida while the same would put you back $2.78 in Colorado. A liter of milk, $0.95 in Florida and $0.84 in the latter state.
For your basic utility bill which includes your gas, electricity, water, sewer, cable, and internet, you can expect to shell out $321 a month in Colorado. You would need to budget for the bill going up by $20-$30 dollars and pay on an average of $344 a month for the same utilities in Florida.
Raising your little ones in the Sunshine State will literally feel like a ray of sunshine as it is significantly cheaper than in Colorado. Childcare costs stand at $760 in Florida as compared to $1,040 in Colorado.
Job Market
Speaking of unemployment rates in both these states, the number is higher than the national average of 4%. While Colorado's unemployment rate stands at 4.8%, Florida positions itself only a few levels below at 4.4%. Although you won't see a visible difference between the two states, there are still a lot of employment opportunities in Florida. To name a few, below is a list of some of the famous companies you could opt for if you're seeking a job in the Sunshine State.
Some Of The Largest Employers In Florida Are:
Connectivity
Royal Caribbean Cruises
Publix
Winn-Dixie
SFN Group
Jabil
Darden Restaurants
Akerman
Bloomin' Brands
Tyco Integrated Security
There is no surprise that the tourism industry is a major contributor to the state's economy, thanks to the endless beaches you will find around here. However, a few other industries which help maintain Florida's economy are healthcare, construction, agriculture, and transportation.
Before we move on to the next aspect, here is a comparison of average Household Income In The Two States:
Median annual income in Colorado (According to Statista)- $82,611
Median annual income in Florida (According to Statista) – $57,435
Also See: 10 Tips For Moving To A New State Without A Job
Transportation
While Colorado's primary mode of transportation is its highway system, Florida has multiple commute options that make life much easier for its residents. The Florida Department Of Transportation (FDOT) believes in providing the best of services to Floridians and it shows in their efforts. To give you a glimpse of it, below are some of the transport options you can opt for.
Amtrak: Connecting some of the busiest train stations like Orlando, Miami, Sanford, and Jacksonville among others, Amtrak is the most common and easily accessible transport system in the state.
HART (Hillsborough Area Regional Transit Authority): Operating exclusively in Hillsborough County, this agency provides fixed-route local and express bus services to the residents there.
Brightline: Although this diesel-electric rail service links only a few cities, it is still fast becoming a commute alternative for many residents here. Miami, West Palm Beach, and Lauderdale are the cities in question here.
SunRail: A common commuter rail service that serves the Metro Orlando area.
Lynx: The people of Greater Orlando rejoice thanks to the bus services provided by this agency.
Disney Transport: The Walt Disney World Resort is served by this transit system which includes buses, parking lot trams, and watercrafts.
MetroMover, MetroBus, and Metrorail: Miami rejoices in the transport services provided by this robust trio.
Florida's Strong Points:
Florida has a strong upper hand when it comes to enjoying the full value of its work in monetary terms. Why wouldn't they? The state has a no-income-tax policy!
Your little ones can finally stop crying now that you are moving to a state which is home to Disney World and Universal Studios.
Unless you have somehow landed on earth from a different galaxy altogether, you probably know there is no better state for beaches than Florida! A state with about 190 official beaches under its belt, Florida sure has a lot of these sand beauties.
The state receives enough sunlight to fill your phone's gallery with sun-kissed selfies. It isn't called "The Sunshine State" for nothing.
Also read: Florida DMV Change Of Address
Top Neighborhoods To Move To In Florida
If you're looking for a fresh start in your career or are in the evening of your life looking to retire, Tampa has got you covered. It's literally a city that never sleeps since there is always something you could indulge in here. Feeling adventurous? Sign up for a paddling session along the Hillsborough River. Want a rush of adrenaline flowing through your body? Head down to the nearest football game and join the energetic supporters. Looking to relax in a pleasant, serene environment? Crack a cold beer at the Ben T. Davis Beach and soak in the calmness.
Median value of homes: $365,700
Median rent: $1,765
We are pretty sure this city was named Orlando because it sounds similar to "all-rounder" because that is exactly what it is. The work-life balance in this city is like no other! Home to theme parks like Disney World and Universal Studios, Orlando is no stranger to attracting large crowds. It also provides enough job opportunities for young professionals seeking employment in the city. If the work makes you feel drained out at times, the city helps in recharging your battery with mesmerizing scenic views.
Median value of homes: $338,300
Median rent: $1,735
A rather affordable city as compared to other expensive cities in the state, the kind of lifestyle in Jacksonville will feel like a great bargain. Big on street arts and coastal cuisines, this city caters to a diverse audience and excels in it beautifully. If you like spending time with nature, you would never want to leave this city as it has the largest nature park trails in the entire country!
Median value of homes: $273,740
Median rent: $1,415
Naples
The city of Naples is ranked as having the sixth-highest per-capita income in the country. This says a lot about the kind of lifestyle and amenities you are going to enjoy should you decide to move to Naples. You can recreate the iconic shopping scene from Devil Wears A Prada thanks to the high-end shopping stores you can find across the city.
Median value of homes: $507,101
Median rent: $203,450
The list feels incomplete without the vibrant city of Miami. This city has got it all, be it a vacation spot for all the hotshot celebrities across the globe, ideal weather conditions to suit all age groups, or be it an important financial and cultural center. While the cost of living here is relatively higher than the national average, the amenities and luxury will make it worthwhile for you.
Median value of homes: $470,570
Median rent: $1,999
See Also: Top 10 Largest Cities in Florida
Things To Take Care Of When You're Moving From Colorado To Florida
Can't stress this enough but hiring a moving company to relocate your stuff from Colorado to Florida is going to save you from a ton of stress. After all, a 1965-mile move is best left to the professionals. Moving is already a painstaking job, you don't want to add the constant stress of making sure your items are safe on a DIY move.
What you can do is spend time researching a number of moving companies and the services they provide. Stick to the golden rule of getting at least three different moving estimates which will give you an idea of the current market rate for the kind of services you require.
"Better safe than sorry" is something that applies here too. While there are a plethora of great moving companies, you will also find a number of scammers looking for their next victim. So, do thorough research about the company before you seal the deal with one.
Like a studious child who plans his study-routine months before the exam, you also need to zero in on the moving date well in advance. This gives you time to choose from several moving companies and get a good deal too. Honestly, we are not fans of last-minute surge prices either.
It is common to lose track of your expenditure when you're handling multiple things at a time. To avoid going down that black hole, prepare a solid moving budget that your wallet won't mind either.
Also See: Moving From Massachusetts To Florida | Top Moving Companies In Colorado
Colorado To Florida Moving Costs
It is always good to have a fair idea of what your moving bill is going to look like. Plus, a move of this magnitude is bound to send chills down your wallet's spine if you have no clue about the expenses that it is going to bear. Don't worry, this tragedy is not going to occur under our watch. Your average move from Colorado to Florida is going to cost you around $3,400-$6,050. Further breaking down the costs with respect to the three different moving services for an average 2–3-bedroom apartment, here is an overview of the same.
As you can see, there isn't a stark difference between the average expenses in a full-service and a moving container company. So, choosing the former will be your best bet if it comes down to a choice between the two. However, if you want some contribution from your side to this process, put on some comfy pajamas and take your sweet time packing all the belongings yourself. This will help you save a few more bucks.
Also See: Moving from Connecticut to Florida | Moving from Virginia to Florida | Moving From Chicago To Florida
FAQs About Moving From Colorado To Florida
How Much Does It Cost To Move From Colorado To Florida?
A move from Colorado to Florida will cost you about $3,400-$6,050. This cost will of course vary depending on the location, and types of services you avail of among many other factors.
Is It Cheaper To Live In Colorado Or Florida?
While both these states are more expensive than the national average, the cost of living in Florida is relatively lower than in Colorado. Plus, there's a presence on no income tax in Florida which helps you save a ton!
What Are The Benefits Of Moving To Florida?
In Florida, you have a great number of beaches within driving distance, great warm weather year-round, and dozens of spots for entertainment and recreation. No state income tax is also a great benefit of moving to Florida.