Moving from Virginia to Florida – Expert Tips and Advice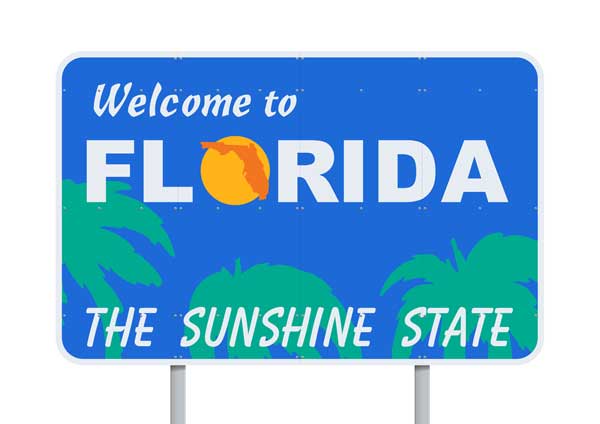 Virginia and Florida are tied to the hip when it comes to the presence of a fantastic coastline and stunning scenery. But there are a couple of compelling reasons why a move to Florida might just be the change of scenery you need. You'll be amazed at the laid-back lifestyle it offers and the strong economy the state boasts of. Let's get you up to speed with all there is know about making the decision to move from Virginia to Florida!
Factors To Consider Before Moving From Virginia To Florida
Weather Conditions
With a not too hot and a not too cold climate, Virginia has rightfully earned the name "Goldilocks Climate". The same cannot be said about the climate in Florida. With a humid subtropical climate, even the winters in the state can become severely dry at times. To give you a better understanding of the weather in both these states below, is a juxtaposition of the same.
Here's the difference in temperature that you can expect during peak summers:
Virginia in July – Average temperature falls in the range of 69°F to 84°F
Florida in July – Average temperature falls in the range of 72°F to 92°F
It all boils down to whether or not you are willing to stand the intense heat that Florida may dish you occasionally. That being said, a state surrounded by water bodies is bound to have hot days at times but it isn't half bad considering the overall summer weather in Florida is pretty bearable. In terms of winter conditions, Virginia experiences cold frigid temperatures while Florida winters are considered 'sweater-weather'. By this, we mean that the winters are generally very mild.
Here's the difference in temperature that you can expect during peak winters:
Virginia in January – Average temperature falls in the range of 37°F to 51°F
Florida in January – Average temperature falls in the range of 57°F to 70°F.
Few Things To Bear In Mind About Florida Weather:
If you are one of those who prefer long chilly winters, then Florida might be further down the list of states you wish to move to. Winters last for about 2.5 – 3 months in this state with almost zero bone-chilling days.
What it lacks in winters, this state makes up for it in summers by showing its heating prowess from time to time.
The best time in Florida is between February and May when the climate is the most pleasant in the entire year and perfect for outings and adventures.
During the summer months, the state greets an unwelcomed guest (Hurricane) quite frequently.
Though it is called the Sunshine State of the country, Florida experiences enough rainfall to make it to the list of wettest states in the country. So, if you are up for some rain dance, this state will be an amazing stage for you.
Cost Of Living
If you listen closely, you can hear your wallet heaving a light sigh of relief as soon as you mention a move from Virginia to Florida. The cost of living in the state of Virginia is about 2% higher than the national average. Whereas, it is only 0.6% higher than the national average in Florida. Though there is not a drastic difference between the two, still, money saved is money earned. Here is a little in-depth comparison between the two states when it comes to housing expenditures.
See also: 15 Cheap States to Move to: The Lowest Cost of Living States in the US
Buying A House
Standing on a slightly expensive footing, property prices in Virginia trump those in Florida. Whereas, given the kind of affordability and lifestyle you'll be getting in Florida, it is basically a steal! Here is a quick comparison between the two states in terms of median home values.
Median Home Value in Virginia (According to Zillow): $354,000
Median Home Value in Florida (According to Zillow): $269,950
Renting A House
Using the national average rent of $1,650 as a benchmark, the average rent in Virginia is virtually identical at $1,660. In Florida, however, the average rent is $1,790. This disparity is due in large part to the fact that Florida is a popular state, and for those who cannot afford to buy a home, renting is the best option. On a larger scale, this is a classic situation of supply and demand.
Utilities
Coming down to the nitty-gritty of daily life in these two states, there is not much difference when we talk about utility bills. In terms of electricity, gas, internet, water, cable, and garbage, the average in Florida is at $344 while things sit at $357 in Virginia. A loaf of bread is priced at about $2.92 in Virginia while the same will cost you around $2.85 in Florida. A liter of milk, About $0.85 in Virginia and $0.95 in Florida.
The major difference in expenses that you can witness clearly is the kid's section. No, we are not talking about their clothes, but their education. Childcare costs are about 32% lower in Florida than they are in Virginia. Phew! One less thing to worry about.
Job Market
Touching on the subject of the job market in both these states, the unemployment rate in Virginia stands at 3.2% which is quite lower than the national average of 4%. On the other hand, the rate is about 4.4% in Florida, a slightly higher figure than the national average. A good enough justification for this difference is that Florida sees a great influx of people being the popular state that it is. With more people coming in every year, there is bound to be a situation with competition for employment opportunities. Below are some of Florida's biggest companies that play a big role in providing employment options.
According to Zippia, Some Of The Largest Employers In Florida Are:
Jabil
Darden Restaurants
SFN Group
Royal Caribbean Cruises
Tyco Integrated Security
Bloomin' Brands
Publix
Connectivity
The industries which play a key role in the state's economy are tourism, healthcare, and construction. The state is also making constant efforts to increase job opportunities across various domains to ensure its resident earns a decent lifestyle.
Before we head over to the next aspect of life in Florida, here is a brief comparison Between The Two States In Terms Of Annual Income:
Median annual income in Virginia (According to Statista)- $81,947
Median annual income in Florida (According to Statista) – $57,435
Also Read: Job Relocation Guide
Transportation
While the state of Florida is constantly making efforts in creating a solid transportation network, the residents still resort to cars for their commute purposes. The most commonly used interstate route is the I-4 which connects the major cities of Orlando, Tampa, Lakeland, and Daytona Beach. The I-10, I-75, and I-95 are among the other interstate highways connecting various cities of the Sunshine State.
You can avail of the state's famous airport services like the Miami International Airport, Tampa International Airport, and the Orlando International Airport to name a few.
The Florida Department Of Transportation (FDOT) has been making big strides in reaching its goal to provide the most convenient and sturdy transit system to its residents. To name a few, below are some of the commuting options you can resort to in Florida.
Brightline – A diesel-electric rail service that currently connects a handful of cities like Miami, Fort Lauderdale, West Palm Beach. The city of Orlando will also make it to this roster by 2023.
Amtrak – Connecting various major cities in the states and is one of the most commonly used transit-service by the residents.
East Central Regional Rail Trail – Florida's longest paved rail-trail extending across Brevard and Volusia. Joggers, bikers, people with disabilities, and in-line skaters can take advantage of this beautiful trail line.
SunRail and Lynx – Residents of Orlando can resort to these bus services for their daily commutes.
HART (Hillsborough Area Regional Transit Authority) – As the name suggests, this bus service operates exclusively in Hillsborough county.
MetroBus, MetroMover, and Metrorail – The city of Miami is blessed with the transit services provided by these three. TriRail is yet another service that is easily accessible and convenient to the residents of this state.
Florida's Strong Points
If you look at the annual tax deductions from an individual's income in the state of Virginia, a $4,000+ figure is a good enough reason for your headache to start acting up. Floridians, on the other hand, have one less concern in this aspect as the entire state has a no-income-tax policy for the residents. Hope this fact helps with the headache.
It's hard not to mention the beach life when talking about Florida. The exhaustive list of exotic beaches may exhaust you physically, but mentally, there is nothing more calming than chilling on a beach with a cold beer in hand!
Very rightly earning the nickname "Sunshine State", Florida is blessed with warm weather conditions.
Home to the famous Walt Disney World, this state sees an influx of people from all age groups throughout the year.
Top Cities To Move To In Florida
How often do you see a pop singer making a song about moving to a particular city? Yes, we are talking about Enrique Iglesias's song called "Move To Miami". Well, his reasons for the move may differ from yours, but hey, being the host of diverse cultures, there is room for everyone in Miami! Known for its excellent weather conditions and being a vacation spot for sports players from all around the globe, Miami is the city you just cannot miss out on.
Median Home Value: $470,570
Median Rent: $1,999
With surprisingly low median house value for a state capital, Tallahassee is one of the places you might want to move to for its temperate weather conditions. The city is easily the hilliest spot in the state as it sits on the southern tip of Florida. It is also famous for its rolling red hills. So, if you want to experience the hilltop lifestyle and views, give Tallahassee a chance to climb at the top of your list of cities to move to.
Median Home Value: $243,895
Median Rent: $1,396
The core strength of this city is the high employment option it has and the excellent educational opportunities it has to offer. Stuck on the decision of whether to take your kids to a zoo or an amusement park? Visit the Busch Gardens in Tampa that gives you the best of both these worlds.
Median Home Value: $365,700
Median Rent: $1,765
Port Saint Lucie
Comfortably enjoying its seat between Orlando and Miami, Port St. Lucie boasts about its near-perfect weather conditions. The city's love and obsession with golf know no bounds. It is to the point that you will find golf-cart parking spots even at grocery stores! With fairly affordable rent, this calm, serene, and green city are worth considering.
Median Home Value: $351,890
Median Rent: $1,225
You may call this city an amphibious state too. No, this is not an official nickname, we took the liberty to name it so because the city has attractions both on land and water. You can enjoy a plethora of water sports and activities right here in this city. If you are one with nature, this city is also home to the country's largest system of nature park trails.
Median Home Value: $273,740
Median Rent: $1,415
Things To Take Care Of When Moving From Virginia To Florida
As exciting as it may seem, moving to a different state is a stressful task if not executed with proper planning. To avoid such a situation, make sure you plan your move well in advance and consider all the factors that go into it.
Be it a full-service moving company, a moving container, or truck rental company, always get moving estimates from multiple sources to ensure that you are not getting ripped off, which is a common occurrence in this business.
Before availing of the services of whatever company you decide to go ahead with, conduct a thorough background check on the company, online reviews, or from friends who have hired the company in the past. This will give you a fair idea of who you are getting into business with.
On the off-chance that you decide to relocate all by yourself, you must plan your route beforehand and consider factors like weather and traffic among other things. This step is crucial because a smooth long-distance is possible only with proper planning.
Scheduling your move in the off-peak season is one of the biggest favors you could do for your wallet. Moving costs tend to be very high during peak season and the fact that you have very few options as regards flexible moving dates does not help either.
You can also save a fortune on moving expenses by trying various cost-effective methods like selling unwanted items, preparing a solid moving budget, and hiring movers well in advance.
Also Read: 6 Best Places To Retire In Florida
Virginia To Florida Moving Costs
Now that you have decided to move to the beach city of the country, it is important for you to know what your total moving expenses would look like. For a move from Virginia to Florida, the average bill would amount to about $2875 – $4296. Keep in mind that the distance separating the two states is a good 800 miles. To give you a better idea of the different estimates that you can expect depending on the kind of services you avail of, here is an overview of the same with regards to an average 2-3 bedroom apartment.
Full-service moving company – $2,725 – $4,175
Moving Container – $2,2617 – 3,112
Freight Company – $1,932 – 2,699
If you are on a thrifty budget, a full-service moving company might not be the most ideal option for you. In such a case, you can hire a moving container company or a truck rental service to save on costs other than transporting your belongings. This means you are going to have to take care of the packing and unpacking department as these companies generally won't provide such services. The cost of packing supplies and other minimal costs would be lower than what you will incur should you hire a full-service moving company.
FAQs About Moving From Virginia To Florida
Is It Cheaper To Live In Virginia Or Florida?
While there is not that big a difference between the two states in terms of cost of living, but on a larger scheme of things, you will be saving quite a good amount of money considering the fact that the state has a no-income tax policy.
How Much Does It Cost To Move Down To Florida?
An average move from Virginia to Florida would cost you anywhere around $2875 – $4296. This cost may depend on the type of services you avail of and the location among other things.
How Long Do You Have To Live In Florida To Be Considered A Resident?
To be legally called a resident of Florida or a 'Floridian' perhaps, you need to be living in the state for six months minimum.
Also See: Moving from Colorado to Florida