Moving From Chicago To Florida – Expert Tips & Advice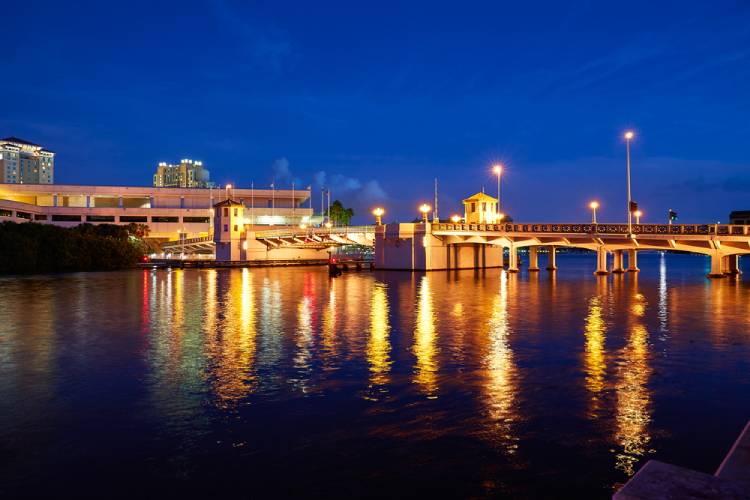 How much of a beach person are you that you're considering packing up everything, traveling around 1,200 miles, and starting a new life in a state that has over 800 miles of beaches? Okay, that may not be the reason behind your move since Chicago has its own charm of beach life with the awe-inspiring Lake Michigan on its shores. But whatever it is, your excitement is absolutely justified. Popular by the name of The Sunshine State, Florida is home to approximately 22 million people, making it the third-most populous state in the US. It gained statehood in 1845 to become the country's 27th.
Located in the southeastern part of the country, Florida is surrounded by the Gulf of Mexico on one side and the Atlantic Ocean on the other. Although tourism is one of Florida's most successful industries, there are a wealth of reasons to settle down in the state as well. Thousands of people move in every year because of the state's relaxed lifestyle, amazing scenic beauty, sunny weather, diversity, beaches, theme parks, and maybe, just maybe the fact that there's no state income tax in Florida.
For all the doubts you have in mind regarding moving from Chicago to Florida, allow us to be your troubleshooters. Read on to know what all will impact your decision to move.
Factors To Consider Before Moving From Chicago To Florida
Weather Conditions
If you don't like snow and biting cold weather, this section will be enough to convince you to move to Florida. A lot of people love the state just because of the amount of sunlight it gets in a year. And that's exactly why it has been dubbed 'The Sunshine State'. Let us explain. The entire country experiences a total of 205 sunny days in one year. While your current city, Chicago, gets no more than 190 days of sunshine, Florida is the clear winner with 237 days. Chicago receives 38 inches of rainfall annually which is at par with the national average. However, Florida wins this one as well with 55 inches of rain in a year.
Living up to its reputation, you won't experience snowfall in Florida either. This is quite unlike in Chicago, where the average annual snowfall is 37 inches.
The northern and central parts of Florida are exposed to a humid subtropical climate which means that the winters are mild and summers are hot. On the other hand, the southern part experiences a tropical climate. Florida is prone to hurricanes during the summer and autumn seasons.
Let's have a look at the difference in temperatures during peak winters:
January is the coldest month in Chicago and the average temperature is 19.2°F.
January is the coldest month in Florida with an average temperature of 48.9°F. Huge difference, right?
Here's the difference in temperatures during peak summers:
July is the hottest month in Chicago with an average temperature of 83.9°F.
July is the hottest month in Florida and the average temperature is 91°F.
The spring season (from March to May) is generally considered to be the best to enjoy Florida's beautiful outdoors. The pleasant weather ranges from 70°F to 75°F as people hit the beaches for different activities like surfing, swimming, etc.
Also See: How to Hurricane Proof Your House
Cost Of Living
Are you a saver or a spender? Don't worry. We're not going to lecture you about it. It's your choice and there's no right or wrong argument in this debate. Maybe we're just a little excited to present you with some good news. If you move from Chicago to Florida, your expenditure is going to decrease quite a bit. In the cost of living index, Chicago has a score of 107 which is above the national average of 100. What this means is that till now you have been spending a lot more on groceries, healthcare, transportation, electricity, internet, etc. than the average US citizen.
All that is set to change as soon as you move to Florida. The state has a cost of living index of 97.9 which is below the national average and Chicago's score. As a result, you'll be able to save and spend more. But don't take it as a blanket figure, okay? It may differ based on which city in Florida you plan on moving to.
Buying A House
Although Florida has a lower overall cost of living than Chicago, the city beats the state when it comes to buying a house. According to Zillow, the median home price in Florida is $356,349. This rate has increased significantly by 29.4% from January 2021 to January 2022. To get a house in Chicago is much easier with the median house price at $306,098 which is even below the national average of $325,677.
Renting A House
In case you're not ready for homeownership or find the housing prices too high, you always have the option of becoming a renter in Florida. The monthly average rent for a studio apartment in Florida is $993 while for a 1-bedroom apartment and a 2-bedroom apartment, it is $1,103 and $1,350, respectively. A few of the best places in Florida to settle as a renter are Orlando, Jacksonville, Tampa, Naples, and Melbourne.
If you want to compare it with the rent in Chicago, here it is. The city's monthly average rent for a studio apartment is $1,645 whereas for a 1-bedroom apartment, it's $2,065 and for a 2-bedroom apartment, it's $2,560.
Utilities
Wondering what exactly is included in utilities? It's the basic services that are required to keep your home or business running efficiently like water, gas, electricity, internet, cable TV, etc. The average utility bill for the citizens of Florida is $240 which slightly exceeds the monthly national average of $236.
Job Market
Florida is the 4th and the latest state in the US to become a trillion-dollar economy with a GDP of $1.227 trillion in 2021. The only states above Florida are California, Texas, and New York. The median household incomes of Chicago ($58,247) and Florida ($55,660) are quite close to each other. But there is a huge difference in the unemployment rates of the two places. The unemployment rate in Florida is 2.6% which is much better than the unemployment rate in Chicago at 5.4%. This indicates that the job market in Florida is healthy. The state is considered one of the best when it comes to seeking jobs.
Florida's economy is mostly dependent on tourism, agriculture, life sciences, international trade, and aerospace. Walt Disney World is one of the top employers in the state. To find a job in the tourism and hospitality sectors, your best bet would be to move to the cities of Miami or Orlando. Big business entities like Royal Caribbean, Office Depot, American Airlines, and Motorola have been operating from Miami for a long time. In fact, SoftBank decided to invest $100 million in startups based in Miami. Florida stands at sixth position in the list of states best suited to start a business, according to WalletHub.
Transportation
The Chicago Transit Authority (CTA) facilitates multiple options of public transportation to the residents of Chicago. Depending on your requirement and sometimes your mood, you can opt for either the CTA bus services, Metro Rail, L trains, or cabs and bicycles. Apart from having the second-largest public transportation system, Chicago is suited for long walks.
Florida, on the other hand, does not have a transportation system as dynamic as that of Chicago. People in Florida prefer driving, so if you have your own car, nothing like it. Having said that, there are quite a few options, of course. Let's talk about the bus services first. There are quite a few private companies like MegaBus, Greyhound Lines, OurBus, RedCoach, Busline Orlando Miami, Falcon Charter Bus Orlando, etc that serve the people. Amtrak Thruway service, offered by Amtrak, connects its trains to far-off cities but you cannot use just the bus service. It comes at an additional cost with your train journey.
When it comes to railways, Amtrak operates on three routes in Florida.
The Amtrak Auto Train starts from Lorton, Virginia, and terminates in Stanford, Florida.
The Amtrak Silver Meteor originates in New York City and reaches Miami in approximately 28 hours.
The Amtrak Silver Star also originates from New York City and has a lot of stations common with Silver Meteor but it makes additional stops in North Carolina and travels to Tampa.
The seven large and medium hub airports in Florida are:
Miami International Airport, Miami
Orlando International Airport, Orlando
Fort Lauderdale-Hollywood International Airport, Fort Lauderdale
Tampa International Airport, Tampa
Southwest Florida International Airport, Fort Myers
Palm Beach International Airport, West Palm Beach
Jacksonville International Airport, Jacksonville
Florida's Strong Points
Weather: The warmest state in the country, Florida offers sunlight throughout the year. You can escape winters if the extremely low temperatures bother you. Florida stays pleasant for the most part of the year.
Low Crime Rate: Here's something for your peace of mind. The crime rate in the state of Florida is low and below the national average.
No State Income Tax: Florida has the fourth-highest GDP in the US and it's still making tremendous progress. The absence of the state income tax means that you can earn more and pay fewer taxes.
Job Opportunities: The job market in Florida is not only strong already but also growing. Some of the fastest-growing industries in the state are tourism, agriculture, healthcare, education, life sciences, and aviation.
Top Cities To Move To In Florida
Naples
Naples is a city in Florida's Collier County that is located in the southwest corner of the state along the Gulf of Mexico. Home to over 20,000 people, Naples is known to be on the higher end of the quality of life spectrum. It boasts lush golf courses, stunning beaches, a beautiful downtown area, top-quality education options, etc. There's a high chance of spotting dolphins in the waters around Naples. Also, you can go fishing or enjoy the jaw-dropping scene of the setting sun. It has violent and property crime rates of 1.10 and 14.44 per 1,000 residents, respectively. This is much better than the national average which is 4 for violent crimes and 19 for property crimes.
Median Home Value: $524,557
Monthly Median Rent: $2,032
Tampa
Home to 387,916 people, Tampa is located on the west side of Florida along the Gulf of Mexico and is among the fifty best cities to live in the entire country. The reasons behind this are plenty — pleasant weather, major business hub, low cost of living, all the amenities, education institutes, electrifying nightlife, etc. If you're a sports fanatic, there are a number of teams to cheer for. Another highlight is its affordable healthcare system. The residents organize and enjoy some extraordinary events like the Margarita Festival and the Cuban Sandwich Festival. Tampa has violent and property crime rates of 5.57 and 16.34 per 1,000 residents, respectively.
Median Home Value: $374,697
Monthly Median Rent: $1,762
Orlando
The city of Orlando has a huge number of astonishing amusement parks as a result of which, it has been honored with the title of 'The Theme Park Capital of the World'. With a population of 280,832, the city attracts a lot of energetic youngsters looking for work opportunities. Companies like Siemens Energy, Lockheed Martin, AdventHealth, and Orlando Health are among the top employers in the region. There's a great scope for startups as well. Once again, if you love sports, basketball, ice hockey, soccer, baseball, women's football, etc. are there to keep you busy. Orlando has violent and property crime rates of 8.28 and 36.80 per 1,000 residents, respectively.
Median Home Value: $345,541
Monthly Median Rent: $1,733
Jacksonville
Join the fan army of the Jacksonville Jaguars NFL if you love sports. Jacksonville is located on the northeastern corner of Florida and is home to 890,467 people. The best thing about the city is its low cost of living along with affordable housing. Some of the growing industries in Jacksonville are manufacturing, technology, banking, etc. and a few of the top employers include Fidelity Investments, Aetna, Johnson & Johnson, and Mayo Clinic. Also, the city has the largest urban park system in the US and you can visit St. Johns River if you're into fishing. You can be a part of exciting events like the Gator Bowl, the Jacksonville Jazz Festival, and Springing the Blues. Jacksonville has violent and property crime rates of 6.79 and 28.08 per 1,000 residents, respectively.
Median Home Value: $273,730
Monthly Median Rent: $1,411
Things To Take Care Of When You're Moving From Chicago To Florida
When you begin you research, keep in mind to double-check the kind of services the moving companies provide. You have to look only for long distance movers and not local ones. All the website do not specify this particular feature. Also, get in touch with at least three different companies to have options to select from. Don't forget to read customer reviews on the internet.
For the best results, ensure that the companies that you've shortlisted are registered with the US Department of Transportation.
You might want to discard any unwanted items before the movers arrive. This is because the company is likely to charge you on the basis of the weight of your cargo.
Make a list of all your belongings regardless of how big or small they are. This way, you can check if all the items are present or not when your shipment arrives at your new location.
You can't afford to misplace your important documents and paperwork. So keep them with you at all times.
Chicago To Florida Moving Costs
Have you finalized your moving date? Or do you at least have a tentative period in mind? If yes, we suggest you get started with researching moving companies. The approximate distance between Chicago and Florida is 1,200 miles. You can't afford to take risks with all your belongings. You would want them delivered to your new place intact, wouldn't you?
So here's the approximate cost of moving a two-bedroom apartment from Chicago to Florida:
Professional Moving Company: $1,930 to $3,500
Moving Container: $2,300 to $2,900
Freight Shipping: $1,675 to $2,376
Rental Truck: $1,124 to $1,510
Conclusion
Even without the state income tax, Florida is just the fourth-most successful state in terms of the economy which largely depends on tourism, aviation, international trade, etc. Agriculture plays an equally important role as the state's warm climate helps in the mass production of tomatoes, oranges, and watermelons. Various factors like the high quality of life, low cost of living, amazing education options, natural beauty, entertainment, etc. come together to make Florida one of the best states to settle down in.
FAQs About Moving From Chicago To Florida
Is It Cheaper To Live In Chicago Or Florida?
Florida is definitely going to help you save a little more than Chicago. On the cost of living index, Chicago has a score of 107 while Florida has it at 97.9 which is below the national average (100).
Is Florida Safer Than Chicago?
Yes, Florida is much safer than Chicago. According to NeighborhoodScout, Chicago has a violent and property crime rate of 9.69 and 25.49 per 1,000 residents, respectively. This is worse than the national average which is 4 for violent crimes and 19 for property crimes. On the other hand, Florida's violent and property crime rates are 3.87 and 17.85 per 1,000 residents, respectively.
What Advantage Does Florida Enjoy Over Chicago?
Although the median income in Chicago is relatively higher, the biggest advantage of living in Florida is that there is no state income tax. This may be quite subjective, but the weather in Florida can be more comfortable.
Is Florida A Good State To Settle Down In?
Florida is easily one of the best states to settle down. A huge number of job opportunities, top-quality education options, magnificent scenic beauty, diverse culture, nightlife, affordable cost of living, Florida has got it all.
Also See: 6 Best Places to Retire in Florida | Moving from California to Florida | Florida DMV Change of Address | Moving from Chicago to San Diego | Top Moving Companies In Florida