Moving from Chicago to Nashville – Experts Tips and Advice


VanLines Inc
Secure Storage
Easy Booking Process
Fully Trained Employees
GET QUOTE

Colonial Van Lines
Storage Services
Long-Distance Moves
Corporate Relocations
GET QUOTE

Moving APT
Available Nationwide
Award-Winning Movers
Extensive Vetting Process
GET QUOTE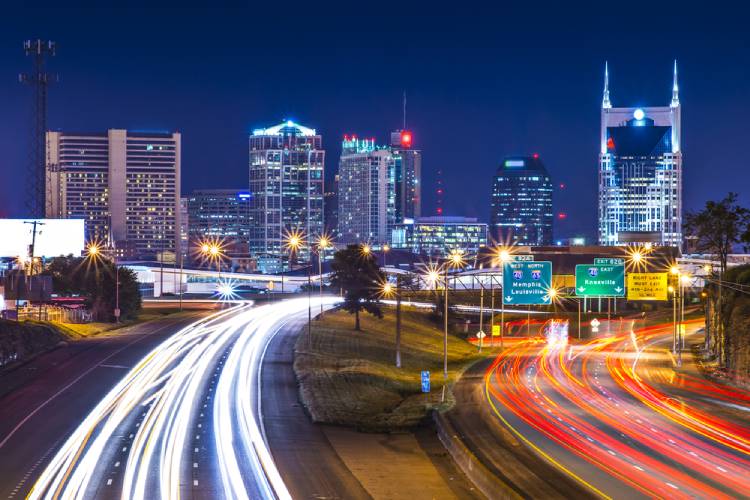 Moving from the crowded city of Chicago to the home of country music can be quite the change. In Nashville, you can expect great weather, a huge variety of things to do, peace and quiet, and of course, plenty of country music.
That being said, both the cities are home to quiet suburbs and green cover that acts as the perfect escape for locals and tourists alike. Also, there are a myriad of amenities and visitable places in both cities, so the lifestyle change would not be huge. To know what to expect when moving from Chicago to Nashville, keep on reading our guide!
Factors To Consider Before Moving From Chicago to Nashville
Weather Conditions
If you're native to Chicago, we don't have to tell you about the weather there. This city offers a humid continental climate, which means the summers are hot and humid, with occasional heat waves, while the winters are cold and snowy. The thing about Chicago winters is, you will see a few blizzards. So, the only way to survive winters in this city is to prepare for them.
On the other hand, Nashville offers a humid subtropical climate, meaning the summers are hot and humid, while the winters are generally cool with occasional snowfall. So, there might not be a large difference in the climates in both places. Of course, there's the exception of a lot of cold and snow in Chicago!
That being said, when it comes to precipitation, Chicago sees about seven months of rainfall. The month of June sees the most rain, while January sees the least. On the other hand, the snowy season lasts for approximately 3 months, between December and March. During this time, the month of February sees the most amount of snow.
Nashville takes it just a little differently in this regard. You can expect rain every month of the year, averaging about 47 inches annually. On the other hand, the snowy period of the year is only two months between December and February, with January being the month with the most snowfall. As you see, there isn't a lot of difference between the two cities in terms of what to expect when it comes to things falling from the sky.
Here's the difference in temperature that you can expect during peak winters:
The city of Chicago sees the temperature swing between 22°F and 33°F. You can expect a lot of cold temperatures and frequent snowfall. On the other hand, Nashville sees the winter temperatures going between 32°F and 48°F. So, once you move to Nashville from Chicago, you're in for winters that are much more comfortable than what you're used to.
Here's the difference in temperature that you can expect during peak summers:
When it comes to the summer season, both the cities see similar temperatures. However, the high humidity in Chicago makes it feel a little more intense than it actually is. To give you a scale, the temperature in Chicago ranges from 70°F to 82°F, while the same in Nashville falls in the bracket of 71°F to 89°F.
Few Things To Bear In Mind About Nashville's Weather:
There are only two drawbacks to the weather in Nashville that may affect the population en masse. The first is that this city, along with the entire state of Tennessee, sees a lot of humidity throughout the year.
The second one is that during spring and summer, the amount of pollen in the air goes up exponentially, making allergies pretty much a constant throughout those two seasons. Stock up on allergy meds, maybe?
See also: Moving to Nashville
Cost Of Living
Buying A House
When it comes to the overall cost of living, Nashville does seem to be less expensive than Chicago. However, in recent years, the housing prices in Nashville have grown exponentially, overtaking Chicago by quite a margin.
According to Zillow, the average home price in Chicago is around $312,489 as of 2022, while the same in Nashville is $428,857. This means that when you move to Nashville from Chicago, the cost of settling in might seem like a challenge.
Renting A House
When it comes to the actual housing scenario, Nashville seems to be at the withering end of a very hot rental market wherein the rents have pretty much doubled in the last ten years. On the other hand, while Chicago does seem much more expensive than Nashville, the opportunities in this city, along with the number of people trying to move here do put the rental prices in perspective.
To help you better understand the bracket of rent in both cities, we've taken data from Rentcafé and curated this comparison: the average rent in Chicago is $2,080, while the same in Nashville is $1,694. Moreover, the apartments available in Nashville in each specific price range are a little bigger than the ones in Chicago.
Utilities
When moving to a completely new place, the cost of utilities is an obvious thing to ponder upon. When you move from Chicago to Nashville, this cost is a bit of a rollercoaster ride. Some things are cheaper in the former city, while some are cheaper in the latter.
To begin with, let's discuss the cost of basic utilities (electricity, heating, water, and garbage disposal) in both cities. In Chicago, these utilities cost around $168, while a decent internet connection adds about $58 to the bills. On the other hand, the same utilities in Nashville burn a $191 hole in your pocket every month, and a decent internet connection adds about $76 to that burden.
Food is one of the costs that you might not recognize as something that could make a huge difference to the cost of living. However, the cost of food does add up quickly. Here is what this expense looks like in these two cities. On average, a loaf of bread costs $3.60 in Chicago, while it costs $3.23 in Nashville. A gallon of milk is $2.10 in Chicago and $1.88 in Nashville. Lastly, a carton of eggs costs $1.96 in Chicago and $1.75 in Nashville.
Even if you think you have the health of a Greek god, all of us need a doctor at some point. In Chicago, a trip to the doctor's would cost about $112, while the same for your pet would be $59. On the other hand, the same trip to the doctor's would cost $90 in Nashville, while the same for your pet would be around $53.
Job Market
The city of Chicago has a very well-established job market. From Fortune 500 companies to start-ups, you have a range of jobs in industries like manufacturing, printing, publishing, food processing, and finance and insurance. Moreover, it is also a national transportation and distribution hub. All of these factors brought the GDP of this city to $692,988 million as of 2020.
On the other hand, Nashville has grown exponentially when it comes to jobs and employment. Industries like health care, automobile production, finance, insurance, music production, printing & publishing, tech, and tourism run the city's economy. All of these industries have contributed to bringing the GDP of the Music City to $135,058 million as of 2020. This has brought the average salary of a resident of this area to $49,890.
All of this brings the unemployment rate in Nashville to 7%, which is lower than the national average. Moreover, the yearly job growth in Nashville was recorded to be around 3.2% in 2020, making it very conducive to people wanting to relocate to this city.
That being said, while it is a prolific job market, it is still in its growing stages. So, if you are moving to Nashville, make sure you're doing so with a job that is secured. Moving to Nashville without a plan can backfire severely.
Transportation
The public transportation system in Chicago is pretty extensive and efficient. You have the CTA covering the entire city by means of buses as well as light rail. Moreover, the amount of traffic and the lack of parking spaces give the locals that much more of a reason to not own cars at all.
On the other hand, Nashville's public transportation system has a lot of room for improvement. There is a bus network by the name of WeGo that runs through the city, but it does not cover a lot of places. In fact, a majority of the locals prefer traveling by their own vehicles. Most of the popular neighborhoods in the Music City are around 15 minutes away from each other, so driving everywhere makes that much more sense.
That being said, if you manage to secure a job and a place of residence around the Downtown area, you might be able to get around on a bike or even by just walking. So, as a resident of Nashville, owning a vehicle makes a lot more sense than using public transportation.
Nashville's Strong Points
Nashville is home to country music. You will find a very strong culture that holds music at its heart, and the people love it!
Music isn't the only form of entertainment in Nashville. You will see the entire city light up for many festivals like the Tennessee State Fair, the Oktoberfest, and the annual Nashville Film Festival.
The quality of education in Nashville, especially when it comes to higher education, is top-notch. Tennessee State University and Vanderbilt University are located in Nashville itself.
Top Neighborhoods To Move To In Nashville
Downtown
If you are a young professional moving to Nashville, Downtown might be the ideal neighborhood for you. Right in the middle of the city, Downtown has a selection of condos and apartments that put you near a lot of workspaces, as well as many top-rated restaurants, bars, and music+theater venues.
Median Home Value: $304,786
Monthly Rent: $1,392
Music Row
Music Row gets its name from the music production industry that calls the neighborhood home. You will find a lot of music producers, singers, songwriters, and radio personalities living here. Moreover, since Music Row falls in the middle of Midtown and Downtown (both of which have great schools and colleges), it's a great spot for young families and students to hunker down. Lastly, while you can get your hands on newly-built houses, a majority of Music Row properties are lofts and apartments on rent.
Median Home Value: $403,932
Monthly Rent: $1,092
Belmont-Hillsboro
Belmont-Hillsboro is a historic neighborhood that is ideal for families looking to live in the city. People living here get easy access to a variety of restaurants, shops, and other social venues, Moreover, there are top-notch schools like Linden Waldorf and Waverly – Belmont Elementary school that call this area home.
Median Home Value: $471,614
Monthly Rent: $1,177
Buena Vista
Another one for the families moving to the city, Buena Vista is an affordable and safe neighborhood that gives the locals easy access to schools like Hull-Jackson Montessori School and Jones Paideia Elementary Magnet School. It also boasts of newly constructed townhomes and craftsman-style bungalows, giving the people a great spot to begin a new chapter in their lives in Nashville.
Median Home Value: $326,300
Monthly Rent: $710
See Also: 8 Best Neighborhoods In Nashville For Families
Things To Take Care Of When You're Moving From Chicago To Nashville
First things first, if you're moving from Chicago to Nashville, you're in for a 500-mile journey. This translates to about 8 hours on the road if you're driving to the city and even more if you're driving with all of your belongings. We recommend you hire professional movers and fly yourself to the city.
Both of these cities experience rather severe seasons. So, if possible, do not move at the peak of winters, or summers. Choose a time when the temperatures are moderate and precipitation is at its lowest.
The economy of Nashville is still in its growth stages and while there are good jobs available, it would be a bad idea to move before securing one. So, make a fool-proof plan and have a backup plan before you actually move.
Chicago To Nashville Moving Costs
In order to get your belongings about 472 miles away from Chicago, you will need interstate movers. Usually, given the distance and the nature of cities in consideration, your move can cost anywhere between $3,000 and $9,000.
The bigger factors to affect this cost are the type of packers, the services you hire from them, and the number of belongings you have that need to be moved.
Summing Up
If you're moving from Chicago to Nashville, you're moving between two cities that are metropolitans, have access to beautiful green cover, have a lot of amenities for the locals, and offer chances towards a great quality of life. Although, while these similarities are prominent, there are a few differences as well.
However, those differences, except the traffic and the driving, might not poke you in the chest because most of them have to do with the cost of living and the culture of Nashville. To be honest, you need to be a fan to some extent to enjoy the culture fully. But, if you aren't, Nashville will still welcome you with open arms!
FAQs About Moving From Chicago To Nashville
Is It Cheaper To Live In Chicago Or Nashville?
Unsurprisingly, Nashville is just a tad bit cheaper than the city of Chicago to live in. To put it in perspective, the overall cost of living in Chicago is approximately 17% higher than the cost of living in Nashville.
Is Nashville Worth Moving To?
Absolutely! The city of Nashville offers everything that you could look for in a fun, calm, and growing city. That, with its southern culture, makes it all the better. In fact, U.S. News voted Nashville as one of the best places to live in the United States in 2019.
What Is A Good Salary In Nashville?
In Nashville, to earn a 'good' salary, you have to make more than $58,808 per year or more. However, if you want to be wealthy, this city's standards require you to earn more than $71,913 per annum.
See also: Moving From Chicago To Florida | Moving from Chicago to Los Angeles