Moving from California to Oregon – Expert Tips and Advice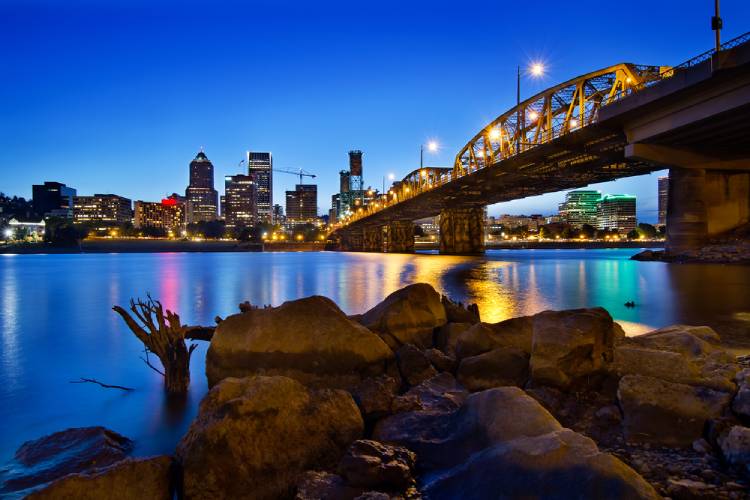 If you are planning to leave California for the Pacific Northwest, then you are not alone in it. According to studies, 1 in 5 Oregon residents was born in California. Oregon has so much to offer, such as a thriving economy, active outdoor activity, good restaurants, and entertainment with beautiful scenery and affordable cost of living are the reasons why people are moving to Oregon.
Many people decide to opt for a happy life in calm, cheaper, and measured areas like Oregon state. The affordable cost of living in Oregon is one of the main reasons people move from California to Oregon. Shifting from one place to another is a big decision; it requires a lot of planning and research. But you don't have time to research the area? Don't Worry here; you will get all the information related to the cost of living, weather, employment opportunity, and most importantly, the pros and cons of moving to Oregon. Keep on reading to know more about moving from California to Oregon.
Whether
When moving to Oregon, you will enjoy a climate heavily influenced by its presence near the Pacific Ocean. Several parts of the state are relatively temperate but also very wet. On average, the Western Oregon part has 68 days of sunshine within a year. And the winters are mostly cloudy, and the summers are relatively dry with an average temperature of 80 degrees Fahrenheit. However, the temperatures can reach 90 degrees Fahrenheit during July and August. Whereas the eastern part of the state stays drier and a bit warmer during the summertime.
Cities of Oregon
Oregon has 36 counties, and it offers a mix of metropolitan areas, small quaint towns, and fun coastal cities. Whether you want to move to a metropolitan area, small town, or any coastal city, you will get an area of Oregon that fits your desired lifestyle. Most people who are moving to Oregon plan to move to Portland, but it is highly recommended not to constrain yourself and check out other cities. Such as Bend, which offers year-round activities like hiking, boating, skiing and snowboarding, camping, boating, and many more. Ashland is another small college town full of outdoor activities and entertainment. Similarly, Hillsboro is home to large employers like Intel and Nike, and it is one of the fastest-growing cities in the Tri-County area.
Cost of Living
No doubt, California is a perfect destination for young professionals, and it provides ample opportunity to earn more. But it isn't easy to save in California due to its high cost of living. Whereas the cost of living in Oregon is comparatively less. You might not get more opportunities to earn more, but a person can easily save money due to its affordable cost of living. The cost of living may vary from one area to another; the cost of living in small towns is significantly less, whereas the cost of living in bigger cities is more.
See also: 15 Cheap States to Move to: The Lowest Cost of Living States in the US
While discussing the cost of living in Oregon, utility bills are the one where you can save a good amount of money. The average electric bill in Oregon is around $94, which puts it well below the national average of $107 and ranks it 36th nationally.
Similarly, the average house price in Oregon was $344,200, which is a bit high compared to other parts of the country. Major cities of Oregon have a high median house price, and the average house selling price is much higher in Portland.
Education
Oregon also offers variety and many options in the educational field, such as elementary, junior high/middle school, high schools, and different colleges.
Best Public High Schools in Oregon
● Catlin Gabel School. Private School
● School of Science & Technology. Beaverton School District.
● Lake Oswego Senior High School.
● West Linn High School.
● Lakeridge High School.
● International School of Beaverton – High School.
● South Eugene High School.
● Westview High School.
Best colleges in Oregon
● The University of Oregon.
● Oregon State University.
● Pacific University.
● George Fox University.
● Portland State University.
● Reed College.
● Willamette University.
● Lewis & Clark College
Major Cities of Oregon
Portland
Since Portland is home to major employers like Intel, NIKE, and Precision Castparts Corp, it draws business-savvy residents to this area for more job opportunities with a good salary. While the cost of homes is much higher in Portland compared to other parts of the state, it is surprisingly affordable for a big city. There are also great suburbs, including Hillsboro and Beaverton, that are not expensive. People love Portland because of its outdoor beauty. Portland provides the opportunity to enjoy all the outdoor scenic beauty by sitting at home. If you are a party animal, then Portland is the place for you; there is something for everyone in Portland because of its vibrant culture, happening nightlife, great beer, and various outdoor activities.
Average house rent: $1,667
Median house selling price in Portland: $500,000
Eugene
Eugene is considered one of the best job markets in the Northwest, with blossoming tech industry. This encourages many young individuals to shift here and raise a family. This place is also famous for great restaurants, fabulous beer and wine, a plethora of bike trails and outdoor recreation activities, and the University of Oregon Ducks. Eugene is also known as an emerald or track town.
Average House Rent: $1,548
Median house selling price in Eugene: $450,000
Salem
Salem is full of beautiful and serene countryside, a vibrant cultural scene, a relaxed atmosphere, and a small-town feel. Salem has ranked #77 on the U.S. News list of Best Places to Live. This place has a mild climate, affordable cost of living, easy commutes, and beautiful wineries. The residents of Salem enjoy its geographical location, which puts them just a few minutes drive away from quaint coastal towns and connects to the larger city of Portland.
Average House Rent: $1,274
Median house selling price in Salem: $396.900
Bend
Bend is situated in central Oregon, just east of the Cascades. This place is known for its world-class outdoor recreation activities such as snowboarding and rock climbing. The city also offers a variety of outdoor activities such as snowboarding, skiing, rock climbing, whitewater rafting, and mountain biking. It is also known for providing health care and education Jobs. St. Charles Hath System is one of the largest employers in Bend, and it offers ample job opportunities in the healthcare industry.
Average House Rent: $1,803
Median house selling price in Bend: $762.500
Pros and Cons of Moving from California to Oregon
Young people mostly choose California as an excellent place to live. Still, many people are moving from California to other places because of its high cost of living and busy life. Not all people want to be a part of the rat race; many want a peaceful life with less pollution and a lower cost of living. Let's discuss the pros and cons of moving from California to Oregon.
Pros
California is famous for its ample sunshine and warm weather, and people living here don't feel any significant change in season. On the other hand, in Oregon, you will get the opportunity to experience different kinds of weather. This increases the chances to enjoy various outdoor activities such as skiing, snowboarding, snowmobiling, and ice skating
The cost of living in California is more expensive compared to Oregon. According to studies, California is 19.3% more expensive than Oregon; the housing cost, groceries, house rent, and other monthly expenses are more in California. Housing costs are around 39.5% in California; similarly, transportation costs are 11.5% more, and the monthly grocery expense is likely to be 11.8% higher in California than in Oregon.
Oregon has beautiful nature and offers a different variety of leisure activities. The Oregon coast offers different water activities like fishing, surfing, diving, while mountains, valleys, rainforests, and deserts offer much more chances to rest cold to nature.
Residents of Oregon are very friendly and pleasant people. As many residents are satisfied and happy with their life, they also treat other people well.
Cons
Oregon has very slow driving & narrow roads with sharp turns, which makes it difficult for the newcomers
None of Oregon's beaches can be compared to California's beaches. The beaches of California are better than the beaches available in Oregon.
Farmer Food produced here is more expensive compared to California.
Tips for Moving to Oregon
If you are planning to move to Oregon, you can move at any time because prices aren't likely to drop at any specific time of year. Similarly, renting a truck for moving will cost you about the same all year round.
If you choose to move during the year's fall season, then be prepared to get wet. The part of Western Oregon receives a steady amount of rain in the colder months of the year while the eastern Oregon part is dryer in general; however, this part also gets a fair share of rain.
If you are moving to Oregon, traffic can be an issue in some parts. Like any other part of the country, the bigger cities and towns face more problems with traffic while the small towns enjoy more open and broad roads and less congestion.
Another thing you need to be aware of is parking permits. Most streets in cities like Portland, Eugene, and Salem have specific and fixed days for street cleaning and timeframes or permit-only parking provisions. Hence, check with your new town to ensure that your moving truck can be parked on the street without any issues.
Additionally, it is also recommended that you are not moving to your new place on a street cleaning day or during any restricted time.
Conclusion
Oregon is a place that has a good climate with an affordable cost of living and plenty of outdoor activities. This place offers different employment opportunities along with a peaceful lifestyle. So if you want to lead a peaceful life in a place full of beautiful scenery, then Oregon is perfect for you.
See also: Best Out of State Movers in the U.S.
Frequently Asked Questions
Is it cheaper to live in Oregon than California?
Yes, it is cheaper to live in Oregon than in California. Oregon has a low cost of living as compared to California.
How much does it cost to move from California to Oregon?
The median cost of moving from California to Oregon with North America will be around $3,284.40. But the prices may vary depending on various factors such as the distance of the move, the number of items being moved, and additional moving services, for example, packing and unpacking.
Are Oregon taxes high?
Oregon's state effective tax rate, which was by far the highest among states at 7 percent, was bolstered by its individual effective tax rate of 23.37 percent, which was just ahead of Massachusetts and Connecticut.
See also: Moving from California to Idaho | Moving from California to Nevada | Top Moving Companies In California