Moving to Oregon | 2022 Cost of Living and Relocation Tips


VanLines Inc
Secure Storage
Easy Booking Process
Fully Trained Employees
GET QUOTE

Colonial Van Lines
Storage Services
Long-Distance Moves
Corporate Relocations
GET QUOTE

Moving APT
Available Nationwide
Award-Winning Movers
Extensive Vetting Process
GET QUOTE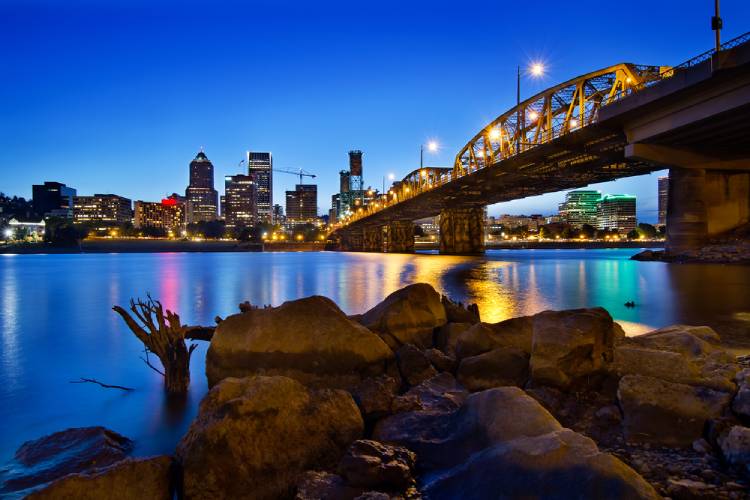 The state of Oregon is located on the Pacific Northwest region, on the west coast of the United States and is home to the most varied landscapes. For outdoor enthusiasts, the state is a gem that has it all – a long coastline, sand dunes, ski trails, serene waterfalls, towering mountains, cascade lakes, parks, valleys, mighty rivers and evergreen forests. There's so much adventure out there and it's spread out in every nook and corner of the state.
There's no better way to take full advantage of the recreational options from any spot you choose to reside at. With abundant green landscape and things to do outdoors, it should be no surprise that Oregon is a very green state and is ranked to be the third most green state in the United States.
If you've chosen to move to the state, you would eventually learn that most of the state embraces the culture of sustainability. Portland, which is Oregon's most populous city, has the highest rate of people cycling to work, than any other US city. Also, it's one of the first cities where the concept of green planning and efforts to create bicycle paths, trails and lanes were efficiently executed.
The state has a special place in the hearts of those who are desperately looking for a fresh start and change in atmosphere. But how do you decide if Oregon is the breath of fresh air that is perfect for you or your family? Well, read on to learn more about the weather, transport systems, living conditions and get a gist of what Oregon has to offer to newbies who are thinking of relocating here.
Weather In Oregon
If you're considering moving to Oregon, you have to factor in the state's rainfall. Oregon is one of the states that receives rainfall from roughly October until the end of the month of May. Monsoon is the dominant season of the state which is why the skies could seem gloomy or dark a majority of the time. But do note that it's not always pouring cats and dogs. It's just that the frequency of rains is unusual and spread over the 8 months. Because of the cloudy weather, residents don't get sufficient sunlight. We have to admit, taking supplements for Vitamin D is actually a way of life followed by many here. It's also true that seasonal affective disorder rates in Oregon are much higher than the rest of the country. For a few, such weather conditions could be a dealbreaker. Hence it is necessary to factor this in if you're relocating to Oregon.
Other than the rains, it may also take a while to get used to the snowfall. Since Oregon is home to 3 mountain ranges, during the month of December to February, all the mountains record a high amount of snowfall. Ski resorts work in full swing during the winter months and if you're an outdoorsy person, chances are you'd enjoy the ton of winter recreational activities offered by the state.
See also: Most Outdoorsy Cities in the U.S.
Lastly, weatherwise, June to September is when there's a good deal of sunshine that takes over the landscape. Rivers, lakes and trees are in full bloom which uncovers the hidden beauty of Oregon. Hiking, exploring mystic waterfalls, hunting, fishing, biking and cycling are few of the many outdoor activities that people enjoy when the sun shines bright and the skies are finally blue.
Key Takeaway – Oregon has an 8-month rainy season. However the frequency and intensity of rainfall varies in different parts of the state. Since there will be plenty of days without sunshine, the sky can seem gloomy for approximately 245 days a year. Do note that specifically the western part of the state receives the most rainfall in comparison to other parts where it's usually just light rain. Also, like we mentioned earlier, since Oregon is made of varied terrain, weather conditions are extremely diverse in eastern and western Oregon.
Transportation In Oregon
Presently, Oregon ranks 10th in transportation systems after taking in factors like commute time, bridge quality and public transit usage the state has to offer. A clear indicator of why the transportation in Oregon is easier than most other states. In addition to that, Portland, which is the state's largest and most populated city, has one of the most extensive public transportation. It extends to most of the areas that would otherwise require an automobile. Below is an overview of the different modes of commute that make life easier for residents:
Light Rail System in Oregon
The metropolitan area of Portland is served by a light rail system known by locals as MAX (Metropolitan Area Express). If you're going to be staying in Portland, chances are you can make best use of this light rail system to work your way throughout the city. The light rail service follows a color code system of identification and currently has 5 lines: Blue, Green, Red, Yellow and Orange. A day pass for adults costs $5 and the rail runs through downtown Portland with stops at Beaverton, Clackamas, Gresham, Hillsboro, North & Northeast Portland, and even the Portland International Airport. The lines run about every 15 minutes which makes it the most efficient mode of transportation for residents.
Streetcar in Portland, Oregon
The central portion of the city of Portland is served by a two-line streetcar that runs through the downtown areas and the streets surrounding downtown. The streetcar currently has 3 lines and works around the central portion taking the shape of a loop. The 3 lines serving central Portland are:
A Loop (runs clockwise) covering Pearl district, Lloyd district, OMSI and PSU
B Loop (runs counter-clockwise) covering the same route
NS Line (runs North-South) covering Northwest district and South Waterfront areas
A two and a half hour ride on the streetcar would cost you $2.50, while a whole day pass fare is $5.
Railways in Oregon
Amtrak which is the passenger railroad service that serves most of the cities in the United states has 3 major trains running through the state of Oregon namely:
Amtrak Cascades trains with stations in Portland, Oregon City, Salem, Albany and Eugene and runs all the way from Vancouver.
The Empire Builder train line that runs from Portland to Chicago and Illinois. This is another great option for interstate travel.
The Coast Starlight service which runs through all the major big cities such as Seattle, Washington, Los Angeles, California has stops in Portland, Salem, Albany, Eugene, Chemult, and Klamath Falls in the state of Oregon.
In addition to these modes of transportation, the city of Portland in Oregon is also served by TriMet buses that thoroughly cover most of the suburbs. Bicycle commuting and electric shooter sharing systems are other intracity modes to get around the suburbs. The main intention of these modes is to encourage people to take up eco-friendly modes of transportation to save the city's air conditions. Another notable aspect of the transport is that the state of Oregon has recorded the highest bicycle commuting mode. Clearly, it goes to say that the efficient system of bike paths and lanes have definitely encouraged residents to cycle more often.
Job Market In Oregon
While looking out for job opportunities in Oregon, you could quickly come to realise that most of the agencies and big corporations are actually located in Oregon's most populated city which is Portland. Approximately 60% of the state's population reside in Portland, which is why the economy of Portland is a huge contributor to the whole state's economy. Presently, Portland is considered to be the 'Silicon Forest', since the city has witnessed a huge concentration of high-tech companies post the expansion of Tektronix and Intel campuses.
Technology is generally one of Oregon's major economic forces. However, the economy is also driven by other sectors such as hydroelectric power production, heavy production industries and agriculture. Which proves why the city of Portland is also the largest shipper of wheat in the United States and its port is home to one of the largest commercial dry docks in the country.
In addition to the production sector, some of the most notable companies and largest employers of the state are Nike, Adidas, Lithia Motors, Mentor Graphics Corporation and Schnitzer Steel Industries.
Key Takeaway – Overall, there's no scarcity of tech jobs in the state and Oregon is home to a good number of corporations with the largest employers being Nike (manufacturing MNC), Daimler Trucks North America (automotive manufacturing), Collins (forest products manufacturing) and Precision Castparts (industrial manufacturing). What we can derive from this is that the top performing sectors are possibly advanced manufacturing of metals, machinery and medicine, tech companies and forestry products. However, this is just a gist of the economy and there are various other industries that are booming, even if it is not doing so as fast as these top sectors.
Renting In Oregon
According to reports by HomeSnacks, the average median rent of houses in Oregon is $1,800, which is roughly 9% more when compared with the national average. However, in comparison to Oregon's neighboring states such as Washington and California, Oregon seems to have a much lower rent cost.
To put things into perspective, let's do a comparative analysis with the tentative rent costs for a 1 bedroom in the other states so you can see things at a price point:
1 bedroom home in Oregon – $1,420
1 bedroom home in California – $2,100
1 bedroom home in Nevada- $1,090
1 bedroom home in Washington – $1,678
1 bedroom home in Idaho – $930
We've taken the average rent of 1 bedroom houses in neighboring states, simply to help you understand where Oregon stands when it comes to rent prices. These are just the tentative costs you can use for budgeting, to predict if you would be paying way more or less in Oregon, depending on the rent paid in your former state. Do note that in certain areas of Oregon such as Happy Valley, Sherwood, Lake Oswego, Hillsboro, West Linn, the cost of rent will be much higher since these are the neighborhoods with comparatively higher rent prices.
Cost Of Living In Oregon
The cost of living in Oregon is definitely not en par with the national average. However, it is 29% higher than the national average. The median list of price of homes in Oregon is roughly $379,503, while a single person monthly costs is roughly $2,737. Of course, this is without taking into account different localities where prices may vary.
We'd also like to mention that few studies state it is necessary to receive more than 55k to live a semi-comfortable lifestyle in the state. Interestingly, you need over 65k to live comfortably in the city of Portland. Do note that Oregon is one among the five states which do not have the policy of sales tax. So this could be an area where you save considerably.
Education
Top-Rated Oregon Colleges
1. Reed College, Portland
2. University of Portland, Portland
3. Lewis& Clark College, Portland
4. Oregon State University, Corvallis
5. University of Oregon, Eugene
6. Willamette University, Salem
7. Oregon Institute of Technology, Klamath Falls
8. Pacific University Oregon, Forest Grove
9. George Fox University, Newberg
10. Portland State University, Portland
Top-Rated Oregon Schools
1. Lake Oswego School District, Lake Oswego
2. West Linn-Wilsonville School District, Tualatin
3. Riverdale School District, Portland
4. Corvallis School District, Corvallis
5. Sherwood School District, Sherwood
6. Beaverton School District, Beaverton
7. St. Paul School District, St Paul
8. Ashland School District, Ashland
9. Crane Elementary School District, Crane
10. Philomath School District, Philomath
Top Cities To Move To In Oregon
1. Bend
If you've been evaluating a city in Oregon that receives more sunshine, it's possible that the answer is Bend. In comparison to other cities, Bend surely receives a good deal of sunny days. The pace of life is also much slower here, which is why it's perfect for those looking to escape the metropolitan city rush. Geographically, Bend is located smack right in the middle of the state. In terms of location, it is a great city for those who seek adventure. Simply because you can easily make your way to the ocean, explore the desert terrain, hike mountains and enjoy camping at some of the most beautiful lakes that Oregon has to offer.
Median price of homes sold: $363,200
Median rent: $1,185
2. Eugene
Eugene is presently the third most populous city of the state and is recognised to be a college town since it is home to 3 major educational institutions namely – the University of Oregon, Bushnell University, and Lane Community College. The city does have a vibrant college culture and interestly, the buildings here have been the inspiration for the show Simpsons. The official slogan of the city is "A Great City for the Arts and Outdoors" and Eugene is also called the 'Emerald City' because of the surrounding valley and ample of greenery around. Young professionals and retirees seem to be most attracted to the lifestyle of this city.
Median price of homes sold: $272,000
Median rent: $988
3. Beaverton
Housing in Beaverton is much higher than most cities in Oregon. However, for those looking to live in close proximity to the big city of Portland, Beaverton turns out to be the perfect spot. This city is 15 minutes away from the metropolitan city of Portland, as well as the other major towns like Hillsboro and Gresham. Many of the well established corporations and larger employers of the state such as Nike have their headquarters in this city. Shouldn't be surprising that Beaverton is one of the best hubs for those seeking lucrative job opportunities.
Median price of homes sold: $352,000
Median rent: $1,269
4. Salem
Salem is the state capital of Oregon and is one of the most affordable cities of the state. If you choose to relocate here, you would be an hour away from the major hubs such as downtown Portland, the vibrant city of Eugene and even the beautiful Oregon coastline. The lifestyle here is slow and the place seems to attract a large number of families and retirees. The city also has a few historic districts and tons of public parks, playgrounds and neat gardens. In addition to that, Salem is also an extremely green city, since it has restored 23% of the urban tree canopy. That's the reason why you'll see most communities having their own fruit trees and well-kept gardens.
Median price of homes sold: $223,200
Median rent: $922
5. Portland
Like we said earlier, Portland is the largest city of the state, and if you're looking to move to a place that is more vibrant, fast paced, with a good number of stores and chain restaurants, this city is your best bet in Oregon. In addition to that, Portland also has a great public transit system and some of the best well-maintained lanes for cyclists. Portlanders are known to resort to eco-friendly and local solutions, which is one of the biggest perks of the city. It also sets Portland apart from other cities. If that wasn't enough, Portland also has a good reputation for job opportunities, with a growing base for some of the largest employers here.
Median price of homes sold: $383,600
Median rent: $1,187
FAQs about Moving to Oregon
Is moving to Oregon a good idea?
Oregon is an outdoor lover's playground. It has abundance of all types of terrain and this makes it an ideal location for those who love spending time outdoors. The state is also extremely cautious of the environment. So, you'd have lots of green open spaces and cities recognizing the importance of sustainability. Statistics on various websites also point that Oregon is a hotspot for job opportunities. But all good things come at a price, so even though Oregon is a great place to live, it can be expensive. The cost of living is high and in line with the increasing prices that one has to bear to reside on the west coast of the nation.
What should I know before moving to Oregon?
Oregon is home to an abundance of scenic lakes, mountains, a coastline and you'd have much more to explore within driving distance. It also lacks sales tax so you get to save considerably because of this. Weatherwise, you should be aware that the state receives quite a lot of rainfall with the western portion receiving the most of it.
Where should I move to Oregon?
Portland, Bend, Eugene, Beaverton and Salem are few of the best places to live in Oregon. These are the top hubs that figuratively and literally get a flock of people. But without a doubt Portland is usually the first choice. Because of the influx of people choosing Portland, you can expect costs here to be on the higher side of the spectrum. But the further you move away from this city, the more options you'd have for affordable real estate.
Is Oregon cheaper than California?
Fortunately, since Oregon lacks sales tax, the cost of living here is considerably lower than California, where taxes are soaring through the roof. Things are looking pretty good for Oregon in terms of real estate too. The median value of homes in Oregon is roughly $379,503 while the same in California is at $609,757. This once again affirms that Oregon is cheaper than California. It also means that if you're looking at getting a bigger property for less, you're most likely going to have great success with that in Oregon.
What is a liveable salary in Oregon?
To live anywhere in the state of Oregon, a single person would roughly need to rake in 55k to 60k annually to live a 'semi-comfortable lifestyle'. But do note that if you specifically choose to live in the state's most desirable city (Portland), then you should aim to earn a figure beyond 65k, as that is the liveable salary for a single person in Portland.
What is the prettiest city in Oregon?
Oregon has no shortage of clean and picturesque cities that look like they've come right out of a postcard. Corvallis, Portland, Bend and Eugene are few cities that possess the pretty charm. You'd have all the modern amenities in these cities, but what makes them interesting is that they are also interspersed with rich historic districts. Ashland, Astoria and Florence are the other walkable towns that attract a lot of tourists for their beauty.
Is it cheaper to live in Oregon or Washington?
Washington is pricey in terms of real estate when put up against Oregon, but there's just a marginal difference. The median value of homes in Oregon is at $344,200, while Washington is at roughly $381,300. The exception is the city of Seattle, where the median value of homes stands at $605,200. Seattle is where there is a huge margin in costs.
When it comes to taxes, Washington has no income tax, but then again a high sales tax that evens things out. On the plus side, Oregon does not impose sales tax. The final verdict is that it is a close call, but Washington ends up being slightly more expensive, especially if you reside in Seattle.
What is the safest town in Oregon?
Few of the cities in Oregon that have an impressively low crime rate are Newberg-Dundee, Lake Oswego, Eastmoreland, Sherwood and Monmouth. These are the top safest towns in Oregon and also lie in close proximity to Portland.
Is it better to live in Oregon or Washington?
Both states are great and choosing one over the other depends on your personal reason for the move.
For instance, you might lean more towards the thriving job market in Washington as it is on a much more diverse scale in comparison to Oregon. So, if you're particularly interested in big-pay opportunities, then you'd most likely have more luck with it in Washington.
But then again, you might want Oregon if you're keen on getting more value for your dollar. Real estate, taxes and the grind can be more taxing in Washington. There's also a high sales tax in Washington and no sales tax in Oregon. So, in the end it depends on whether you're moving to buy a bigger house or better job or save your finances.
What's special about Oregon?
The state of Oregon is extremely green. It has more green spaces than any other state in the US. Living here would mean that you have lots of parks, lakes and coastal towns to explore. You get the best of everything when it comes to enjoying what's there outdoors. You have kinds of terrain (yes, desert and coast) in one state. The state is special because there's lots of effort made for cities to remain sustainable. People would choose to ride a bike than take out their car and this speaks a lot about how much importance one gives to the environment.
Is Oregon a good state to retire in?
The state of Oregon has no shortage of places for recreation. The quaint little beaches, lakes, forests make it a paradise for retirees. The state takes great efforts to maintain a standard of air and water quality. Excellent healthcare facilities and no sales tax are other perks that make it a great place for retirees to live in. There's one downside though which is the weather. It can regularly get gloomy as Oregon receives plenty of rainfall, so that's something that one must be comfortable with before moving.
How much does it cost to move from California to Oregon?
On an average it would cost you roughly $3,500 to $4,000 to move from California to Oregon. This figure applies to full-service movers who would take care of the loading, unloading, packing and other concerns associated with the move.
What is the most dangerous city in Oregon?
Roseburg, Astoria and Medford are the three most dangerous cities of Oregon. Overall, the crime rate in Oregon is 2% lower than the national average.
How much money do you need to live comfortably in Oregon?
The cost of living in Oregon is much lower than other west coast cities. To live comfortably, a single person would need roughly 45k to 55k per year. You can even get by with far less if you live away from hotspots in the city of Portland.
Why do Californians move to Oregon?
The state of Oregon lacks sales tax, while on the other hand, living in California means that you have to deal with the highest statewide sales tax. For Californians, moving to Oregon would mean that they escape high taxes and still get to be part of the west coast lifestyle. Oregon also offers a slower paced life that lacks the grind and urban sprawl depending on the city you choose to live in.
Why is it so expensive to live in Oregon?
The state of Oregon has a lot of new people coming in, because of which housing costs are going up. Apart from real estate, transportation and groceries are also way above the national average. But the main driving factor that makes Oregon expensive to live in is the fact that wages are relatively low and there's an imbalance there that creates the rift.
What is a good salary in Portland?
An annual income that crosses the 65k mark is an indication of a good salary in Portland for a single person. Most people can also live well on a 50k annual salary. The further you move away from the Portland metropolitan area, the more inexpensive costs would get.
What is the average cost of house in Oregon?
The average median value of homes in Oregon is at $379,503. This is the typical average one would expect while house hunting. Do keep in mind that things are on the higher end in the Portland metropolitan area, where the median prices of houses are beyond $383,600.
---
Our Take On Oregon
Scenic spots like Crater Lake, Multnomah Falls, Mount Hood and the serene Japanese Gardens are few of the natural beauties that make the state of Oregon extremely scenic and attractive for outdoor enthusiasts. Apart from ticking all boxes for natural wonders, Oregon also has a national reputation for its green progressive urban spaces that make constant efforts to improve the air and water quality for residents. Most cities turn into concrete jungles. However, things are done differently in Oregon, making it all the more enticing to those who wish to escape the urban sprawl.