Moving from New Jersey to Florida: Expert Tips and Advice


VanLines Inc
Secure Storage
Easy Booking Process
Fully Trained Employees
GET QUOTE

Colonial Van Lines
Storage Services
Long-Distance Moves
Corporate Relocations
GET QUOTE

Moving APT
Vetting Process
Award-Winning
Available Nationwide
GET QUOTE
Our Take
Price
Rating
Minimum Shipment Size
Storage
Booking Deposit
Cancellation Policy
Quoting Options
Discounts

Best Overall Value


GET QUOTE

2+ bedrooms




Free 30 Days




10%

Free up to 72 Hrs

Phone / FaceTime / Text

Senior / Same day Booking

Best Industry Reputation


GET QUOTE

1+ bedrooms




30 Days




20%

Free up to 72 hrs

Phone / Facetime

Seniors Discount

Best Customer Service


GET QUOTE

1+ bedrooms







Free up to 72 hrs

Phone / Virtual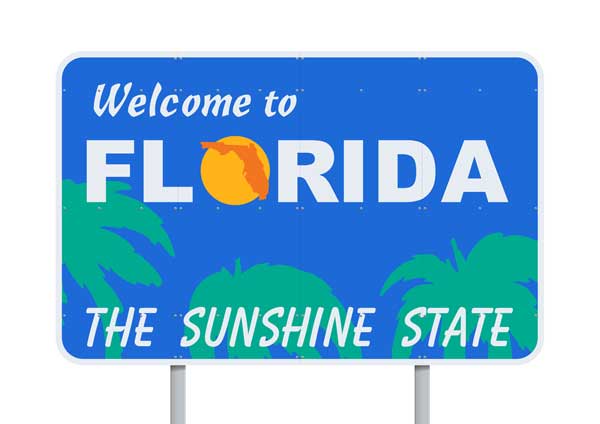 Do you find yourself feeling like you're from Klingons (the alien warriors in Star Trek) in your own state? By this we mean if you find yourself an alien to the cultures and lifestyle that your home state boasts about, it's probably time to move elsewhere. If for some reason Florida is the one state that comes to mind then we're here to give you more information so that you know if it's the place for you.
Factors To Consider Before Moving From New Jersey To Florida
Weather Conditions
Do you find it easier to cool off than warm up? Then that means that you're probably a fan of summers and you'd be happy to hear that the state of Florida is a paradise for anyone who can't stand harsh winters. Florida is called the Sunshine State and this is a hint for the weather conditions you should expect. You don't have to worry about freezing temperatures and you can erase memories of shoveling snow. A hoodie or a pullover can get you through Florida weather which isn't really the case with New Jersey.
Here's the difference in temperatures that you can expect during peak winter time:
New Jersey in January – Average day temperatures fall in the 23°F to 39°F zone.
Florida in January – Average day temperatures fall in the 62°F to 70°F zone.
As you can see in New Jersey, you can only dream about getting out of your home in comfortable summer clothes during the winters. On the other hand, this can change in Florida where the winters are extremely mild. You can even go ahead and entertain the thought of heading out without the worry of snowfall.
Now let's look at what to expect for summers in Florida, which is its dominant weather.
Here's the difference in temperatures that you can expect during peak summer time:
New Jersey in June – Average high temperatures fall in the 76°F to 83°F zone.
Florida in June – average high temperatures fall in the 88°F to 90°F zone.
Summer temperatures are somewhat similar in both states. Humidity levels are higher in Florida so expect the heat to make you edgy till you're used to it. On the bright side, the occasional downpours cool off the summer heat. You've to keep in mind that New Jersey summers have more clear skies in comparison to Florida, where it does get cloudy often.
Few Things To Bear In Mind About Florida Weather:
Hurricane weather is a phenomenon that you should get familiar with as a new resident of Florida. The state is prone to hurricanes, especially in the summer months.
The frequency of hurricanes or heavy rainfall is inconsistent but if you're going to live close to the coastline, the potential for damage of property by a hurricane or flood is more.
Year-round weather conditions fall in the range of 52°F to 91°F, while for New Jersey it's in the 26°F to 86°F zone.
Cost Of Living
You can rejoice at the news that it's relatively going to be much cheaper to live in Florida than in New Jersey. The main factor that contributes to making this possible is the tax system (no surprises here!). New Jersey has the highest property tax rate in the nation at 2.47% while Florida is at 0.93%. To illustrate this further, Florida does not have a state income tax which could make things more favorable.
Besides taxes, real estate prices are going to look more attractive in Florida, for instance here's the difference in housing value:
Median value of homes in New Jersey (according to Zillow) – $387,105
Median value of homes in Florida (according to Zillow) – $277,429
So if homeownership and investment in property are the goals you wish to tick off your bucket list, then it could be possible with the prices of homes in Florida. But do note the prices of beachfront homes can make you feel like you've suddenly landed on another planet.
In terms of groceries, expect overall costs to be 5.9% lesser than the costs you'd pay in New Jersey. Utilities and entertainment overall could be 19.9% cheaper in Florida. Cost-wise, it's going to be cheaper in Florida, but don't overestimate it to be dirt cheap.
Job Market
One of the perks of living in New Jersey is that you have the advantage to tap into NYC and Philadelphia for larger job opportunities. This isn't the case with Florida, but the state does have a job market that's strong enough by itself. There are roughly 17 Fortune 500 companies in New Jersey and 18 in Florida, so it's safe to say that both states are similar contenders.
You're probably already aware that pharmaceuticals, advanced manufacturing, and retail are some of the key industries in New Jersey. So we thought it's best that you also have a framework of the flourishing industries in Florida.
List of the key industries in the state of Florida:
Transportation
Aerospace
Homeland security
Food processing
High technology
Florida takes the fourth rank in the list of states that contribute largely to the nation's economy while New Jersey ranks eight. They aren't too far apart but the fact that Florida takes a higher position is good news in the light that you could find better opportunities.
In terms of average household income, you'll see a dip in salary unless you really get a job that pays way above Florida's average. Overall, expect income to be lower in Florida but don't be taken aback by it because the cost of living is also lower. To give you perspective, see the difference in costs below:
Median household income in New Jersey (according to Niche) – $82,545
Median household income in Florida (according to Niche) – $55,660
So, most households in Florida earn an average income of $55,660. If your prospective household income goes beyond this average, then you can consider it to be upper middle class income in Florida.
Transportation
In New Jersey, you'd probably have a high dependence on your four-wheeler to get around and that's also the case for Florida. To properly explore Florida and reach anywhere within the state with convenience having first priority, a car would be the best. But there are a few cities in Florida where you might feel there's no use for your car. These cities are namely –
Miami – If you choose to live here, you can commute by taking the MetroMover, Metrorail, Metrobus, and even an intercounty rail line run by Tri-Rail.
Tampa – Tampa residents can count on the HART (Hillsborough Area Regional Transit Authority) bus service. The bus has enough coverage of the city limits and there are also several trolleys to depend on.
Jacksonville – In the city of Jacksonville, a vast majority of the residents depend on the Jacksonville Skyway. This city is also extremely walkable.
Orlando – Orlando residents can rely on the SunRail (a commuter train) and the Lynx (bus service).
The public transportation scenario in Florida is similar to the situation in New Jersey where the coverage is limited to just certain hubs and popular routes. The main 3 modes of public transportation in New Jersey are SEPTA (rail line), PATH (commuter line), and the NJ Transit (light rail). But residents for a fact know that they don't have access to these options unless they reside in close proximity to them.
All in all, only if you occupy and live in certain counties or cities where there are not many mass public transit options, you'll need a car in Florida or New Jersey.
Florida's Strong Points
You get the best of sun, sand, and sea!
State economy by GDP ranks fourth in the nation.
Tax friendly.
Home to famed theme and amusement parks (Walt Disney World, Universal Orlando and more).
Host to cosmopolitan cities like Tampa, Miami, Orlando, and Jacksonville.
Affordable real estate.
See also: Florida Relocation Guide
Top Cities To Move To In Florida
1. Naples
Naples is a charming little intimate city where the communities are pretty friendly. It's a laid-back city with plenty of greenery. So if you feel like you'd like to move from a fast-paced lifestyle in New Jersey, in Naples you'd certainly be able to slow down a bit. Many residents here encourage being outdoors either fishing or picking up a sport like golf. It's also a popular choice for retirees and families with kids because of how peaceful it is.
Median value of homes sold: $369,816
Median rent: $1,357
2. Orlando
Now if you lived in Jersey City and like a place that's sociable and very lively, then Orlando is the one to check out. It also has an international airport in close proximity, so if you're someone that travels a lot or you'd like to visit family in NJ, then that works out well. It's also ranked as a great place for job opportunities and manages to attract a large population of young professionals.
Median value of homes sold: $240,000
Median rent: $1,196
3. Jacksonville
Jacksonville is another city similar to Orlando because it has a bustling business district. The city is flooded with Fortune 500 companies just like Jersey City. Jacksonville tends to get a lot of attention from those looking for career nurturing opportunities. A perk of living here is that the real estate market is also super attractive. San Marco, Riverside, and Mandarin are some of the neighborhoods worth considering in Jacksonville.
Median value of homes sold: $173,200
Median rent: $1,065
4. Tampa
Tampa is a city where it can be hard to get bored. It's lively and filled with pubs, restaurants, and places of entertainment. The place is also very diverse so you could find cuisines from all over the world. You might probably end up loving the place mostly because of how close you are to the ocean.
Median value of homes sold: $238,900
Median rent: $1,131
5. St Petersburg
Another city where you could find ample ways to enjoy the outdoors. The state of Florida in general gives more importance to enjoying outdoor activities in comparison to New Jersey. You'd find that most residents either take up a sport like golf, fishing, or cycling to keep themselves entertained. The year-round sunny weather permits them to do so. St Petersburg is dubbed to be the Sunshine City because on an average, it's much sunnier here.
Median value of homes sold: $205,000
Median rent: $1,116
Things To Take Care Of When You're Moving From New Jersey To Florida
This is going to be a long-distance move, so ensure that you're allocating time for each and every task like researching schools, finding a job, and a good neighborhood.
It's best to decide on the tasks you'd like a moving company to take over so that the burden of the move is made lighter for you.
Keep in mind that April to September is the peak moving season so there could be many people moving during this time. Make sure you're booking the moving company you like in advance so that you're not losing out.
Consider your move a great time to get rid of things you don't use. See it as a big opportunity to downsize. The less you take along the way, the easier it will be.
Moving companies won't take the entire fee from you at the start of the move but you can have the option to pay once your belongings reach safely in the new house. Always opt for this approach so that you're playing it safe.
New Jersey To Florida Moving Costs
The cost for hiring full-service movers from New Jersey to Florida could fall in the range of $3,000 to $7,000. The lower average is applicable for 1-bedroom homes and the higher average is for 4-bedroom homes.
If you wish to bring down the estimate, you can consider doing the packing independently. Opting for portable containers or rental trucks can also relatively reduce the overall cost to move from New Jersey to Florida.
Before you select a moving company, ensure that the company trucks are registered and licensed to move across state lines. Another good rule of thumb is to at least acquire quotes from 3 moving companies while shopping around before settling for one.
FAQs
Is New Jersey more expensive than Florida?
New Jersey is more expensive than Florida in terms of housing, entertainment, groceries, utilities, and even gas. Florida is also more tax-friendly of the two. Overall, expect the cost of living in New Jersey to be 19% higher than the state of Florida.
Is it better to live in Florida or New Jersey?
Both Florida and New Jersey are great places to live in the US. Florida has a reputation for being a more relaxed place where you could shift to a more laid-back lifestyle. On the other hand, New Jersey is more high-priced and mimics a bustling metropolis. Depending on what you're looking for and the stage of life you're in, both states could look attractive.
When it comes to livability, you'd obviously want to settle in a place that's affordable and which offers you several amenities. The average housing cost in Florida is around $282,894 which is cheaper than the housing cost in New Jersey of around $394,553 as per the data shared by Zillow. In terms of sightseeing and popular spots, New Jersey has plenty of beaches and Atlantic City. Florida too has some amazing places like Orlando, Tampa, and Miami which are worth exploring. But the overall cost of living in Florida is less compared to that of New Jersey which makes Florida a better place to live in. In the end, it depends on what amenities you want in the city.
How much does it cost to move from New Jersey to Florida?
Moving from New Jersey can happen in two ways, either by hiring a certified moving company or by renting a truck where the former is more expensive. The mean moving cost can range anywhere between $2,700 to $4,100 with the main contributing factors being the time of the year, route to the destination, etc.
Is Florida more expensive than New Jersey?
New Jersey's housing expenses are way too expensive compared to Florida's affordable homes. As per the data shared by Zillow, you'll have to pay around $394,553 as your housing cost in New Jersey while Florida's median housing cost is just $282,894. Speaking of healthcare facilities, a single resident will have to pay as much as $4.273 annually in New Jersey whereas in Florida, a single resident has to pay around $4,213 annually for healthcare as per 24/7 Wall St. As you see, it's far more expensive to live in New Jersey compared to Florida.
What do I need to do when moving to Florida?
You will need to prepare a checklist of steps to immediately follow once you arrive in Florida. Firstly, you will need to reach out to the Florida DMV to update your vehicle registration and driving license. Next, if you are a US citizen, you will need to update your voter id records so as to sync them with your current destination address. Lastly, you will need to switch banks and open a new bank account in case your current bank has no branches in your new place of residence.
Is Miami cheaper than New Jersey?
Yes, the overall standard of living in Miami, Florida is cheaper as compared to New Jersey if categories such as taxes, rent, and groceries are taken into consideration. The cost of living index suggests that Miami with an index score of 77.8 is roughly five points behind Jersey City which has a score of 82.1 as per the data shared by Numbeo. However, it is interesting to note that the restaurant rates in Miami are higher than that of New Jersey.
What are the pros and cons of moving to Florida?
The following points will shed light on some of the major pros:
Residents are not subjected to the state income tax.
Cheaper housing as compared to most places in other states.
Easy access to beautiful beaches with warmer temperatures around the year in this 'Sunshine State'.
A good place to retire as you will find large communities to be a part of.
Few cons that are worthwhile to note:
Florida is prey to natural disasters such as hurricanes and extreme heat.
Since it is a flatland, you will not have the benefits of residing in mountains and valleys.
You will find tourist hubs rather than full-time permanent residents.
Should I move from New Jersey to Florida?
When it comes to housing expenses, New Jersey is expensive compared to Florida. So if you're looking for an affordable place to live in, you can move from New Jersey to Florida. But if you don't want to experience warm and sunny weather all year round, you can enjoy the beautiful autumns and winter snowfalls in New Jersey that comes with a relatively higher cost of living.
Why is NJ so expensive to live?
One of the reasons for New Jersey being expensive when it comes to cost of living is the increasingly growing population. Because of too many people living in the state, the housing expenses and land tend to be expensive compared to most other states in the US. Apart from that, the state charges high tax rates for different reasons like building good infrastructures like schools, roads, bridges, etc. For all these reasons, New Jersey is more expensive than most other states in the US.
Why you shouldn't move to Florida?
Although Florida's cost of living is affordable compared to most other states, there are certain things you need to know about the state. Firstly, the state is known to be home to several retirees and so you'll find many old people residing there. Because of the sunny weather and plenty of beaches and eateries, the place is flooded with tourists almost throughout the year. You'll also have to deal with the hot and humid weather almost throughout the year. The state is also vulnerable to hurricanes especially in the months from June to November. If you're not comfortable with any of the above mentioned things, you shouldn't move to Florida.
Is 50k a good salary in Florida?
An annual salary of $50k is quite good if you're in Florida, particularly if you're a single person. LivingWage estimates that a single person would need at least $30,825 and a family of four (both parents working) about $86,475 to live comfortably.
What is the cheapest place to live in Florida?
One of the cheapest places to live in Florida is Live Oak. With a population of only 6,890 people, Live Oak is in Suwannee County. Your median home cost in the city would be around $143,306, according to Zillow. When it comes to the city's economy, you'll find several agriculture, timber, and technology industries that contribute to the overall economy. The people here are also known to be friendly compared to most other states in the country.
---
Conclusion
Thanks to the affordability of the state of Florida, there's a lot of people looking to move here. The cost of living here is not too bad for it being the fourth-largest economy by GDP in the nation.
If you personally believe that moving from New Jersey to Florida will open doors for a more comfortable and relaxed lifestyle, then it's best to start planning this step in advance. If you also require help with finding the right mover, that's one area where we'd be able to assist you eminently.
Also read: Moving from North Carolina to Florida – Expert Tips & Advice