Moving To New Hampshire – 2022 Cost of Living & Relocation Tips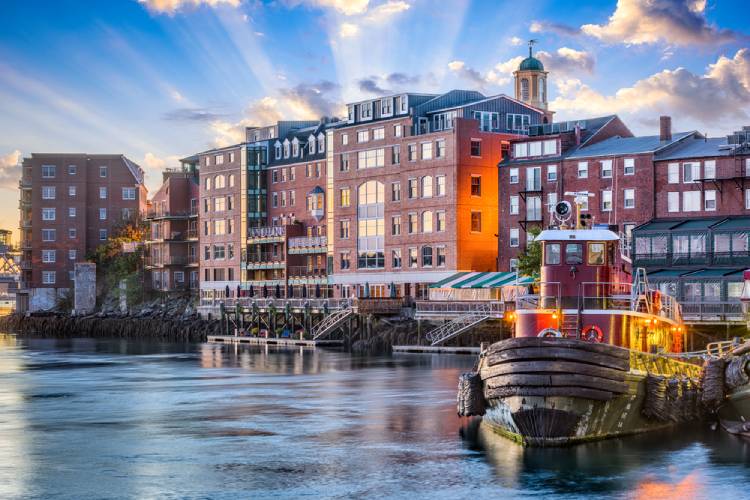 Thinking of moving to the Granite State? Then you're looking at the right side of the New England area. The state of New Hampshire has a vast variety of rock formations and that's why it has earned that title that we mentioned in the opening line. New Hampshire is a haven for lovers of all kinds of sweet treats. From cider donuts and maple syrup to apple pies, this state has the perfect fix for every last one of your cravings. It also has a huge historical significance as it was the first state to declare its independence from England in the historical year of 1775. Although its landmass is much smaller than most U.S. states, the number of opportunities waiting to be explored here is huge.
What are those opportunities, you may ask? Read on to find out how moving to New Hampshire can change the way you live life.
Weather In New Hampshire
Winters
Winters are extremely cold in the Granite State. As a result, you will have to go slightly above and beyond to effectively insulate your house or invest in heaters. The average temperature ranges between -3°F to 17°F, whereas you'll see the average high ranging between 15°F to 35°F.
January is the snowiest month of the winter season in New Hampshire, the region receiving nearly 20 inches of snow annually. Also, the winter temperatures in the New England region fluctuate from time to time, so expect a few surprise days of sunshine during the snowy season.
Summers
Expect warm and humid summers in New Hampshire, so get those sunscreen lotions and beach hats ready. June is a pleasant summer month with average high temperatures ranging from a comfortable 72°F to 82°F. However, the summer heat is put on overdrive during the month of July, thus marking the beginning of the peak summer season. At times, the temperatures in many parts of the state cross the 90°F mark.
It does rain frequently during the summer months in the state, so keep an umbrella in hand while you're heading out.
Spring
Expect temperatures to range between 35°F to 45°F during New Hampshire springs, along with a lot of rain. The weather alternates during this season – occasionally cloudy, occasionally sunny – so you never know what to expect of this season. However, the weather gets more stable during May because the temperature has just the right amount of warmth for everyone to enjoy the outdoors. Day temperatures range between 61°F to 72°F while night-time temperatures average from 39°F to 43°F. Do try your hand at kayaking during this month, as the weather is perfect for such activities!
Autumn
Autumns are pleasant and temperate in New Hampshire, and the early months of this season are considered the best time to move in. Day temperatures swing between 66°F to 77°F with more days of sunshine. Night times are cozy since the temperatures call for comfortable sweater weather. At night, New Hampshire faces temperatures from 46°F to 57°F.
However, the temperature gets a bit harsher during late fall, so New Hampshire's soothing autumn climate sustains mostly only during the early weeks of September.
Transportation In New Hampshire
Roadways
If you're talking about New Hampshire's interstate highways, you should know that they're some of the nation's best-maintained networks. This means that you'll be treated with good road conditions, in turn making long drives seamless and comfortable. Highways are plenty in number to take you across the state, but the most prominent ones you should know of are Interstate 89 (I-89), I-93, and I-95. I-93 will connect you to more scenic routes along the Lakes and White Mountains regions.
For a beachy view, you can take the New Hampshire Route 101; an east-west highway that connects the state to the coastal belt of New Hampshire. Also, this same highway connects Keene with Manchester, so if you have friends staying there, you can plan a beautiful day out on Hampton Beach.
If you want to use the bus to travel across this state, then your viable options are Concord Coach Lines, Dartmouth Coach, and Greyhound. These services are great for long-distance travel, be it intercity or interstate.
Also See: Best Long Distance Movers in the USA | Top Interstate Moving Companies in the USA
Airways
New Hampshire's primary means of air travel stems from the Manchester-Boston Regional Airport in Manchester. This airport is located pretty close to New Hampshire's tourist attractions such as Pine Island Park and Northeast Delta Dental Stadium, which means that you won't have to travel by road much after long, tiring flights!
New Hampshire also has 2 other airports offering commercial flights. They are:
Lebanon Municipal Airport
Portsmouth International Airport
Railways
New Hampshire does have a couple of train services but they're pretty limited. Your best bet is to take the Downeaster Passenger Rail Service that takes the route from Boston to Portland. This passenger service stops at Dover, Durham, and Exeter.
Job Market In New Hampshire
If you're moving to New Hampshire for employment, then you should know that this state will offer you the best opportunities. With a GDP close to $75 billion, you can be sure to find lucrative jobs in the field of your choice with ease. If you go back in time, you'll realize that New Hampshire's economy was dependent on its saw and paper mills like any other state in the New England region. Since those mills weren't doing well, somewhere in the 20th century, the state shifted its focus to manufacturing. Manufacturing has now become one of New Hampshire's most prominent revenue generators, grossing a GDP of approximately $9 billion annually.
Apart from manufacturing, tourism and healthcare are New Hampshire's primary earners, garnering billions of dollars to its GDP. Due to such diversity in industries, there are more opportunities cropping up every year and this has reflected significantly in its unemployment rate too. With the rate being just 2.9%, which is well below the national average, it's safe to say that New Hampshire's robust job market is something worth keeping an eye out for.
To give you a broader idea of this state's diverse economy, here are some of the main employers in the state:
Albany International
Catholic Medical Center
Elliot Hospital
Mts Services
Cafe Services
Hypertherm
See Also: 10 Best States for Working Remotely
Real Estate In New Hampshire
Buying A House
If we were writing this article in 2002, we would say that the median home price in this state was $200,000 because that would have been the current trend. Now, the median home prices of homes in the region have shot up to $400,000 due to differing trends of supply and demand. However, this is still cheaper than Massachusetts or Rhode Island where median home prices cross the $400,000 mark.
New Hampshire's property taxes are known for being high. They sit at 2.05% as opposed to the national average of 1.1%, and this exorbitant tax rate is to account for not having sales and income taxes. This is a source of income for New Hampshire as well. To sum up those figures in one line: If you're looking for affordable housing, New Hampshire is perhaps not meant for you.
Renting A House
Renting is the next best option if buying property is beyond your budget. The average rent for a house here is $1,727 per month, which is still not bad when you compare it to the national average. It is 7% less than what the rest of America pays. Berlin, Nashua, Laconia, and Keene are areas in the state that are cheaper than the others, in terms of monthly rent.
Crime Rate In New Hampshire
When it comes to safety, New Hampshire has a history of being one of the few states in America that have consistently low crime rates. According to NeighborhoodScout, violent crimes are at 1.45 incidents (per 1,000 residents). That is pretty low considering the national median of violent crime rates is 4. Similarly, property crime rates stand at 10.90 (per 1,000 residents), lower than the national median of 19 incidents.
Such low crime rates are credited to the fact that people in New Hampshire earn well, and to the fact that this state's unemployment rate is lower than most states in America. A higher standard of living and a larger number of employment opportunities would automatically reflect positively on the safety and security of any region.
Also Read: 10 Safest States in the U.S.
Cost Of Living In New Hampshire
New Hampshire has a high cost of living, which is to say that it is higher than the national average. On the cost of living index, with 100 being the average, New Hampshire stands at 116. This is attributed to the fact that real estate and utilities cost higher in the state than the national average as well.
A New Hampshirite spends an average of $477 per month on utilities. That is around 22% higher than the U.S. average of $370. To break it down further, you'd have to pay around $170 for electricity, $110 for natural gas, and $60 for internet. Water would cost around $30 every month. You can blame the rise in electricity costs due to the rise of natural gas prices for such an increased margin.
On the brighter side, the median household income in this state is close to $80,000, the state home to some of the highest income households in the country. This also accounts for New Hampshire's high cost of living. Therefore, it's better to find a high-paying job in New Hampshire first before planning your move further.
Also See: 10 Tips For Moving To A New State Without A Job
Education In New Hampshire
Education is one of the most important aspects that define a state, be it for yourself as a student pursuing higher education or for your growing children to launch into a stable future. While the educational infrastructure of New Hampshire is not as illustrious as some of the other American states, the state does have a solid school system with over 480 schools.
Top Rated New Hampshire Schools
Hopkinton High School, Contoocook
Hanover High School, Hanover
Windham High School, Windham
Sunapee Sr. High School, Sunapee
Top Rated New Hampshire Colleges And Universities
Great Bay Community College, Portsmouth
Manchester Community College, Manchester
Plymouth State University, Plymouth
University of New Hampshire, Durham
Top Neighborhoods To Move To New Hampshire
Hanover
Along the long Connecticut River in Grafton County resides this tiny but jubilant town called Hanover. And we must say that life in this neighborhood is truly flourishing due to the number of colleges situated here. You'll get the whole college-town vibe and it's perfect for those looking to pursue a college degree. Adding to the thrill, the Appalachian Trail that passes through this town will give our trekking enthusiasts a run for their money. The crime rates are lower than the national average as well, so your safety won't be compromised upon moving to Hanover.
Some well-known educational institutes in this town are Dartmouth College, Hanover High School, and the U.S. Army Corps of Engineers Cold Regions Research and Engineering Laboratory.
Median Home Value: $603,706
Median Rent: $1,418
Portsmouth
Located along the peripherals of Maine lies the picturesque Piscataqua River. And on its banks lies this bustling city called Portsmouth. Situated in Rockingham County, this city is filled with a plethora of activities and cultural attractions. For shopping, you can visit the many stalls at the Market Square, and then maybe go for a bite in one of its surrounding restaurants. You could learn a bit of American history at Strawbery Banke Museum or simply unwind at Peirce Island. Living in this town will be like a lifelong vacation!
Also, the graduation rates in Portsmouth are high, meaning your child is going to attain a good education. The median household income is also high, signifying that well-paying jobs are available in this town. To sum up, Portsmouth is an ideal destination to raise a family in.
Median Home Value: $425,607
Median Rent: $1,309
Hampton
If you're searching for something a bit closer to the sea, then consider buying a house in the coastal town of Hampton in New Hampshire. It offers a cozy small-town vibe, making it perfect for one to retire and dedicate the rest of their life to relaxation. Hampton Beach, the place where many people come to visit from far and wide to enjoy some time out, will be well within your reach as well.
If you're looking for a good standard of living, know that the median household income in Hampton is above the national average and the poverty rate is just 3.80%, which is below the U.S. average. Although this number is slightly high, the economic opportunities it offers in the field of tourism are high as well.
Median Home Value: $372,500
Median Rent: $1,186
Durham
Tucked in Strafford County, Durham is another town in New Hampshire known for all the right reasons. Due to the presence of the University of New Hampshire, a younger demographic lives in charming homes in the quiet streets of Durham. A lot of amenities, such as shops and supermarkets are all within walking distance from where one lives. Where safety is concerned, this quaint town is 68% safer than most U.S. cities. Therefore, Durham is another ideal city in New Hampshire to pursue a degree or raise a family in.
Median Home Value: $348,500
Median Rent: $950
Exeter
Want a quiet little town to live out your peaceful life? Located in Rockingham County, you'll find Exeter, smackdab in the middle of Boston and Portland. From historic homes to pretty boutiques, this serene town will never bore you! Also, this New England town is a short drive from Hampton's beaches and Portsmouth's fancy eateries, so now you have the advantage of commuting to two different cities with great ease.
Living in this town won't cost you much as its living expenses are somewhat close to New Hampshire's average. This is a real plus point since most of New Hampshire's towns have a high cost of living due to expensive real estate. If you've saved enough and need a peaceful, slightly inexpensive place to retire in, consider adding Exeter to your list as well.
Median Home Value: $236,200
Median Rent: $1,230
FAQs On Moving To New Hampshire
Is New Hampshire A Good Place To Live In?
New Hampshire's crime rate is much lower when compared to other U.S. states. The neighborhoods have the best educational institutions surrounding them and the job market flows with good opportunities. Keeping all those aspects in mind, we can comfortably say that your life in New Hampshire will be a delightful one.
Is New Hampshire An Expensive Place To Live In?
The cost of living in New Hampshire is above the national average. This is because real estate and utilities are amongst the highest costs in the country. So, if you're planning to move to this state, see in advance that you've got substantial savings or a well-paying job to supplement your lifestyle expenses.
How Much Do I Need To Retire In New Hampshire?
To afford New Hampshire, you'd need at least $44,000 per annum to retire. Although this figure might seem a bit high, it's much cheaper than neighboring New England areas such as Vermont or Maine.
Also See: Reasons to Move to New England