Reasons to Move to New England


VanLines Inc
Secure Storage
Easy Booking Process
Fully Trained Employees
GET QUOTE

Colonial Van Lines
Storage Services
Long-Distance Moves
Corporate Relocations
GET QUOTE

Moving APT
Vetting Process
Award-Winning
Available Nationwide
GET QUOTE
Our Take
Price
Rating
Minimum Shipment Size
Storage
Booking Deposit
Cancellation Policy
Quoting Options
Discounts

Best Overall Value


GET QUOTE

2+ bedrooms




Free 30 Days




10%

Free up to 72 Hrs

Phone / FaceTime / Text

Senior / Same day Booking

Best Industry Reputation


GET QUOTE

1+ bedrooms




30 Days




20%

Free up to 72 hrs

Phone / Facetime

Seniors Discount

Best Customer Service


GET QUOTE

1+ bedrooms







Free up to 72 hrs

Phone / Virtual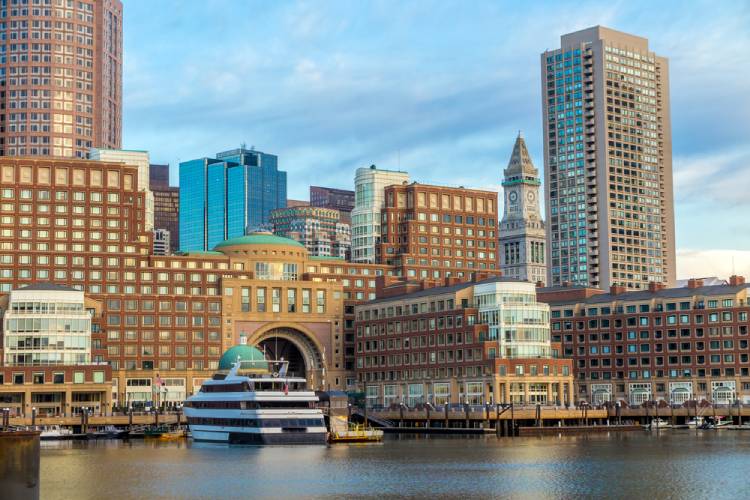 There are dozens of things that set New England apart from the rest of America; it could be the beautiful structures or the iconic cuisines. New England offers its residents scenic views, diverse activities, top-notch education, and high quality of life.
All six states of New England have something to offer, like the boutiques of Connecticut, the lobsters of Maine, the universities of Massachusetts, the maple syrup of New Hampshire, the beaches of Rhode Island, and the covered bridges of Vermont. If these attractions do not suffice as reasons to move to New England, liberal communities and peaceful neighborhoods sure will. Let us dive deeper into reasons to make New England your home.
Major Cities Are A Few Hours' Drive Away
Due to New England's small size, excluding the remote northern parts of New England, all other places in the region are in close proximity. No matter which part of New England you stay in, major cities like Boston and New York City are a few hours away. If you move to a quaint town in New Hampshire, you just need to drive one hour to reach Boston. Most cities in Connecticut are at a 2 hours distance from New York, which means you can travel to work and back without much trouble. Since Massachusetts, Rhode Island, and Connecticut are located close to each other, you can commute easily between the states.
Keep aside traveling for work, you can tour all of New England within a day. We aren't kidding when we tell you that you can visit every state in New England in a single day. Go on a road trip over the weekend and stop at the most scenic places. Start your road trip on a Saturday morning from the southern coastline of Maine with some seafood for breakfast, then drive westward through the Green Mountains of Vermont. Stop for lunch in the New Hampshire countryside, drive through some more New Hampshire wilderness, and then pass through the cities of Massachusetts and Connecticut, only to reach the shore of Rhode Island by evening.
See also: Moving to the Countryside
Abundance Of Schools And Universities
The states in New England house some of the best colleges and universities in the country. Think about it, half of Ivy League schools are in New England! Some of the top-rated universities in New England include Harvard University, Massachusetts Institute of Technology, Yale University, Tufts University, Dartmouth College, Brown University, Williams College, Amherst College, Wellesley College, etc. There are tons of top public schools to choose from. The presence of quality public school districts like Newton Public Schools and Lexington Public Schools in Massachusetts, and Westport School District in Connecticut ensure good education for your children.
See also: Best Places to Raise a Family in the U.S.
Good schools and universities are not concentrated in Massachusetts and Connecticut alone. According to the U.S. News & World Report, Vermont and Maine rank 5th and 12th in the nation respectively when it comes to K-12 education. This education system sees above-average development in children of New England, which is why high school graduation rates and employment rates have gone up in recent years. Apart from education, New England is an ideal region to settle in with family, given the quality healthcare system for children.
The past three years have seen a decline in teen pregnancy and childhood death rates. If you're moving to any state in New England with your family, you can be relaxed about your child's education and healthcare.
All States In New England Are Very Safe
Going by the latest 2021 article by the U.S. News & World Report, states in New England are the safest in the nation. You'll be amazed to know that all six states of New England have featured in the top 10 safest states of America. Maine ranked at the top because of its low violent crime rate of 115 per 100,000 people. This doesn't limit to the last year, if you dig up older studies on the safest US states, you'll see that the New England region has consistently maintained its name. This could be attributed to strict law enforcement, low unemployment rates, and higher graduation rates.
States of New England always rank highly for personal and residential safety. While Maine is quite serious about road safety and emergency preparedness, Massachusetts comes first when it comes to financial safety. Crimes involving firearms too are very few in New England. Violent crimes are so rare that threats from deer and moose on the road are more common than threats from burglars and gangs. There are more chances of you getting injured in a road accident than in a violent crime. Animals and reptiles like bears, coyotes, and poisonous snakes can pose a threat to you if you go hiking around New England. Apart from that, it's pretty safe in New England.
See also: Safest States in the U.S.
Liberal And Responsible Communities
Communities in New England are ready to take up environmental initiatives. Most places see efforts of active waste recycling. Residents often help governments in their attempts of reforestation and river cleanups. Organizations like Environment Rhode Island and Environment Massachusetts, parts of The Public Interest Network, work with campus communities to promote the use of renewable energy. The programs and campaigns initiated by such organizations around global warming are also gaining momentum.
There is widespread health awareness amongst the people of New England. According to the United Health Foundation report, children and teens from most New England states are likely to be vaccinated against infectious diseases.
New England is just when it comes to the rights of all its citizens. Even before the winds of gay marriage rights reached America, New England was a center for same-sex and marriage equality rights. While Massachusetts was the first state to recognize same-sex marriage, Vermont was the first to legalize gay marriage through the legislature. Once Rhode Island too followed the footsteps of its neighbors and legalized same-sex marriage in 2013, New England was the first region to have legal same-sex marriage in all six states.
It's no wonder why New England leads the country in welcoming the LGBTQ community. Hotels, inns, and lodgings in New England are LGBTQ-friendly. A newspaper publication started back in 2006, called The Rainbow Times, has won many awards and is trusted by many. All this is proof of how accommodating New England is towards outsiders, queer or not, you surely must move to New England for its open-minded and responsible communities.
Diversity Of Food Across The Region
New Englanders know their food well. Go towards the coastal areas, around the cities, or among the mountains of New England, the food culture won't disappoint you. One look at New England's map and you'll see a long coastline, the benefits of which land on your plate. You can have the iconic Lobster Rolls followed by the Blueberry Cake sitting in a coastal restaurant in Maine, or you could be drooling over the Rhode Island Clam Chowder in a cafe in Rhode Island. There's no limit to the variety of seafood that awaits you in coastal New England. Fried clams and clam chowder are so abundantly available in local restaurants, that you'll end up forgetting the good old hamburger.
This reminds us of the traditional New England-style hamburger, with the patty stuffed with Doritos, something you'll long for the moment you hear of it. If hamburgers and pizzas tempt you, you won't regret moving to Connecticut, famous for its New Haven Pizza. New England's states New Hampshire and Vermont too aren't behind the race. The Apple Cider Donuts in New Hampshire and the Ben and Jerry's ice cream in Vermont are must-try items. Did someone say ice cream? Some of the best ice creams in the US are from the New England region. You'll find experimental ice cream flavors like the Matcha Cookies and Cream and Burnt Caramel in Boston. Shain's of Maine produces 50 different flavors of traditional ice cream. Beat that! Your children are going to love it in New England if you're moving with your family.
A Range Of Seasons To Experience
While the rest of the US waits for the arrival of summer, New Englanders take full benefit of all four seasons in the region. We won't deny that summers are interesting in New England, with people flocking to the beaches of the region. You can swim in the cool tides of the Maine coastline or surf on the beaches of Rhode Island. Every alternate town in New England has a swimming hole which people love visiting in summer.
The season of fall is the highlight of the entire New England region, with Maine, Vermont, and New Hampshire bathing in gorgeous fall colors. People from Massachusetts and Connecticut go on road trips towards the north in autumn. It's that time of the year when the forests and mountains of New England burst out into hues of reds and oranges. You'll see people heading to farms and orchards to pick apples and eat fresh cider donuts.
When winter envelops most of New England in carpets of snow, the landscape looks right out of a 19th-century painting. But New Englanders don't shy away from stepping out even when it's 16°F outside. You can ski on the slopes of New Hampshire's Loon Mountains, try snow tubing in Maine's Seacoast Adventure Park or go snowmobiling in Northern England. Whatever be the season, there's no end to interesting activities to engage in around New England.
Tons Of Recreational Activities
Move to New England and not a single week will be boring or uneventful for you. Each of New England's six states has its own culture and attractions. Whether you're an adventure buff or an ardent fan of nightlife, New England's got you covered. We've been talking about Maine, Vermont and New Hampshire all along, let us start from the south this time.
Connecticut has a Wine Trail with 26 wineries and vineyards, a perfect getaway for wine lovers. If you're not a fan of local fruit wines, you'll become one! While in Connecticut, you should also try the zipline tour that starts on the rooftop of Foxwoods Resort Casino. Adventure seekers are spoilt for choice between the hundreds of hiking trails in New England, there's no end to adrenaline-boosting activities in New England.
When it comes to nightlife, you'll fall in love with Boston's night market for its events and food. But Boston is not the only one topping the charts when it comes to exciting food and drinks, there are some amazing beach bars around New England. You'll love drinking to the views in the Beachcomber restaurant in Massachusetts or spend your evening enjoying the scenic Narragansett Bay from the Coast Guard House in Rhode Island. Beer lovers, wait till you hear about the Oktoberfests taking place in the fall all over New England. If you're looking for peace, there's no shortage of open spaces and widespread landscapes. Who knows, moving to New England might help you find a balance between work and life.
Beautiful Vintage Architecture
If there is a region in the US where you get to live in a beautiful house, it is New England. This region isn't exactly cheap, make no mistake, but the prices justify the beautiful features it offers. Montpelier in Vermont, Portland in Maine, and Quincy in Massachusetts are a few of the most affordable and beautiful cities to live in in New England. Imagine living in a historic pre-World War II home in Montpelier, the architecture in this city in Vermont is so dated that the majority of Montpelier's historic homes fall among the oldest in the nation. You'll be awed by the Victorian-style structures sitting neatly along the tree-lined streets of Portland and the Queen Anne-style homes of Quincy in Massachusetts.
New England does have modern buildings and yet it looks like it's out of a time machine because of centuries-old structures scattered throughout. Every house, restaurant, and bookstore in New England has a story to tell. The oldest lighthouse in the entire US called the Portland Head Light is located in Maine in New England. Since New England was the first region to be affected by the industrial revolution, you'll see many mills around the region, which are now preserved as historic landmarks. Even something as basic as stonewalls hold history in them; they're reminiscent of the first colonies that settled in New England. Such an architectural and historical richness makes moving to New England a novel experience in itself.
Conclusion
Convinced by all these reasons to move to New England? We'd be surprised if you weren't. So the first step for you would be to check moving quotes. You can get a free moving quote right here and get started with your move!
FAQs
Which Are The Best Places To Move To In New England?
Towns like Lexington in Massachusetts, Hanover in New Hampshire, Kennebunk in Maine, and Westport in Connecticut; and cities like Montpelier in Vermont, Newport in Rhode Island, Portland in Maine, and Stamford in Connecticut are some of the best places to move to in New England. Research the median home values, employment opportunities, cost of living, and other factors before you zero in on a city or town. This is going to help you decide on the right place to call home.
Is It Expensive To Live In New England?
Yes and no, some cities in New England do have expensive property values, but if you research, you'll find many places with affordable home values and good quality of life. While Boston in Massachusetts is expensive to live in, the state of Maine has many affordable homes to offer for those on a budget. Overall, the cost of living in some cities is high, but it is overshadowed by the bright economic opportunities. If you budget well, you can have all the charms, amenities, and benefits of living in New England in any town or city in the region.
See also: Cheap States to Move to
Are There Any Cons Of Living In New England?
States in New England have high property taxes, but the fact that New Hampshire has no sales taxes is a relief. A low population and small economies result in fewer job opportunities in some towns in New England. Winters in some states can be tough for those moving in from the coastal states with tropical climates. Other than a few handful drawbacks, New England is an ideal region to move to for singles, couples, and families.