10 Best States for Working Remotely


VanLines Inc
Secure Storage
Easy Booking Process
Fully Trained Employees
GET QUOTE

Colonial Van Lines
Storage Services
Long-Distance Moves
Corporate Relocations
GET QUOTE

Moving APT
Available Nationwide
Award-Winning Movers
Extensive Vetting Process
GET QUOTE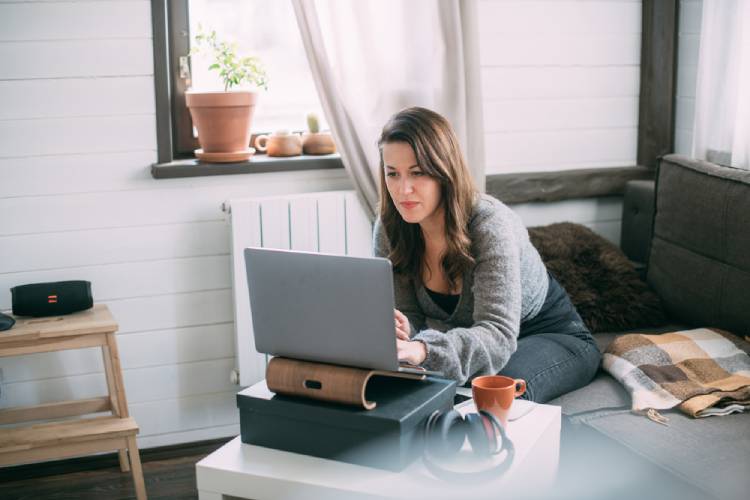 Thanks to the power vested in the internet, it's now possible to find work anywhere in the US and the world. With the productive use of your Wi-fi connection and a laptop, you can open doors to new career opportunities for yourself. And no, it's not completely isolating, especially when you have good internet speed to help feel connected to your work and colleagues.
Few of the main pros are that you have more flexibility with your schedule than a 9 to 5. You also aren't tied down to the city just because of your job, so you have more freedom. With remote work, you can take the leap of uprooting your life and changing the scenery around you, while saving a lot of money. So if you are one among the many looking to get a bite into this lifestyle of work, here are the best states for working remotely.
Things To Know About The Best States To Work Remotely
The top 10 list compiled below is based on the result of a study conducted by WalletHub (a renowned personal finance website). This platform compared all 50 states in the US and scored them against 12 distinct metrics. The metrics included factors such as internet costs, cybersecurity, housing costs and so on, to filter out the states that have the most favourable living conditions for remote work.
You must be also curious about why you have to target a specific state for remote work, right? Isn't remote work supposed to mean that you can work from anywhere? Well that's the mainstream ideology and works in some cases. However, a study by FlexJobs (a leading website to find 'flexible remote' jobs) actually breaks away from this ideology. This website found out that 95% of remote jobs have location requirements.
There's a mix of both legal and personal motives because of which businesses prefer to have a remote employee from the same state. For instance, a personal reason is that it helps with meeting the employee in-person once in a month to enhance the rapport and quality of work. Now that we've clarified the logical reasoning behind the top states for working remotely, let's unveil the list for you.
The Top 10 US States For Working Remotely
1. Delaware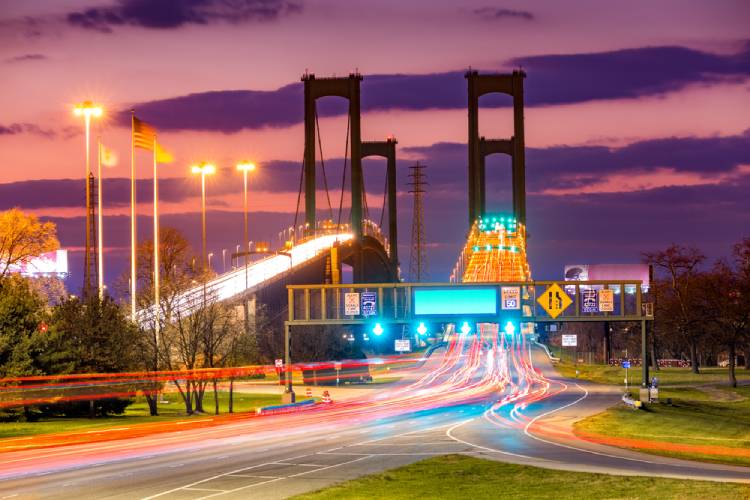 If you're on the hunt for the core hotspot offering transplants the best work from home conditions, the first state you should have your eyes on is Delaware. The WalletHub report basically proves that Delaware had to beat 49 other states to attain the position of being the best suited state for remote workers. Holistically, this means that the state is staying up-to-date with the remote working trends and thus managed to make it to the top of the list. A large contributor to this title is that nearly 97 percent of households in Delaware enjoy an internet speed that crosses 25mbps.
Other Pros
The state of Delaware has easy access to the beach. So if you currently live in a state that is cut away from the coast, you can probably enjoy the fact that you get to destress at the beach. Other than that, low taxes and getting to live in close proximity to multiple metropolitan areas makes Delaware a great choice.
Average household income – $65,627
Median value of homes – $277,979
2. Washington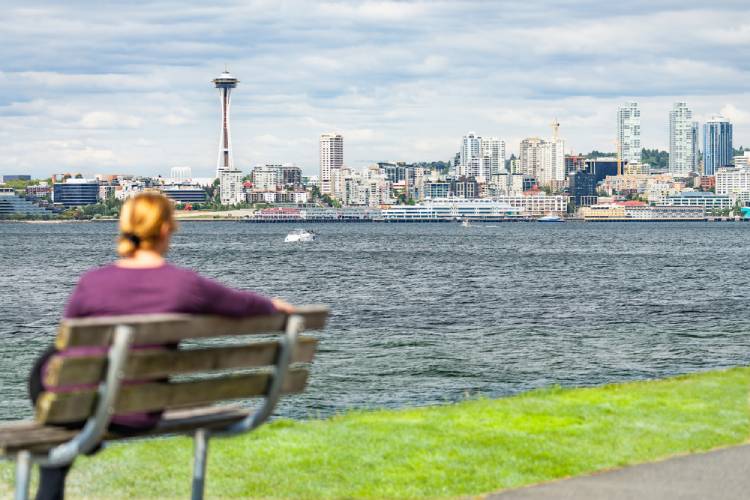 The state of Washington is the nation's capital and has a pretty popular reputation for its booming job market. Software giants such as Google, Microsoft and Amazon have already taken advantage of it being a prime spot for business and set up their headquarters in the state. As a remote working professional, it is a no brainer that the scope of jobs is bountiful and you are practically spoilt with choices here.
The economy of Washington continues to grow at a phenomenal speed, creating interesting work opportunities. Overall, 98% of the state has access to broadband internet speeds above 25mbps. So a strong internet connection would be the least of your worries in Washington.
Other Pros
Washington has a wide array of offerings when it comes to culture and world class amenities. Overall, the state is extremely rich in diversity, so you'll probably meet like minded driven people to keep your work ethics strong. It's also relatively easier to maintain a work-life balance in Washington, as there's tons of recreational opportunities around. You also have a decent public transit system that you can bank on.
Average household income – $70,116
Median value of homes – $666,768
See also: Moving to Washington State
3. New Hampshire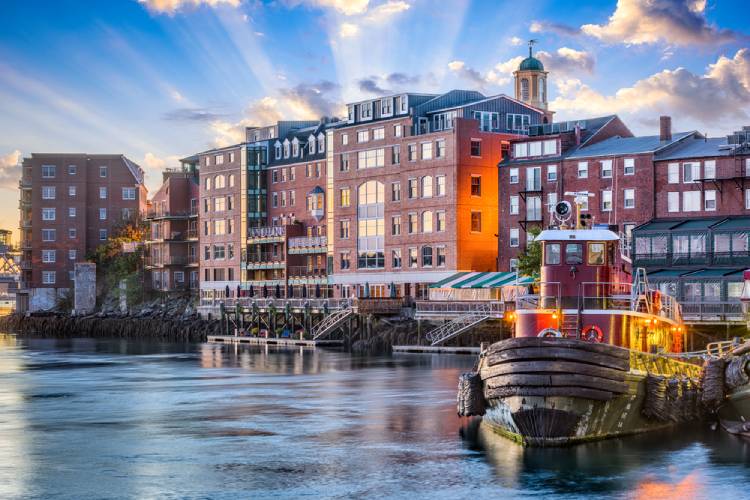 The state of New Hampshire ranks third on the list of best places to work remotely. The main factor that added weight to achieving this rank is that the state's internet speed matches with that of Washington. Other than that, it also ranks first if you solely consider its work environment, backed by an extremely low unemployment rate of 2.6% (national average is 6.9%).
An article by New Hampshire Business Review also points out that the Granite state has the third largest percentage of employment created from international companies. So, it's safe to say that there are multiple foreign firms lured to the business environment in New Hampshire. This gives you the advantage of tapping into foreign firms for opportunities.
Other Pros
The state lies in close proximity to Boston, so as a resident of New Hampshire, you could probably widen your search for job opportunities in Boston too. Seems like a win-win situation to us. Also, do note that there's no sales or income tax in New Hampshire, so it is much easier to save a lot more money and get a higher value for your dollar.
Average household income – $74,057
Median value of homes – $321,496
4. Colorado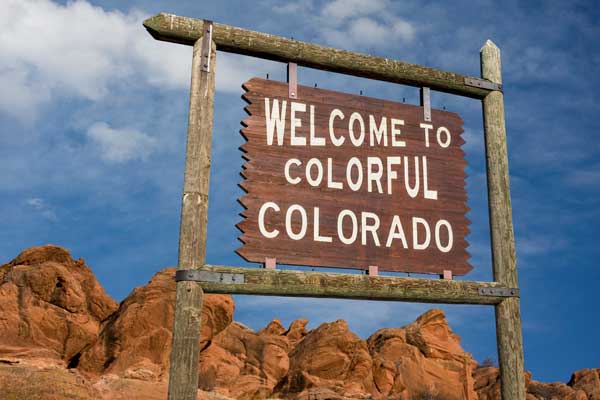 Just like the other states on this list, Colorado also has a high volume of remote employees streaming into the working population. A notable aspect of the state is that the number of people working from home in Colorado has quadrupled and only seems to be increasing. Presently, 8.6% of its working population work remotely. Denver, Broomfield and Boulder are the three cities where work from home conditions are flourishing and expanding.
Colorado also ranks as the 14th fastest state after taking its average internet speed into account. An honorable mention that speaks of the success of remote working conditions in Colorado is the functioning of the company TTEC Holdings situated in Denver. TTEC in particular has been selected by FlexJobs to be a leader in providing remote job opportunities 6 times in a row. It's also known to be the 6th best company in the nation for remote jobs!
Other Pros
The state of Colorado has an average elevation of 6,800 feet which makes it one of the highest-altitude state in the U.S. If you're an outdoor enthusiast, you'll most likely enjoy the wide array of recreational opportunities available for you post work. Overall, the long summer days also contribute to keeping the lifestyle active.
Average household income – $68,811
Median value of homes – $431,100
See also: Moving to Colorado
5. Georgia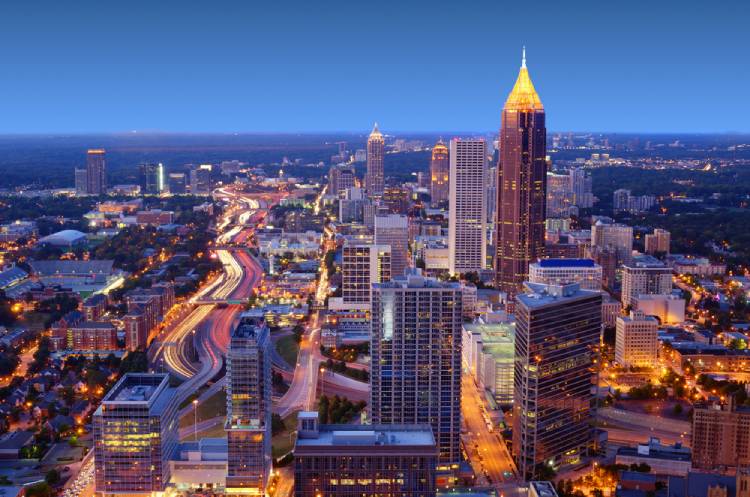 The state of Georgia has a long-standing reputation for being pro-business friendly and has a good deal of employment districts within the state to show for. Georgia is also doing pretty well in terms of broadband affordability, coverage and speed. But one thing that you must keep in mind during a job hunt is that the city of Atlanta in particular is where all the action takes place.
57% of the state's population resides in Atlanta and it is also home to most of the notable companies. So you should ideally weigh job prospects in Atlanta. If your work involves writing or designing, you'd have plenty of coffee shops within arm's reach in Atlanta too. We believe you can easily resort to Georgia not just for great work from home conditions, but also due to the fact that it's a beautiful state to discover.
Other Pros
Balmy weather, 100 miles of shoreline, the gorgeous Chattahoochee National Forest, manicured parks, historic districts, stunning vistas of the Blue Ridge Mountains and much more to keep you company while you work.
Average household income – $55,679
Median value of homes – $218,609
See also: Moving to Georgia
6. Arizona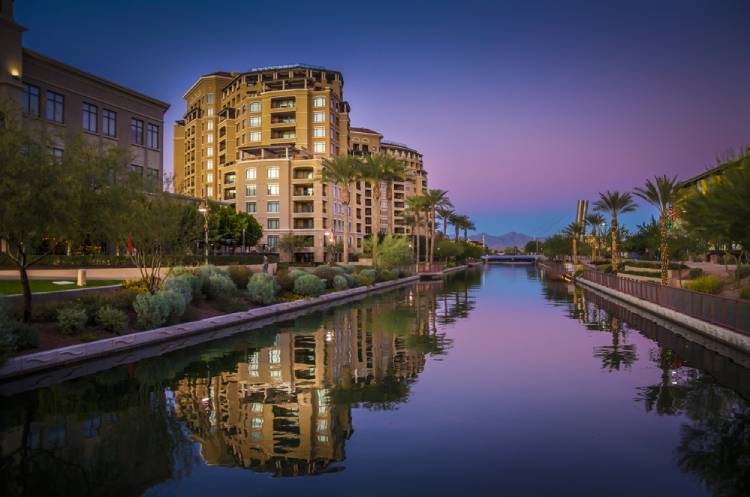 Both freelancing and telecommuting is slowly gaining popularity in the state of Arizona. The state in its entirety is more friendly to the idea of remote working and hence secures the 6th place on the list. A noteworthy aspect is that there's also been an increase in the number of coworking spaces like the Novel Coworking Midtown in Phoenix. When a state itself caters to the needs of remote workers, you just know that the conditions are more favourable than states that don't have coworking spaces.
These unconventional offices can be found in clusters specifically in the city of Phoenix, so you could consider this to be the hub to meet like minded individuals on the same path as you. Moreover, you can connect to business experts and get visibility within the community by taking advantage of coworking spaces in Arizona.
Other Pros
You would be part of the momentum in the third fastest growing state in the US. Moving to Arizona also means you have the marvelous Grand Canyon, Colorado river and innumerable desert towns like Sedona in close proximity to you.
Average household income – $56,213
Median value of homes – $303,230
See also: Moving to Arizona
7. Utah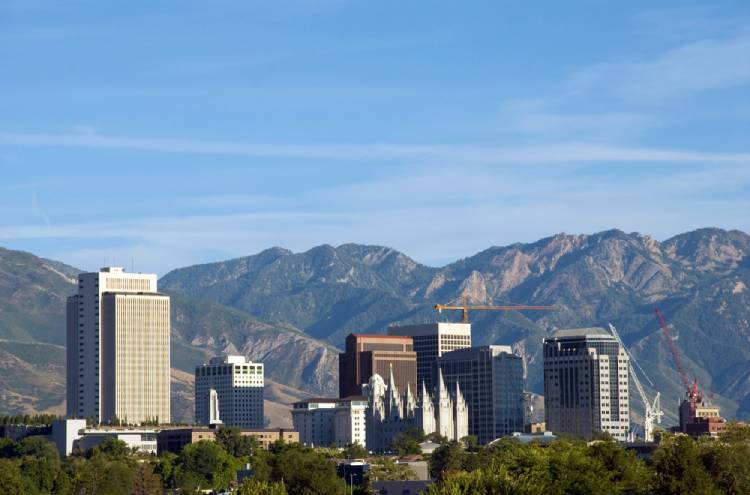 Located just below the state of Arizona, you have Utah that has also joined the bandwagon of creating favorable conditions for remote work. The core urban cluster for commerce in Utah is the Salt Lake City. Presently, Salt Lake City's downtown area is adapting to remote working trends. It has done so by creating flexible working spaces instead of the conventional ones occupied for a 9 to 5.
Residents now have access to cabins and spaces where you have connectivity to the internet, coffee pots and even a printer. It isn't a typical office setting, but these shared spaces help maintain routine and expand your business network as well. It's true that remote work is winning the hearts of many in Utah. This makes it a great state for you to consider too.
Other pros – Utah is considered to be an outdoor lover's playground. You have tons of opportunities for outdoor sports and recreational activities. Residents also enjoy the low cost of living and the chance to be part of a booming tech industry in Northern Utah.
Average household income – $68,374
Median value of homes – $386,723
8. Oregon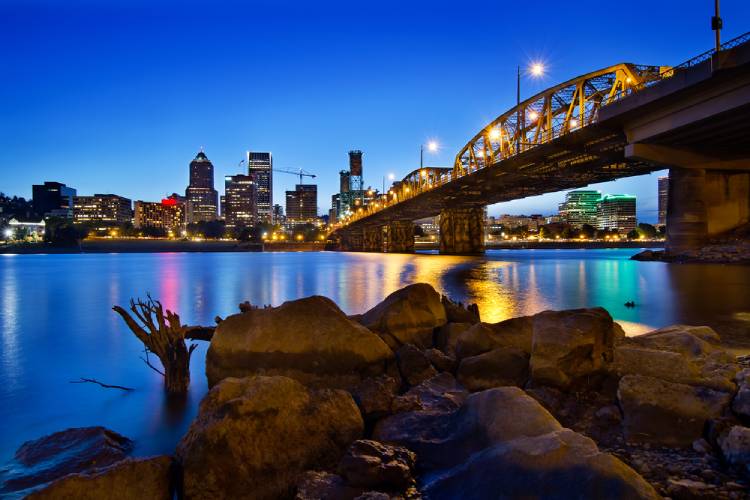 A local newspaper 'The Oregonian' not too long ago mentioned that residents of Oregon can expect remote working to always supplement office jobs. Oregon Business and various other business journals also share similar findings. The fact that most business journals are initiating the conversation and find the need to cover the growing remote working trends in Oregon only goes to prove that working remotely is here to stay in this state. Upon going over these articles, we uncovered that you should specifically pay attention to downtown Portland, which is arguably where the clusters of this trend are expanding rapidly.
Other Pros
If you're an outdoor enthusiast, the state of Oregon is a gem that has it all! By relocating here, you have access to a stunning coastline, sand dunes, ski trails, serene waterfalls, towering mountains, cascade lakes, mighty rivers and evergreen forests. There's adventure spread out in every nook, giving you more reason to find work life balance.
Average household income – $59,393
Median value of homes – $393,710
See also: Moving to Oregon
9. North Carolina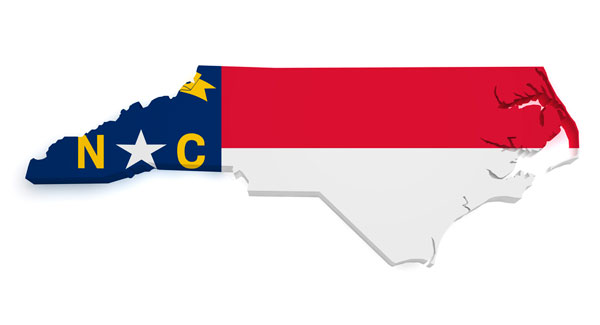 The state of North Carolina makes it the bottom of the list of best states for working remotely. Overall, WalletHub ranks it ninth in terms of ensuring favourable living conditions for remote workers. However, the state secures the fifth place in terms of creating a suitable 'work environment' for people who prefer to work remotely.
The work environment aspect looks at metrics related to internet access and cybersecurity. So this is undoubtedly the state's forte. Although, it isn't doing too well when it comes to metrics such as housing costs and amenities for remote working.
Other Pros
As a resident of North Carolina, you would have easy access to big cities like Washington, New York, Atlanta and Philadelphia. The centrality of the location is one of the biggest perks for professionals and budding entrepreneurs. You'll also have variety in landscape with scenic views of the Appalachian Mountains to the Piedmont, and the beauty of the Atlantic coast by your side.
Average household income – $52,413
Median value of homes – $220,710
See also: Moving to North Carolina
10. South Dakota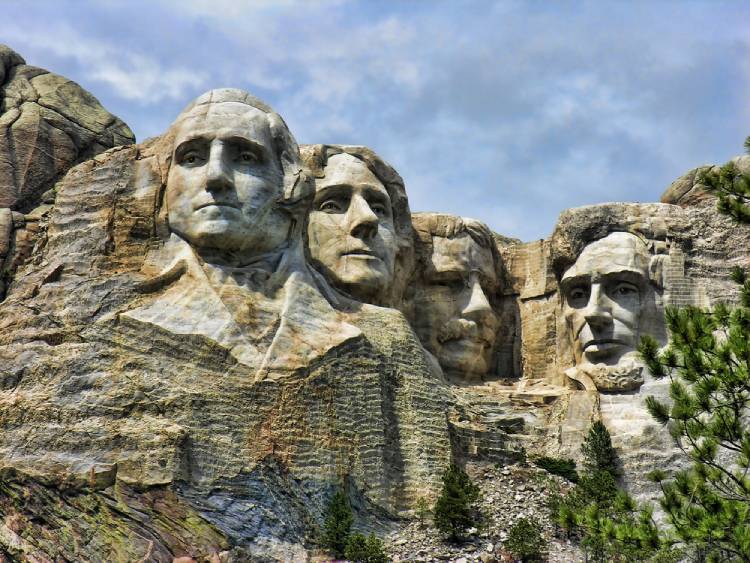 Remote work has become the norm for most of the states on this list and South Dakota isn't too far behind in joining in on the action. Sioux Falls in particular is the economic epicenter of South Dakota and the ideal hotspot for remote jobs. Ascent Innovation, 927 Studios, Regus and Zeal Center for Entrepreneurship are few of the coworking spaces in Sioux Falls striving to make remote work favourable for residents. With coworking spaces like these, you get a dedicated desk and space to yourself.
Other pros – By moving to South Dakota, you would simultaneously be part of a booming fast paced city, as well as have access to rural small towns with tight knit communities. No state income tax, low cost of living and affordable housing are the other perks to living in South Dakota.
Average household income – $56,499
Median value of homes – $223,435
---
Final Thoughts
It's true that the trend of working from home is gaining momentum. Millions of people all over the globe are starting to appreciate the perks of it. Thanks to remote work, you have more flexibility, it could save you money and help you meet your personal goals. With apps like Zoom, Slack, Hangouts and other services by your side, you won't have to worry about adapting to the remote work culture too. But before you take the leap, re-evaluate the pros besides career, so that you're eventually able to attain work-life balance when you start working remotely.
See also: Top 10 Cities for 20 Somethings
Also Read: 15 Best Resort Towns to Move to