The 10 Best Cities For 20 Somethings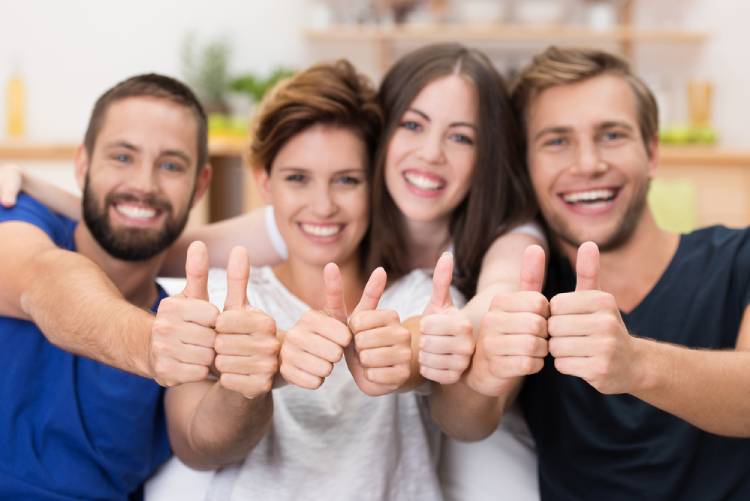 When you're in your 20s, moving to a new city is a big adventure. You have the freedom to choose from countless cities and it's almost like getting a blank state to start living the way you'd like, all from scratch.
But how do you know which is the right city for you? Asking your parents where they'd love to live in their mid-20s or taking a BuzzFeed quiz may be a good place to start, but it's not the best way. You've got to pick a place that aligns with your own goals, so it's necessary to reflect on this decision by yourself.
However, it's only human to be curious about cities other young people are picking. So let's look at the best cities for 20 somethings. (Surprisingly, it's not New York or LA)
Here are the 10 Best Cities for 20 Somethings
1. Boston, Massachusetts
If you're looking for a thriving job market, culture and tons of things to do outdoors, then the city of Boston doesn't disappoint. The city has a large concentration of people between the age of 20 and 34, so you're more likely going to find like-minded people to connect with. (You may not even need a dating app).
Besides that, there's no shortage of pubs, cafes and restaurants in the city. You probably already know that Boston is home to some of the largest universities in the world (Yes, we're talking about you, Harvard) and hence the city caters to the needs of the thousands of students and young professionals. Boston is also a great city to walk or cycle so you don't have to worry about burning your savings on fuel.
Upside – You have great public transit systems to depend on so you save on time and money. The annual income ($71,115) in Boston is also much higher than the national average ($62,843).
Downside – The real estate market is competitive, so homeownership and things in general are expensive in Boston.
Median Home Value – $532,700
Median Rent – $1,620
Median Household Income – $71,115
See also: Moving to Boston
2. Nashville, Tennessee
Like Boston, the city of Nashville is a popular destination for a younger crowd. Nashville has a large concentration of universities which in turn lead to a huge composition of youngsters taking abode here. The vibrant live music scene and low cost of living additionally also draw a great number of young adults to the city.
There's a lot of action going on in Nashville, so it's hard to get bored here. Something to keep in mind is that music is almost a persona of the city. The job market is far from mediocre and interestingly both Amazon and Apple advocate this, hence set up their headquarters here.
Upside – Things are tax-friendly. You definitely won't have to worry about calculating income tax, and property taxes are also pretty low.
Downside – There is an influx of people moving here because of the tech scene that's developing rapidly, because of this housing costs are also escalating.
Median Home Value – $298,039
Median Rent – $1,428
Median Household Income – $59,828
See also: Moving to Nashville TN
3. Arlington, Virginia
The city of Arlington took the first place on the list of Best Cities To Live In America In 2020 by a notable ranking website Niche. This is great news for residents of Arlington and also proves that the city is getting recognition from all over the nation. If you live here, you'd have the Potomac River and thus, a riverfront for recreational opportunities. Arlington is not just about skyscrapers but the city is beautified with greenery all around.
Since the Baltimore-Washington metropolitan area also lies in close proximity to this city, you can also take advantage of the economic base of the nation's capital itself. The residents here embrace biking and walking, so things are not just oriented for those who own cars. Overall, it is a well-planned and modern city that could be your cup of tea if you're looking for exposure into a futuristic and fast-paced city.
Upside – The city is pro dedicated bike paths and has a lot of green spaces. You also get to live in close proximity to Washington, D.C.
Downside – Cost of living is extremely high, but the state being tax-friendly makes living here a bit more favorable.
Median Home Value – $669,400
Median Rent – $1,936
Median Household Income – $120,071
4. Portland, Oregon
It's easy to see why young people are drawn to the city of Portland. It practically checks out all the boxes. Diversity? Check. Good job market? Check. Great public transit options? Check. It has a little bit of everything you'd want to see in a city for those in their 20s. The city is also tax friendly since Oregon is among the only 5 states that don't have sales tax. This helps you enjoy your purchases without feeling ripped off because of sales taxes.
Portland is also a great place if you love green spaces, cycling and walking. People here are extremely cautious about the health of the environment, so you'll find the place to be clean and residents adopting sustainable practices. If you share the same values, you'll resonate with the lifestyle in Portland.
Upside – Abundance of scenery such as Crater Lake, Multnomah Falls, Mount Hood and the serene Japanese Gardens. This makes it a haven for outdoor enthusiasts.
Downside – There's a high frequency of rainfall. If you're not a fan of rain, this can potentially be an issue.
Median Home Value – $383,600
Median Rent – $1,187
Median Household Income – $71,005
See also: Moving to Portland, Oregon
5. Austin, Texas
Austin is among the best cities for young adults in the state of Texas. It's sociable and not overly stimulating, which is just what makes it a great stepping stone for those of us getting the hang of adulting. It is also the state capital, so it boasts of some of the best amenities you can find in Texas. Hewlett Packard, Google, Dell, Apple, Facebook, Oracle are just some of the notable companies that recognize this and dominate the work base in Austin.
All in all, the place is a contagious region for young professionals because the prices are on the lower end of the spectrum. But at the same time, you still have access to a standard of living that is pretty high. There's a plethora of things to do and even though the population has crossed 2 million, the lifestyle and people are friendly that it can feel like you're still part of a small town.
Upside – There's practically no winter in Texas. The overall temperate climate helps you make the most of your time outdoors.
Downside – A lack of mass public transportation can make it hard to travel and get around without a car.
Median Home Value – $312,300
Median Rent – $1,225
Median Household Income – $71,576
See also: Moving to Austin TX
6. Madison, Wisconsin
If living in the Midwest has been on your radar for long, we highly recommend taking the city of Madison into consideration. Like most of the other cities on this list, Madison is also home to multiple universities because of which there's a huge student population. This is probably why the city has so many features that cater to people who are in their 20s.
If you choose to move here, the phenomenal biking and food scene is going to take you by surprise. The city is also surrounded by lakes; so if you love water sports, kayaking or fishing there's no limit to the number of lakes you can explore. The city has you covered if you are looking to explore brew pubs, places with live music and comedy clubs to meet new people.
Upside – Wide variety of options for eating and staying outdoors like state parks and numerous lakes.
Downside – It is a small city and not extremely diverse which could be a con if you're looking at forming a bigger network across cultures.
Median Home Value – $246,300
Median Rent – $1,118
Median Household Income – $65,332
7. Denver, Colorado
The city of Denver has an exciting lifestyle to offer. You get to live in close proximity to mountains. This helps outdoorsy individuals maintain the work-life balance that others in their 20s only dream of achieving. Colorado has also taken the title for being a healthy state and so has the city of Denver. You'd find that people do give exercise importance so it's easy to see people biking, jogging or going on hikes.
Keep in mind that the city is one mile above sea level so take your time to get acclimated to the height if you choose to move here. Denver also boasts of diversity which is a fantastic trait to have and this attracts more and more young people to the city.
Upside – 300 days of sunshine and typically great weather year round. Great for outdoorsy activities like hiking, skiing and there's just so much more to do outside.
Downside – Denver is gaining tons of popularity because of which residents now have to deal with overcrowding and traffic congestion.
Median Home Value – $390,600
Median Rent – $1,311
Median Household Income – $68,592
See also: Moving to Denver CO
8. Minneapolis, Minnesota
The city of Minneapolis has the fifth highest concentration of corporate headquarters in the entire country. This is most certainly bait for those of you who are ambitious towards earning well to drive your personal goals forward. If you're a young adult still trying to figure the line of work you're drawn to, Minneapolis has its doors and windows open for you.
What else is attractive? Well there's tons, but the top most is that the cost of living is relatively lower than most other top tier cities. Because of this, the city is infested with young professionals. The University of Minnesota also adds to the college crowd. Another pro is that there are plenty of newer developments dotting the neighborhood, so you won't have to compromise on settling for older property.
Upside – An online study points out that Minneapolis actually has the most number of adults living independently. This makes it more likely for you to meet people to relate with.
Downside – Getting through winter in the city can be challenging because it is harsh.
Median Home Value – $251,600
Median Rent – $1,027
Median Household Income – $62,583
See also: Moving to Minneapolis
9. Columbus, Ohio
The city of Columbus is yet another landing spot for those between the ages of 18 to 34. It doesn't really come as a surprise since Columbus has all the frenzy and an extremely low cost of living.
It is far from a sleepy town and has a booming job market because of the number of Fortune 500 companies here. Trendy and green spaces are plentiful. The art and music scene is also a big portion of the profile of the city of Columbus. So it is safe to say that you would be able to find a good deal of innovative communities to challenge yourself. Even more so since the Ohio State University creates an atmosphere most young are after which is – a melting pot of numerous cultures!
Upside – Cost of living is pretty low in exchange for getting to reside in a progressive urban development.
Downside – Transportation without a car can be extremely tough. Also, there's some areas that are pretty quiet, so you've to be careful about the neighborhood you pick.
Median Home Value – $151,600
Median Rent – $961
Median Household Income – $53,745
10. Salt Lake City, Utah
Salt Lake City has time and again won the title for being among the cities young people want to be. The city is a perfect place to step into if you specifically love being outdoors. There's no limit to the things that can give you an adrenaline rush in this city. Skiing, rock climbing, hiking, biking are all activities that are part of the regular routine of residents in Salt Lake City.
But the main plus point is that all these recreational activities are centered around affordability and this keeps things more fun. Also, because of the close proximity to the Great Salt Lake, you can also capture some spectacular sunsets and you'll be surrounded by scenic views. The mountains literally form the backdrop of the city, so you're definitely not going to feel like you're stuck in a concrete jungle.
Upside – The lifestyle of staying fit, active and healthy allows you to have a work-life balance.
Downside – Many stores close early and public transportation is limited.
Median Home Value – $314,500
Median Rent – $985
Median Household Income – $60,676
Also See: Moving To Salt Lake City – Cost of Living & Relocation Guide
FAQs
Where should I move in my 20s?
Boston, Nashville, Arlington, Portland, Austin, Madison, Denver, Minneapolis, Salt Lake City and Columbus are some of the top cities you should consider moving to in your 20s.
Which city has a huge number of millennials?
The city of Denver in Colorado has a huge millennial population. There are various other cities that have a similar composition such as Austin, Minneapolis, Nashville and Salt Lake City.
See also: Best Places to Raise a Family
---
Conclusion
The 20s are a difficult stage of life, it can be confusing to 'adult' and each decision you make basically affects your 30s. But getting the opportunity to choose a city for yourself where you can make the most of your career and lifestyle is a luxury. We suggest reaching out to this list as a guide about why these top 10 cities are a popular choice for many others. But ultimately you would be the sole person to make a call on which one is the lucky city for you.