Moving to Minneapolis | 2022 Cost of Living & Relocation Tips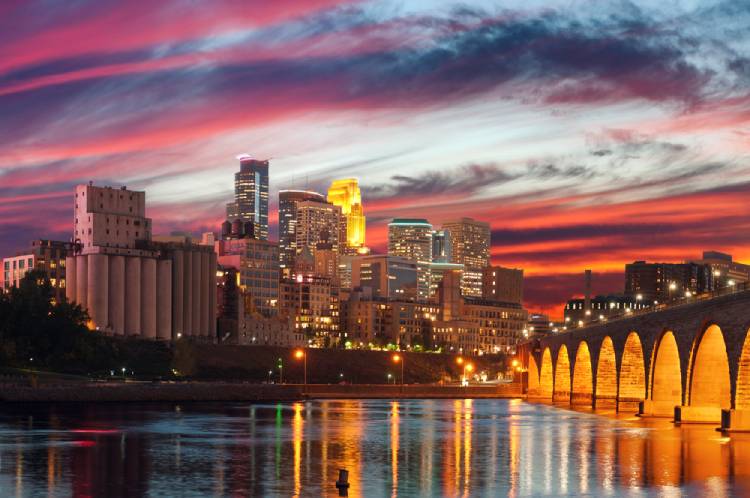 The city of Minneapolis has bits and pieces of everything you would probably craft into a city if given the opportunity, just like in a game of Simcity. It boasts of having affordable housing, lots of green space, developed bicycle paths, countless lakes, great infrastructure, a stunning skyline and a solid job market. There's no doubt that Minneapolis holds a progressive profile with similar features of big cities.
Even though this twin city may clutch onto everything a transplant seeks, you are bound to still have some questions pertaining to the weather, transport systems, best neighborhoods and more. So, let's get you acquainted with the practicalities, so that you can build your own reasons for moving to Minneapolis.
Weather In Minneapolis
When it comes to weather conditions in Minneapolis, your first concern would probably be the winters. It's true that it gets termed as ferocious, bitter and frigid. But then again, on the plus side, you get to enjoy winter wonderland activities such as skiing, ice skating and ice fishing.
If you're someone who personally really loves winter, you'd probably love what Minneapolis has to offer. However, bear in mind that if you're considering moving, you would have to prepare to buy all the appropriate gear and equipment to make winter bearable and fun.
Few other things to know about the weather in Minneapolis:
The city does have its share of beautiful sunny days, on an average it accounts to around 198 days.
Summers in the city are warm, mild and comfortable with temperatures falling in the range of 70°F (21.1°C) to 80°F (26.7°C).
Summer time is also the wettest months of the year. It's best to be prepared with a light raincoat and umbrella especially in August when the city witnesses a good amount of rainfall.
The winter conditions last from November to the end of March. But February and January can be the most rough and might even convince you to go into hermit mode.
During peak winter months, Minneapolis registers upto 8 inches of snow and average temperatures fall in the range of 7°F (-13.9°C) to 24°F (-4.4°C).
As a transplant, you must be prepared for infrequent showers during the spring and summer.
May to September is considered to be the more pleasant time of the year, where the city isn't fighting extreme weather conditions.
Transportation
The four main modes of getting around the city of Minneapolis sans car are – riding the bus, commuting by the light rail system, bicycling and the Northstar rail line. Among these, a large percentage of residents rely on the bus or a bicycle for intracity transit.
About The Light Rail System
The light rail system doesn't have great coverage in comparison to the bus and consists of 2 lines. Each line has a fixed number of stops and is in progress of being extended. If your place of interest matches with the stops, you can opt for this mode of travel. Do note that the trains on both lines run every 10-15 minutes, with a good frequency that only tends to reduce at night.
Below is a short description of the 2 train lines:
Blue Line: Travels from downtown Minneapolis uptil the Mall of America via the international airport. This line has 19 stops.
Green Line: This line also connects downtown Minneapolis to the downtown region of St.Paul. The Green Line has a better reach since it has 23 stops.
Light Rail System Fares: A single ride fare is $2. This is the same fare to be paid even if you opt for a local bus.
About The Developed Bike Trails
The city of Minneapolis is among the best in the nation for bike trails. The city has a vibrate bicycle culture and it would be very easy to find a biking community.
The city boasts of over 98 miles of protected bike lanes. Bicycling is one of the most popular ways to get around, but do note that it can get pretty kooky during the winters. Bicycle lanes can be hidden by snow and it can be tough to ride with the harsh winds. This is why it's best to be prepared in advance and invest in the right bicycle that makes it manageable to ride in the winters.
See also: Top Cities in the U.S. You Can Live Without a Car
In A Nutshell
The city is touted to be the nation's top bicycle city. Apart from bicycling, residents also have the option to take advantage of car share programs like Uber and Lyft. The local, express and rapid buses also make it easier to get from point A to B and is considered to have a better coverage than the light rail system. You can also access the 'Free Ride' buses that cover the core areas in downtown Minneapolis. When it comes to airways, you have the Minneapolis- Saint Paul international airport within reach.
Job Market In Minneapolis
Presently, the economy of Minneapolis is competing with the speed of the metropolitan area of Chicago and isn't far behind. The twin cities have secured a position for having the second largest economy in the midwest post Chicago.
The foundation of the economy is dependent and driven by various sectors. The biggest contributors are industries like Finance, Healthcare and Commerce. Minneapolis also has a huge cluster of Fortune 500 companies, marketing/advertising firms and multinational companies that have set up their headquarters in the city center. The city is a thriving productive pocket of the state of Minnesota and there's no doubt that it possesses a fast growing economy.
Few of the top employers of the city are:
Best Buy
Target
Xcel Energy
Cargill
Ecolab
U.S Bancorp
UnitedHealth Group
Wells Fargo
Accenture
Thrivent
The University of Minnesota
3M
Overall, it can be said that Minneapolis doesn't own a dull job market but one that is bustling with lucrative job opportunities. If banking, accounting or finance is the field you excel at, you have more than 1 company to choose from. In addition to that, you have marketing, retail management, education, and healthcare creating the most buzz in the job market.
Without doubt, there are a great number of notable companies in the city but it all depends on the field of work you're drawn to. For instance, the tech scene is doing okay in comparison to the finance line in the city. Now that you have a fair notion of what is working better, you can take a call on which areas of work to target.
Renting
According to reports by RENTCafé, approximately 42% of the renters in the city shell out an amount that falls somewhere between $1,000 to $1,500 for monthly rent. To give you a rough price point, the average median rent in Minneapolis is $1,568.
Some of the areas where rent is more reasonable are – North Loop, Downtown and Uptown Minneapolis.
Few of the neighborhoods where rent is exorbitant are – Dinkytown, Marcy Holmes and Prospect Park East River Road.
Cost Of Living In Minneapolis
According to PayScale, the cost of living in Minneapolis is 5% higher than the national average. To give you a better perspective on average figures, we've done a breakdown on costs that will go into housing and average income you can expect.
Housing Costs
The median value of homes in the metropolitan area of Minneapolis is $304,961 (according to Zillow). This is considerably higher than the national as well as the state average. If you were to live anywhere else in the state of Minnesota, the median value of homes is $277,276. There is a marginal difference in costs. But it can be seen as a great trade off, since there's considerably much more opportunity in the city of Minneapolis.
Median Household Income
The median household income in the city of Minneapolis is $58,993 (according to Niche). This is relatively higher than the national average which stands at $55,233. So, there's a good chance that you'll be reeling in a good amount of income. But then how do you know if it's sufficient enough to last in a city like Minneapolis?
Well, the best way to explain this is that Minneapolis mimics the progress of areas like NYC and the Bay area. However, when it comes to expenses, it isn't really up there. That being said, you'd probably be living a king-size life if you're earning in figures like 65k to 75k annually (as a single person with no kids). And any amount between 50k-75k is considered a good salary to be making annually.
Of course, it goes without saying that these numbers are merely estimates to give you a gist of what the costs are like. Depending on your lifestyle habits, things will likely look different.
Top Schools And Universities In Minneapolis
Top 5 Best Rated Universities
University of Minnesota Twin Cities
Augsburg University
Hamline University
Macalester College
University of St.Thomas
Top 5 Best Rated Schools
Plymouth Creek Elementary School, Wayzata Public School District
Normandale Elementary School, Edina Public School District
Scenic Heights Elementary School, Minnetonka Public School District
Meadow Ridge Elementary School, Wayzata Public School District
Groveland Elementary School, Minnetonka Public School District
Best Neighborhoods In And Around Minneapolis
Linden Hills
Linden Hills is part of Southwest Minneapolis which is considered to be one of the best areas to reside in the city. Do note that anywhere Southwest of Minneapolis is a safe zone to explore if you're looking for family-friendly and quiet neighborhoods. Linden Hills in particular is filled with historic homes, bicycle lanes, dog parks and lies in close proximity to Bde Maka Ska lake. It is ranked as the best neighborhood to live in Minneapolis. You can either walk or bike to your place of interest as chain stores, independent restaurants, entertainment options are all within reach.
Median value of homes – $492,332
Median rent – $1,227
Lowry Hill
Lowry Hill shares similar traits that Linden Hills offers but is much more closer to the central Minneapolis area. This makes it easy to commute to work via bike or bus. It is also much more diverse in comparison to Linden Hills, perhaps because home ownership is relatively more affordable. Residents here have easy access to restaurants, parks, playgrounds and excellent school systems. The neighborhood in its essence is extremely active, outdoorsy and peacefully cut away from any of the city hustle and bustle.
Median value of homes – $453,544
Median rent – 1,331
East Isles
East Isles has a combination of everything one would expect to have in a neighborhood. It is situated on the quaint side of Minneapolis and is set in close proximity to the Lake of Isles. Residents here get to choose from a whole bunch of takeout restaurants, coffee shops and bars. You have great entertainment options, stores for shopping and the stunning view of the lake of Isles. This neighborhood is one of the most walkable and bikeable areas of the city. It holds a walkscore and bike score of 89 on 100! Now doesn't this make East Isles an ideal place for those who prefer getting around without hopping on an automobile?
Median value of homes – $370,616
Median rent – $1,296
Bloomington
The city Bloomington is situated just 10 miles away from downtown Minneapolis. So, if your main priority is to have easy access to areas of work, this could be the perfect place to settle. The city is home to the Mall of America and is dotted by some of the largest employers of the city. Many companies have their headquarters set up in this city, making it an ideal location for young professionals. The central location is the biggest perk of living here as you can even make your way to the international airport. You would also have ample recreational opportunities because of the number of parks, picnic spots and lakes nearby.
Median value of homes – $240,100
Median rent – $1,121
North Loop
North Loop is also locally known as the 'Warehouse District' and is one of the most contemporary and hip neighborhoods in the city of Minneapolis. It is home to cool cafes, breweries, boutique clothing stores, farmer's market and iconic independent restaurants. The adjective "trendy" does a good job at describing the atmosphere of the North Loop of the city. Residents here also enjoy easy access to downtown and particularly embrace the speedy hip lifestyle. Attending live music events, dance and theatre performances are easy ways to pass time in this area of Minneapolis.
Median value of homes – $361,358
Median rent – $1,761
---
FAQs about Moving to Minneapolis
What salary do you need to live in Minneapolis?
You should know that the cost of living in Minneapolis, Minnesota is 5% higher than the national income. Although the median household income in Minneapolis is $52,858, you need to earn at least $84,787 if you are a homeowner and $87,115 if you are a renter to live extremely comfortably in Minneapolis.
Is it expensive to live in Minneapolis?
The cost of living in Minneapolis is high but the city isn't ridiculously expensive. Living here costs 5% higher than the national average. The median home price in Minneapolis is $270,800, which is 5% higher than the national average. It evens out when it comes to utilities as they cost 9% lower than the national average.
However, Minneapolis tends to get a little bit expensive when it comes to transportation, food and groceries, and healthcare. These things cost 8%, 7%, and 5% higher respectively. The bottom line is though Minneapolis is affordable, you need to be well-off to live comfortably here.
Is Minneapolis a good place to live?
If you are thinking about moving to Minneapolis, that's an extremely good idea. This city not only offers you an urban living experience, but it ensures that you live in the heart of nature. By offering an impressive array of parks and several beautiful lakes, the city ensures that you will love staying outdoors here. The delectable cuisine and award-winning restaurants ensure that you have mouth watering food every day.
Apart from being one of the most affordable cities in the country, Minneapolis offers its residents numerous highly paid jobs. The infrastructure of the city is well-maintained and it makes your life convenient. In all, Minneapolis is certainly a great place to live in.
Why is rent so high in Minnesota?
Due to the ever-growing economy of Minnesota, the state has witnessed an influx of more and more people. This leads to a high demand in the real estate/housing sector. Due to the high demand and limited supply, housing prices have started rising because of which the rent is so high in Minnesota.
Is it a good time to buy a house in Minneapolis?
It indeed is a good time to buy a house in Minneapolis due to several reasons. The most important reason being the recent slump in the worldwide market due to the pandemic. It has certainly made market activities slower. At the same time, the buy-sell activity isn't much either as the broader economy has been cash-strapped. This has resulted in lower selling prices for houses in Minneapolis.
The housing costs will eventually rise once the pandemic subsides and the market activities will return to normal. That's why one should grab the opportunity to purchase a house right now.
Another reason for the low prices of houses in Minneapolis could be the end of single-family zoning in the city. This has resulted in multi-family properties being built on single-family lots. Essentially, this indicated an increase in the demand for houses in the city in the distant future.
How many billionaires live in Minnesota?
Forbes annual list of billionaires has identified 6 billionaires who stay in Minnesota. Want to know who they are? Have a look at their names below.
Whitney MacMillan
Glen Taylor
Stanley Hubbard
William Austin
Martha MacMillan
Pauline MacMillan Keinath
What is the coldest month in Minneapolis?
January is the coldest month in Minneapolis. The temperature drops down to more than 4.3°F during the month of January in Minneapolis, Minnesota.
Is St Paul safer than Minneapolis?
Yes. St Paul is safer than Minneapolis. According to the 2019 FBI violent crime data, Minneapolis experiences 925.1 violent crimes per 100k residents every year. On the other hand, St Paul experiences 565 violent crimes per 100k residents every year.
Our Take On Minneapolis
The city of Minneapolis stands out for being a bustling city that also manages to be clean, all while boasting of a handful of green spaces. It isn't a traditional concrete jungle, but a city that possesses a blend of skyscrapers and pockets filled with trees, and a strong prevalence of lakes. It is progressive in nature and has a solid food, music and job scene. Minneapolis has the amenities of a big city, but also features tightly knit communities and several independent businesses. Depending on the city you would be coming from, you could see this move as an upgrade. By now, you would have a fair idea about moving to Minneapolis, to decide if you see yourself and family setting your roots here.
Also read: Best Moving Companies in Minneapolis | Popular Neighborhoods in Minneapolis for Families