Best Moving Companies in Minneapolis for 2022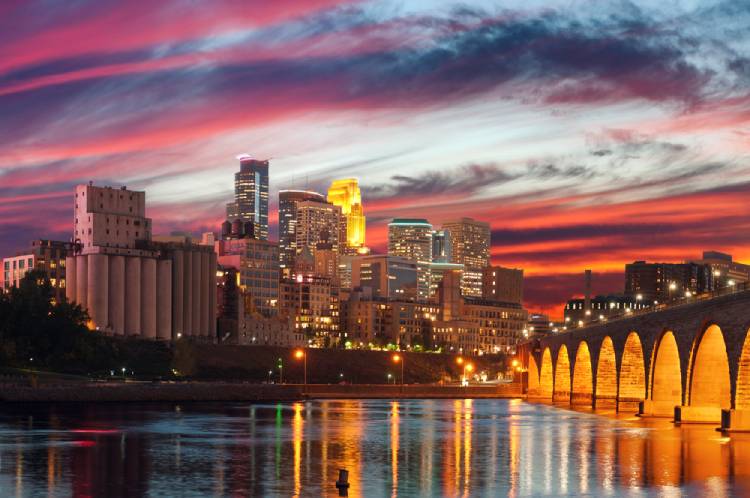 Minneapolis has pretty much everything that you'd want in a city – be it affordable housing, well-developed infrastructure, lots of job opportunities, green spaces and many picturesque lakes. So we'd be unsurprised if you've decided to pack and haul your stuff and begin a new life here. At the same time, there'll be some who may be moving out of Minneapolis, whether for a change of scenery, a new job or personal reasons. Whatever the reasons may be, it's quite inevitable that you'll need some professional help moving. This is why you'll want to know about the best moving companies in Minneapolis.
How To Pick A Moving Company In Minneapolis?
Choosing a moving company may seem easy – just get the one with the lowest price. While a low price definitely makes a company more appealing, there are a lot more factors that you must consider before deciding on one:
Is your move within Minneapolis, to another city in Minnesota, or is it an interstate move?
Is your move local or long distance?
How big is your house/apartment and how many rooms does it have?
Do you have a lot of stuff, in particular heavy or fragile goods, that need to be packed and moved? Would you require expert assistance?
Are you moving alone or with your spouse/partner and children? Are there elderly people as well?
These questions shall help you make a better decision on your choice of moving company in Minneapolis. Below are some moving companies we've chosen for you that provide the best services and are also highly rated by customers.
7 Top-Rated Movers in Minneapolis MN
1. Matt's Moving
No, Matt's not moving anywhere, but when you're moving, this company promises to get things done completely to your satisfaction. Matt's Moving entered the moving space of the Twin Cities of Minneapolis and St Paul in 2006. Now, the company has franchises across Minnesota and Wisconsin.
What Matt's Moving primarily provides is residential and commercial moves both, be it local or interstate. The company comprises staff that's trained and certified to move your stuff safely. With Matt's Moving providing an all-round moving service that includes trucks that are well-equipped with the tools to protect your furnishings and the floor, all you need to do when hiring them is practically nothing! Just leave the heavy lifting to these professionals! For residential moves, the cherry on the cake is that Matt's Moving also provides free wardrobe boxes for your clothes! If you don't mind the driving but can't stand packing, Matt's Moving offers exclusive packing and unpacking services too.
Apart from these, the specialty services of Matt's Moving are something definitely worth talking about. The staff can assist you in relocating the elderly, with due care and commitment. Need help moving that piano? Want your gun safes handled safely? Or is it just some able-bodied helpers you require? Matt's Moving can provide them all.
If all these services offered by Matt's Moving haven't convinced you yet, surely the fact that it's rated A+ by the Better Business Bureau will help you get off the fence!
Matt's Moving Contact Details:
Email Address: getmoving@mattsmoving.com
Contact Number: 612-216-2665
Address: 416 35th Ave NE, Minneapolis, MN 55418
Operational Hours: Open 24 hours
Website: mattsmoving.com
Matt's Moving Delivery Reviews
Google: 4.4/5
Yelp: 4/5
2. Lighthouse Moving
This moving company in the Minneapolis-St Paul region may not be the biggest, but in the few short years since its establishment, Lighthouse Moving has earned a solid reputation as a reliable moving company in Minnesota. Lighthouse Moving has had a humble beginning, with the owner, John Hathaway, starting off as a junk hauler. A decision to move on to moving stuff resulted in the birth of Lighthouse Moving in 2004, whose priority has always been its reputation.
Lighthouse Moving provides residential and commercial packing and moving services. This means that they include everything that's required for the move: the Lighthouse Moving reps will get a thorough understanding of what you require before getting down to work. Their trucks are loaded with all the moving equipment, including dollies, wraps, carpet and floor protectors and tie downs. Of course, this also includes apartment moving.
This moving company, while providing excellent service, is restricted to moving within Minnesota, so it may be not feasible for those who are planning an interstate move. But the awesome customer service, as evidenced by the reviews and the A+ rating on Better Business Bureau, makes hiring Lighthouse Moving for your local moves in Minneapolis totally worth your money. You can call them up on the below number to get a free estimate.
Lighthouse Moving Contact Details:
Email Address: Lthousemoving@gmail.com
Contact Number: 651-300-0027
Address: 473 Smith Avenue North, St Paul, MN 55102
Operational Hours: Monday to Saturday – 8am to 9pm, Sundays – 9am to 9pm
Website: minneapolismover.org
Lighthouse Moving Reviews:
Google: 4.6/5
Yelp: 4/5
3. The Move Crew
When hiring moving companies, a good thing to look out for is whether they're locally owned and operated, as they'll know the lay of the land better. This is where the Move Crew comes in. Established in 2015, this moving company in Minneapolis has grown to become one of the trusted names in the industry. Being a local brand, the Move Crew offers you top-notch packing and moving services, but doesn't abandon the small business experience that would give a more personal touch.
Residential and commercial moving are The Move Crew's forte, and it doesn't matter where you want to move to. The company offers interstate moves too, for which there are trucks and crew dedicated to this service. This means that your belongings will be in the safe hands of The Move Crew, and not transferred between trucks.
In case you're planning a long holiday or simply want to store your belongings in a safe place, The Move Crew also provides climate-controlled vault storage services in Minneapolis. All you need to do is tell the crew what needs to be packed and loaded onto the truck, and that's it!
Speaking of packing, this is where The Move Crew absolutely shines! This company has its dedicated online shop for all the materials you'd require when packing and moving. Whether packing boxes and supplies, floor protection, and storage supplies, The Move Crew Pack Shop has it all! You can call The Move Crew or check out their website to get a free estimate for your packing and moving.
The Move Crew Contact Details:
Email Address: hello@themovecrew.com
Contact Number: 612-361-6787
Address: 1700 Broadway St NE, Minneapolis, MN 55413, United States
Operational Hours: Monday to Friday – 8am to 5pm, Saturdays – 9am to 1pm, Sundays closed
Website: themovecrew.com
The Move Crew Reviews:
Google: 4.9/5
Yelp: 4.5/5
See Also: Best Neighborhoods In Minneapolis For Singles And Young Professionals
4. 5-Star Movers
This is a moving company in Minneapolis that you can count on, no matter the day or time. Established in 2017, 5-Star Movers assure packing and moving services 24/7, with a motto of 'Whatever YOU need.'
The primary focus of 5-Star is on labor services. If you're looking for a moving company that takes special care to safely pack and set up your belongings, then 5-Star is what you should be hiring. The company's trained and well-equipped movers can take care of all your packing and moving, and all you need to do is sit back and relax!
If you're not too comfortable with the idea of disconnecting or setting up your expensive TV or any other electrical appliance, a 5-Star staff can happily do it for you. The same goes for furniture. 5-Star Movers has a furniture assembly team that will take your beds and tables apart and put them back together at your new place.
What 5-Star Movers is best known is for its loading and unloading services. If you've done it on your own before, you know how much of a hassle it can be. So it makes sense to leave it to the 5-Star Movers professionals. Along with the packing and unpacking services 5-Star Movers offer, you can also buy moving supplies from them.
5-Star Movers Contact Details:
Email Address: 5starmoversmn@gmail.com
Contact Number: 651-243-1993
Address: 7400 MN-7 #208, St Louis Park, MN 55426
Operational Hours: Open 24 hours
Website: 5starmoversmn.com
5-Star Movers Reviews:
Google: 4.9/5
Yelp: 4.5/5
5. You Move Me
This moving company has its franchises spread in Canada and 14 states in the US; Minnesota being one of them, of course. You Move Me is something of a one-stop-shop when it comes to moving, and the high customer ratings is proof that the company knows what it's doing, and is good at it!
You Move Me focuses on customization of services based on your house and the kind of service you require of them. With You Move Me, you'll get local moves for both residential and commercial. As the franchises are locally owned and operated, the movers know how to make the move as hassle-free as possible.
If you need your furniture carefully packed and loaded, then You Move Me can do that too. The staff knows how to handle stuff that's bulky (not very bulky, however) and those that need a delicate hand. You Move Me also has a senior moving service. If an elderly person needs help moving out, the company will only be too happy to provide.
Should you feel the need for more packing boxes, simply ask You Move Me! They'll give you a variety of boxes, each with its own uses.
You Move Me assess the stuff that you want moved before packing, and provides you with a price. The company charges by the hour and a flat-rate travel fee, so you need not worry about hidden costs. Once you tell them that the work is done, you're off the clock! After everything is done, you can also expect a nice surprise!
You Move Me Contact Details:
Email Address: twincities@youmoveme.com
Contact Number: 612-930-4474
Address: 630 Hoover St NE, Suite B, Minneapolis, MN 55413
Operational Hours: Monday to Friday – 7am to 9pm, Saturdays – 7am to 7pm, Sundays – 8:30am to 4:30pm
Website: youmoveme.com
You Move Me Reviews:
Google: 4.7/5
Yelp: 3.5/5
6. AAA Movers
This moving company in Minneapolis is definitely worth considering if you're looking for one which offers practically every service that you expect. AAA Movers is located in Minnesota, Iowa and Illinois, with its base in Minneapolis.
Whether you're planning a residential or commercial local move, what sets AAA Movers apart from the competition is the insurance they provide. AAA Movers provides additional coverage: the AAA Cares Complete and the AAA Cares Standard (this one's included in the cost of moving). With the added coverage, we're sure that you'll be able to be a bit more relaxed during the stress of moving.
While AAA Movers don't manage interstate moves independently, you can still approach them for it, and all your moving needs will be handled by the partner Arpin Van Lines. AAA Movers don't just cover moving services, if your house is in dire need of decluttering and with a lot of junk, then this moving company is what you should hire. AAA Movers doesn't do junk removal, but its partner, The Junkluggers, does it.
Should there be any senior citizens who want help moving, then AAA Movers can do it for you. Your packaging needs are also fulfilled by the online shop on their website. Even if you've a last-minute requirement, you can just tell it to your AAA Movers staff. They're well-prepared for this and can ensure a smooth move, despite the new challenges.
AAA Movers Contact Details:
Email Address: info@aaamoversinc.com
Contact Number: 612-588-5753
Address: 321 N 1st Ave, Minneapolis, MN 55401
Operational Hours: Monday to Friday – 8am to 7pm, Saturdays – 8am to 2pm, Sundays closed
Website: aaamoversinc.com
AAA Movers Reviews:
Google: 4.3/5
Yelp: 2.5/5
7. College HUNKS Hauling Junk & Moving
College HUNKS Hauling Junk & Moving was established in 2005 by two college buddies. Ever since, it has opened up franchises in the US and Canada. As the name suggests, this company is both a moving and junk removal company!
While College HUNKS is located in Minnetonka, it still services the nearby cities of Hopkins and Minneapolis. The services rendered by College HUNKS in Minneapolis include the usual local and long-distance moving. Understanding that no two customers' requirements are the same, the company provides customized services to ensure customer satisfaction.
Being a franchise that's spread across the US, College HUNKS also provides limited interstate moving services that they promise to be cost-effective, fast and safe. If you're looking to just store your belongings in a safe place, you can call College HUNKS and ask for their storage facilities. Whether you want to store a room's worth of stuff or one entire vehicle, College HUNKS can give you that. Ask, and ye shall receive!
The other major aspect of College HUNKS is its junk disposal service. Whether you want to declutter your house or garage, or require a cleanup after a storm, College HUNKS is a company you can turn to. And what's more – College HUNKS also strives to recycle and donate most of the junk, so you can rest easy knowing that the things you no longer require are being put into good use, and you're doing your bit to save the environment!
College HUNKS Hauling Junk & Moving Contact Details:
Email Address: stressfreeservice@collegehunkshaulingjunk.com
Contact Number: 952-649-5963
Address: 11511 K-Tel Drive, Minnetonka, MN 55343
Operational Hours: 8am to 9pm, everyday
Website: collegehunkshaulingjunk.com
College HUNKS Hauling Junk & Moving Reviews:
Google: 5/5
Yelp: 3/5
See also: College Hunks Moving Review | 5 Best Neighborhoods in Minneapolis for Families
---
Conclusion
These moving companies in Minneapolis are the very best; but there are a lot more for you to choose from. As long as you know what exactly you require from a moving company, choosing any of the above can assure you a moving experience that won't leave you pulling your hair out!