Best Moving Companies In Indiana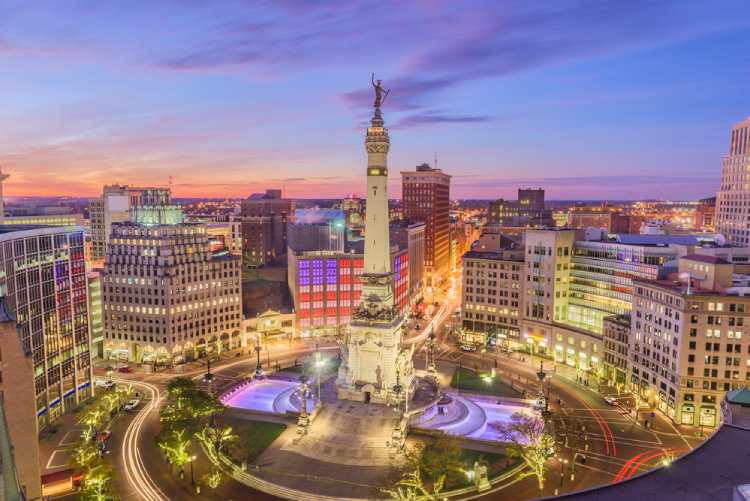 Leaving your previous home for a new one can sure evoke a number of emotions. Saying goodbye to the home that won't travel with you to the other side will obviously be tough. But this is the reality of it and accepting it is the only way to go. On the brighter side of things, you will have new experiences to look forward to and the first good experience should be with the moving company you select. To help you with that decision, we have created a list of the best moving companies in Indiana which you can refer to.
6 Top-Rated Moving Companies in Indiana
Colt Moving
Planes Moving & Storage of Indianapolis
Leaders Moving & Storage Co.
Dreiske Moving & Storage
Jay's Moving Company
Busy Bee Movers
1. Colt Moving
Considered the numero uno moving company in all of Indiana, this locally-owned company goes above and beyond to make sure all the needs of its clients are met comfortably. Their clean-cut athletic movers are well trained and capable of carrying out even the bulkiest of moves.
To give you a glimpse of this all-around moving company, they offer not only your typical local and long-distance moving services but will also help clean up after the entire process is completed. The Colt Clean Team known for its pristine cleaning services, offers move-in/move-out, commercial cleaning, and recurring cleaning among others. What more could you possibly ask for in a moving company?!
If that still doesn't convince you, the fact that the movers changed their shoe covers every time they walked onto one of the customers' new flooring and carpet only goes to show how considerate and careful they are in their approach. If you are military personnel or a war veteran, you can avail of the military discount the company offers.
For a company that carries full commercial insurance including actual value replacement, it goes without saying that Colt Moving has all the licenses and insurance in place. The company is also properly registered with the US Department of Transportation.
Colt Moving Reviews
Google Reviews: 4.8/5
Angi: 4.5/5
2. Planes Moving & Storage of Indianapolis
When it comes to moving your precious belongings to a new location, you obviously need a professional moving partner that has some experience in this industry. How about a company that has about 100 years of it? Planes Moving & Storage is that buddy with years of experience to help you move locally and internationally.
The hoard of services this company provides include local, long-distance moves, packing, and junk removal. If you feel the move will take longer than usual, you can opt for the storage services provided by Planes Moving. Be it a temporary or a long-term storage requirement, the company has got you covered.
A few more services which you will have difficulty finding in other moving companies are comfortably covered by Planes Moving. International moving, employee relocation, and auto-shipment services to name a few. With a simple 10-step program starting from contacting Planes Moving to your final payment and settling in your new homes, your move will conclude in a blink of an eye. Talking about the authenticity of the company, Planes Moving is authorized for interstate moves, properly insured, and registered with the USDOT.
Planes Moving & Storage of Indianapolis Reviews
Google Reviews: 4.9/5
Also read: Moving To Indiana
3. Leaders Moving & Storage Co.
There is a certain sense of calmness and security that strikes your mind when you hear the word "leader". When talking about a moving company, it is all the more important that you experience that feeling throughout the moving process. With an aim to provide you with that sort of safety, Leaders Moving & Storage Co. puts its 25+ years of experience to good use and delivers on that promise.
If an office relocation is on the cards for you, Leaders Moving & Storage is also the perfect choice. The company also offers professional packing and unpacking services, custom crating, and a box-loan service to help you pull off a smooth transition to your new abode. If you want to cut the process of storing the products in the warehouse, you can opt for the cross-docking service offered by Leaders Moving. It is safe to say that the company has your back in every moving aspect you need help in. To get an estimate on what your total bill would look like, head over to their website and click on their free online quote option.
Leaders Moving & Storage Co. Reviews
Google Reviews: 4.6/5
Angi: 4.6/5
4. Dreiske Moving & Storage
Dreiske Moving has earned a reputation for being pocket-friendly while maintaining high-quality assistance in both Indiana and Illinois. Besides the regular local, long-distance, and commercial moving services, the company provides a bunch of unique services which might prove beneficial for you. One such service is the Rover.
It is basically a portable storage service that is appropriate for a DIY move, staging, or even home remodels. The company delivers a little white van right to your driveway so you don't have to take the trouble to walk to the van along with the bone-crushing weight of your belongings. A few other effective services include the Hot Shot delivery and FF&E (Furniture, Fixtures, and Equipment) moving service provided by them. This family-owned and operated business has all the licenses and insurance in place which makes Dreiske Moving a more trustworthy and reliable moving partner.
Dreiske Moving & Storage Reviews
Google Reviews: 4.7/5
5. Jay's Moving Company
The 50s sure was an interesting era and is also the year Jay's Moving was founded. Jay's has maintained the same high standards of moving service for over 70 years now. Honesty, integrity, and transparency are few of the values upheld by them over the decades. The company makes sure your moving day is full of smiles and the positive reviews are solid proof of that fact.
You can turn to them to take care of your residential moves, packing needs, and even moving just heavy equipment like that Yamaha Piano you so proudly flaunt about. Their secure vault storage facility will make sure your belongings have a safe home before they arrive in your new permanent residence.
Besides that, they can also declutter office spaces. So if your workspace is filled with a truckload of boxes, and files collecting dust, give them a ring to spruce up the space. They can store items that are eating up space in your office for you or deliver them to a shredding service. So, leave all your worries behind and get on-call with Jay's Moving to ensure a hassle-free move. Lastly, a company this experienced and so versatile is properly insured and registered with the US Department of Transportation.
Angi: 4.5/5
Also read: How Do Moving Companies Charge
6. Busy Bee Movers
A bee is never found chilling out contributing nothing to the beehive but is always on the move. The same goes for this excellent moving company called Busy Bee Movers. They have been constantly on the go completing the entire moving process in record times.
Buzzing through the entire state, the company has all the services you require and more! Busy Bee Movers has the bandwidth to handle local and long-distance moves all over the state. So, be it a move within 100 miles or one which crosses the 600-mile mark, Busy Bee will handle the move effortlessly and in spectacular fashion to say the least.
Let's be real, regular jobs keep us busy as a bee. That's when busy bee movers will help you relocate your office to the new location bee-beautifully. In a turn of events, the bees will also be the beekeepers for you when it comes to storing your belongings in a safe and secure facility. So, get ready for an amazing moving experience should you choose a hive-five with Busy Bee Movers.
Busy Bee Movers Reviews
Google Reviews: 4/5
Angi: 4.1/5
Things To Keep In Mind When Choosing A Moving Company
This is probably a no-brainer but take your time and get at least 3 different moving estimates from multiple moving companies to get a fair idea of the current market rates.
Once you are aware of the prices, select a moving company that fits your budget well and offers all the services you require. At the end of the day, you'll need a company that covers all areas of the move.
In order to continue this smart streak of yours, you need to steer clear of fraudulent companies and their bogus policies by doing a thorough background check on the company. Read online reviews by the company's past customers and speak to your relatives or friends who have availed of their services to get a good understanding of how the company functions.
Everyone loves surprises but when it comes to your moving bill, it might not be something you'll be particularly fond of. So, clarify everything regarding the quote to ensure there is no hidden fee involved.
Conclusion
Now that we have got you up to speed with the best moving companies in Indiana, all that is left for you to do is narrow down on one and get ready for a smooth and easy transition to your new home. Being a little informed and aware of a few things will certainly help you reduce the stress that comes with a move.
FAQs On Best Moving Companies In Indiana
How Much Does It Cost To Have Someone Help You Move?
It can cost you a minimum of $50 an hour per mover to help you with a local move. When you hire professional full-service movers for long-distance moves, expect costs to go over $1000.
What Items Will A Moving Company Not Move?
While there are a number of items a moving company will move for you, things like propane cylinders, matches, gasoline, lighter fluids, and any other flammable items is where they won't be able to assist you.
Is There A Checklist For Moving?
Although a checklist for moving depends from person to person, a few common items in the list include preparing a solid moving budget, renting a cargo truck if it is a DIY move, and selling items you don't have the use for among others.
How Long Before A Move Should I Contact A Moving Company?
In an ideal scenario, it's best to lock down a mover 2 months before moving day. The earlier you block one the better organized your move can be. Don't leave the task of looking for movers a week before moving day or you run the risk of not finding a mover.