Moving to Indiana | 2022 Cost of Living and Relocation Tips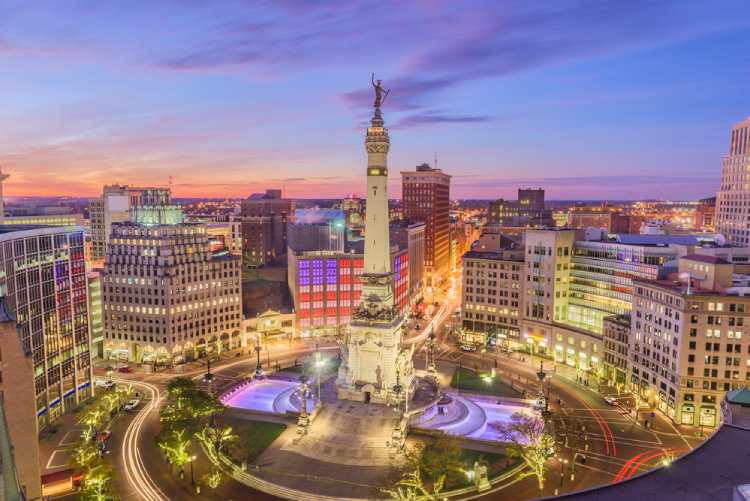 The state of Indiana is known as the 'Crossroads of America'. And if you're thinking about relocating here, chances are you've found yourself at a crossroad too, since the Midwest lifestyle differs drastically from the rest of the US. Well, if you're having an honest conversation about why you'd fit right in, we'd love to join in to help you thoroughly understand all the factors you should consider before moving to Indiana.
For starters, few of the sought-after perks of living in Indiana is that it is easy to feel part of a community here. You also get to enjoy an incredibly low cost of living and housing is relatively affordable here in Indiana. And lastly, there's not only less competition in the job market, the pace of life is slower, and there's also more room to breathe since the crowd is spread out.
Few other things that make up the state's profile appealing are the amusement parks, fandom for professional basketball, art fairs, cornfields, the stunning Indiana Dunes National Park and the Indy 500. Residents of Indiana sure do love the state's LEED certified international airport and the charm of residing in a small town.
However, these are just pros of the state that perhaps formed the base of why you'd like to move here. But like we said earlier, you wouldn't want to be looking through rose tinted glasses while making such a life-altering decision. Hence, we'd suggest to read on to learn about the transportation, cost of living, best cities of the state and more, that comes with moving to Indiana.
Weather In Indiana
The Hossier state of Indiana generally falls into the hot-humid climate category. But the classification method of the weather points out that Indiana actually enjoys four distinct seasons throughout the year – Summers, Winters, Spring and Autumn, which we'll explain in brief below. Also, just a heads up that spring and summer months are when the state is vulnerable to an alarming frequency of thunderstorms and floods.
Winters (Mid-November to Mid-February): Winters in Indiana tend to be cloudy even though it isn't when the state receives any rainfall. Lack of sunlight causes seasonal affective disorder (SAD) for residents especially in the month of January, which is the coldest month of the year. Among all the regions, the northwestern parts of Indiana receives the most snowfall (approx 10 inches), while areas in the south would receive approximately 4 to 5 inches.
Summer (June to August): The month of June brings in the warm weather when temperatures begin to rise and range between 28-30 degree Celsius. Indiana is known to have plenty of flat land. But on the plus side, this type of prairie landscape makes it perfect for stargazing and camping under the big blue sky during the summer months. Do note that even though things might seem like rainbows and sunshine, you have to keep an eye out for tornadoes and thunderstorms that are more active during the end of summer.
Spring (March to May): It is considered that Spring in Indiana is a tale of stark contrasts, since it can seem to be warm, sunny and pleasant for most of the day. But in contradiction, things can also get pretty unpredictable during spring, since it is also the state's wettest months. The month of May in particular is a period when the state sees the highest number of storms.
Autumn (September and October): Fall is one of the best times of the year in Indiana when thousands of residents and tourists rush to Brown County State Park, Hoosier National Forest and Turkey Run State Park. It's kind of the peak season to capture pictures and experience the beautiful fall foliage that is only on display by mid-October.
Transportation In Indiana
Roadways
The state of Indiana is a hub of several major interstate highways which is why it's referred to as the 'Crossroads of America'. It serves as the central junction for 4 major interstate highways namely: Interstate 65, 69, 70, and 74. The other major U.S. Interstate highways in Indiana are I-64, I-265, I-465, I-865, I-469, I-80, I-90, I-94, and I-275. This massive network of interstate highways and state highways help residents connect to the rest of the US.
However, when you actually have to get around, there's hardly any non-car means of travelling within the city. The public transit options are limited to the big cities such as Indianapolis, Bloomington, Gary, and South Bend. The most used bus network in the city is 'IndyGo' that operates in the city of Indianapolis and offers 31 fixed routes that cover the interior of the city in a criss cross manner. A one day fare on the IndyGo would cost you $4.
A new addition to the IndyGo bus service has been the Red Line that runs 13 miles every 15 minutes to cover all the major educational institutions, healthcare facilities and largest employers of downtown Indianapolis. The rapid Red Line surely helps residents make their way around town more convenient. Uber, Taxis and Lyft are all available in the city of Indianapolis. However, this can be an expensive means of transportation.
See also: Indiana DMV Change of Address
Airports
The state's largest and most extensive airports are:
Indianapolis International Airport
Evansville Regional Airport
Fort Wayne International Airport
South Bend International Airport
A notable fact about the Indianapolis International airport in particular is that it is home to the second largest FedEx Express hub in the world and is also ranked as the sixth busiest U.S. airport in terms of air cargo. This airport was also named 'Best in the nation', four times in a row by Condé Nast.
Trains
The state of Indiana has a couple of Amtrak stations, some are located near Lake Michigan and others are spread out in the central region of the state.
The four Amtrak trains travel to major cities including Chicago, Cleveland, Cincinnati, Boston, Washington D.C. and New York City. Below is a short list of the Amtrak train lines that run in Indiana that help residents plug into some of the most recognised big cities.
The Capitol Limited Amtrak route – This route runs daily between Washington D.C. and Chicago and stops at Waterloo station in Indiana. Giving passengers the advantage to reach West Virginia, Pennsylvania, Ohio, and Illinois.
The Cardinal Amtrak route – This line travels between New York and Chicago (through DC) three times each week. The train stops at Connersville, Indianapolis, Lafayette, Rensselaer and Dyer in Indiana.
The Lakeshore Limited Amtrak route – Once again this route also travels between Chicago and New York. The train line stops at South Bend, Elkhart and Waterloo in Indiana.
The Wolverine Amtrak route – This line travels between Chicago and the city of Pontiac in Michigan three times a day in each direction. It is the longest Michigan rail route and stops at Hammond-Whiting and Michigan City in Indiana.
Job Market In Indiana
It's true that the economy of Indiana is largely dominated by manufacturing. Three of the major companies making some big contributions to the economy include Cummins, which is an organization that manufactures and distributes power generation products and engines. The next company is Anthem, which is a provider of health insurance in the US. And the third company is Eli Lilly and Company, which is a leading pharmaceutical company that has its headquarters in Indiana.
The state is also presently one of the leading exporters of motor vehicles, auto parts, pharmaceuticals, electrical and medical machinery. Do note that the Pharmaceutical industry in particular is considered to be one of the largest employers of Indiana and plays a key role in helping residents find lucrative job opportunities.
Key Takeaway – A large percentage of Indiana's economy depends on manufacturing, healthcare and biotechnology. Agriculture is significant in the more rural areas of the state. Surveys state that Anesthesiologists, Obstetricians, Gynecologists and Psychiatrists are the top performing job roles.
Cost Of Living In Indiana
According to Zillow, the average median listing price of homes in Indiana is $167,897, which makes housing here 19% lower than the national average. While the cost of living is roughly 8% lower when put up against the national average. This could possibly mean that you can achieve the American dream without burning a huge hole in your pocket in Indiana.
In addition to that, the average median household income needed to live a comfortable life in Indiana is roughly around 45-55 thousand dollars. Once again, this is extremely affordable compared to most states in the US. While the average single person monthly cost is approximately $874/month, this is the estimated cost without rent. Which proves that it's true that your dollars could get more value and last longer in Indiana. Do note that we are providing a rough figure so you can see things at a price point. However, the funds you spend could definitely vary depending on the locality and lifestyle you adopt.
See also: Most Affordable States to Relocate
Renting
The average median rent of houses in Indiana is $1,050. According to reports by HomeSnacks, that's 36% less than the national average. If we had to put a number on it, this means that the average rent in Indiana is $1050, while the national average rent for the same apartment would be $1,650. Now that you have a rough number to compare the rent prices, we'd recommend comparing it with the town you'd like to live in to understand if you would considerably be saving way more by moving to Indiana.
To put things even more into perspective, let's do a comparative analysis with the tentative rent costs in the other Midwestern states so you can see things from a price point:
1 bedroom home in Indiana – $795
1 bedroom home in Illinois – $1,395
1 bedroom home in Minnesota – $1,299
1 bedroom home in Ohio – $799
So, if relocating to a state in the midwest has been a dream, chances are it is most affordable to rent a space in Indiana in comparison to states like Illinois, Minnesota or Ohio. We've done this comparison just so that you have a fair idea of how much you could save annually. However, do note that the town you choose will make a huge difference to the housing budget. In Indiana, like any other state, there are certain neighborhoods like Whitestown, Zionsville, Westfield, Carmel, Avon and Brownsburg, where the cost of rent is way higher than the state's average median rent.
Education
Top-Rated Indiana Colleges
1. University of Notre Dame, Notre Dame
2. Purdue University, West Lafayette
3. Rose-Hulman Institute of Technology, Terre Haute
4. Indiana University, Bloomington
5. Wabash College, Crawfordsville
6. DePauw University, Greencastle
7. Butler University, Indianapolis
8. University of Evansville, Evansville
9. Taylor University, Upland
10. Earlham College, Richmond
Top-Rated Indiana Schools
1. West Lafayette Community School Corporation, West Lafayette
2. Carmel Clay Schools, Carmel
3. Zionsville Community Schools, Zionsville
4. Brownsburg Community School Corporation, Brownsburg
5. Hamilton Southeastern School District, Fishers
6. Plainfield Community School Corporation, Plainfield
7. School Town of Munster, Munster
8. Southwest Allen County Schools, Fort Wayne
9. Northwest Allen County Schools, Fort Wayne
10. School Town of Speedway, Speedway
Top Cities To Move To In Indiana
1. Indianapolis
Indianapolis, also known as Indy, is the state capital and the most populous city of Indiana. Moreover, it's also the third most populous city of the entire midwestern region. Few of the traits that form the character of Indianapolis is the thriving culture of small businesses, tight-knit communities, recreational opportunities, variety of options for eateries and large number of shopping centers. This city is also located in the heart of the state and is considered to be the hub for job opportunities and affordable housing.
Median price of homes sold: $129,300
Median rent: $865
2. Carmel
The city of Carmel is often recognised as one the best small cities to live in and is considered to be one of the ideal places to raise a family and start a career. Carmel is known to have high-paying jobs, low crime rate, excellent school systems and is located in close proximity to Indianapolis. Although a majority of the population belongs to affluent classes, the town is still extremely diverse and welcoming to people from all walks of life.
Median price of homes sold: $330,600
Median rent: $1,199
3. Fort Wayne
The city of Fort Wayne is located in the northeastern portion of Indiana, which is slightly far off from the central heart of the city. However, it still manages to stand as the second most populous city of the state. Huge corporations and some of the largest employers have their headquarters in this city, which makes a hub for young professionals looking to grow their career. Residents can also easily commute to neighboring cities like Chicago, Indianapolis, Detroit, Cincinnati, and other metropolitan areas from this city for jobs.
Median price of homes sold: $110,600
Median rent: $735
4. Zionsville
Purchasing a house or renting in Zionsville is on the higher end in comparison to the rest of the cities. However, this is probably because of the high quality schools, hospitals and restaurants in the neighborhood. Overall, the town is recognized to be the best place to raise a family. You'll find that it is filled with quirky boutique shops, brick streets and compact neighborhoods. With close proximity to Indianapolis, state parks and lakes are also a plus of residing in Zionsville.
Median price of homes sold: $369,600
Median rent: $1,305
5. Bloomington
The city of Bloomington is often referred to as a college town and is located in the south-central part of Indiana. Aside from being recognised as an iconic college town with a vibrant student population, the city boasts of cheery communities and ample job opportunities for young professionals. Yellowwood State Forest and Brown County State Park are two of the most scenic getaways of the state, located just 30 minutes away from Bloomington. The city is also extremely green compared to others since it is a designated 'Tree city'.
Median price of homes sold: $182,100
Median rent: $887
See Also: 7 Cheap Places to Live in Indiana
FAQs about Moving to Indiana
Is it a good idea to move to Indiana?
If you're one who loves a quieter and slower pace of life, then moving to Indiana would be right for you. It's great for those who are in the automotive industry, as the Hoosier State is the second largest automobile manufacturing state. This Midwestern state is typically overlooked by most, especially the fact that it's one of the most affordable places to live in the US. But of course, for those accustomed to a fast-paced lifestyle, Indiana would be something of a shock.
What should I know before moving to Indiana?
Indiana is crazy about sports, most notably basketball and the Indy 500.
The Hoosier State has unpredictable weather: it may be freezing today and humid tomorrow. Also, don't be surprised if you get a hail or a storm warning!
Indiana is among the top 10 states in the US with the lowest cost of living. The state has a booming economy with healthcare, automobile and farming as the leading industries. Add to it the fact that it's also a great hub for education, thanks to Indiana University Bloomington, Purdue University and the University of Notre Dame. What's exciting is that the countryside of Indiana is amazing! It's home to hundreds of lakes, forests and resorts.
Is Indiana a bad place to live?
Indiana is beyond doubt a place where life is slower. So, for those who aren't accustomed to it may find themselves bored. But that doesn't necessarily mean that Indiana is a bad place to live in. The state admittedly has a less-than-par healthcare system thanks to inadequate funding. Also, Indiana doesn't offer protection against discrimination on the basis of gender, identity or age, but the relatively low rate of crime here makes up for it somewhat.
Is Indiana a poor state?
While Indiana is among the poorer states in the US, it definitely does much better than the other states in the region. CityRating estimates the average annual salary of the residents of Indiana to be $41,660. This is lower than the US average of $49,808.
What is the most dangerous city in Indiana?
With a crime rate of over 47 per thousand residents, Michigan City is the most dangerous city in Indiana, according to NeighborhoodScout. The violent crime rate here is one in 139, while the rate of property crime, the most prevalent in Michigan City, is one in 25.
What is a good salary in Indiana?
According to Considerable, if you have a family of four and earn in the range of $47,125 and $141,374, you'll be in the middle class.
How much do you need to live comfortably in Indiana?
According to LivingWage, a family of four with both parents working would have to earn about $64K annually (excluding taxes). The lower cost of living in Indiana makes it easier on the wallet too!
Is it cheaper to live in Indiana or Illinois?
The cost of living in both Indiana and Illinois is lower than the national average. However, Indiana, with a cost of living index of 82.1, is much cheaper than Illinois, which has a cost of living index of 93.4.
What are the Pros and Cons of living in Indiana?
Pros of living in Indiana:
Affordable housing and low cost of living
Wide open countryside and a more peaceful pace of life
Four distinct seasons
The state has a wonderful food and drink scene
Indiana has a booming economy and there are many job opportunities
The rather small cities and its streets aren't choked with traffic and smog
Cons of living in Indiana:
The slow paced life may not be for everyone, and there's hardly any nightlife
Indiana is far away from the sea
The weather can be unpredictable and at times wild.
Indiana isn't a very diverse state, and may be a deal-breaker if this is important for you
Why are houses so cheap in Indiana?
The large availability of land in Indiana, coupled with factors including a low average salary and cost of living make for cheap housing in the Hoosier State. According to BestPlaces, the median home value in Indiana is a mere $142,600 compared to the US average of $231,200.
What's the richest city in Indiana?
Zionsville in Boone County is the richest city in Indiana. This small city, which covers over 67 square miles and home to 28,343 residents, has a quaint suburban feel to it. Unsurprisingly, Zionsville is quite expensive, with an average home value of $443,383. The cost of living here is 123.5, which is much incredibly higher than the state average of 82.1.
---
Our Take On Indiana
The Midwestern regions are often overlooked and considered to be 'flyover countries'. However, the friendly communities, slow pace lifestyle, low cost of living and quaint surroundings of Indiana can change anyone's perspective of the Midwest. Despite being one of the relatively smaller midwestern states, Indiana has its own share of booming metropolitan towns, a diverse economy and an extremely attractive cost of living. Overall, Indiana surely possesses a growing population and momentum. Now doesn't that make some compelling arguments in favor of moving to Indiana?
Related: Planning to move to Indiana, here's the list of top 10 affordable moving companies and Best Moving Companies In Indiana for your long distance relocation!