Moving To Iowa – 2022 Cost of Living & Relocation Tips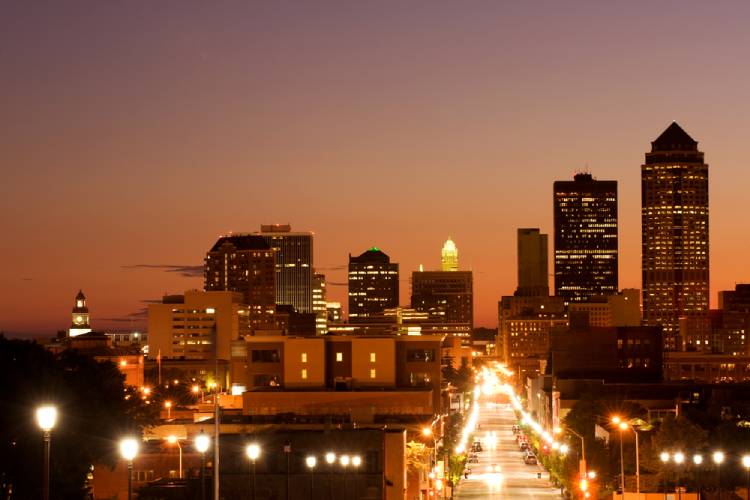 Iowa or the Corn State offers a lot to its citizens and welcomes newcomers with wide-open arms into its boundaries. With a population of just over 3 million, it's safe to say that finding an Iowan neighborhood or two filled with the peace you so desire should not be a hassle. Being in the Midwestern part of the U.S., Iowa is bordered by the Mississippi, Missouri, and Big Sioux rivers. This means you're going to be pampered with picturesque landscapes while you go on those long drives – Loess Hills being one prominent example.
But, we cannot move to a place based just on its beauty and aesthetic value, can we? Other factors such as cost of living, weather, etc. come into play as well. To help you decide, we've created this extensive guide for you in which we've covered everything you would need to know before moving to Iowa. Read on to find out more and see if this state suits you well.
Weather In Iowa
Winters
Winters in Iowa are frigid and will require heavy woolen clothes to combat the cold temperatures. During the peak winter season, which is in January, temperatures range between 6°F to 33°F. The state receives around 30 inches of snow every year, thus giving you enough time to make snow angels and snowmen. If you're planning to celebrate Christmas in Iowa, then we should let you know that you'll get just 14 short days of sufficient sunlight as the remaining days are quite cloudy.
Summers
Summers in this state are humid and pretty hot. So be prepared to install air-conditioning in your home as you might feel a bit uncomfortable if you're not a summer person. Average daytime temperatures begin from 81°F and can even hit 100°F in some places. If you're heading out of the house for anything during this time, please apply sunscreen and/or wear a light-colored hat.
Summers are accompanied by frequent thunderstorms, tornadoes, and intense rainfall patterns as well. Check weather forecasts before going out anywhere, and keep a raincoat or an umbrella in your car's boot.
Spring
Cloudy, serene, and wet are some of the adjectives used to describe Iowa's springs. Average daytime temperatures fall between the comfortable range of 71°F to 76°F which makes trekking at Ledges State Park delightful. Night temperatures average between a cozy 50°F to 55°F, thus making your nights snug with the prospect of warm beverages.
We did mention the serenity of Iowa's springs, but it can get boisterous when the region gets hit by tornadoes. Again, watch out for weather forecasts, and take the necessary precautions to protect yourself and your family during such cases.
Autumn
Autumn is beautiful in Iowa. This is the time the stormy weather fizzles out and you get warmer days (21 days on average) with long hours of sunshine. High temperatures go on an average of 73°F to 79°F, whereas night time temperatures fall between the comfortable 48°F to 57°F range. Visit Lewis and Clark State Park and Reiman Gardens Fall Color Walk to relish Iowa's soothing autumn weather.
Transportation In Iowa
Roadways
Iowa has 4 main interstate highways running through the plains of the state, connecting to all of its major cities. Therefore, commuting by car in Iowa is much more of a breeze since it's efficient and convenient, making it the prime reason for Iowans choosing driving over public transport in the state.
Along the western ridge of Iowa, you have Interstate 29 (I-29) connecting Council Bluffs and Sioux City. You then have I-35 coming from Minnesota and Missouri which touches the state's capital Des Moines. I-74 connects to Davenport, and 1-80 runs through the state's capital, ultimately touching the western I-29.
You then have I-380, which is an auxiliary interstate highway that begins from I-80 and reaches Cedar Falls and Waterloo. However, when you're on these highways, be careful not to go too fast. The last thing you want is a speeding ticket to dampen your journey.
Airways
Airports are plentiful in Iowa (122 in total, to be precise), so you don't have to worry a lot about getting to the state by plane. The Des Moines International Airport is the main one for all your international-cum-domestic flights. The Hawkeye State also has multiple regional airports scattered all over the state such as:
Davenport Municipal Airport
Dubuque Regional Airport
Fort Dodge Regional Airport
Mason City Municipal Airport
Sioux Gateway Airport
Southeast Iowa Regional Airport
Waterloo Regional Airport
Railways
Your best chance at railways in Iowa is catching the Amtrak's California Zephyr that runs along with Chicago and Emeryville, California. Along its route, the Zephyr reaches the stations of Burlington, Ottumwa, Osceola, Creston, and Mount Pleasant. Amtrak's other train, known as the Southwest Chief, travels from Chicago and Los Angeles and serves Fort Madison.
Job Market In Iowa
Iowa mainly runs its wheels on the agricultural sector that generates close to $30 billion per annum. Since it is blessed with fertile land fit for farming, its main agricultural sources of income come from harvesting corn, soybean, and through the production of pork and eggs, which is why you will find a lot of food processing units that have set up base in Iowa.
Iowa's economy is not solely restricted to the agricultural field. Apart from this, Iowa has biosciences, advanced manufacturing, and financial services as its prime economy contributors. Due to such diversity, the unemployment rate is just 4%, which is below the U.S. average of 6%. If you're moving to Iowa for the sole purpose of work, then we must say that you're making a sound choice.
Here are some top employers situated in Iowa that have consistently generated massive employment opportunities and added to the state's economy:
CRST International
The Merrill Company 
DuPont Pioneer
Whitney Corporation of Iowa
United Coop Hampton
Also See: The Best and Worst U.S. Cities for Job Seekers
Real Estate In Iowa
Buying A House
If you're thinking about real estate in Iowa, then you're in luck because the median home price is just $180,839. As compared to Illinois and Indiana, which are also Midwestern states, you can be sure of the fact that you're going to save a lot on buying a house here in Iowa. On the flip side, property tax rates are slightly on the higher end as the effective rate stands at 1.53%, which is higher than the U.S. average. If you want to save a couple of bucks on property taxes, then start looking for houses in Pocahontas County. The average effective property tax rate here is 1.12%.
Renting A House
Rent differs according to the size of the apartment and the locality, but the average effective rent rate in this state is $1,027 per month, according to RentCafe's data. That is approximately 45% lower than the national average of $1,877, which is pretty profitable for you. Try renting an apartment in the winter months since rent rates are low during that time, making it feasible for you to strike good deals. 
Also Read: Moving in Winter: Smart Tips and Strategies
Crime Rate
You wouldn't have to worry too much about being mugged or robbed in this state since its crime rates are below the national average. According to NeighborhoodScout, the median rate of violent crimes (per 1,000 residents) is 3.01 on the violent crime index, which is below the U.S. median of 4. Similarly, the rate of property crimes (per 1,000 residents) is 16.84, below the national median of 19.
Cities having low property and violent crime rates are Clive, Eldridge, Pella, Johnston, and Bettendorf.
Cost Of Living In Iowa
It only makes sense to move to a new state if there's a lower cost of living – preferably, lower than the state you're living in. According to RentCafe, Iowa has a cost of living that is 9% below the national average. And this has all got to do with the cheap real estate, utilities, transportation, and food costs.
Iowa has by far the best healthcare in the country. To account for all the quality equipment and staff, healthcare is 2% above the national average. But, it's still affordable when you consider the big picture and the stellar services.
For homeowners, the average utility bill in Iowa comes to roughly $377 per month, which is 5% lower than the national average. Surely, you're going to see a lot of extra zeros in your bank account since you're going to save so much. Here is an approximate amount you're going to spend on utilities in the Hawkeye State every month:
Electricity – $94
Gas – $72
Water – $32
Sewer – $33
Cable – $55
Wifi – $50
The median household income in this state is around $60,523, which is 2% lower than the U.S. average of $61,937. However, you won't have to worry about making huge cuts to your lifestyle because the cost of living is relatively low, compared to other states. If you don't have a family, then a salary of $28,327 per annum will be sufficient to afford Iowa, according to LivingWage.
Education In Iowa
Where public education is concerned, Iowa shines because its high school graduation rates are among the highest in the country. The Iowa Department Of Education ensures that their students receive holistic training in fields such as technology, finances, and health. Mark this point if you've got children and want them to receive quality education in your new home state.
Top-Rated Iowa Schools
Decorah High School, Decorah
Pleasant Valley High School, Bettendorf
West Senior High School, Iowa City
Ames High School, Ames
Top-Rated Iowa Colleges
University of Iowa, Iowa City
Drake University, Des Moines 
Iowa State University of Science and Technology, Ames
Grinnell College, Grinnell
Top Neighborhoods To Move To In Iowa
Clive
If you're looking to buy a house in a homely community that has access to a great education, then this suburb of Des Moines should be in the crosshairs. Schools such as Prairieview School, Walnut Hills Elementary School, and the amazing Waukee School District that has some of the best schools in the state, are located well within Clive. So, if you're moving with children, then this place will be much more ideal. Another reason why Clive should be considered for your next move is because of its low crime rate. Without a doubt, this matters as the safety of your children is indispensable. Plus, you have the Blank Park Zoo and the Science Center Of Iowa just a few miles away from this suburb.
Median Home Value: $264,300
Monthly Median Rent: $987
Pella
You'll find a lot of Dutch elements in this part of Iowa which the Dutch immigrants brought about. The Dutch heritage museums are a testament to how this part of America got its streak of warm Scandinavian hospitality and liveliness. But this multicultural standpoint is not the only reason why you should move to Pella. Its poverty levels and unemployment rates are some of the lowest in the state, all thanks to the job opportunities it provides. If you're looking to make a living, then consider Pella as your next home. Pella Middle School is also among the state's highly rated educational institutions, furthering the logic as to why you should buy a home in this city.
Median Home Value: $187,500
Monthly Median Rent: $864
Johnston
If you're searching for a city that has quality public schools, then look no further than Johnston. With reputed schools such as the Summit Middle School, Henry A Wallace Elementary School and Johnston Middle School, the graduation rate in this city of Iowa has been ever-increasing. Its low student-teacher ratio (18:1) has made Johnston successful in its educational endeavors for many decades now. Its crime rate is among the lowest in the state as well, making it feasible to begin a new life here whether you're just starting a family or have decided to spend your golden years in peace.
Median Home Value: $268,303
Monthly Median Rent: $1,148     
Eldridge
Eldridge has been through a lot after its initial discovery. It got secluded when it got hit by the smallpox epidemic in the early nineties, followed by a heavy fire affecting the businesses of many in that same era. The region's misfortune culminated in a massive tornado that destroyed the livelihoods of many locals. However, owing to its community, this little city rebuilt itself bit by bit, and that same sense of harmony is carried out in Eldridge even today.
Today, Eldridge consists of plenty of people wanting to raise families as well as youngsters wanting a good standard of life, Eldrige is home to all things community. The crime rates in Eldridge are pretty low due to this as well. If you want a place that has a good sense of closeness and peace, then Eldridge is the city you need to mark.
Median Home Value: $254,500
Monthly Median Rent: $800
Bettendorf
This major metropolitan area in Iowa, located in Scott County, is one of the largest cities among the Quad Cities (Davenport–Moline–Rock Island, IA-IL Metropolitan Statistical Area). If you have to travel to Chicago or St. Louis, you don't have to cover much distance because Bettendorf is in close proximity to them. Apart from its closeness to other metropolises, this city also has an efficient emergency service department, helping it in earning a few brownie points to its name.
Adding to the pluses, two school districts (Bettendorf Community School District and the Pleasant Valley Community School District) look after the educational demands of this large city, and the job market just keeps on growing. Needless to say, there's always something for everyone in this city and that's why you need to consider Bettendorf as your new home.
Median Home Value: $225,300
Monthly Median Rent: $950
FAQs On Moving To Iowa
Is Iowa A Good State To Move To?
Iowa has a low cost of living, good educational institutions, and a booming economy. Plus, the crime rates in this state are among the lowest in the country. Considering all these factors, it would not be a lie to say that Iowa is a pretty good state to move to.
Is Iowa Cold In The Winter?
To survive Iowa's winters, you'll have to buy some heavy woolen clothes since it gets pretty cold in the state. Temperatures lie between 6°F to 33°F along with a substantial amount of snow, so get your shovels ready to clear your driveways regularly.
How Often Do Tornadoes Happen In Iowa?
Iowa sees an average of 50 storms happening year-round. This is because it's part of the Tornado Alley, America's central region where tornado activity is slightly higher than other states. Be alert when warnings of thunderstorms or tornadoes are broadcasted, and take all the necessary precautions in such scenarios.
See Also: Top Out of State Movers in the USA