Moving to Missouri | 2022 Cost of Living and Relocation Tips


VanLines Inc
Secure Storage
Easy Booking Process
Fully Trained Employees
GET QUOTE

Colonial Van Lines
Storage Services
Long-Distance Moves
Corporate Relocations
GET QUOTE

Moving APT
Available Nationwide
Award-Winning Movers
Extensive Vetting Process
GET QUOTE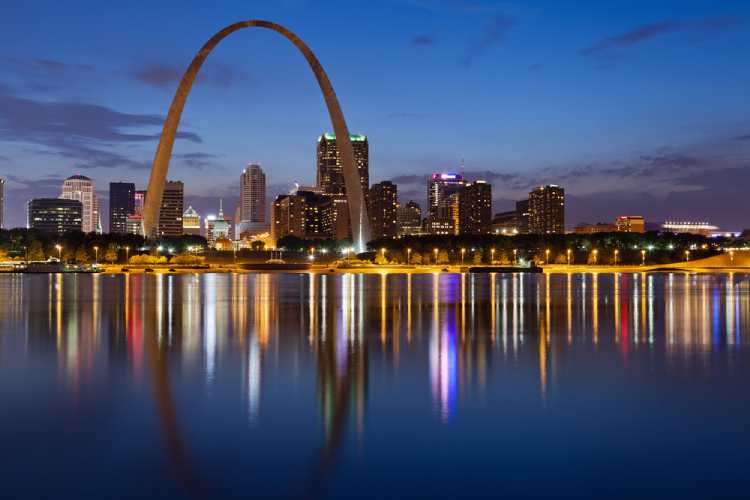 The state of Missouri is located in the midwestern region of the United States. It is known to be a great destination for those who are drawn to the midwestern culture of close-knit communities, need access to natural surroundings, admire sparsely populated towns and desire a low cost of living. In its essence, a large portion of the state is rural, which even makes it a fantastic region for homesteading. And it's true that you won't take much time to find an off the grid town here. Having said that, Missouri also has its share of progressive urban areas such as St. Louis, the iconic Kansas City, Springfield and Columbia. There's no doubt that every pocket of the state has different personalities.
Upon observation, the state is located far away from the Pacific or Atlantic ocean. However, don't be mistaken that it doesn't enjoy a shoreline. In fact, interestingly Missouri boasts of a shoreline that is as large as the coast of California. The most popular destination for waterfront activities is the Lake of the Ozarks which is made up of 1,100 miles of shoreline. It offers residents the chance to go for a swim, visit beaches for picnics and tons of other recreational opportunities. It's obvious that Missouri offers a wide variety of advantages for new residents.
But moving homes is a life altering decision. And you'll probably want to research beyond the tourist level description of the state. Therefore, we've gone knee-deep into other aspects to consider before moving to Missouri.
Weather In Missouri
The state of Missouri enjoys all four seasons. You would have the coldest months in January and February, while the hottest would be July and August. And the north and south portions of the state experience contrasting weather conditions. Below is a short description of the temperatures you can roughly expect during each season:
Winters (Mid-November to February) – The cold season lasts long in Missouri and comparatively mild in the southeast portion of the state. You can occasionally expect temperatures to drop below freezing during the nights. While in the day, temperatures would fall in the range of 33°F (0.6°C) to 46°F (7.8°C). There's regular amounts of snowfall and the state typically receives roughly 20 inches of snow a year. Do note that winters can get bitterly cold during the month of January.
Summers (June to August) – The summers tend to be extremely humid with episodes of rainfall cooling the air. Since Missouri is also situated in the Tornado Alley of America, the state is prone to thunderstorms during the summers. Although there is enough sunshine, you have to keep in mind that summers are the wettest months of the year. Missouri receives roughly 5 to 7 inches of rainfall during the summer months (especially June). On an average, high temperatures fall in the range of 80°F (26.7°C) to 87°F (30.6°C). Occasionally, in July (which is the hottest month), temperatures can stay at 100°F (37.8°C) for days.
Spring (March to May) – Spring is the most awaited time of the year. The warm sunshine brings back the state to life after the cold winter months. Temperatures fall in the lovely range of 62°F (16.7°C) to 70°F (21.1°C) during the day. It can get colder in the nights. Most residents head to Ozark Lake which is the ideal place to have some fun while the sun shines. Although, you would have to keep an eye out for thunderstorms, strong winds and rainfall on occasional days.
Fall (September to mid-November) – Clear skies, colorful landscape and pleasant weather makes fall the most wonderful season in Missouri. The North of the state is much cooler than the rest. And you can expect average high temperatures to be 77°F (25°C) to 82°F (27.8°C), while temperatures could also drop from about 55°F (12.8°C) to 62°F (16.7°C). Tower Grove Park, Hawn State Park and Mark Twain National Forest are the best places to catch fall foliage.
Transportation In Missouri
Buses
The transportation system in the state is overlooked by the Missouri Public Transit Association (MPTA). The basic role of this organization is to make it easier for residents to connect to major hubs and work spaces by buses that follow a fixed route.
The most populated areas of the state namely St. Louis, Kansas City, Springfield, Columbia, St. Joseph, Jefferson City and Joplin are well-connected by the fixed bus service provided by the MPTA. Small towns and rural areas here are served by the Southeast Missouri Transportation System (SMTS) and OATS Transit that covers 87 counties in rural Missouri. It's safe to say that both big cities and small towns have regular fixed route bus systems for public transportation. This is a reliable service, but access to these modes largely depends on where you would be residing.
Apart from these agencies, the city of St.Louis in particular is served by the 'MetroLink' that is a mass public transit system shared by Missouri and the Metro East area of the state of Illinois.
Railways In Missouri
Like most states in the US, Missouri also has its fair allocation of Amtrak railway stations. All the 11 Amtrak stations are situated in the state's major cities and Missouri has 4 railway lines serving the residents of Missouri.
Below is a description of the 4 Amtrak railways lines in operation:
Lincoln Service – Runs daily between St.Louis in Missouri upto the city Chicago
Missouri River Runner – Connects the two big cities of Missouri by travelling between St.Louis and Kansas city
Southwest Chief – This route travels from Chicago all the way to Los Angeles with stops at Kansas city
Texas Eagle – This line is the longest route in the United States and is great to cover major attractions in Illinois, California, Arkansas and Arizona.
See also: Missouri DMV Change of Address
Airways
Some of the largest and most extensive airports in Missouri are:
St. Louis Lambert International Airport – This is the state's largest and busiest airport serving the St.Louis area.
Kansas City International Airport – Presently the most frequently used international airport.
Springfield-Branson National Airport – Easily accessible from the city of Springfield and greatest perk is that it has non-stop flights to 13 cities in the U.S.
Columbia Regional Airport – provides non-stop flights from Columbia to Dallas/Fort Worth, Chicago O'Hare and Denver International Airports.
Job Market
The major fields that are leading the state's economy are food processing industries, advanced manufacturing companies, manufacturers of electrical equipment and the biotechnology sector. Most of the top employers of the state fall in these categories. However, this is just a gist of the strong performers for the economy of Missouri. To give you a better perspective of the industries that are doing well, here is a list of the largest employers of the state:
A.G. Edwards (financial services company)
Adam's Mark (hotels and resorts chain)
Boeing Defence, Space and Security (world's largest defence contractors)
Mercy Hospital (healthcare)
Bayer CropScience (innovators in healthcare, agriculture and high-tech materials)
Hallmark Cards (retail chain industry)
Burns and Mcdonnell Engineering (offers engineering, architectural and construction services)
This list is just to give you an insight into the key industries. Overall, the state has a ton of lucrative job opportunities in a wide range of industries. But keep in mind that most of the high paying jobs are concentrated in urban areas such as St Louis and Kansas city. Depending on the field of work you are drawn towards, you can apply for a variety of positions within these industries.
See Also: Most Affordable Places to Live in Missouri
Renting In Missouri
According to reports by HomeSnacks, the average median rent of houses in Missouri is $1,042, while the national average is roughly $1,650 (that's a 36% difference in cost). Renters can surely rejoice at this data, since there's a huge margin in costs in comparison to the rest of the nation.
To put things into perspective for you, we've compiled a list with the tentative rent costs for a 1 bedroom in the neighboring states. This helps you compare rent costs with a rough price point:
1 bedroom home in Missouri – $825
1 bedroom home in Tennessee – $1,100
1 bedroom home in Illinois – $1,395
1 bedroom home in Kentucky – $866
1 bedroom home in Arkansas – $660
1 bedroom home in Oklahoma – $715
This shows that renting in Missouri is pretty reasonable in comparison to the neighboring states. Having said that, just a heads up that in certain neighborhoods such as Dardenne Prairie, Ladue, Des Peres, Sunset Hills and Weldon Spring, the cost of rent will be much higher. Now that's because these are the more affluent parts of town with competitive costs.
Cost Of Living In Missouri
Missouri currently holds the rank for having the fifth lowest cost of living in the United States. The average median value of homes is $173,541 (according to Zillow), proving that home ownership in the state is incredibly cheaper than the rest of the nation. This makes it easier to achieve the American dream. To further emphasize, this means you would be paying roughly $159,500 for a home in Missouri, while the same home elsewhere would cost you $231,200.
When it comes to the cost of utilities, a single person would probably need to budget around $850-$950 per month (without rent). But depending on your lifestyle habits and family size, cost could go way over this range. In addition to that, we'd like to mention that even though living here could possibly be inexpensive, one must keep in mind that median income is also considerably lower. The median household income in Missouri is $53,560 (according to Niche). This is slightly lower than the national average which stands at $55,322. Overall, your employer is going to factor in the decrease in expense. So, you can expect wages to be lower than the national average.
Do keep in mind that the price ranges we've mentioned above are just an average. It's only meant to help you give some kind of perspective on the cost of living in Missouri. Depending on if you choose to reside in the larger urban areas, costs could look slightly different.
Top Schools And Universities In Missouri
Top 5 Best Rated Universities:
Washington University in St.Louis
University of Missouri in Columbia
Truman State University in Kirksville
Missouri University Of Science And Technology in Rolla
University of Missouri (Kansas City Campus)
Top 5 Best Rated Schools:
Kirkwood School District
Lindbergh Schools
Ladue School District in St.Louis
The School District Of Clayton
Ozark School District
Top Cities To Move To In Missouri
1. Kansas City
Kansas City is the most populated region in the state of Missouri. The city boasts of incredibly affordable housing, low traffic and great job opportunities. Most of the tech and medical industries have their headquarters set up here and the city attracts a lot of young professionals. Kansas is also centrally situated in the middle of the country, making it easy for residents to connect to other major cities from here. Oak Park, Nall hills, Wycliff and Regency Park are few of the best neighborhoods here.
Median price of homes sold: $148,500
Median rent: $899
Also Read: Moving to Kansas City
2. St. Louis
The city of St. Louis lies on the border that separates Missouri from the state of Illinois. The city is home to a great variety of top-notch colleges, universities and medical facilities. Residents here have easy road access to big cities like Nashville, Chicago, Indianapolis and more. The city is pretty lively with events, game nights, and things to do year around and can be termed as a 24-hour city. If you're looking for a cosmopolitan city with an extremely diverse culture, St. Louis could be the city for you.
Median price of homes sold: $131,900
Median rent: $810
3. Springfield
Springfield is the third largest city of Missouri and is home to three universities, namely Missouri State University, Drury University, and Evangel University. The city to an extent is dominated by the college population setting the tone of the atmosphere here. Springfield lies in close proximity to recreational areas and is considered to be a mecca for outdoorsy people. Overall, you can find close-knit friendly communities and lots of churches here, since it is part of the Bible belt.
Median price of homes sold: $115,200
Median rent: $730
4. Jefferson City
Recognised by the fact that it is Missouri's capital city, Jefferson is one of the best places to live in the state. The city was chosen to be on the list for 'America's Most Beautiful Small Town'. Extremely family oriented in nature with a strong sense of community makes it ideal for retirees and families. Residents here enjoy access to clean public parks, easy commute and excellent school systems. The city can be on the quiet side of things, so you may have to head to other cities for entertainment options.
Median price of homes sold: $145,200
Median rent: $621
5. Columbia
Columbia is popularly known to be the 'Athens of Missouri', because of the classic architectural structures found here and the city's strong emphasis on education. The housing here is more expensive than the rest of the cities in the state. But Columbia overall enjoys a little bit of everything, and is a fusion of a small town with big city amenities. You can quickly connect to St.Louis and Kansas city from here for events and entertainment options. The neat streets also encourage residents to cycle or walk. It has a great balance of good schools, friendly communities and enjoys a central location.
Median price of homes sold: $185,700
Median rent: $854
FAQs About Moving to Missouri
How do I change my residency to Missouri?
Missouri considers you to be a resident of the state if you are domiciled in Missouri. In other words, you intend to maintain a permanent place of residency in Missouri or have at least spent more than 183 days in the state.
As a student if you've planned to shift your residency to Missouri, then you would need to fill the residency application form and submit a few documents with it as well. These would be the main documents that you would need to keep prepared:
Proof of residence in Missouri
Proof of taxable income
A copy of your Missouri driver's license (& auto registration, if applicable)
A copy of your Missouri voter's registration
A copy of pages 1 and 2 of the previous year's Federal 1040 tax form
For further clarification on the process or any other queries, you could reach out to –
The Residency Department, Office of the University Registrar, 125 Jesse Hall
Phone: 573-882-7881
Email: residency@missouri.edu
What is the most dangerous city in Missouri?
With a scary total crime rate of 94.05%, Springfield has been ranked as the most dangerous city in Missouri by RoadSnacks. Out of the total crime rate, around 15.32% account for violent crimes, while 78.73% account for property crimes in Springfield. Some of the other dangerous or high crime rates cities in Missouri include Branson, St. Louis, and Vinita Park.
What are the pros and cons of living in Missouri?
Popularly nicknamed as the Show-Me State, Missouri also has a lot of things to Show-You, both good and bad. These are some of the pros and cons of living in Missouri:
Pros:
Highly affordable housing costs and an overall reasonable cost of living
Mouth-watering food – yes, we are talking about the BBQ, waffles, gooey butter cake and slingers.
Warm, friendly natives
Easy commuting with less traffic
Variety of recreational attractions
Cons:
Extreme climate – humid summers and freezing winters
High crime rates
Low state ranking for healthcare and inclusiveness
Low job prospects
Where is Tornado Alley in Missouri?
Kansas City, Springfield and St. Louis are some of the cities that are prone to tornadoes in Missouri. So they could be considered as a part of Tornado Alley.
How long do you have to live in Missouri to be considered a resident?
You would need to spend at least 183 days of a taxable year in Missouri in order to establish your residency in the state.
How do I transfer my out-of-state drivers license to Missouri?
You have a period of 30 days to transfer your out-of-state drivers license to Missouri. You would need to go to the Missouri DMV office with your current out-of-state license and a few other documents such as proof of identity document, your social security card and number, and a proof of your Missouri residency. For a more detailed description of the process and the documents required, check our article Missouri DMV Change of Address.
---
Our Take On Missouri
The state of Missouri enjoys an impressively low cost of living and takes on multiple personalities. You have areas that mimic the cosmopolitan nature of big cities, but at the same time small conservative towns where the network gets weak. Overall, it is only fair to state that Missouri is an interesting juxtaposition. Upon consideration of the lifestyle you're seeking for yourself or family, you can easily find the perfect blend of city and rural life in Missouri. So if you're considering moving to Missouri, make sure you plan things well in advance. Get in touch with us to find out who are the best movers to help you with the job!
See also: Best States to Live in the USA