Moving To Indianapolis | 2022 Cost of Living and Relocation Tips


VanLines Inc
Secure Storage
Easy Booking Process
Fully Trained Employees
GET QUOTE

Colonial Van Lines
Storage Services
Long-Distance Moves
Corporate Relocations
GET QUOTE

Moving APT
Vetting Process
Award-Winning
Available Nationwide
GET QUOTE
Our Take
Price
Rating
Minimum Shipment Size
Storage
Booking Deposit
Cancellation Policy
Quoting Options
Discounts

Best Overall Value


GET QUOTE

2+ bedrooms




Free 30 Days




10%

Free up to 72 Hrs

Phone / FaceTime / Text

Senior / Same day Booking

Best Industry Reputation


GET QUOTE

1+ bedrooms




30 Days




20%

Free up to 72 hrs

Phone / Facetime

Seniors Discount

Best Customer Service


GET QUOTE

1+ bedrooms







Free up to 72 hrs

Phone / Virtual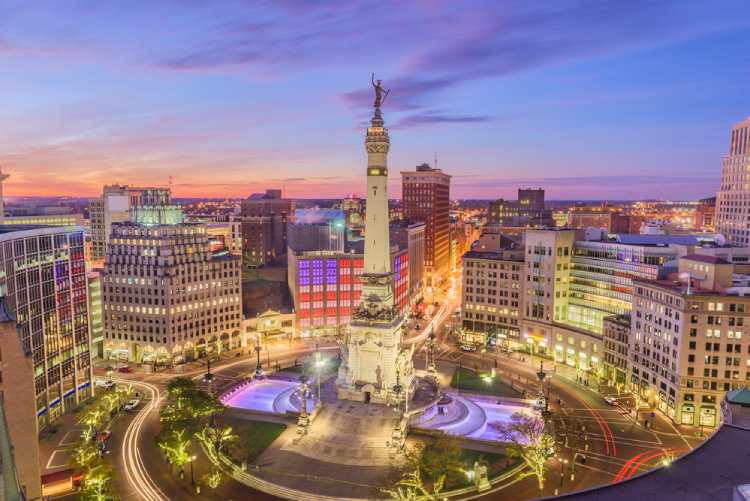 Indianapolis is a huge part of the character of the state of Indiana so much so that even the names can't be separated from each other. This city is a blessing to those looking for a slower pace of life and a low cost of living.
We're going to assume you have your own set of good reasons to move here and we're going to get you up to speed about what to expect in terms of weather, transport, cost of living, and much more. Consider this to be an all-in-one guide for moving to the best slice of the Midwest that is Indianapolis.
Weather In Indianapolis
Most of Indianapolis's weather gets classified into the humid continental climate category. Like most summers in the Midwest, it's going to be muggy. Temperatures tend to swing from one extreme to another in the spring and you'd have to be mindful about occasional thunderstorms. Again in winters, it could be a mix of rain and snow so you've to be prepared for either. This is just a rough overview that proves that it's wise to be dressed in layers as that's the best way to combat the weather patterns in Indianapolis.
Now that you have a small indication of what it could be like, let's get to know what to expect for each season starting with summers:
Indianapolis Summers: In terms of humidity, it's not as bad as Florida, but it's still not too far from it. Summers last from mid-May to mid-September and at times there could be no sign of any breeze. Temperatures you can expect fall in the 68°F to 85°F zone. But at times the temperatures go beyond 100°F for days!
Indianapolis Winters: The winters begin in the month of December and only show signs of retreating by the end of March in the city. The snowfall is a decent amount and winters are accompanied by rainfall. The city in 2021 saw roughly 7 to 9 inches of snow but at times also experienced just 3 inches of snowfall. There could be approximately 28 days during which it snows in the winters here. Temperatures during winters fall in the bracket of 22°F to 36°F.
Indianapolis Spring: The cloud cover in spring drastically increases and this is the time when the city is most prone to thunderstorms. Temperatures are pleasant so it's not too hot or cold, but you just have to be prepared with a light rain jacket or umbrella for the downpour. On an average expect conditions to be in the range of 45.1°F to 61.5°F.
In A Nutshell
The weather in Indianapolis can change colors overnight. The city could have a decent amount of snow on one day and on the next it could be clear.
You have to constantly look at weather updates to know what the conditions are going to be like.
On an average the year-round weather conditions are generally in the range of 22°F to 85°F.
Transportation
The local bus line is the major mode of public transportation in the city of Indianapolis. The operation and responsibility of the expansion of these bus lines work under the management of Indianapolis Public Transportation Corporation (IndyGo).
Buses In Indianapolis
There are over 31 bus routes to choose from and most of the buses have great coverage of the main points of interest in the city. The ridership for the bus line has crossed more than 9 million residents in the year 2019 and this proves that it is a convenient mode to take if you don't own a car.
IndyGo has also recently launched a new bus project that goes by the name of 'Red Line'. This bus line covers 13 miles of the city's most essential neighborhoods. You can take this line to get to the University of Indianapolis and all the hubs in the convention district of the city. For intercity travel, you can take buses that are operated by Megabus and Greyhound.
Biking In Indianapolis
The city of Indianapolis constantly gets recognition by several bike communities for being a bike-friendly city. According to the platform WalkScore, the city has a bike score of 99 on 100 proving that you can easily reach your destination by cycling. It's true that there's a good presence of well-maintained bike paths in the city and this means that infrastructure accommodates cycling enthusiasts.
Many residents rely on their bicycles to get to work and run errands. This is probably why the city won the title of being a 'Bicycle Friendly City' by the League of American Bicyclists in 2019.
Airports In Indianapolis
Does your work demand that you travel a lot? Or would you simply like to live in close proximity to an airport to travel and explore? Then you'd be happy to know that the Indianapolis International Airport sits just 7 miles away from Downtown Indianapolis. As a resident of the city, you'd be able to get here in less than 20 minutes from the southwest downtown hub.
In A Nutshell
The city is super bikeable so a large portion of your trips to the grocery store or social place of entertainment can be done by bike. Another viable option for intra-city travel is taking the bus line operated by IndyGo. For intercity travel, you can opt to go via roadway or take the Cardinal train line run by Amtrak.
Job Market In Indianapolis
The city of Indianapolis gets all the credit and attention for having a high concentration of well-established companies in the state of Indiana. The city also constantly tends to rank in various lists that bring out the best cities for jobs in the US. There's no doubt that there's a wide variety of job opportunities and you'll surely be spoilt with choice.
It can be considered as a successful metropolis on the job front. To gain a perspective of the largest and top-performing companies in the city, refer to the list below:
● Eli Lilly and Company (Pharmaceutical company)
● Anthem Inc (Insurance company)
● Finish Line Inc (Retail store)
● Simon Property Group (Real Estate company)
● Cummins (Multinational automotive corporation)
● Guidant Corporation (Healthcare manufacturing company)
● The Health Care Group (Healthcare organization)
These are a few of the largest employers of the city and showcase a bright picture of the health of the economy in Indianapolis. Another thing to note is that the city hosts the second-largest FedEx hub across the globe. This industry makes huge contributions by providing employment opportunities for residents. It's also the reason why the Indianapolis International Airport is the sixth busiest airport in the nation.
Cost Of Living In Indianapolis
Now let's introspect deeper into one of the biggest factors that new residents should ideally take into consideration before moving homes (drumroll please, it's the cost of living!). So let's get to it. Generally speaking, the city of Indianapolis is similar to the growth and pace of metropolitan areas like Chicago, San Diego, and even Denver. Now in comparison to such metros of similar size, the cost of living in Indianapolis is relatively lower.
Let's look at different aspects that indicate the cost of living is low so that you can have a better perspective. Things also vary depending on where you're coming from so this breakdown would help you see the financial outlook of this move to Indianapolis.
See also: U.S. Cities with Lowest Cost of Living
Housing Costs In Indianapolis
The median value at which homes are sold in Indianapolis fall in the range of $137,000 to $174,876. If you plan on being a homeowner, this is roughly the amount you have to be prepared to spend to invest in real estate.
Compared to the west or east coast, property is comparatively cheaper in the Midwest. That being the case if you're moving for either coast, you'd most likely be able to own a much bigger house for a lower price in Indianapolis.
Renting
The average rent in Indianapolis is somewhere between $892 to $940. Renters can rejoice at the fact that it is slightly lower than the national average for rent which stands at $1,062. The low rent prices are also probably the reason why 47% of the city's population choose renting over home ownership.
In certain hubs, the rent prices are going to be higher than this average. This is usually going to be the case when you're apartment hunting in Wholesale District, Woodland, and North Meridian.
Median Household Income In Indianapolis
On an average a large majority of households in Indianapolis earn $47,873 annually. This is the median household income of the city. On the other hand, a single adult would bring in an average salary of $29,167 per year.
This is a rough indicator of incomes in Indianapolis and your spending patterns will most likely depend on whether you earn more or less from these averages. These figures will also help you understand how much you should ask your employer if you're moving for a job in Indianapolis.
Cost Of Utilities In Indianapolis
According to Numbeo, a single person in Indianapolis spends roughly $877 a month on utilities and groceries. Typically, utility costs are just 2% lower than the national average, this means it could be difficult to save a ton of money on this aspect.
Also, note that 30k to 40k is what the average single adult makes in Indianapolis. So if you manage to bring in more than 70k a year, you can possibly maintain a more than comfortable lifestyle.
Top Schools And Universities In Indianapolis, IN
Top 5 Best Rated Universities
Indiana University–Purdue University Indianapolis (IUPUI)
University of Indianapolis
Butler University
Marian University Indianapolis
Martin University Inc
Top 5 Best Rated Schools
Rosa Parks-Edison Elementary School
Paramount School Of Excellence
South Creek Elementary School
Prairie Vista Elementary School
Northpoint Elementary School
Best Neighborhoods In And Around Indianapolis, IN
Avon
The neighborhood of Avon is one of the most desirable places to call home in Indianapolis. The perks of living here is that you can get to the international airport in just 15 minutes. Besides that, it's also a very lively place to reside since it's well connected to all the active spots of the city. By living here you'd be close to parks, stores, and the best eateries the city has to offer.
Median Value Of Homes: $210,600
Median Rent: $1,149
Noblesville
Noblesville sits in the north portion of the city and is an extremely neat place to live. The town looks picturesque because it enjoys lovely riverfront views of the White River. It's an ideal location for outdoor activities since the place is even home to Morse Park and a small beach-like area. This neighborhood definitely holds a charm and is easily accessible to the city center too.
Median Value Of Homes: $209,100
Median Rent: $1,039
Fishers
Fishers is another top-notch locality that sits right next to the neighborhood of Noblesville. This is a slightly affluent part of Indianapolis that's filled with several golf courses such as Ironwood, Gray Eagle, Prairie View, Plum Creek just to name a few. There are also a dozen green spaces and a few lakes in the surroundings that contribute to the place being peaceful. It's one of the safest neighborhoods in Indianapolis and is oriented towards families.
Median Value Of Homes: $264,400
Median Rent: $1,250
Carmel
This neighborhood is home to a little over 100,000 people and is a friendly community to be part of. You can easily find everything you need all within walking distance and this is the beauty of living here. Real estate is slightly more expensive than other neighborhoods, but this is probably the price paid to occupy such a wonderful neighborhood.
Several platforms like Money Magazine, Niche, WalletHub, and even SafeWise advise that Carmel is one of the best places to live in Indianapolis. Aren't you now tempted to check properties here?
Median Value Of Homes Sold: $333,200
Median Rent: $1,207
Broad Ripple
Broad Ripple is at the heart of where all the activity is in Indianapolis. Endless number of breweries, clubs, and eateries keep the atmosphere promising. There's a good number of waterways that cross through the city which are instrumental to the scenery of the place. Residents here also have access to Monon Rail Trail which is a great spot for cycling and walking.
Median Value Of Homes Sold: $229,537
Median Rent: $1,318
Also See: 8 Best Neighborhoods In Indianapolis For Families
FAQs
Why are houses so cheap in Indianapolis?
The median value at which homes are sold in Indianapolis stands at $174,876. This is relatively way lower than the national average. One of the possible reasons for this is there is a vast availability of flat land in the city, this allows for more development projects to succeed. Such a scenario ultimately eliminates the competition for homes.
What is Indianapolis like to live in?
Indianapolis possesses most of the traits of living in the Midwest. The pace of life is much slower but it won't feel like a sleepy town. The downtown area is lovely with all the amenities you could need. Keep in mind that Indianapolis is constantly expanding and is presently the third-largest city in the entire Midwest, so you get to be part of this progress.
Is it worth moving to Indianapolis?
If you're looking for a city that has an amazing lifestyle of good music, sports, and employment opportunities, Indiana is definitely worth moving to. First of all, the city has an unemployment rate of only 4.5% (compared to the US average of 6.1%) and a diverse economy with healthcare, tourism, and sports as the topmost industries operating in the city. Also, you'll get to experience all four seasons in this city. The city is called 'Crossroads of America', because of its location between Interstate 65, Interstate 69, Interstate 70, and Interstate 74, so you don't have to worry about your transportation as the city has the best public transportation services. So if you want to live in a city with lots of activities at a lower cost of living, Indianapolis is worth moving to.
Is Indianapolis expensive to live in?
There are several factors that you need to consider to see if you can afford living in Indianapolis. The average cost of buying a house in Indianapolis is between $137,000 to $174,846. If you want to rent a house, your monthly rent would be between $890 to $940. Speaking of the other utilities and groceries you'll need to take care of, you'll have to pay around $877 per month according to Numbeo. Compared to other cities in the US, Indianapolis is not that expensive provided you earn an average salary of over $30k a year (for a single person).
Is Indiana a good state to move to?
Indiana is definitely a good state to move to. Firstly the state has lots of sports clubs, biking activities that will keep you entertained. You won't even have to worry about burning a hole in your pocket as it is among the few states in the country with a low cost of living. Even your housing expenses will be quite affordable in the state. If you're wondering about the state's economy, it has grown especially in the healthcare, agriculture, real estate, and sports industries. So if you're keen on living in a big place with a small-town feeling, you should definitely consider moving to Indiana.
Is Indianapolis a bad place to live?
Although Indianapolis has a lot of activities that you can explore and a lot of places you can visit, the crime rate here is a noticeable drawback. The city has a property crime of almost 20% this year compared to its rate of 7% in 2020 according to SafeWise. Because of crime reports, especially property crimes, you'll need to think it through before choosing a neighborhood in Indianapolis.
Why are houses so cheap in Indianapolis?
The large availability of land in Indiana, coupled with factors including a low average salary and cost of living make for cheap housing in the Hoosier State. According to Zillow, the median home value in Indiana is a mere $180,776 compared to the US average of $281,370.
What areas of Indianapolis are bad?
The bad areas in the city are known for their crime rates and that's why you need to be careful of certain places in Indianapolis. Haughville is one of the worst places in the city because of the lack of jobs and several drug activities that prevail there. There's also the Martin Luther King Jr. St which you need to stay away from because of the reported shooting that takes place there. Even East 34th Street in the city has a bad reputation for increasing violent crimes. These are the places you need to be careful of if you're moving to Indianapolis.
What is a good salary in Indianapolis?
Since Indianapolis has a low cost of living and affordable housing costs, it is not that difficult to meet the living expenses in the city. If you're a single person moving to the city, an annual income of over $30k should be more than enough for your stay in the city. But if you're moving with your entire family or have expensive tastes when it comes to food and accomodation, then you'll need a bigger budget.
Is Indianapolis colder than Chicago?
Both the places Indianapolis and Chicago somewhat have similar weather. However, Chicago is comparatively colder than Indianapolis. Chicago has an average of 31.5 inches of snowfall every year which is more than Indianapolis which has an average of 21.6 inches of snowfall.
How much money do you need to live comfortably in Indianapolis?
If you're moving to Indianapolis, you don't have to worry about spending too much for a comfortable living as the city's cost of living is cheaper than most cities in the US. So an annual salary of over $30k should be more than enough for a comfortable living in Indianapolis.
What is the poorest city in Indiana?
Gary is one of the poorest cities in Indiana as the city as the average annual salary of a person is $19,448, which can be considered the lowest in the state.
Is it cheaper to live in Indiana or Illinois?
You'll have to pay higher taxes in Illinois compared to Indiana. Indiana is also known to have low housing costs and low cost of living compared to Illinois. All of this makes living cheaper in Indiana than Illinois.
Where should I not live in Indianapolis?
Haughville, East 34th Street, and Fall Creek Boulevard are some of the places you need to be careful of if you're planning to live in Indianapolis. These places have the highest violent crime rates in the city and are considered the most dangerous in Indianapolis. That's why you shouldn't consider living there.
What is Indianapolis famous for?
Indianapolis is famous for a lot of things starting from its diverse economy to sports and other amenities in the city. The city is home to three Fortune 500 companies, helping the city have a flourishing economy. When it comes to sightseeing, the city has the most popular Children's Museum and the most-awaited automobile race called the Indianapolis 500 where there are participants from all over the world. You can also seek educational opportunities and choose from the many public and private university campuses in the city.
What is the best area to live in Indianapolis?
Downtown Indianapolis is one of the best areas to live in the city. Whether it's taking a look at the beautiful art exhibits, participating in the local festivals and marathons, or grabbing a cocktail at the bars and fancy restaurants, this place has everything to keep you busy and entertained. Although Downtown Indianapolis has a rather high average house rent of around $1,404 and a median home value of $328,419, this place is definitely worth exploring and can be considered one of the best areas in the city.
---
Our Take On Indianapolis
Indianapolis is one of the relatively modern and progressive cities in the Midwest. Like we discussed, the economy is diverse and the city does possess a handful of perks.
Now that you have more than enough information about the city's personality and all it has to offer, all that is left is to pick the right movers. You can refer to our article Best Moving Companies In Indianapolis for more information on that aspect. (Please add the link to this article at the time of uploading it)
See also: Best Moving Companies in Indianapolis