7 Best Moving Companies In Indianapolis


VanLines Inc
Secure Storage
Easy Booking Process
Fully Trained Employees
GET QUOTE

Colonial Van Lines
Storage Services
Long-Distance Moves
Corporate Relocations
GET QUOTE

Moving APT
Vetting Process
Award-Winning
Available Nationwide
GET QUOTE
Our Take
Price
Rating
Minimum Shipment Size
Storage
Booking Deposit
Cancellation Policy
Quoting Options
Discounts

Best Overall Value


GET QUOTE

2+ bedrooms




Free 30 Days




10%

Free up to 72 Hrs

Phone / FaceTime / Text

Senior / Same day Booking

Best Industry Reputation


GET QUOTE

1+ bedrooms




30 Days




20%

Free up to 72 hrs

Phone / Facetime

Seniors Discount

Best Customer Service


GET QUOTE

1+ bedrooms







Free up to 72 hrs

Phone / Virtual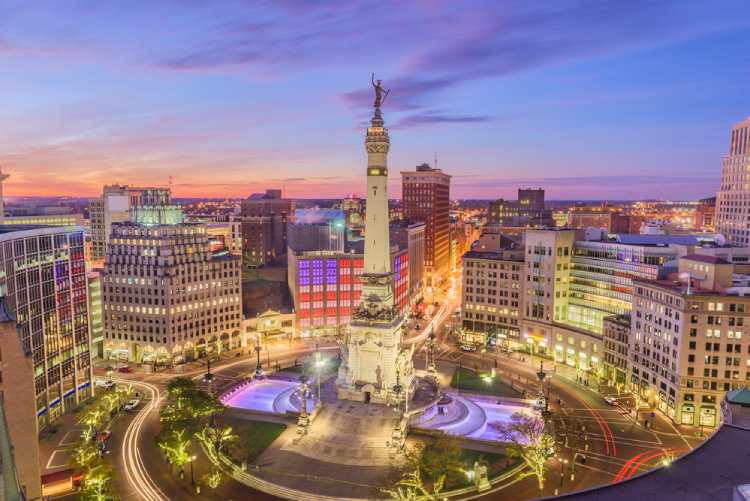 Indianapolis is the most sought after city in Indiana, so much so that even their names are conjoined. The city also sits in the heart of the Hoosier state and is a population magnet. There's constantly people moving within the city and we bet you'd like to know which mover they have used.
Well luckily there's no need to pursue that as we've figured this part for you. We look at some of the best moving companies so that you don't have to spend any time researching. Before we reveal the list, let's first brush up on the basics of picking a moving company.
How To Pick A Moving Company In Indianapolis, IN?
Picking a moving company is no child's play. It's actually as complicated as picking out a school district when there's so many that the city offers. Just like you'd want what's best for a kid, similarly you want a good mover to take immense care of your move. So how do you differentiate the mover that fits your needs?
One simple way is to first begin by understanding the demands of your move. To do so, we've come up with a simple exercise. We suggest to start by asking yourself these questions:
Would you be moving somewhere else within Indianapolis or are you leaving the state of Indiana?
What is the length of your move in miles? Less than 200 miles or more?
What is the size of your residence? Determine this based on whether you live in a studio, apartment complex, or a two storey house.
Is anyone else moving with you? Friends, roommates, or family members?
Would there be kids, pets, or senior citizens coming along?
Are you taking the minimalist approach or would you rather take everything you own to your new place?
Besides help with loading, unloading, and transporting, do you also need assistance with services like storage, cleanup, assembly and disassembly of furniture?
Once you answer these questions, you'll more or less know what you specifically want from your mover. This also helps make the searching process much easier than it would be. Once you know your requirements, you'd easily be able to knock out moving companies that don't meet your needs.
Another good exercise while picking a mover is to look for indicators that showcase the company is licensed and insured. Look over the insurance policies the company offers and registration number at the bottom of the company website. We've already done this for the companies we selected in the list below.
Lastly, always remember to spend some time sifting through reviews against a company. This is a perk of living in an internet savvy world, you get to see what other people have to say about a company. Google Reviews, Yelp, NextDoor are great platforms to consider for reviews. Also, make sure you look them up on Better Business Bureau to look at the grade they have there.
Now that you have some extra tips on how to be more mindful about picking your moving company, let's finally reveal the list to you!
7 Top-Rated Movers In Indianapolis, Indiana
1. Planes Moving & Storage Of Indianapolis
Planes Moving & Storage makes it at the top of the list because of the large variety of services they offer. Besides traditional moving assistance with packing, loading, unloading and transport, they stand out because of their storage facilities. They provide portable storage containers which you can pack independently if you're taking the self-move approach.
These storage units are also super useful during times of renovation. You can pack these ground-level containers with your belongings and have it sit on your property till your house is refurbished. The company also sells bundles of packing materials. You can purchase custom sized boxes, rolls of tape, and packing paper.
Besides moving related tasks, you can contact them for services like junk removal and installation of electronics. Their license and registration numbers are displayed at the bottom of the page, which is a good sign.
Overall, you won't be wrong to expect premium quality service from this moving company. This is mainly because they're an agent for the largest operating moving network in the nation, which is United Van Lines.
Planes Moving & Storage Of Indianapolis Contact Details
Email Address – Internetleads@planescompanies.com
Contact Number – 317-895-1444
Address – 2635 Planes Dr, Indianapolis, IN 46219.
Operational Hours – 7:30 am to 6 pm from Monday to Friday. 7:30 am to 12 pm on Saturday and closed on Sunday.
Website – planes-movingstorage.com
Planes Moving & Storage Of Indianapolis Reviews
Google Reviews – 4.9/5
Yelp – 2.5/5
2. Leaders Moving & Storage
Established in 1994, Leaders Moving & Storage has been in the moving business for more than 20 years. They specialize in both residential and commercial moves. Their services are not limited to moving homes, so you can also contact them for help with an office or business move.
The company tagline denotes that they are a company you can trust because the quote you receive won't change without reason. This is probably the main reason why they've had thousands of successful moves.
Like the previous company, they have no shortage of storage facilities. They boast having 37,000 square feet of temperature controlled space to store crates and more. So if you need a place to store your office or any other heavy duty equipment, they'd certainly have room to store these items safely.
Leaders Moving & Storage Contact Details
Email Address – nfama@leadersmoving.com
Contact Number – 317-280-3385
Address – 7695 East 21st St, Indianapolis, IN 46219
Operational Hours – 8 am to 6 pm from Monday to Friday. 8 am to 4 pm on Saturday. Closed on Sunday.
Website – leadersmoving.com
Leaders Movers & Storage Reviews
Google Reviews – 4.6/5
Yelp – 4/5
3. Busy Bee Movers
Busy Bee is a popular moving service in the entire state of Indiana. You can depend on them, since they're among the most locally recognized moving companies in Indianapolis.
Busy Bee is also a family run business that's been serving communities in Indiana for over 24 years. They surely seem to be dedicated and know their way around the region. This means you could practically drive to their office to sit down and discuss the needs of your move.
If you visit their website, you'll find that you can fill out a detailed form in a questionnaire format. Upon answering that you can get an approximate estimate for your move. We suggest filling it out to understand whether the quote is within your budget. In terms of the quote you can expect things to fall within the affordable range.
Busy Bee Contact Details
Email Address – kngbee2618@att.net
Contact Number – 317-695-9927
Address – 6148 S Belmont Ave, Indianapolis, IN 46217
Operational Hours – 8 am to 6 pm from Monday to Friday. 8 am to 12 pm on Saturday. Closed on Sunday.
Website – busybeemovers.com
Busy Bee Reviews
Google Reviews – 4/5
Yelp – 2.5/5
4. My Movers Inc
My Movers is also one of the top moving companies serving the city of Indianapolis. They can be of assistance for both residential and commercial moves. Besides being a blessing for moving related tasks like loading, they also sell moving supplies. You can buy large boxes for $3.75, packing paper for $3, box tape for $2, and much more. So instead of doing errands to home improvement stores, you can strike a deal with your movers itself for supplies.
They have a great number of positive feedback regarding their service on Yelp, which is why we had to put them on our list. Most of the reviews call them out for being honest and open to accommodating according to each customer's needs.
They also certainly seem to have more than a handful of repeat customers and people who heard of them from friends and colleagues. This is certainly reassuring and showcases that they have a good image in the Indianapolis community.
My Movers Inc Contact Details
Email Address – moving@mymoversinc.com
Contact Number – 317-578-8200
Address – 8070 Castleton Rd, Indianapolis, IN 46250
Operational Hours – 8 am to 5 pm from Monday to Saturday. Closed on Sunday.
Website – mymoversinc.com
My Movers Inc Reviews
Google Reviews – 4.5/5
Yelp – 4.5/5
5. Greenwood Moving & Storage, Inc
Like Busy Bee, Greenwood has also been dedicated to operating in the Indianapolis area. But this company is slightly older since they've been serving since 1974. They've been in the moving industry for years, proving that they've certainly gained enough knowledge and experience on how things work.
If you specifically don't want novices taking care of your move, you can consider opting for Greenwood. In terms of whether they are renowned enough, you can easily find indicators on their website that confirm that they are licensed and meet professional standards by several organizations.
For instance, Greenwood is a member of American Moving & Storage Association and they even hold a ProMovers certificate to their name. To add to this, they also comply with the standards set by Better Business Bureau and bagged the Angie's Lists 2020 Super Service Award.
Greenwood Moving & Storage Contact Details
Email Address – info@greenwoodmoving.com
Contact Number – 317-882-0190
Address – 530 N Meridian St, Greenwood, IN 46143
Operational Hours – 8 am to 5 pm from Monday to Friday. 8 am to 12 pm on Saturday.
Website – greenwoodmoving.com
Greenwood Moving & Storage Reviews
Google Reviews – 4.8/5
Yelp – 3.5/5
6. Sherman Moving & Storage Co
The Sherman family has been running this moving company for over 4 generations, showcasing how dedicated the owners remain to their business. They've also won the Angie's List Super Service Award 5 times in a row since 2016. Winning such an award year after year is pretty impressive and is proof that consistency of service is their strength.
Probably the reason why they always deliver well is because they choose to hire full-time workers instead of part-time employees. This means you can expect the crew that arrives to be well-trained and dedicated to the task at hand.
With part-time employees, the service varies based on workers but with the system of not using temporary workers, the company manages to maintain a standard. This is also a small local moving company, so you could get great service at a great price.
Sherman Moving & Storage Contact Details
Email Address – info@shermanmoving.com
Contact Number – 317-784-5462
Address – 990 National Ave, Indianapolis, IN 46227
Operational Hours – 8am to 5pm from Monday to Friday. Closed on Saturday and Sunday.
Website – shermanmoving.com
Sherman Moving & Storage Reviews
Google Reviews – 4.1/5
HomeAdvisor – 4.8/5
7. Colt Moving
On the hunt for something affordable? Then Colt Moving could be the perfect choice for you. In terms of pricing, you'd most likely find them to be humble and they also display their labor-only costs on the website.
If you need 2 professional movers and a 26 foot truck, expect to pay $130 an hour. Keep in mind that on Friday, Saturday, and Sunday, this cost is bumped to $10 more. Excluding the truck, they charge $110 per hour.
All terms and conditions regarding these costs are precisely mentioned on their website to avoid confusion. The fact that they share flat rates proves that they like to remain transparent and upfront when it comes to their pricing structure.
Another reason we picked this company is because they have two branches serving the Indianapolis metropolitan area. So it's safe enough to believe that their team and business is expanding because of the success they've had in Indianapolis.
Colt Moving Contact Details
Email Address – coltmovingteam@gmail.com
Contact Number – 317-476-3762
Address – Bittner Way, Noblesville, IN 46062; 4213 S Randolph St, Indianapolis, IN 46227
Operational Hours – 9 am to 5 pm from Monday to Sunday.
Website – coltmoving.com
Colt Moving Reviews
Google Reviews – 4.8/5
Yelp – 4.5/5
FAQs
How much should I pay a mover per hour?
On an average it could cost you $25 to $40 per hour per mover. Most moving companies send movers in pairs of two, so you should be prepared to pay $50 to $80 per hour. If you pick a professional mover from a premium company, costs could range from $95 to $125 an hour.
How much does it typically cost to hire movers?
The cost to hire a mover depends entirely on the size and distance of the move. If you're moving within the same city and it's a local move costs would fall in the range of $350 to $1,600. Long distance moves on an average go beyond the $1,500 mark and can go upto $5,000 or more.
Final Thoughts
The list we compiled above has some giants in the moving industry of Indianapolis and some locally owned businesses. The ones associated with huge moving networks like Planes Moving & Storage, will ask for a premium price so if you're on a budget we suggest picking the other options. A good rule of thumb is to always take quotes from at least 3 moving companies. So, to find the mover meant for you, we suggest shortlisting 3 from the list and contacting them for quotes.
See also: Moving to Indianapolis
Also Read: Leaving Indianapolis? 5 Best Places to Move from Indianapolis