Leaving Indianapolis? 5 Best Places to Move from Indianapolis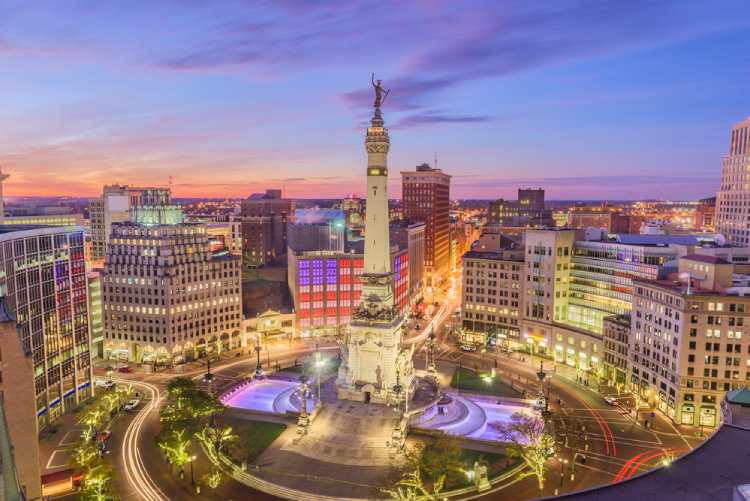 As somebody living in Indianapolis, you might be used to a lifestyle that is not the most exciting. While we think you don't need anything else to move out, we do think you might find some reasons to be very compelling.
For starters, the crime rate in Indianapolis is a little concerning. So, you'll have to pick and choose where you stay even in the city itself. That, coupled with the brutally snowy winters, makes the recipe for a very slippery foot chase. Moreover, it will have to be a foot chase since the public transportation doesn't take you very far. If you've planned to move and are looking for good city suggestions, here are 5 places to move from Indianapolis.
5 Best Places To Move From Indianapolis
Columbus, Indiana
Located about an hour away from Indianapolis, living in Columbus is worlds apart. This city is bestowed with beautiful architecture that is pretty much a one-off. With a mix of contemporary, historic, and modern architecture, even The New York Times once called Columbus the most design-sophisticated city in the country. Once you find living quarters in one of the many beautiful places, you'll easily find a good school. The Athens of the Prairie, as this city is often called, has the biggest school district in Bartholomew County and serves approximately 11,000 students across the many elementary, middle, and high schools.
We believe that the culture of any city is best represented in the Downtown area and Columbus only gives us reason to double down on that belief. The history of this city is embedded in the many establishments in the area. In fact, the first bar in Indiana called the 'Columbus Bar' has been calling Downtown its home for the last 75 years.
All of that being said, one of the biggest factors that contribute to choosing a place to live is the cost of living. Well, Columbus doesn't disappoint here either! When you're moving from Indianapolis to Columbus, you're likely to spend around the same amount on your monthly expenses as the cost of living in both cities is fairly similar. While the real estate market is a sellers' market like most of the country, it is still very affordable in Columbus. However, the inventory is limited and it's filling up fast. So, grab a spot for yourself as soon as possible!
Downsides: Columbus is yet to have a good number of entertainment venues, meaning you won't have a lot to do out of work. Speaking of which, the economic cycles in the area are a little underwhelming. So, it's only a good idea to move here if you have a job secured. Even when you do, you might not see a lot of ethnic or cultural diversity. So, pick and choose your neighborhood after extreme scrutiny.
Population: 48,150
Median Home Value: $228,968
Monthly Rent: $1,015
Median Household Income: $67,387
Unemployment Rate: 3.8%
Best Neighborhoods To Live In: Riverview Acres, Parkside, Everroad Park, and East Columbus.
Kokomo, Indiana
Located about 60 miles north of Indianapolis, Kokomo is another city in Indiana that is quickly becoming people's favorite. It's an industrial city that manages to retain the small-town charm very well. Surprisingly, it's also known for the great quality of air it has.
If you're working in a field in the vicinity of engineering and/or automobiles, Kokomo might be the perfect spot for you. This area has a long history that is mainly tied to the manufacturing and supply of automotive parts. That being said, Kokomo has been home to a lot of inventors and innovations. As a majorly industrial town, it is obvious that it has a lot of watering holes and most of them do justice to the hype they have. Downtown Kokomo is full of shops, boutiques, and restaurants that are known to be the best social venues in town.
One of the biggest reasons for you to move from Indianapolis to Kokomo is the considerably lower cost of living. Not only is the real estate market in Kokomo extremely affordable, but the other costs like transportation, healthcare, and groceries are also available at costs lower than that in Indianapolis. If you're looking to move to a place that offers a relaxed lifestyle, Kokomo could definitely be a choice worth considering.
Downsides: The biggest issue that the people of Kokomo have with the city itself is the crime rate. This is mostly due to the amount of drug-related activities that are carried around town. Moreover, there aren't a lot of things to do. So, if you're the more outgoing kind, you'll easily bore yourself out of this place.
Population: 58,314
Median Home Value: $144,939
Monthly Rent: $879
Median Household Income: $48,830
Unemployment Rate: 4.5%
Best Neighborhoods To Live In: Indian Heights, Frederick Farms, Westbrook, Orleans Southwest
South Bend, Indiana
In all honesty, South Bend is a little weird as a city. Some part of it is another rust belt city, while another one is home to some of the well-known universities in the country. To some extent, this contrast is the reason South Bend has a combination of retirees and college students as a majority of its residents.
That being said, this city has something to do for everyone. South Bend-ers love their sports and take them very seriously. The football program at the University of Notre Dame is nationally recognized. If football isn't your thing, you can join in a game of basketball, baseball, and lacrosse. If you want to do something different entirely, you have venues like theaters, zoos, parks, and even museums to visit.
All of this is made sweeter by the fact that the cost of living in South Bend is very affordable. One of the reasons for this is that the taxes over Social Security are exempted in the state of Indiana. The overall costs of living (including utilities, transportation, and healthcare costs) in South Bend are lower than that in the state of Indiana. Moreover, the average costs of housing and health are also lower than in the rest of the country.
Downsides: There are two major problems in South Bend and they might be catalytic to each other. The first one is the drug problem in the area. A lot of the crime from neighboring areas spills into this city, making it a hotspot for gang-related violent crimes as well. The second problem is the lack of adequate medical care. While healthcare is cheap, you might have to move to bigger cities to get the help you need.
Population: 103,453
Median Home Value: $159,772
Monthly Rent: $1,151
Median Household Income: $42,657
Unemployment Rate: 2.9%
Best Neighborhoods To Live In: Northshore Triangle, Twyckenham Hills, Northeast South Bend, and Erskine Park.
The sixth-largest city in the United States Of America is one of the best spots for people that love being outdoors. It is located in the heart of the Sonoran desert and boasts of beautiful landscapes. This aspect of living in Phoenix is made even sweeter by the fact that you'll experience about 300 days of great weather once you move.
The best part is that Phoenix is much like a flatter San Francisco: it is built of grids. These grids make it very easy for the residents to navigate the city and find the amazing taquerias and pizzerias that make up the food culture of Phoenix. If you need a change from Indianapolis, Phoenix is definitely worth considering because the city has ample job opportunities, affordable housing, and plenty of recreational activities for you as well.
Moreover, once you move, you have the choice to live in a city-center apartment, a beautiful Craftsman bungalow, a cozy family home, and much more. The comfortable lifestyle is supported by a strong local economy that is both – full of job opportunities and friendly to small businesses. Lastly, if you're a fanatic, the arts and culture scene in Phoenix is stronger than ever, and it is only growing. So, you might just go for a drive and find yourself looking at an art exhibition or a gallery.
Downsides: The biggest problem of living in Phoenix comes from its location. Since it is in a desert, the area is prone to a lot of dust storms that will force you indoors and keep you there for a while. Also, regardless of the storms, this city has enough dust blown up by the hot desert winds that you'll most likely face dust allergies as well as heat-related issues at some point. Lastly, the public transportation in a city as large as Phoenix is rather limited. This means you'll have to drive yourself around to most locations. While there are a few places in the city that might let you get away with not owning a car, that becoming a reality for the entire city is a long way off.
Population: 1,759,943
Median Home Value: $413,494
Monthly Rent: $1,547
Median Household Income: $60,914
Unemployment Rate: 3.2%
Best Neighborhoods To Live In: Chandler, North Central, Glendale, Encanto, Anthem, and Roosevelt Row.
It's very easy to fall in love with Chicago. After all, it's the third-largest city in the country and a full-fledged metropolitan at that. Even then, you'll find that the Windy City has kept its Midwestern values close to its heart. This city is very welcoming to all and has something for everyone that moves in, making it a complete package.
Once you do move in, you'll find a city that is full of culture, Michelin-rated restaurants, and one of the busiest business districts in the United States of America. So, as a new citizen of Windy City, you'll find something to do, including a great job. After you're done working, you can go around the city using the impressive public transportation system in place and visit the many cultural, sports, and entertainment venues. The best part is, you can go around partying as you're 21, or take your family to an appropriate spot like your child is 21, and the city will serve you with its best!
If you choose to move to Chicago from Indianapolis, you'll likely encounter higher costs of living. But with these high costs, you'd also get a much better quality of life in Windy City. Be it in terms of job opportunities, educational institutions, or recreational opportunities, Chicago will never disappoint with the dearth of choices it offers.
Downsides: The first thing that comes to mind when you think of the downsides of living in Chicago is the crime rate. There is a heavy influence of gangs in the area and their presence is noticeable. However, the second biggest downside of this city has to be the parking voes. Regardless of what part of the city you reside in, you'll have to go around a couple of blocks before you find a spot. If you plan on visiting a busier part of the city like the Downtown, you might not find parking at all. So, you might be better off depending upon public transportation.
Population: 2,746,388
Median Home Value: $312,489
Monthly Rent: $2,080
Median Household Income: $62,097
Unemployment Rate: 5.40%
Best Neighborhoods To Live In: Lincoln Park, West Loop. Wicker Park, Hyde Park, Logan Square, and Lake View.
Summing Up
Indianapolis is a great city. However, it is only fair that people want to move out and see more of the world. In this article, we've tried to mention the best places inside the home state of Indianapolis, as well as some outside of it. However, we recommend doing more research on the cities before deciding which one would be your choice. Make sure you take your time and don't hurry into a decision. Happy moving!
See also: 7 Best Moving Companies In Indianapolis | 5 Best Neighborhoods in Indianapolis for Singles and Young Professionals
FAQs On Best Places To Move From Indianapolis
Are People Moving To Or Away From Indiana?
More people are moving to Indiana than away from it. However, a huge chunk of the natives from even the biggest cities in the state, like Indianapolis, are moving away. There are multiple reasons for people to move out, the most common being wanting better jobs and lower costs of living.
Where Do People From Indianapolis Move To?
For the people trying to get out of this city, some of the most common options are inside the state, or right beside it. Cities like Columbus and Chicago have become a favorite for the people looking for a new place to live. A lot of people are also choosing to move to different states like Florida and Kentucky.
Why Shouldn't You Live In Indianapolis?
The biggest reasons to not live in Indianapolis are the crime rate and the condition of the job market. While the city is growing and improving every day, you can easily find opportunities in other parts of the country that might not come to Indianapolis.