Moving from Chicago to Philadelphia – Expert Tips and Advice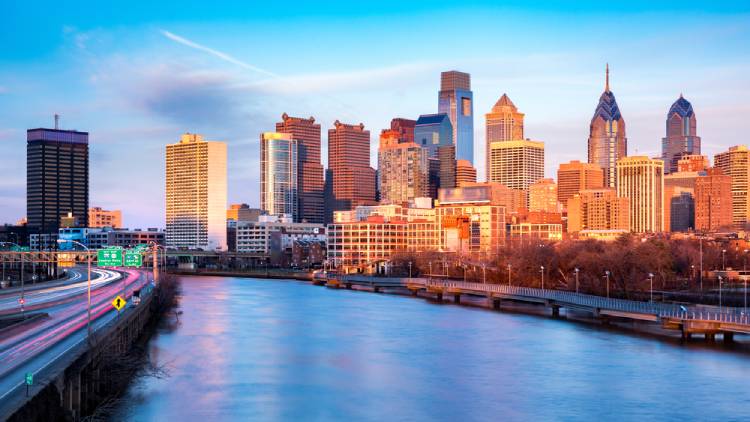 Life in Chicago comes with definite pros like the booming economy and job market, milder summers, and one of the best transportation systems in the country. And while it may seem like no other city would be able to match Chicago's affordability in terms of cost of living and housing prices, Philadelphia is here to give you a run for your money! While Chicago's cost of living is much lower than many major metropolitan cities in the country, Philly has an even lower and super budget-friendly cost of living and housing market. Talk about saving money! And what's even more incredible is that Philadelphia does all this without losing its metropolitan vibe and amenities. You are sure to get the best of both worlds in Philly.
Philadelphia is a vibrant and lively city that houses some of the most charming and quirky neighborhoods, each with a distinct personality of its own. Philly is packed with history, loaded with culture, has some of the best food scenes to indulge in, and is simply a diverse metropolis that you should, at the very least, visit.
But moving to Philadelphia is a whole other ball game and you need to prepare accordingly. Right from the climatic conditions to the housing and rent to transportation to leisure and recreational activities, you need to acquaint yourself with these basics. Well, look no further as we bring you all that you need to know about moving to Philadelphia in this article!
Factors To Consider Before Moving From Chicago To Philadelphia
Weather Conditions
While Chicago is blessed with slightly milder and humid summers, the Windy City's winters are known to be extremely brutal and bone-freezing! Sudden gusts of cool winds constantly flow throughout Chicago, due to the closeness of Lake Michigan. Chicago experiences a humid continental climate, with humid summers and extremely cold and wet winters. Lake Michigan is known to freeze over and the city receives around 37 inches of snowfall annually. In comparison, Philadelphia's climate is strongly influenced by the three rivers bordering the city. Owing to this, Philly has a high level of humidity throughout the year. The temperatures in Philly vary constantly and the climate is marked by extremely hot and humid summers and cold and wet winters.
Philadelphia is known to have a slow spring and the city doesn't really warm up until late April. While you might see flowers blooming and budding, you can expect to see some sudden snowstorms and lower temperatures too. As spring gives way to summer, the temperatures begin to rise considerably and the weather turns hot, humid, and muggy. Be sure to expect sudden rain showers or thunderstorms, so always carry an umbrella.
Here's the difference in temperature that you can expect during peak summers:
Chicago in July – The average temperature falls between 70°F to 82°F.
Philadelphia in July – The average temperature falls between 68°F to 88°F.
Fall is the most comfortable season during the year in Philadelphia. While the temperatures do not fall drastically, there is a slight chill in the air that is a welcome change in contrast to the muggy summer heat. The trees begin to change color and the temperature starts dropping lower giving way to the winters. While the weather is noticeably less humid, there are some days of sudden heat that the city experiences.
Winters in Philadelphia are cold and wet, all due to the humidity brought in by the rivers. In comparison to Chicago, Philly winters are less freezing and rather more on the humid side of the spectrum. But you'll still need your coats and warmers. Philly sees an average of 13 inches of snowfall which is way lesser than Chicago. But sudden snowstorms and ice storms aren't uncommon here.
Here's the difference in temperature that you can expect during peak winters:
Chicago in January – The average temperature falls between 22°F to 33°F.
Philadelphia in January – The average temperature falls between 26°F to 43°F.
Cost Of Living
The cost of living is one of the most – if not the most – important factors to consider while moving to a new city. After all, even if you find affordable housing, the overall living expenses are what dictate the rest of your lifestyle in the new city. Chicago has a reputation for affordable cost of living and housing prices. Especially compared to major metropolitan cities like New York City and Los Angeles. But, what's important is that Philadelphia offers a cheaper cost of living compared to Chicago! Philadelphia is 5.3% cheaper than Chicago in terms of cost of living and the housing prices are 33.1% lower in Philly! Talk about affordable housing.
Buying A House
As pointed out earlier, Philadelphia makes the dream of buying your own house look very real and easily achievable. Philadelphia's real estate market has had a surge in prices in the recent past, but even with a slight increase in the market rates, Philly's housing prices are definitely cheaper than other major cities in the country.
To add more color to its housing markets, Philadelphia offers a wide variety of housing styles to choose from. If you don't wish to live in an apartment or high-rise condo, Philly has a plethora of row houses, old-Victorian and Georgian townhouses, studio apartments, and open terrace houses you can pick from!
Median Home Value In Chicago: $312,489
Median Home Value In Philadelphia: $228,970
Renting A House
It will come as no surprise at this point, but renting an apartment in Philadelphia is more affordable than in Chicago. While the average median rent for a one-bedroom apartment in Chicago is $1,881, the same apartment is rented at $1,769 in Philadelphia. To put things into perspective, this means that there is a 6% difference in the rental prices between Chicago and Philly! This makes it quite budget-friendly for singles, young professionals, and students.
Utilities
Yes, you've guessed it! Philadelphia's cost of utilities for a month is also lower than that in Chicago. Go figure! The monthly cost of basic utilities which includes electricity, heating, gas, water, and garbage disposal in Chicago is $170, while for the same utilities in Philly, you'd be paying $160. Of course, these costs can vary with additional utilities like cable TV or internet services. If you're considering adding internet services to your utility package, your monthly cost would go up to $230.
Job Market
Chicago and Philadelphia have a similar narrative in terms of the job market. But Chicago does have a lower unemployment rate and a better pay scale for its residents. However, the big picture is that, while you'd definitely earn a little more in Chicago, you're bound to spend just as much with its slightly more expensive cost of living. And since the pandemic, every city has taken a hit in terms of economy and job growth. That's not to say that Philadelphia is not getting back to what it was before the pandemic. Job growth in Philadelphia is positive and at a good pace, so you don't have to worry about yourself too much!
Philadelphia is known as a cultural and historical city. And while these narratives remain timeless, Philly is slowly turning over a new leaf and adding to its already big list of descriptors. In the past few decades, Philadelphia has been turning its focus towards cutting-edge technology and innovation. Hence, a number of tech companies have been thriving in the city. Apart from the tech industry, healthcare, e-commerce businesses, finance, telecommunications, insurance, media and publishing sector, and educational sector have been growing immensely in Philadelphia.
And while many of the major metropolitan cities have some of the big names in business and tech living under their roof, Philadelphia is not without its own league of game-changers! Here are some of the top companies in Philadelphia that have had mass-recruitment drives from time to time, and are known for their impressive pay scales and incentives:
IBM
Comcast
Lockheed Martin
Day & Zimmerman
Clarivate
Spectra
HighPoint Solutions
Odessa Technologies
The unemployment rate here might raise some doubts in your mind when comparing it to Chicago. While Chicago has an unemployment rate of 8.0%, Philadelphia has a rate of 9.2%. But let's add some recent facts to give you a well-rounded picture of the situation. The Bureau of Labor Statistics in January 2022 noted that employment levels are on the rise in Philadelphia. The employment rate is slowly getting back to the pre-pandemic level, though the climb back is slightly slower. So, while the unemployment rate might be unnerving, rest assured Philly's job market and the economy are getting back on track!
Median Household Income in Chicago: $90,714
Median Household Income in Philadelphia: $68,379
Transportation
While Chicago's transportation system is one of the best in the country, Philly's transit system does not disappoint either. Philadelphia's public transportation system is well-connected and very efficient for the purpose of the daily commute from work or college to home. And unlike Chicago, which is not the most car-efficient city owing to its brutal winters, Philadelphia is very car-friendly, though some amount of traffic is to be expected as with any major metropolitan city. Philadelphia is served by the Southeastern Pennsylvania Transportation Authority (SEPTA) which connects Philly with its neighboring counties like Delaware, Chester, and Montgomery as well as every major neighborhood within the city.
Philadelphia has two major subway lines that run across the city, connecting many destinations throughout the city grid. The blue line – Market Frankford Line – runs in the east-west direction while the orange line – Broad Street Line – runs in the north-south direction.
SEPTA provides an elaborate bus system with more than 100 routes and 'Night Owl' routes that run 24 hours a day. Also, SEPTA's Norristown High-Speed Line connects some parts of the Delaware and Montgomery counties to the blue line making it a great choice of transit for commuting to the neighboring counties.
Apart from subways and buses, which are a common mode of transport across the country, Philadelphia also provides its commuters with trolley services. SEPTA's eight trolley lines run on both street-level and underground routes connecting passengers to other transit lines and major commercial corridors.
Philadelphia's Strong Points
Unlike Chicago, where the diversity among individuals is slightly skewed with a slightly larger portion of the population being white, Philadelphia offers much more diversity in terms of people. Philadelphia has a good mix of Hispanic, Black as well as Caucasian individuals, so the city rarely witnesses gentrification.
No list is complete without mentioning Philly's low cost of living and super affordable housing prices. Even though Chicago has quite an affordable housing market and cost of living in comparison to major metropolitan cities, Philadelphia takes it a step further with even lower costs!
While many individuals move to Philadelphia for the quiet and slower pace of life, Philly doesn't sacrifice its quality of life or big-city amenities to do so. You'll get an easy-going suburban vibe in Philadelphia along with all the necessities and amenities of a big metropolis.
Finally, Philadelphia has the best art scene in the country! So, if you're an aspiring artist looking to go big or simply love art, Philadelphia is bound to inspire you and blow your mind!
Top Neighborhoods To Move In Philadelphia
Bella Vista
Bella Vista which translates to 'beautiful sight' is truly a beautiful neighborhood to move into. This tree-lined residential pocket is well-known for its famous open-air Italian Market. Bella Vista was the first Philly neighborhood where Italian immigrants settled. Now, there are a plethora of cultures here owing to the increasing number of Asian and Mexican immigrants.
All of this cultural backdrop equates to one great plus point – Bella Vista has a diverse variety of food options! From cuisines ranging from Italian to Vietnamese to Continental to Mexican – and let's not forget Philly's famous cheesesteaks – Bella Vista has it all! Furthermore, the neighborhood is lined with a number of bustling groceries, bakeries, restaurants, and brunch spots, so there's a variety of options to explore.
Median Home Value: $474,500
Monthly Median Rent: $1,495
Center City
Bordered by the Delaware River and Schuylkill River on the east and west sides, and Spring Garden Street and South Street on the north and south sides is Philly's premier neighborhood Center City. It is the busiest and most densely packed neighborhood in the city loaded with culture, history, and tons of recreational activities. Center City is a nexus point where Broad Street and Market Street meet. At this junction resides Philadelphia's historic and beautiful City Hall. The neighborhood is home to some of the most historic small towns like Old City and Society Hill. The neighborhood offers a plethora of grand hotels, restaurants, trendy bars and cafes, and a sparkling nightlife that attracts both residents and visitors alike!
Median Home Value: $482,500
Monthly Median Rent: $1,812
Manayunk
Manayunk is one of the most quirkily named neighborhoods in Philly which translates to 'where we go to drink' in Native American. This translation is owing to the Schuylkill River. The river and the hills running around this area add to the landscape of Manayunk. It is a neighborhood that is perfect for young professionals and singles, as it's close by to Center City yet away from the bustling streets of downtown.
Manayunk is known to be one of the safest neighborhoods in Philly as well. What adds to the neighborhood's personality are the bustling restaurants, local boutiques, dozens of bars, and art galleries. Furthermore, it's easy to find an affordable and spacious home in this neighborhood. With a variety of options from lofts to apartments to townhomes, Manayunk has it all!
Median Home Value: $365,000
Monthly Median Rent: $1,495
Fishtown
If you're looking for the coolest neighborhood in Philly, look no further! Fishtown is Philadelphia's harbor of artistic, culinary, and musical acts. This trendy hotspot is loved by young professionals and singles who wish nothing more than to live right next to cozy cafes, quirky boutiques, cool brunch spots, and hip bars. This working-class neighborhood stands as an exception to the city's gridline streets as it is adorned by a collection of narrow back streets with modest row houses.
To add to the lively energy of the neighborhood, Fishtown has a number of inspiring music venues, up-and-coming studios, and awe-inspiring art galleries. Though the housing prices of Fishtown are slightly higher than the rest of the city, it is due to all that the neighborhood has to offer! So, if you're open to shelling a bit extra or perhaps moving into a home that's slightly smaller, then Fishtown is the place for you!
Median Home Value: $340,000
Monthly Median Rent: $1,985
Point Breeze
Surrounded by some of the most well-known neighborhoods of Philly, Point Breeze was bound to see a fast-paced growth in terms of both infrastructure and recreational activities. Point Breeze is an ideal neighborhood for young families due to the number of outdoor parks and playgrounds, trails and outdoor spaces, and the tightly-knit friendly community here. The neighborhood also has a convenient location for bus stations and trolley lines.
If you're planning to buy a house, then you should definitely look at properties in Point Breeze due to their lower prices. Since a lot of new lands are being brought under construction, the neighborhood is seeing an influx of people and amenities. A number of edgy coffee shops and dive bars, diverse cuisines, gastropubs, pop-up beer gardens, and outdoor jazz concerts have brought a new flair to the neighborhood!
Median Home Value: $350,000
Monthly Median Rent: $1,395
Also See: 7 Best Neighborhoods In Philadelphia For Families | Top Neighborhoods in Philadelphia for Singles and Young Professionals
Things To Take Care Of When You're Moving From Chicago To Philadelphia
Unlike Chicago's slightly milder and breezy summers, Philly summers are hot and humid. So, be prepared for some sweltering days and always keep sunscreen and an umbrella handy. Summers in Philadelphia are known to see thunderstorms and sudden showers of rain due to high humidity.
While you don't really need a car to commute in Philadelphia due to the super convenient public transit system, if you do own a car in Philly, you should acquaint yourself with the unforgiving parking rules. Philly is known for not allowing parking in a space for even a minute beyond the allotted time. So, either look for designated parking spots or live in a neighborhood where street parking is ample.
If you plan to open a restaurant or food joint in Philadelphia that serves alcohol, acquiring a liquor license is fairly difficult due to Philly's strange liquor licensing laws. So, a number of restaurants adopt the BYOB policy – Bring Your Own Bottle! Even while buying your own alcohol, you'd be able to acquire your alcohol only from a state-owned wine and liquor store.
Chicago To Philadelphia Moving Costs
The cost of moving from Chicago to Philadelphia depends on whether you hire professional movers or decide to make the move by yourself. Based on this, the moving cost could range anywhere from $900 to $4,000. But, it should be noted that while you might save on money by moving by yourself, it'll take a lot of work and might not always lead to the safe transition of your goods.
With professional movers, you can have a much more hassle-free experience even though you'd shell out a bit more. On average, for a one-bedroom apartment, if you're taking the services of a moving company, your cost would be around $1,300 to $2,200. Of course, this would vary according to the number of items you'd need to move, the bulk weight, transportation costs, and more.
See also: Best Moving Companies in Chicago
Summing Up
Philadelphia has a lot to offer in terms of culture, art, history, diverse community, divine food scenes, classy neighborhoods, devoted sports fans, a growing job market, and an efficient transit system. Though, as with every city in this world, Philly does have its downsides. But, the positives outrank the negative for this lively city!
FAQs On Moving From Chicago To Philadelphia
Is Philadelphia A Fun Place To Live?
Philadelphia is a culturally diverse and truly fun city to live in. With a plethora of quirky art galleries, yummy food joints, energetic bars and pubs, a devoted sports spirit, eclectic cafes and restaurants, and the jovial nightlife – Philly has something for everyone! Add to this, beautiful waterfronts and expansive green spaces with numerous hiking trails, it's a haven for outdoor enthusiasts.
Is It Worth Driving In Philadelphia?
While driving is a viable option in Philadelphia, the road quality, heavy traffic, and unforgiving parking regulations make driving in the city a tough endeavor. Instead, you can always choose to commute via public transit which is very convenient and connects every part of the city well. You can choose from subways, buses, trolleys, or taxis as your choice of transport.
What Time Is Rush Hour In Philadelphia?
The rush hour in Philadelphia starts between 7:00 am to 9:30 am and again from 3:30 pm to 6:00 pm. During the rush hours, try to avoid taking the Interstate 676 and Route 611 as they can get heavily congested with traffic during these hours.
See also: Moving from Chicago to Nashville