7 Best Neighborhoods In Philadelphia For Families


VanLines Inc
Secure Storage
Easy Booking Process
Fully Trained Employees
GET A QUOTE

Colonial Van Lines
Storage Services
Long-Distance Moves
Corporate Relocations
GET A QUOTE

Moving APT
Available Nationwide
Award-Winning Movers
Extensive Vetting Process
GET A QUOTE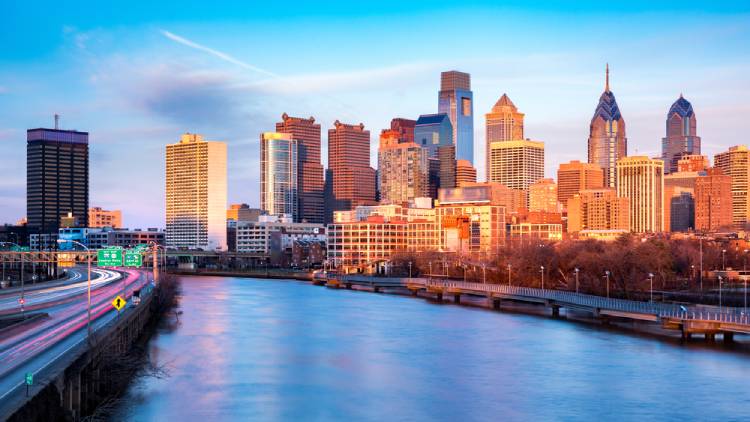 Popularly known as The City of Brotherly Love, Philadelphia is the largest city in the state of Pennsylvania with a population of approximately 1.6 million. It's located in the southeastern part of the state at the confluence of River Delaware and River Schuylkill, at a distance of around 100 miles from New York City. The city was founded in 1682 by William Penn and also served as the country's capital for a few years in the 18th century.
Philadelphia is a great place to live that welcomes families, young professionals, and couples every year in large numbers. Although the city scores well when it comes to walkability, its public transportation is just as efficient with commuter rails, buses, and trolleys. You'll get to enjoy everything from restaurants and breweries to sports teams, open spaces, music venues, etc. The 2,000-acre Fairmount Park deserves a special mention as families seek green spaces like this one for their kids to spend time. Keep reading to know about some of the best neighborhoods in Philadelphia that are worth considering, especially if you want to move in with your family.
Best Neighborhoods In Philadelphia For Families
Bella Vista
Home to more than 10,000 people, Bella Vista is located in the southern part of the city and is surrounded by neighborhoods like Washington Square West, Head House Square, Queen Village, Little Saigon, and Hawthorne. Often referred to as the Little Italy of Philadelphia, the literal translation of the Italian term 'Bella Vista' is a beautiful view. A truly diverse area, Bella Vista has residents from different backgrounds and cultures like Italy, Vietnam, and Mexico. In fact, the neighborhood is home to the 9th Street Italian Market, the oldest open-air market in the country. It's no surprise that every diverse area always has excellent food options, so don't hold back on treating your tastebuds!
Bella Vista is particularly suited for families and youngsters looking for work opportunities. Some of the top employers in the area are Mario Lanza Institute, Philadelphia's Magic Gardens, and Fleisher Art Memorial. Also, you'll find various well-ranked schools under the Philadelphia School District like Christopher Columbus Charter School, Julia R. Masterman Secondary School, the Science Leadership Academy, and Carver High School.
Median Home Value: $474,500
Monthly Rent: $2,784
Median Household Income: $86,147
Chestnut Hill
Chestnut Hill is a historic and relatively high-end neighborhood in northwest Philadelphia, surrounded by Northwestern Avenue, Wissahickon Gorge, Stenton Avenue, and Cresheim Valley. Full of stunning sceneries all around, the neighborhood has the highest per capita income in the city and an incredibly low crime rate. Even after the sun sets, you do not need to worry about the safety of your family members. Known for its lush greenery, Chestnut Hill is also called Philadelphia's Garden District. The area is just around 12 miles away from the city center and two SEPTA Regional Rail commuter train lines make commuting easy. Talking about housing options, you'll get to choose between beautiful Victorian townhomes, single-family homes, and mansions.
The neighborhood is served by numerous top-notch public and private schools like Springside Chestnut Hill Academy, Norwood Fontbonne Private Academy, Crefeld School, Central High School, and a small Catholic college called Chestnut Hill College. A few of the major employers in Chestnut Hill are the University of Pennsylvania, Morris Arboretum, and Chestnut Hill Hospital. The neighborhood offers various bakeries, restaurants, boutiques, museums, galleries, and shops. Some of the best spots are Woodmere Art Museum, Stagecrafters Theater, and The Little Treehouse Play Cafe.
Median Home Value: $632,500
Monthly Rent: $1,829
Median Household Income: $85,766
Fitler Square
Located in the southwest corner of Downtown Philadelphia, Fitler Square has around 13,381 people residing in the neighborhood. The area is adjoined by Panama Street, Pine Street, Rittenhouse Square, University City, and the Schuylkill River. It's one of the most sought-after neighborhoods in the city that attracts families, young professionals, and college students in large numbers. There are abundant opportunities to find work, with major employers being Rose Valley Software Studio Inc, North Star Change Consulting, and Apostrophe Systems. The beautiful neighborhood offers a big-city feel but with a laid-back lifestyle. Families, in particular, love it here because of all that's on offer and the fact that the crime rate is low in Fitler Square.
For your children's education, you'll get to choose from some brilliant private and public schools like Greenfield Elementary School, The Philadelphia School, and Franklin Benjamin High School. As far as housing is concerned, there are single-family homes, arranged as traditional row housing and brownstones. You'll also get to enjoy the various tempting restaurants, bars, shops, boutiques, galleries, museums, a farmers' market, and a lot of amazing parks. The top public attractions include the Schuylkill River Park, Lombard Swim Club, and Rosenbach Museum.
Median Home Value: $870,000
Monthly Rent: $1,650
Median Household Income: $79,110
Queen Village
Home to around 16,436 people, Queen Village is situated in the eastern part of the city, near the Delaware River waterfront. The neighborhood is surrounded by amazing areas like Society Hills in the north, Pennsport in the south, and Bella Vista in the west. Don't go by the name – Queen Village provides its residents with a big-city vibe with everything available, whether it is shopping centers, great educational institutions, restaurants, jobs, or great public transportation. The entire area is extremely walkable as well but people's favorite mode of transportation is riding a bicycle. There are a few housing options available like low-rise 18th and 19th-century houses, condos, and bungalows.
Some of the best schools in Queen Village are William M. Meredith Elementary School, The Settlement Music School, and George W. Nebinger School. The Theater of the Living Arts and The Eye's Gallery are two of the top employers in the neighborhood. The best places to dine in with your family members are Jim's Steaks and Hungry Pigeon. You'll also get to enjoy shopping at stores like IKEA and Target.
Median Home Value: $465,000
Monthly Rent: $1.846
Median Household Income: $73,186
Fairmount
Fairmount is located in the lower northern part of the city and has a population of around 28,000. Just about 2.9 miles away from Downtown Philadelphia, Fairmount is surrounded by neighborhoods like Brewerytown, East Park, Francisville, Logan Square, East Parkside, and Yorktown. This neighborhood is also known as the Art Museum Area due to the presence of top-class museums like the Philadelphia Museum of Art, Franklin Institute, Rodin Museum, and Barnes Foundation. The neighborhood attracts a huge number of families every year because of the top-quality schools, kid-friendly and family-friendly activities, lush green parks, restaurants, and the relaxed atmosphere in general.
Some of the best schools for your children's education are Morris Robert School, Bache Martin School, Spring Garden Academy, and Philadelphia Mennonite High School. Apart from the education and arts scene, the neighborhood is famous for its places to eat and drink which are mostly just a walk or a bike ride away. In addition, families have options of visiting the Schuylkill River Trail and Kelly Drive as well.
Median Home Value: $389,900
Monthly Rent: $1,670
Median Household Income: $88,858
Roxborough
One of the safest neighborhoods in the entire city, Roxborough is located in the northwestern part of Philadelphia. It's bordered by Schuylkill River, Manayunk, East Falls, and the stunning Fairmont Park. Home to around 14,272 people, Roxborough is extremely clean and the people are warm and friendly. You'll have access to all the amenities in this highly walkable neighborhood which has become one of the most desirable places to live in the city in the last few years. There are numerous families, young professionals, and millennials who move to Roxborough every year. Moving around the city is also quite easy with various bus routes and the SEPTA Manayunk/Norristown Regional Rail services available.
The neighborhood is served by the Philadelphia School District and there are some excellent schools like Dobson James, Shawmont Elementary School, AMY Northwest, and Roxborough High School. For kids, there are also a number of beautiful parks including the Gorgas Park and Wissahickon Valley Park. Not just kids, but even adults get to enjoy as many as 50 miles of trails for horseback riding, biking, hiking, and running. If this wasn't enough, there's the Walnut Lane Golf Club, an 18-hole golf course. Adults have a lot more than parks like arts centers, gyms, opera, and most importantly, shopping centers including The Andorra Shopping Center, The Ivyridge Shopping Center, and ShopRite.
Median Home Value: $320,750
Monthly Rent: $1,445
Median Household Income: $74,936
University City
University City has a population of around 52,480 and is surrounded by Schuylkill River, Spring Garden Street, Woodland Avenue, and Civic Center Boulevard. Located in the easternmost part of the city, this neighborhood gets its name for being home to various colleges and universities like the University of Pennsylvania, Drexel University, and the University of the Sciences. However, there's a lot more to University City than just colleges. It's also a commercial hub with tremendous growth in the last two years. A number of skyscrapers have come up since 2020 like Cira Center and FMC Building. Housing options are plentiful from low to mid-rise apartment buildings, rowhouses, and townhouses to upscale high-rise apartments and condos.
Some of the best schools in the area are The Philadelphia School, The City School at Walnut Street, West Philadelphia High School, and Davidson School. Top employers in University City are the University of Pennsylvania, Drexel University, Penn Presbyterian Medical Center, and Children's Hospital of Philadelphia. Additionally, you'll be able to enjoy all the amenities like open spaces, shopping centers, restaurants, open-air concerts, and farmers' markets.
Median Home Value: $537,000
Monthly Rent: $2,761
Median Household Income: $28,603
Things To Look Out For Before Deciding To Move To Philadelphia
Philadelphia has a cost of living index of 101.2 which is just over the national average of 100. This is pretty good for a big city and especially when you compare it with other major cities in the US.
The entire city is not just extremely walkable but also has a highly efficient public transportation system. Therefore, you'll not be needing a car which will help you save a little extra on gas, insurance, and maintenance.
Philadelphia can be called a college town since there are around 115 colleges and universities all over the city. So if you're planning to move here with your kids, their education will definitely be taken care of.
Sports is something that's very important to the people of this city. If you're a fan, you'll have a great time with matches happening almost every other day.
Parking and traffic congestion are major issues in Philadelphia.
Summing Up
These are just seven of the many great neighborhoods in Philadelphia where you can settle down with your family. The only problem you might face now is that you have just too many good options to choose from. And that's where you'll have to be clear in your mind about what exactly you're looking for. Spending as much time researching will help you significantly in selecting the right neighborhood. The city has got it all, from four seasons to amazing restaurants, nightlife, a strong job market, brilliant schools and universities, and high quality of life. Moving with your family to Philadelphia can definitely be a good choice for you!
FAQs On Best Neighborhoods In Philadelphia For Families
What Is The Median Home Value In Philadelphia?
The median home price in Philadelphia is around $228,970. This rate has seen an increase of 7.2% from March 2021 to March 2022. You'll be delighted to know that this is much lower than the median home price in the entire country, which is $337,560.
What Is A Good Salary In Philadelphia?
In order to lead a comfortable life in Philadelphia, homeowners will need an income of $82,439 while for renters, the amount is around $92,639. These figures cover the basic requirements of people like utilities, housing, groceries, health insurance, and transportation.
Which Are The Most Affordable Neighborhoods In Philadelphia?
Some of the most affordable neighborhoods in Philadelphia are Bella Vista, East Falls, Manayunk, Fairmount, Torresdale, Mount Airy, Haddington-Carroll Park, Olney, Chestnut Hill, and Fox Chase.
Is Philadelphia Safe Enough To Raise A Family?
Philadelphia has a violent and property crime rate of 9.82 and 29.48 per 1,000 residents, respectively. If you want to compare it with the national average, it is 4 for violent crimes and 19 for property crimes. While it's definitely higher than the national average, some neighborhoods in the city are safer than others, so just make sure to choose wisely.
See Also: 10 Best Out of State Movers | 5 Best Neighborhoods in Philadelphia for Singles and Young Professionals