Best Moving Companies in Maryland for 2022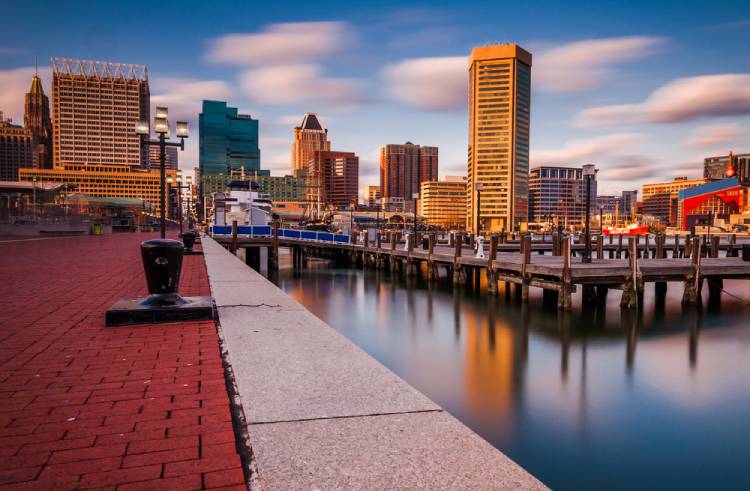 Whether you're moving to or from Maryland, a professional moving company can help make your move less stressful. Use our guide to compare the prices and services of the best movers in the state.
The moving process is both exciting and challenging. It takes careful planning, from itemizing your belongings to packing carefully and navigating busy Maryland roads. A professional moving and storage company can assist you if you are planning a move to, from, or within Maryland.
There are so many moving companies in Maryland that it can be difficult to decide which one is best for you. To assist you in your search, the 9Kilo Moving Review Team has researched and reviewed the best moving companies in the country. Our top picks are listed below. To compare pricing in your area, we recommend getting a quote from each Maryland mover.
International Van Lines
Packing, loading, unloading, transportation, unpacking, and furniture disassembly and reassembly are all services provided by International Van Lines (IVL). IVL also provides high-end specialty services for moving items such as pianos and antiques.
Customers can mix and match the services based on their moving needs, and the company offers both full-service and partial-service moving packages. Because of IVL's size, the company is better suited to long-distance moves involving Maryland rather than local moves.
International Van LinesBenefits and Drawbacks
Offers full-service and partial service packages
Offers flexible full-value protection plans
Specialty services for antiques, pianos, artwork, and other items.
Prices can be higher than other DIY moving options, particularly for local moves.
For local moves, this is not the best option.
Services
International Van Lines provides a comprehensive range of services, including:
Unpacking and packing services
Loading and unloading services
Furniture disassembly and reassembly
Crating
Special services for recreational and sports equipment, fragile items, large appliances, pianos, antiques, and more
Transportation and delivery
Auto-shipping
Contents protection plan options
International moves
Commercial moves
Packing and moving supplies
Airfreight services
Corporate and military relocation
Moving checklist
Moving calculator
Local moves within the same state are available from IVL, but you must have at least a two-bedroom apartment or home.
Cost
International Van Lines quoted us $2,015-–3,445 for a two-bedroom home moving from Baltimore to Frederick, Maryland, in about two months. This price includes loading and transportation. You may also read our article on Best Neighborhoods in Baltimore for Families.
Allied Van Lines offers moving services, from full-service packages to DIY assistance, moving kits, short- and long-term storage, and helpful online resources. Allied is known as one of the oldest moving companies in the United States.
Allied, unlike most movers, can ship a wide range of automobiles, including cars, SUVs, trucks, vans, motorcycles, boats, and snowmobiles. The company owns and operates an open and enclosed car carrier fleet. The trucks you've probably seen on the highway transportation stacks of new cars from automakers to dealerships are available carriers. Enclosed carriers are semi-truck trailers that shield vehicles from the elements and road hazards. If you have a high-value vehicle, such as a classic car, consider using an enclosed carrier for added protection during transport.
Allied Van Lines Benefits and Drawbacks
Provides in-house auto-shipping services;
Disconnects and reconnects appliances;
Provides both in-transit and long-term storage services.
It does not offer online sample pricing Better suited for long-distance transportation
Services
Among the moving services provided by Allied are:
Long-distance moving
International moving
Local moving
Mobile storage containers (loading/unloading included)
Full-valuation coverage
Furniture disassembly and reassembly
Fragile-only packing option
Cost
Allied calculates your overall moving cost based on total weight and mileage factors. In early August, moving a two-bedroom home from Annapolis, Maryland, to St. Paul, Minnesota, costs $4,820 and $5,528 using Allied's online instant quote tool.
Some of the factors that will impact your overall moving costs with Allied Van Lines are as follows:
The moving date
The moving distance
The amount and weight of household items being moved
The requirement of any additional services
They provide free basic liability insurance, but any additional insurance or add-on services, such as crating or vehicle relocation, are charged separately.
They are one of the oldest moving business since 1933 and currently works with over 500 local movers in all 50 states. North America can accommodate local, long-distance, and international relocations due to its extensive network.
Customers of North American Van Lines can quickly and easily file domestic or international claims directly from the company's website homepage. North America also has dedicated claims support lines for those who require additional assistance or prefer to file lawsuits over the phone.
North American Van Lines Benefits and Drawbacks
It has an online packaging calculator to assist customers in determining the amount and cost of moving supplies.
Uses crane vans to handle large equipment without a loading dock
Offers discounts to American Legion and union members and their families
Full-service options can be more expensive than competitor pricing.
Some customer reviews make numerous references to lateness and broken items.
Services
North America's moving services include the following:
Packing and unpacking
Custom crating for electronics
Furniture disassembly and reassembly
Loading and unloading
Vehicle relocation
Self-packing advice and assistance
Online library of moving tips and checklists
Cost
North American Van Lines will share a quote based on the size and distance of your move and your moving date, and any special handling requests. Other things that impact your total cost of the move include:
The total weight of items
Special handling items, such as crating
Your home layout
In early October, we are moving the contents of a two-bedroom home from Silver Spring, Maryland, to Concord, New Hampshire, which will cost between $3,828 and $4,354.
For self-service moves in Maryland, we recommend 1-800-PACK-RAT. Through its partnership with HireAHelper, the company offers some moving labor options, such as loading and unloading. Although 1-800-PACK-RAT is an excellent choice for both local and long-distance moves, the company's only Maryland location is in Baltimore. As a result, it is the best option for moves within a 100-mile radius of Charm City.
1-800-Pack-Rat Benefits and Drawbacks
It provides high-quality, weatherproof container(s) based on your schedule
offers $10,000 in contents protection on moves
offers price matching with PODS
customers cannot book online
Limited interstate availability
Services
1-800-PACK-RAT has three container sizes: eight feet, 12 feet, & 16 feet (suitable for 1–2 rooms, 2-3 rooms & 3-4 rooms, respectively). Additionally, the company includes 30 days of rental time for your container, but additional time can be purchased.
You can schedule when 1-800-PACK-RAT will deliver your container(s) to your original address. You fill the container(s) at your own pace. Once loaded, notify the company when you want the container(s) picked up and delivered to your new home. The container(s) are then unloaded at your leisure.
1-800-PACK-RAT offers the following services:
Self-service portable storage unit moves
Long-term and short-term storage solutions
Moving and packing supplies
Packing and unpacking via HireAHelper
Loading and unloading via HireAHelper
Furniture movers via HireAHelper
Vehicle shipping
Contents protection plans
Moving checklist
Space calculator
Moving and storage blog
Cost
1-800-PACK-RAT quoted $565.20 for a 16-foot container moving from Baltimore to Frederick in two months. Taxes are not included in this quote, but they have all transportation and 30 days of rental.
JK Moving offers full-service moving packages that are tailored to your specific needs. Not only will the company customize your package to fit your budget, but it also provides financing through Enhancify.
This makes JK Moving an excellent choice for anyone looking for budgeted full-service options.
JK Moving Benefits and Drawbacks
Provides local moving services in Maryland and has a mobile app to assist with inventory creation and the quote process.
Financing is available through Enhancify Full-service options may be more expensive than competitor pricing.
Some customer reviews make numerous references to lateness and broken items.
Services
JK Moving provides the following services as part of your customized moving package:
● Packing and unpacking services
● Loading and unloading services
● Furniture disassembly and reassembly
● Crating
● Storage solutions
● Special services for difficult items such as antiques, artwork, and pianos
● Transportation
● Freighting
● Commercial moving services
● Government moves
● Contents protection plans
● Moving blog
● Archive services
Cost
It does not offer online estimates; however, you can fill out a short form, and an agent will contact you. The total cost of your move with JK Moving will be determined by the services you select, your move's total distance and weight, and your point of origin.
They are another full-service moving company that provides reputable packing, loading, transportation, unloading, and unpacking services, among other things. Its moving teams are full-time employees with an average of 10 years of moving experience.
Another distinguishing feature is its fixed-price structure. As a process, AVL provides a binding estimate at the end of the quote, so the quoted price does not change during your move. AVL does not offer in-state moving services, but we recommend considering AVL if you plan a cross-country move.
American Van Lines Benefits and Drawbacks
Its full-time movers are with around ten years of experience.
It offers on-site private storage and personal storage vaults.
Prices can be higher than some competitors.
It requires an up-front deposit ranging from 10% to 50% of your total moving price.
It does not offer moves within the state (long distance only)
Services
American Van Lines provides flat-rate pricing on a wide range of services, including:
Full or partial packing and unpacking
Loading and unloading
Custom crating
Special services for difficult items, including antiques, musical instruments, recreational equipment, and expensive artwork
Furniture disassembly and reassembly
Transportation
Storage services
Moving supplies
Commercial moves
Military moves
Vehicle relocation services
Contents protection plans
Cost
Although AVL does not offer instant quotes, it does provide some cost information on its moving cost page. According to American Van Lines, moving a two-bedroom apartment from Dallas to Baltimore would cost $6,000–$7,000. This quote represents the average cost of this move with AVL, and it includes a variety of service options.
Conclusion
Each Maryland moving company on this list caters to a specific type of moving need. Take your time to consider what you want from a professional mover.
Frequently Asked Questions
How much do Maryland movers charge?
Hiring local professional movers for a short distance/local move will cost you between $300 and $1,500 on average, depending on the size of the move and the other factors above. Moving companies in Maryland typically charge by the hour for local moves, ranging from $50 to $500 per hour.
See also:
What exactly is a long-distance move?
Most moving companies consider a move over 400 miles to be long-distance if it exceeds 400 miles. Long-distance moving is also known as long-haul or interstate moving from one state to another.
Is it less expensive to hire a Maryland moving company?
Moving with a moving truck rental company is usually the most cost-effective option. On the other hand, a full-service mover may be worth the extra cost for your peace of mind. They are trained professionals who can handle the most difficult aspects of your move, allowing you to focus on other tasks.
See also: Leaving Baltimore MD? 5 Best Places to Move from Baltimore