Leaving Baltimore MD? 5 Best Places to Move from Baltimore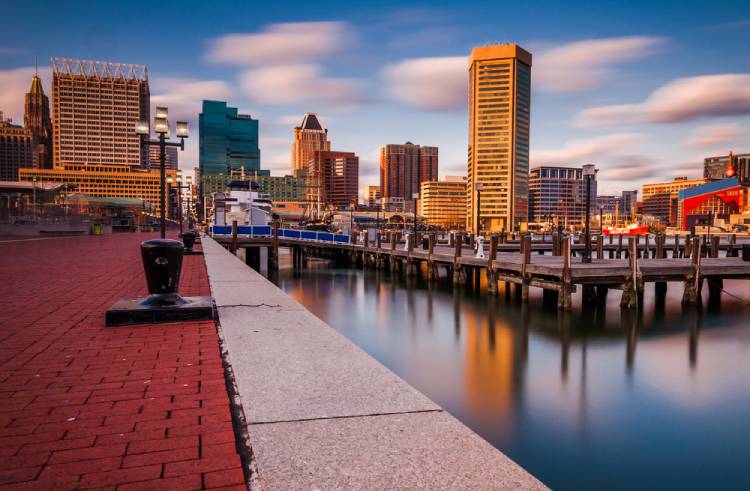 When someone talks about Baltimore, it's difficult not to think of the yummy crab cakes, the Edgar Allan Poe House and Museum, and the famous art galleries in the city. And if you're a sports fan, you might think of the major sports teams here like the Baltimore Ravens, Baltimore Orioles, and many more. But these aspects aren't the only things that people want in a city. In the past years, Baltimore has seen a decline of about -1.56% and a decrease in population by -8.75%, as per the data shared by World Population Review.
Several reasons are forcing people to move out of Baltimore to other cities. Primarily, the city has a high property crime rate that has become a major concern for the residents here. And to add to that, Baltimore also has sky-high property taxes that are making the people here look for affordable places to live in. Are you leaving Baltimore? Then you should check out these 5 best places to move from Baltimore.
5 Best Places To Move From Baltimore
Columbia
Rockville
Salisbury
Hagerstown
Cumberland
1. Columbia
Just head on around 25 minutes southeast of Baltimore and you'll reach one of the most popular cities in Maryland – Columbia. It's no secret that Baltimore has a relatively less diverse economy compared to most other cities in Maryland. That is one of the reasons why people are moving from Baltimore to places with diverse and flourishing economies like Columbia. Education, retail, defense, and technology dominate the economy of Columbia. To name a few top employers in the city: MedStar, Rohde & Schwarz, and Howard Community College are a few of them.
Another reason why Columbia is one of the most sought-after places in Maryland is owing to its location. This gem of a city is located between Washington DC and Baltimore and is, therefore, a great place for young professionals to live. When it comes to public parks, housing choices, educational opportunities, and recreational activities, Downtown Columbia surely ticks off all the boxes. And the beauty of the city is exceptional with many walking trails near Kittamaqundi Lake. This makes it an ideal place for families to settle in.
Downsides: Although Columbia has a good transportation system like the Howard Transit Bus services and the MTA (Maryland Transit Administration), the traffic here makes it difficult to get around in the city. Washington DC is just 37 miles from Columbia, but the traffic congestion in the city will have you driving for an hour or more to reach there.
Population: 585,708
Median Home Value: $455,580
Monthly Rent: $1,901
Median Household Income: $108,352
Unemployment Rate: 4.5%
Best Neighborhoods To Live In Columbia: Hickory Ridge, Town Center, River Hill, Wild Lake Community, etc.
2. Rockville
A city with a prospering economy, good quality education, modern amenities, and a low crime rate is often hard to find. But those are exactly what characterize the city of Rockville. You can breathe a sigh of relief if you're tired of the increasing crime rates in Baltimore because Rockville will be your best bet in the city. Living here means you'll have an easy passage to the most popular city, Washington DC. Rockville is located in the Montgomery County of Maryland. Just so you know, this is one of the most prosperous areas of the state, thus leading it to have a very low crime rate.
The city is home to the Thomas H. Wootton High School which is considered to be one of the highest-ranked schools in Maryland. Regardless of what neighborhood you reside in, you'll have easy access to the many restaurants and parks in the city. If you're considering moving from Baltimore to Rockville, know that you'll never run out of things to do in this city. That's because Rockville has many recreational areas and museums that the residents visit during weekends. And if you're wondering how you'll be commuting within the city, here's something that'll definitely make you want to move here. Most of the residents here don't own a car because the city has a solid transportation system.
Downsides: Rockville has everything you'd want in a city. But the city is known to have sky-rocketing housing prices that are above the national average. So, if you're thinking of buying a home here, you should know that you'll be spending a great deal of money on real estate.
Population: 67,117
Median Home Value: $593,574
Monthly Rent: $2,080
Median Household Income: $111,797
Unemployment Rate: 4.7%
Best Neighborhoods To Live In Rockville: Westmore, Lincoln Park, Rockshire, and West End Park.
3. Salisbury
Located along the banks of the Wicomico River, Salisbury is one of the most tranquil cities in Maryland. The city has a small-town feel to it and has a moderate climate all year round. When it comes to the job market, Salisbury has a diverse market that is dominated by the sectors of healthcare, manufacturing, shipbuilding, and education. Some of the biggest employers in Salisbury include Piedmont Airlines, Peninsula Regional Medical Center, Wicomico County Public Schools, and many more.
Many people are moving from Baltimore to Salisbury to live in close proximity to the beaches of the Atlantic coast. It's a great place for both families and retirees to live as there are plenty of parks and leisure spots within the city. One of the most popular attractions in the city is the Salisbury University Art Gallery. This is where most of the residents flock to in order to experience the local arts scene of the city.
Downsides: In Salisbury, crime remains a huge concern as the city has a reputation of having a high violent and property crime rate. So, if you're moving here, you can consider living in the southeastern part of the city which has reportedly lower crime rates than the other areas of the city.
Population: 30,343
Median Home Value: $210,500
Monthly Rent: $1,095
Median Household Income: $44,474
Unemployment Rate: 8.0%
Best Neighborhoods To Live In Salisbury: Lyndhurst, Fordingbridge, Romsey, and Wilton.
4. Hagerstown
One of the most thriving cities in the northern part of Maryland is Hagerstown. It is located in the Washington County of the state and is nicknamed the 'Hub City'. And why would it not be? It is in the heart of the Washington-Baltimore-Northern Virginia region and so, commuting to these places is going to be quick and easy. The city has several celebrated districts and museums that constitute one of the most historically significant cities in Maryland. And the fun thing about this city is that the residents enjoy an active lifestyle. That's because there's always something to do in Hagerstown. The city hosts several festivals and events like the Quad State Beer Fest, Leitersburg BBQ Festival, and many more!
When it comes to the economy, the industries of transportation, manufacturing, aircraft, automobile, and healthcare are the top flourishing sectors here. Some of the notable companies in Hagerstown are Hoffman Transport, Hagerstown Community College, and Regal Cinemas. Don't worry about getting around in the city as Hagerstown has a great transportation system throughout the city. Right from buses and railroads to major airports like the Hagerstown Regional Airport, there are several convenient travel options in the city.
Downsides: Although the overall cost of living in Hagerstown is cheap, you'll have to be mindful of choosing a safe area in the city. That's because Hagerstown has a relatively high violent crime rate in certain areas which makes the city an unsafe place to live in. You can always consider living in safer neighborhoods like Leitersburg, Crest Valley, and North Hagerstown.
Population: 43,527
Median Home Value: $237,655
Monthly Rent: $900
Median Household Income: $41,905
Unemployment Rate: 7.4%
Best Neighborhoods To Live In Hagerstown: Northwest Hagerstown, Historic City Park, West End.
5. Cumberland
Cumberland or the 'Queen City' is a charming city that is located between Pennsylvania and West Virginia in the Allegany County of Maryland. The city is full of rich history, art galleries, and plenty of outdoor activities. All of this makes it a perfect place for retirees to spend their golden years. The city has the most breathtaking views of the Appalachian Mountains and there are numerous hiking and biking trails for the residents to explore. One thing is for certain, all outdoor enthusiasts are sure to fall in love with the beauty of Cumberland.
One of the best things about moving to Cumberland is that the Frostburg University is located just 20 minutes away from here. Many families have moved to Cumberland in the past years owing to this very reason! Here, you'll find the most renowned educational institutions like the Parkside Elementary School, West Side Elementary School, Allegany College, etc. And if you feel like going for a vacation, the famous Deep Creek Lake is just an hour away from Cumberland. The city is also home to several top employers like S. Schwab & Co., Western Maryland Health System Rehab, Berry Global, etc.
Downsides: One of the biggest downsides of living in Cumberland is its decreasing population. So, the streets here are quite lonely for some of the residents of the city. In spite of the low population density here, the city has high violent and property crime rates. This is why, it's best if you consider living in safe neighborhoods like La Vale, Westside, and Stoneybrooke.
Population: 19,076
Median Home Value: $116,061
Monthly Rent: $895
Median Household Income: $36,145
Unemployment Rate: 6.9%
Best Neighborhoods To Live In Cumberland: Carpendale, West Side, Northern End, Washington Street, and Camden Ave.
See Also: Best Neighborhoods In Baltimore For Singles And Young Professionals
Summing Up
So there, these are the 5 best places to move from Baltimore. When choosing a city to move to, don't forget to check the crime rates and the cost of living in the city. And yes, one of the most important things you need to do before planning your move is to make a moving budget. If you need help with finding the right movers when moving from Baltimore, we're always here to help you.
Related: Best Moving Companies in Maryland | Best Neighborhoods in Baltimore for Families | Top Affordable Places to Live in Maryland
FAQs On Best Places To Move From Baltimore
What Is The Nicest Suburb In Baltimore?
Some of the nicest suburbs in Baltimore are Ellicott City, Columbia, Westminster, Havre De Grace, etc.
Where Should I Stay Away From In Baltimore?
The city of Baltimore is known to have a high crime rate compared to most other cities in the country. So if you're planning to move to Baltimore, you should stay away from neighborhoods like Cherry Hill, Highlandtown, Brooklyn-Curtis Bay, Morrell Park, etc.
Where Should You Not Live In Maryland?
If you're moving to Maryland, make sure you check the crime rates of the place you're planning to reside in. Some of the worst cities in Maryland that you should avoid are Ocean City, Hyattsville, Cambridge, Westminster, etc.