Moving to Maryland | 2022 Cost of Living and Relocation Tips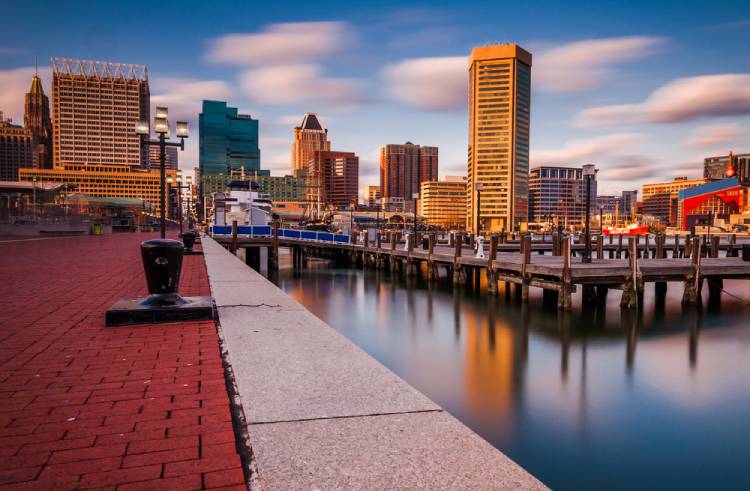 The state of Maryland is located in the mid-atlantic region of the United States and is dubbed as 'America In Miniature'. This title applies to the fact that although the state is small in size, nearly all kinds of terrain can be found here. You have the Appalachian mountain range, 4,000 miles of shoreline, a vast variety of farmlands, islands, grand lakes, cliffs, caves and powerful rivers. It is even home to the Chesapeake Bay which is appreciated for its scenic beauty and is the sole reason why Maryland and seafood just gel together.
Maryland is also often referred to as a microcosm of the nation, since it manages to absorb a little bit of various features, making it fit for all kinds of lifestyles. The state has its share of sprawling metropolis, wealthy areas, charming small towns, rich historic districts, vibrant communities, nationally recognized restaurants and high-tech industries. Residents also get to enjoy the benefits and opportunities that come along with having Washington D.C. as its neighbor. Access to world-class healthcare, a great workforce and a rich variety of recreational activities are few of the other perks of moving to Maryland.
However, before you decide to call Maryland your sweet home, let's go over other aspects that you should know about before you make the move.
Weather In Maryland
Like we said earlier, the state enjoys all kinds of terrain because of which Maryland registers a wide variety of climatic conditions. The eastern shore in particular receives contrasting conditions, usually falling under the humid subtropical spectrum of things. This is mainly because of its close proximity to the sea. The central and western regions are parts where the weather is dominated by humidity. In a nutshell, summers do tend to get very humid and your winters will have snowfall. Below is a snippet of the temperatures you can possibly expect during each season:
Winters (November to March) – Winters in Maryland usually fall in the range of 30F-70F. However, occasionally the low temperatures also drop to freezing conditions of 21°F (-6.1°C) to 33°F (0.6°C) zone. The months of November and December witness light snowfall (approximately 7 inches). However, western Maryland particularly registers the most amount of snow (upto 10 inches). January and February are peak winter months. It's when temperatures drop to freezing numb conditions with plenty of snowfall everywhere. Snowstorms are also a common occurrence during winter.
Spring (End March to May) – Spring is the most awaited time of the year as residents get a break from the winter months. During the transition from winter to spring, you can expect temperatures to still fall in range of 25F-38F during nights. However, normal day temperatures can be pleasant, allowing it to roughly come under the 41°F (5°C) to 68°F (20°C) zone. In the month of May, temperatures can go upto 77°F (25°C). Do note that spring also happens to be an unpredictable time where temperatures keep shifting from cold to warm. Therefore it's highly recommended to keep a light winter jacket handy.
Summers (June to August) – Summers in Maryland are extremely humid with patches of extreme heat. July and August is considered to be the hottest where temperatures may cross the mark of 90F (32.2°C). The average temperature usually falls between 66°F (18.9°C) to 87°F (30.6°C).
Spring (September to October) – Fall is considered to be the most pleasant time of the year. The temperature falls in the lovely range of 60°F (15.6°C) to 70°F (21.1°C). Eastern Neck Wildlife Refuge, Chester River and Tuckahoe State Park are few of the best places to catch fall foliage in Maryland.
Transportation In Maryland
The Maryland Transit Administration (MTA), along with other agencies, is responsible for operating all the modes of commute in the state. The MTA system helps residents reach points of interest by non-car modes of transportation. Overall, it is made up of 80 extensive bus systems, a Light Rail, Metro Subway, and the MARC Train. However, the coverage of these modes of transport are limited to getting around Baltimore and the surrounding counties.
Apart from these modes, the state also has a massive network of highways to help residents connect to neighboring cities. The five major interstates are 95, 70, 68, 83, and 81. However, the most heavily commuted interstate road is the Interstate 270. On the entire stretch of this roadway, you will find over 370 bioscience companies. Many scientific firsts have found their home in this area, because of which the road is also called the 'Bio Corridor'.
See also: Maryland DMV Change of Address
Airports
The state of Maryland has two international airports. Most of the regional airports are located in Annapolis, Cambridge, Frederick, Oakland, Ocean City and Salisbury. The most-travelled and most extensive airports of the state are:
Baltimore-Washington International Thurgood Marshall Airport
Salisbury-Ocean City Wicomico Regional Airport
Hagerstown Regional Airport
Ronald Reagan Washington National Airport
Dulles International Airport
Railways
You can count on the services of Amtrak to connect you to other parts of the country or the state itself. The passenger railroad service has 9 train lines passing through the state of Maryland. Although, the state just has 5 Amtrak train stations and 7 of the Amtrak train lines stop at Baltimore. This limits the potential of the Amtrak train line to reach other regions of the state.
The six railway stations in Maryland are located at:
Baltimore (Penn Station)
Baltimore-Washington International Thurgood Marshall Airport
Cumberland
New Carrollton
Rockville
Job Market In Maryland
The state of Maryland is home to a wide variety of industries across several sectors. To an extent, the state's economy largely benefits from the fact that it sits in close proximity to the Washington D.C. metro area. The efficiency of the powerful port of Baltimore is another factor that attracts more and more businesses to set up their headquarters in Maryland.
Maryland's strategic location is not just a boost for the economy but it helps provide job stability for millions of residents. Presently, few of the key industries dominating the economy are:
Aerospace and Defense
Advanced Manufacturing
Biohealth and Life Sciences
Financial services
Tourism
Cybersecurity and I.T
Agribusiness
In addition to these, a number of educational institutions are also playing a huge role in providing lucrative opportunities for residents. Several large military bases have a huge presence in the state, providing high paying government jobs. Giant Food Inc., Johns Hopkins Medical Institutions, MedStar Health, Black & Decker Corp, Verizon Inc., Wal-Mart Stores Inc. and University of Maryland Medical System are few of the top employers of the state.
Overall, upon looking at Maryland's economy at a glance, it is safe to say that the state has been experimenting with clusters of different industries. The state also manages to have a diversified economy because it has positioned itself to have a business-friendly environment.
Renting In Maryland
According to reports by HomeSnacks, the average median rent of houses in Maryland is $1,700, while the national average is roughly $1,650 (that's a 0.3% difference in cost). This proves that renting here is practically just wandering its way above the national average. However, don't be completely taken aback with the rent costs.
The fact is the average median household income in Maryland is also relatively high, so you would probably just be able to afford renting in this price range. On the other hand, the further you move away from the D.C. the lower the rent can get. It's also very much possible to find homes below the $1,700 mark.
Having said that, some of the areas where the average median rent is expected to be exorbitant are:
Bowie (average rent $2,001)
Poolesville (average rent $1,980)
Rockville (average rent $1,976)
Gaithersburg (average rent $1,748)
Mount Airy (average rent $1,699)
College Park (average rent $1,695)
Annapolis (average rent $1,627)
Do run over this list so you can form your perspective on the rent with a price point.
Cost Of Living In Maryland
It is true that Maryland is an expensive state to live in. Home values as well as rental prices like we just discussed are way over the national average. In other words, living here can be pricey. But you don't have to let this deter you from considering your move to Maryland. The fact is that the median household income is also way higher than the national average. This makes it possible to withstand the high cost of living.
Most employers take into consideration the high cost of living, so depending on the job role you take on, you can expect to get a higher pay cheque. So even though a huge chunk of your income would go into living expenses, there's a high chance of it still being a great trade-off. However, let's take a closer look at how expensive it really gets by looking at things from a price standpoint.
So when it comes to housing, Zillow suggests that the average median value of homes is $330,332. This means you would be paying roughly $294,100 for a house in Maryland, while in different parts of the nation that same house would cost approximately $231,200. This shows how big a margin there is. But on the plus side, the average median household income is roughly $81,868 (according to Niche). That's certainly relatively higher than the national average which stands at $55,322.
When it comes to matters of utilities, a single person is suggested to budget between $750-$900 per month. You can expect your electricity bill to range from $90-$160 per month depending on the appliances you use for heating during the winter months. However, do keep in mind that this is just a rough estimate because your monthly expenses are subjective to individual habits and lifestyle patterns.
See also: Cheapest States to Live in the USA
Education
Top-Rated Maryland Colleges
1. Johns Hopkins University, Baltimore
2. University of Maryland, College Park
3. Loyola University Maryland, Baltimore
4. University of Maryland, Baltimore
5. St. Maryland's College of Maryland, St Mary's City
6. Salisbury University, Salisbury
7. University of Baltimore, Baltimore
8. Towson University, Towson
9. Washington College, Chestertown
10. Goucher College, Baltimore
Top-Rated Maryland Schools
1. Howard County Public Schools, Ellicott City
2. Montgomery County Public Schools, Rockville
3. Worcester County Public Schools, Newark
4. Carroll County Public Schools, Westminister
5. Frederick County Public Schools, Frederick
6. Calvert County Public Schools, Prince Frederick
7. Harford County Public Schools, Bel Air
8. Queen Anne's County Public Schools, Centreville
9. Washington County Public Schools, Hagerstown
10. St Mary's County Public Schools, Leonardtown
Top Cities To Move To In Maryland
1. Columbia
The city of Columbia is recognised for its planned community system with 10-self contained villages. Columbia was formed with the concept that a city can strive to improve its residents' quality of life. Well, the city did a pretty good job at executing this idea and is ranked as one of the top cities in America to raise a family. It is considered to be a city that cares about the well-being of its people. It boasts of friendly neighborhoods, clean parks, great outlets like Walmart, Target, Trader Joe's and Costco and much more.
Median price of homes sold: $372,000
Median rent: $1,687
2. Frederick
The city of Frederick is just an hour drive away from the city center of Washington and 3 major airports. Residents here enjoy the convenience of location, relatively affordable housing and the plenty of options available for shopping and food. The city also has a variety of fun art districts, historic buildings and cultural centers. Overall, it is a very lively and diverse small city organizing a number of family-friendly events year round. Urbana, Spring Ridge, Ballenger Creek are some of the best suburbs of this city.
Median price of homes sold: $265,500
Median rent: $1,351
3. Rockville
The city of Rockville is situated at the heart of Interstate 270, which is a Technology Corridor filled with several software, biotechnology companies and federal government institutions. This makes Rockville an ideal choice for young professionals drawn to such a workfield. Residents here also enjoy the access to excellent educational institutions, transportation options and close proximity to D.C.
Median price of homes sold: $521,700
Median rent: $1,909
4. Annapolis
The city of Annapolis is the capital of the state of Maryland. It is situated on the Chesapeake Bay at the mouth of the Severn River, giving residents the opportunity to stay in close proximity to the waterfront. The city has some of the oldest historic homes and is also recognised as the sailing capital of the nation. Although, there's thousands of reasons to fall in love with the city, the cost of housing and amenities here is among the highest in the state.
Median price of homes sold: $413,300
Median rent: $1,537
5. Gaithersburg
The city of Gaithersburg is ranked to be one of the most diverse cities in the US. The state of Maryland in general is home to a handful of diverse cities. However, Gairhersburg actually tops the list. Other than exposure to different cultures, the residents here also enjoy easy access to public bus services, the metro station and is just 40 minutes away from an international airport.
Median price of homes sold: $389,700
Median rent: $1,697
See also: Fastest Growing Cities in America | Most Affordable Places to Live in Maryland
FAQs about Moving to Maryland
Is Maryland a good state to Move to?
Like every state, Maryland has its share of pros and cons. This state, particularly the city of Baltimore, is in close proximity to big cities including Washington DC and Philadelphia. This along with the many businesses and hospitals in Maryland, the unemployment rate here is relatively low. But keep in mind the rather high housing expenses and tax rates.
Maryland also is a great state to explore the outdoors, thanks to the thickets of green in Western Maryland and the many beaches along the east coast. Speaking of coasts, Maryland's seafood is simply legendary!
The weather in Maryland is unpredictable to say the very least. So if you're not up for a surprisingly warm winter day followed by a snowstorm, this place may not be for you. The weather may also affect the already bad traffic in Maryland, so exercise caution before moving here.
See also: Best Moving Companies in Maryland
What is a Liveable wage in Maryland?
The Living Wage Law mandates hourly wages of $14.24 and $10.70 in Tier 1 and Tier 2 jurisdictions in Maryland respectively. But for a family of four with both parents working, a combined annual income of about $99,570 would ensure a comfortable life.
What should I know before Moving to Maryland?
The wealthiest state in the US is also full of history. Maryland was where the Star-Spangled Banner was written and the first railroad station built. And these are only a few of the interesting facts about Maryland.
You must have figured out that being the wealthiest state in the US, Maryland isn't cheap. The average home value here is $335,260 and the cost of living index is 113, which is considerably higher than the US average. If you're planning to rent a house here, you'll be spending a princely $1,534 per month on an average.
To add to it, Maryland simply isn't tax-friendly. Along with a statewide income tax that goes upto 5.75%, there are also personal income taxes and a 6% sales tax.
To make up for it, the economy in Maryland is strong, with a continually developing job market. This is where the Johns Hopkins Hospital is, and the government powerhouse cities nearby provide jobs with a fat paycheck too!
What is the safest town in Maryland?
The historical city of Taneytown gets the title of being the safest in Maryland, and also among the safest in the US. NeighborhoodScout has estimated the chances of violent crime to be two per 1,000 residents, and for property crime, 10 per 1,000 residents.
What is the best city to live in Maryland?
There's no denying that the only major city in Maryland is Baltimore, so you can consider a suburb just north of it: Towson. It'll give you a small-town feel, yet not keep you isolated from the bustling life of Baltimore. It's not just shopping and business districts in Towson, there's also the prestigious Towson University and many schools in this suburb. So it's a great place to move with your family.
But if you're someone who just loves the outdoors and are planning to get a retirement home close to the mountains, consider moving to Thurmont in Frederick County.
What is the cheapest place to live in Maryland?
Despite the many historical and artistic attractions it offers, the city of Hagerstown in Washington County is among the cheapest places to live in Maryland. The average home value here is a mere $160,935, according to Zillow.
Is it Cheaper to live in Texas or Maryland?
It definitely is cheaper to live in Texas than Maryland. Unlike Maryland, which has state and personal income taxes, Texas is a tax-friendly state with no state income tax. Along with it, the cost of living index of Maryland and Texas are 113 and 93.9 respectively.
---
Our Take On Maryland
Living in the state of Maryland is like walking into a souvenir shop that represents different parts of the United States. And then you have the advantage of reaching out to different aspects you love about America, in one way or another, all from the state of Maryland. Residents here can easily get access to the metropolitan spirit of New York, North Virginia and Washington D.C. as well. Perhaps, this is why the state is rightly called a miniature of America. The state is also filled with bite size versions of different cultures and boast of a strong economy. Ethnic neighborhoods, traditional small towns and metropolitan hubs come together to offer diverse and merry ways to live well in the little state of Maryland.