Moving to Baltimore | 2022 Cost of Living & Relocation Tips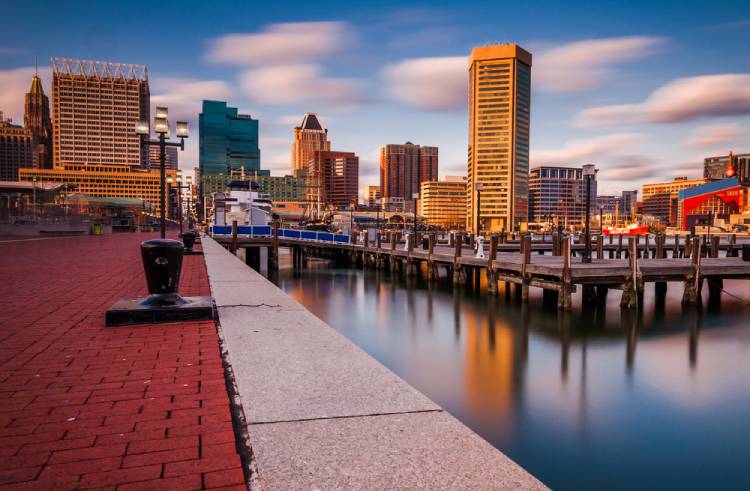 The charming little city of Baltimore lies on the northeastern corridor of the nation. Many of us recognize the place from the award winning show "The Wire". Yes, the show is truly phenomenal, but even if you binge watched the entire series, it really isn't enough to gauge what practical life in Baltimore would look like when you move there.
A little bit of internet homework on Baltimore only reveals that it is a quaint little historic city with a seafood culture. Moreover, it is highly diverse in nature and possesses a high concentration of universities. A short drive in any direction here could also take you to the mountains or beach, so you truly get the best of both. But we're sure you're also curious about other aspects of moving to Baltimore that are totally worthwhile, so let's just get to it.
Weather In Baltimore MD
The year round weather in Baltimore is inherently unpredictable, just like many other cities in the country (hello, global warming). But for the sake of classification, it can be divided into two conditions – humid summers and freezing wet winters.
In terms of snowfall, the residents of Baltimore don't have much to worry about. The eastern shoreline where the city lies doesn't really receive a lot of snow. If you're a snow lover, you might be slightly disappointed by this. But you can always head to the mountains of western Maryland for snow.
The concern with winters that transplants could possibly have are linked to the dark atmosphere, chilly damp conditions and the strong cold winds. Just a heads up that the winter temperatures could show no sign of leaving even in April and March. At times, the city has unexpected snow even in the month of April, although ideally temperatures start to increase in March itself.
Few other things to know about Baltimore weather:
January and February are peak winter months. You have to be prepared with the appropriate winter clothing and gear to get through these months.
During peak winter months, temperatures fluctuate between 20 F and 30 F or so.
Snowfall can be tricky and unpredictable. On an average, the snowfall could be anywhere from 4 to 10 inches in the city. If you're interested in winter spots, you can always head to the western side of the state of Maryland.
Snowstorms and ice storms are a common sight during the winter months, so it's best to stay home and avoid being out during this time.
It's best to try sledding or picking up a winter activity to get through the winter months.
Spring may feel like an extension of the winter. Conditions will sway from warm to cold and the average temperature deviates from 41°F (5°C) to 68°F (20°C).
During the summer months (June to August), you can expect humidity in the 80+ range. It would be muggy because of the high humidity, but it is still the most awaited time of the year since you can enjoy the outdoors.
Summers are also the wettest months of the city. This is especially a common occurrence in September, so you must be prepared for the showers with an umbrella or light rain jacket.
Mid-August to Mid-October is the most pleasant time where the city isn't fighting off extreme weather conditions.
Transportation
If you're thinking of getting around without a car in Baltimore, you fortunately have the option to do so. This is mainly because the city and its surrounding counties are binded with a number of transit options for the public. But you have to put some thought into how feasible it is for you.
Below is a list of the following transit options at your disposal for intra-city travel:
You have the MARC train line which is a fast reliable line that helps residents reach Washington D.C within 45 minutes.
Residents also have access to 4 extensive bus systems. It consists of:
CityLink (has a high coverage of the entire city)
ExpressLink (skips certain stops to save time)
LocalLink (ideal for a handful of residential neighborhoods)
Commuter buses (helps link regions on the borders of Baltimore to its downtown).
The city also possesses a light rail system that caters to key areas in downtown Baltimore. The light rail is immensely efficient as it cuts through every other transit option of the city. It's best to get to the international airport or get transferred to a bus stop, MARC train stop or subway station.
Lastly, you have the metro subway line. This is a single subway line that covers designated locations of central areas of the city such as John Hopkins Hospital, the business district and Owings Mills.
Apart from this, you can also opt for rideshare programs like Uber and Lyft. Do note that the city also has a free shuttle service for students or affiliates of Universities. Although it might seem like it is possible to live without a car in Baltimore, it ultimately depends on your place of residence, work and whether you're comfortable relying on public transportation. Overall, the bus system is your best bet as it has the most coverage of the city. Before you take a no-car stance, we'd advise you to take into consideration the weather conditions of the city. Baltimore has a handful of bikeable and walkable neighborhoods, but then again, this requires forethought and enough planning because of the weather conditions.
If you wish to travel beyond the city lines, you can take advantage of the Baltimore-Washington International Thurgood Marshall Airport (BWI) and the 7 Amtrak train lines that stop at Baltimore.
Job Market In Baltimore
The city of Baltimore is definitely the shining star for job opportunities in the state of Maryland. It is home to thousands of tech, healthcare and government oriented services. The city also lies in close proximity to Washington D.C., thereby giving residents the advantage of widening their job search to those pastures as well.
The largest employers along with the keys industries of the city are:
Johns Hopkins Medical Institutions – Healthcare and Bioscience
Johns Hopkins University – Education
Legg Mason Inc. – Global financial services company
MedStar Health – Healthcare
Under Armour – Retail
T. Rowe Price Group – Finance
Morgan Stanley – Finance
A simple glance at the list makes it safe to assume that the job market in Baltimore is far from mediocre. We'd also like to mention that there's a proliferation of STEM jobs in the city, because of the growing metro area. All in all, sectors linked to the field of healthcare, finance and education get the top priority, since the city is dotted with a large concentration of universities and medical institutions.
Apart from this, the tourism industry is also booming on a small scale, because of the numerous historic marvels making it an interesting hotspot for tourists.
See also: The Best and Worst US Cities for Job Seekers
Renting
The average median rent for an apartment in Baltimore is $1,304. Frankly speaking, the rent in Baltimore is among the nation's highest. Several business journals point out the fact that it might be easier to buy than rent, because of the skyrocketing rent prices. For instance:
A basic studio apartment in the city is roughly $1,200 a month.
For a 1-bedroom apartment, you'd pay approximately $1,250 to $1,500 a month.
While a 2-bedroom apartment is $1,600 to $1,850 a month.
A 3-bedroom apartment or something more luxurious could cost anywhere from $1,800 to $2,700 a month.
Cost Of Living In Baltimore
According to reports by Forbes, the cost of living in Baltimore is 6% higher than the national average. But the good news is that it is much lower than the state average. We've done a breakdown with average figures that would go into housing and utilities, so you can build your own stance on how things would look financially.
Housing
The median value of homes in Baltimore is $162,197 (according to Zillow). In comparison to its neighboring cities where prices are hitting the roof, Baltimore is moderately doing well. See the below figures to get a better picture of things:
Median value of homes in Philadelphia, Pennsylvania – $202,985
Median value of homes in Washington D.C. – $666,768
There's a huge margin in costs as compared to cities like Washington and Philadelphia. In terms of savings, this makes the city of Baltimore a safer option.
Utilities
Depending on usage, your electricity and gas bill could amount to $125 a month (Note: This is higher than the national average). Internet bills would roughly fall in the $50 to $120 bracket. And monthly expenditure could possibly round upto $2,000 for a single person. Just a heads up that parking, car insurance and taxes are on the higher end of the spectrum in Baltimore.
Median household income
The average median household income in the nation is $55,322, but the average annual income in Baltimore stands at $48,840. There is a substantial difference that might make it difficult to follow the logic of 50 (for needs), 30 (for wants) and 20 (for savings) in the city. The salary range to live comfortably and follow the 50/30/20 theory is between 50k-60k for a single person. This means that an annual income of 80k would be a luxury.
Do note that these are just rough estimates to help you build a perspective on the cost of living. Depending on lifestyle habits of eating and various other factors, things would vary.
See also: Most Expensive Cities in America | States that Pay You to Move There
Top Schools And Universities In Baltimore MD
Top 5 Best Rated Universities
Johns Hopkins University
The University of Baltimore
Towson University
University of Maryland, Baltimore County
Loyola University Maryland
Top 5 Best Rated School Districts
Montgomery County Public Schools
Prince George's County Public Schools
Baltimore County Public Schools
Howard County Public Schools
Worcester County Public Schools
Best Neighborhoods In And Around Baltimore
Charles Village
Charles Village is situated in the central part, which is also considered the heart of Baltimore. It is the most popular choice of residential neighborhood among those moving to Baltimore. This neighborhood is anchored with modern amenities and walkable areas. It also lies in close proximity to the Johns Hopkins campus and is filled with row houses that are occupied with a large number of students and young professionals. This neighborhood has a strong character because of the diversity and strong sense of community. It is an ideal spot for families and students.
Median value of homes – $241,052
Median rent – $1,132
Guilford
The neighborhood of Guilford is tucked in the north corridor of the city. It is one of Baltimore's most upscale neighborhoods. The cost of housing here is on the higher end of the spectrum but to many, it is a great trade off. If you choose to live here, you'll be 15 minutes away from the city center and enjoy modern amenities. The houses here are also extremely unique, since it is part of the historic district of the city. It is easy to spot mansions and historic properties with huge lawns in Guilford. Hampden and Wyman Park are the other two notable neighborhoods of this area.
Median value of homes – $618,514
Median rent – $2,335
Mt. Washington
Mt.Washington is among the quiet and peaceful neighborhoods of the city of Baltimore. Few of the perks of living here is that you have easy access to the stunning Roland Park for recreation and a large number of top-notch medical facilities. The peculiarity of living here is that no two houses look the same. You have a range of period and manor homes to choose from and you're just a walking distance from a light rail station.
Median value of homes – $304,867
Median rent – $1,117
Fells point
Located in the far east of the city, Fells point is a more trendy, hip and lively place to choose, in comparison to the other quiet residential neighborhoods on this list. If you're someone looking for entertainment options, restaurants and shopping areas, then this could be the place for you. Fells point has the buzz and is social in nature. Other perks are that you have a waterfront view and the beautiful Patterson Park in the vicinity. Do note that Canton and Federal Hill are the most popular places to reside in Fells point.
Median value of homes – $307,383
Median rent – $1,513
Mount Vernon
The neighborhood of Mount Vernon is home to several financial firms and educational institutions. Moreover, it is just minutes away from the city center. Many residents choose to live here solely because of the location and how that makes things super convenient. You have grocery stores, restaurants, public transit, places of work and play all merely at an arm's length. This town is also a hub for job opportunities. If you're specifically drawn to places that have lots of things to do (bars, clubs, restaurants, cafes), then we highly recommend Mount Vernon.
Median value of homes – $252,415
Median rent – $1,181
Also See: Top 5 Neighborhoods in Baltimore for Families
---
FAQs about Moving to Baltimore
Is Baltimore expensive to live in?
Baltimore is a colorful city with charming neighborhoods, rich history, interesting museums, a picturesque harbor, and top-notch medical centers. Because of this, the cost of living in Baltimore is 6% higher than the national average.
The median home price in Baltimore is $169,32. Other than this, the cost of utilities, transportation, food, and groceries, etc., is certainly higher than the national average. In conclusion, Baltimore is expensive, but not by a huge margin. If you are planning to move here, then you should know that life here is pretty affordable.
Is Baltimore dangerous?
Baltimore is by far one of the most dangerous cities in America. This is because the crime rates really soar through the ceiling here. The chances of you becoming a victim of a violent crime in Baltimore is 1 in 53. Similarly, the chances of you becoming a victim of property crime in Baltimore is 1 in 23.
What's the best part of Baltimore to live in?
The city of Baltimore is as charming as it can get. If you have decided to move to Baltimore, do consider moving to the following neighborhoods that are some of the best places to live in Baltimore.
Federal Hill
Harbor East/Fells Point
Canton
Inner Harbor, Brooklyn
Hampden
Charles Village
Mt. Washington
Midpoint Belvedere
Mount Vernon
South Baltimore
What are the bad neighborhoods in Baltimore?
Although Baltimore is a beautiful city with plenty of safe and comfortable neighborhoods, you must not forget that some parts of the city are quite dangerous. Here are some of the worst neighborhoods in Baltimore that you ideally shouldn't consider moving to.
Monument Street Area
Fairfield
Orangeville
Cherry Hill
Greenmount East
Greater Rosemond
Madison-Eastend
Berea
Grove Park
West Baltimore
Did Baltimore legalize drugs?
Baltimore hasn't legalized all kinds of drugs but it has certainly taken a step towards the legalization of drugs. Crime rates were quite high in Baltimore and many people were being prosecuted for procuring and possessing drugs. However, the state of Maryland passed a bill in March 2021 that basically legalized the recreational usage of cannabis by anyone who is over the age of 21. The crime rates in this city were already ridiculously high and the pandemic has hit the people as well as the economy very badly. By passing this bill, the government wanted to give a boost to small businesses, increase the tax returns for the government, and most importantly, take the low-quality cannabis that was in circulation, off the streets of Baltimore.
Our Take On Baltimore
Baltimore is recognized as the "Charm City". It has a dose of diverse communities, productive commercial hubs and places for recreation. Selected parts of the city certainly gets somewhat of a bad rap when it comes to crime. But this city isn't alone when it comes to such aspects. Residents here also have a rich experience in terms of its seafood, modern amenities and diversity. Now that you have an overview of the city's standing in terms of metrics other than crime, there's only one question you've to ask yourself. Is moving to Baltimore for you?
See also: Best Cross Country Movers of 2022