7 Most Affordable Places to Live in Maryland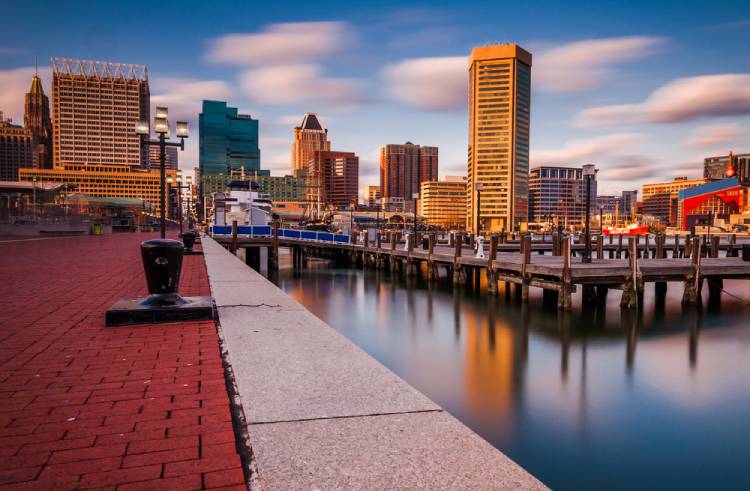 Maryland is a state found in the Mid-Atlantic region of the United States. It is the seventh smallest state in land area, but it is the 19th most populous state with over six million residents. Virginia borders Maryland to the south, West Virginia to the southwest, Pennsylvania to the north, and Delaware to the east. It also has a coastline along the Chesapeake Bay. Maryland is often considered part of the Northeast region of the country because of its proximity to Washington, D.C., and its cultural similarities to other states in that region. Maryland is known for its crab cakes, blue crabs, Old Bay seasoning, and its role in American history. It was one of the original thirteen colonies that formed the United States of America and played a significant role in the American Civil War. Today, Maryland is home to many historical sites and landmarks related to its rich history. It is also home to several major universities, including Johns Hopkins University, the University of Maryland, College Park, and Towson University. Maryland is truly a unique state with something to offer everyone. Let's look at some of the affordable places in Maryland:
1. Bel Air
Bel Air is a town in Harford County, Maryland. The town is the county seat of Harford County. Bel Air is located at I-95 and Route 1, about 25 miles north of Baltimore. Bel Air's population was 10 061 at the 2010 census. Bel Air is the home of the Bel Air Town Center, a regional shopping mall. The town is also home to Bel Air High School, Harford Community College, and McDonogh School. Bel Air is governed by a mayor and town council. The town has a police department, fire department, and public works department. Bel Air is served by the Bel Air Transit System, which provides bus service to the town and surrounding areas.
Median House Price: $423,624
Median Rent: $ 1,646
Population: 31,941
Cost of Living in Bel Air: $33,348
Famous Stops!
At Bel Air Armory, you may catch music performances, participate in local festivals, and visit the market.
Take a stroll or go for a run along with the M.A. & P.A. Heritage Trail. At Harford Mall, you can shop at stores like Macy's, Zales, and American Eagle.
You may get local goods at the Bel Air Farmers Market all year.
The Harford County Wine Festival features a wide selection of wines worldwide. Cabernets, Zinfandels, and everything in between is available for tasting.
At Steelefish Grille, you can dine on Maryland Crab Cakes or Seafood Risotto.
At the annual M.D. State BBQ Bash, meet your neighbors while sampling some of Maryland's best barbecues.
Top Employers of Bel-Air
Upper Chesapeake Hospital
Harford County Government
Home Depot
Family and Children's Services of Central Maryland
Senior Sava Care
2. Easton
Easton, a town located in Talbot County, Maryland, United States. The population was 15,945 at the 2010 census. Easton is the county seat of Talbot County. Easton is the principal town of the Easton, MD Micropolitan Statistical Area. The town has a long history dating back to 1710 when it was first established as a port town. Easton's economy has always been based on its ability to ship agricultural products from the Eastern Shore to larger markets. Today, Easton is still a major center for farming and fishing on Maryland's Eastern Shore and serves as a hub for tourism and retiree relocation. Easton's historic downtown district is home to several antique shops, art galleries, restaurants, and the Avalon Theatre, a restored Art Deco movie palace. Easton is also home to two major hospitals, Memorial Hospital and St. Michael's Medical Center.
Median House Price: $699,900
Median Rent: $ 1,301
Population: 16,600
Cost of Living in Easton annually: $39,831
Famous Stops!
In addition, visit the Waterfowl Festival each year to purchase unique arts and crafts that support wildlife conservation efforts in your city.
Take a Haunted Walking Tour of Easton and learn more about the city's history and the chilling stories of ghosts that are said to haunt the area still.
Visit The Academy Art Museum to see rotating exhibitions or take a pottery class.
Take a stroll around the grounds of Talbot Historical Society, which is open to the public every day during daylight hours.
Top Employers of Easton
Talbot County Public Schools
The Whalen Company
Decorating Den Interiors
Sea Watch International
Lowe's Home Improvement
3. Brunswick
Brunswick is a town in Maryland that is situated along the Potomac River. The town is home to various businesses and organizations, including Brunswick Heritage Society, Brunswick Railroad Museum, and Brunswick Main Street. Brunswick has a long history, dating back to the early 1800s when German immigrants first settled it. Today, Brunswick is a thriving community known for its welcoming atmosphere and unique charm. With its rich history and diverse array of businesses and organizations, Brunswick offers something for everyone. Whether you're interested in exploring the town's heritage or getting involved in the local community, there is always something to do in the city. If you're looking for a place to call home, Brunswick may be the perfect place.
Median House Price: $374,900
Median Rent: $1,600
Population: 6,260
Cost of Living in Brunswick annually: $48,362
Famous Stops!
The Brunswick Heritage Museum tells the story of the city's beginnings through three floors of interactive lessons.
Over at Brunswick Dog Park, your canine companions can run free and socialize with their pals.
Beans in the Belfry, located within a restored church, serves coffees, cold glasses of wine, and hot meals.
In Taree, New South Wales, Hive Bake Shop sells fresh-baked breads, danishes, and homemade fudge.
Turn back the clock to Smoketown Brewing, a former fire station now an artsy industrial space. Go inside Smoketown Brewing—formerly a fire station—now an artfully industrial complex for a pint of Berlin Brown Ale or Potomac IPA.
Top Employers in Brunswick
Southeast Georgia Health System
Glynn County Schools
Brunswick Police Department
Applecare Immediate Care
Lockheed Martin
4. Arbutus
Arbutus is a suburb of Baltimore, Maryland, located just southwest of the city. The community is known for its friendly atmosphere and a strong sense of community. Arbutus is home to several parks and recreation facilities and a variety of shops and restaurants. The community is also served by a reliable public transportation system, making it easy to get around. Arbutus is an attractive place to live for families and individuals alike, and its proximity to Baltimore makes it an ideal location for commuters. The town also has a thriving business community, with various shops and restaurants. Arbutus is a great place to live, work, and raise a family. If you're looking for a charming town with plenty to offer, Arbutus is the perfect place.
Median House Price: $298,000
Median Rent: $1,207
Population: 19,627
Cost of Living in Arbutus annually: $39,367
Famous Stops!
The Arbutus Oak, a 300-year-old oak tree that has remained standing since before the American Revolution, is one of its kind.
Visit the University of Maryland Baltimore County campus to watch the UMBC Retrievers battle it out at the UMBC Event Center. You may have a slice of The Meal Buster or Chicken Fajita Pizza at Pizza Boli's.
For a Crab Cake Sandwich or Blackened Shrimp, visit the Fish Head Cantina.
Top Employers in Arbutus
Forbes Media
Maryland Transit Administration
U.S. Army Reserve
YMCA of Central Maryland
5. Glenarden
Glenarden, a town in Prince George's County, Maryland. It is located near the city of Upper Marlboro and is home to approximately 4,000 residents. Glenarden was founded in 1910 and was originally known as Glenarden Farms. The town is named after James Glenarden, one of the first settlers in the area. Glenarden is a historic town with several old homes and buildings that date back to the 18th and 19th centuries. The town is also home to the Glenarden Community Center, which offers a variety of recreational and educational programs for residents. Glenarden is a great place to live, work, and raise a family. There are many things to do in the town, and it is just a short drive from Baltimore and Washington, D.C. If you are looking for a quiet, small-town atmosphere, Glenarden is the perfect place.
Median House Price: $387,000
Median Rent: $1,624
Population: 6,158
Cost of Living in Glenarden annually: $45,479
Famous Stops!
Cheer on the Washington Redskins (NFL) during the fall at FedEx Field.
Woodmore Towne Centre has several stores, including Nordstrom Rack, Old Navy, and JCPenney.
Sign your kids up for summer activities at Theresa Banks Community Complex, or shoot a few baskets.
Visit Glenarden Branch Library and see what you've been missing out on. Check out an old favorite or pick up some new novels.
Check out Enterprise Golf Course to play 18 holes or hit the range.
That Jerk Caribbean Chargrill will serve up all of your favorite Jamaican dishes. Wrap, bowl, or toss your food over at Hook & Reel if you want to make your crab boil—a Maryland specialty.
Top Employers in Glenarden
Marriott International
Lockheed Martin
MAR
6. White Marsh
White Marsh is a community and census-designated place in Baltimore County, Maryland. It is located just outside the city of Baltimore. White Marsh was named for the White Marsh area of England. The first settlers in White Marsh were English farmers who arrived in the 1630s. White Marsh is home to several historical sites, including the White Marsh Cemetery, the final resting place of American Revolutionary War hero John Eager Howard. The White Marsh area is also home to several parks and recreation areas, making it a popular destination for outdoor enthusiasts. White Marsh is also home to the White Marsh Park and Ride facility, which offers bus service to downtown Baltimore and Towson and commuter rail service to Philadelphia via SEPTA.
Median House Price: $379,900
Median Rent: $1,535
Population: 9096
Cost of Living in White Marsh annually: $38,433
Famous Stops!
Honeygo Run Regional Park is a great place for a run, bike ride, or stroll.
Visit Perry Paw Dog Park and help your dog meet new furry pals while also getting some energy out.
The Avenue at White Marsh provides everything you need for an escape. Shop, go to movies and concerts or have wintertime at THE AVENUE at White Marsh with ice skating and hot chocolate.
iFLY Baltimore is home to live indoor skydiving. AMC White Marsh is a great place to bring the family to see blockbusters and animated favorites.
At the '50s-style Double T Diner, you may relax with a cup of coffee or tea and a hearty breakfast.
Top Employers in White Marsh
7. Frostburg
Frostburg is a city in Maryland's scenic Frostburg Valley. The city is home to Frostburg State University, which offers a variety of undergraduate and graduate programs. Frostburg is also known for its coal mining heritage, and the city's Museum of Coal Mining offers visitors a glimpse into this important part of Frostburg's history. In recent years, Frostburg has become a popular destination for outdoor recreation, thanks to its proximity to the Appalachian Mountains and the Cumberland & Western Maryland Railway Trail. The city is also home to a vibrant Arts District featuring several galleries, studios, and performance spaces. Whether you're interested in exploring Frostburg's rich history or enjoying its natural beauty, there's something for everyone in this unique Maryland city.
Median House Price: $142,000
Median Rent: $812
Population: 8,550
Cost of Living in Frostburg annually: $43,414
Famous Stops!
The Allegany Arts Council is a great place to see art in Frostburg. The council also offers art classes and workshops for all ages.
The Maryland Theatre is the perfect place to see a play, musical, or other performance.
The Western Maryland Scenic Railroad is a must-do for anyone who loves trains. Visitors can ride the historic railroad through some of Maryland's most scenic countryside.
The Cumberland & Western Maryland Railway Trail is a popular spot for hiking, biking, and horseback riding.
Top Employers in Frostburg
Frostburg State University
City of Frostburg
Allegany Health System
Walmart
Conclusion
Maryland is a great state to live in, with plenty of affordable places. Each city has its unique charm and amenities to offer residents. Whether you're looking for a place to raise a family, go to school, or enjoy the great outdoors, you'll find what you're looking for in Maryland.
Also See: Moving to Maryland | Best Moving Companies in Maryland
FAQs
What are the most affordable places to live in Maryland?
Frostburg and White Marsh are two of the most affordable places in Maryland. Both cities offer a variety of amenities and attractions and a lower cost of living than many other parts of Maryland.
What is there to do in Maryland?
There are plenty of things to do in Maryland, no matter your interests. Maryland is home to various museums, parks, historical sites, and several colleges and universities. Thanks to Maryland's location in the Appalachian Mountains, there are also many outdoor activities to enjoy.
What are some of the top employers in Maryland?
Maryland is home to several top employers, including Walmart, the City of Baltimore, and the University of Maryland.
How is the nightlife in Maryland?
Maryland has a vibrant nightlife, with plenty of bars and clubs. There are also many live music venues and theaters where you can enjoy a variety of performances.
How is the food in Maryland?
Maryland is home to various excellent restaurants, offering everything from Maryland crab cakes to delicious Italian cuisine. You'll also find plenty of Maryland wines and beers to enjoy.