Moving from California to Chicago – Expert Tips and Advice


VanLines Inc
Secure Storage
Easy Booking Process
Fully Trained Employees
GET QUOTE

Colonial Van Lines
Storage Services
Long-Distance Moves
Corporate Relocations
GET QUOTE

Moving APT
Vetting Process
Award-Winning
Available Nationwide
GET QUOTE
Our Take
Price
Rating
Minimum Shipment Size
Storage
Booking Deposit
Cancellation Policy
Quoting Options
Discounts

Best Overall Value


GET QUOTE

2+ bedrooms




Free 30 Days




10%

Free up to 72 Hrs

Phone / FaceTime / Text

Senior / Same day Booking

Best Industry Reputation


GET QUOTE

1+ bedrooms




30 Days




20%

Free up to 72 hrs

Phone / Facetime

Seniors Discount

Best Customer Service


GET QUOTE

1+ bedrooms







Free up to 72 hrs

Phone / Virtual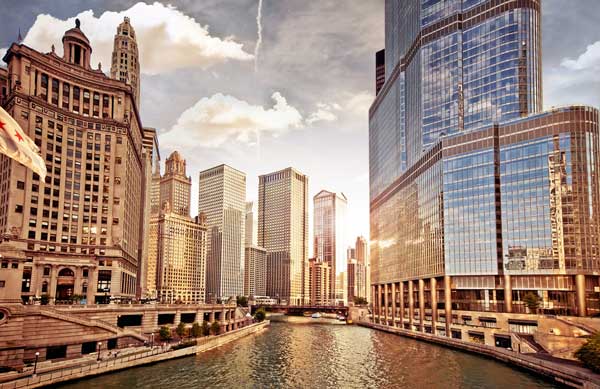 California, the country's 'Golden State' is known for its golden sand beaches, sunny weather, and a long list of songs, movies, and TV series inspired by this state. California is blessed with a diverse landscape featuring mountains, deserts, and forests along with its beaches. It's got mild winters and an overall relaxed holiday vibe that attracts thousands to the 'Sunshine State'. But the city's high tax rates, expensive cost of living, super high housing prices, and constant battles with wildfires, droughts, and terrible summer heat can only be tolerated for so long. And a change is long overdue! If you're trying to escape the Californian summers, then the 'Windy City' A.K.A Chicago is the way to go! If you're a fan of quirky food adventures, groovy jazz music, stories about gangsters ruling the streets, and love the winters, then Chicago is a perfect fit for you.
But moving to a different state is not a small task. It requires a lot of planning and research. How much would a move like that cost? What are the living and housing costs in Chicago? Will the weather conditions be bearable for you? How are the education system and job market? All these are important factors to consider before moving to any new place. Well, look no further. We bring you all the necessary information and answers to your questions in this article. So sit back, read through, and prepare yourself for your upcoming move to Chicago!
Factors To Consider Before Moving From California To Chicago
Weather Conditions
California enjoys a Mediterranean climate with hot and humid summers and cold and mild winters. Due to California's diverse topography, the climate and weather change significantly from place to place. While the summers are blazing hot and nearly unbearable near the desert and inland cities, on the coast and mountains, the summer heat is slightly milder owing to the humidity. California experiences a mild winter with light showers of rain, while the mountains may see some snowfall. Unlike California's expansive climatic conditions, Chicago experiences a similar climate across the city. The Windy City has a continental humid and breezy climate, as its name suggests.
Even though the temperatures slowly rise during the spring, the cold winds over Lake Michigan keep the temperatures low. Chicago sees a number of springtime rain showers which gives way to the summers. The summers are hot and humid owing to the winds flowing over Lake Michigan. The humidity keeps the temperatures from fluctuating too much, which is a rather desirable weather condition. But, in comparison to California's blazing summer heat, Chicago's summers are slightly milder due to the contrasting cooler winds from the lake.
Here's the difference in temperature that you can expect during peak summers:
California in July – The average temperature falls between 70°F to 98°F.
Chicago in July – The average temperature falls between 70°F to 82°F.
Autumn is the most loved season in Chicago, owing to the overall warm and comfortable climate during the season. The warmth from the summer lingers creating a mild climate and unlike during spring, Lake Michigan keeps the temperatures on the warmer side during fall.
The winters in Chicago are brutal with temperatures reaching subzero and even dipping below zero. You'll find Lake Michigan frozen over and almost every winter in Chicago leads to heavy snowfall. Harsh cold winds constantly flow here in winter and Chicago records an annual average of 37 inches of snowfall.
Here's the difference in temperature that you can expect during peak winters:
California in January – The average temperature falls between 35°F to 58°F.
Chicago in January – The average temperature falls between 22°F to 33°F.
Cost Of Living
Without a doubt in mind, Chicago is much more affordable and easy on the pockets than California. California is known to be one of the most expensive cities in the country. Add to that California's high state income tax and sales tax, you're bound to spend more than you earn.
While Chicago is one of the country's most expensive cities, it falls very low on the list and is quite affordable in comparison to major cities, without sacrificing its big-city amenities. There is a whopping 39% difference in the cost of living between California and Chicago. While California is super expensive in terms of food, groceries, transportation, healthcare, and utilities as well, Chicago presents average costs for food and groceries, healthcare, and transportation, making it a budget-friendly city to move into.
Buying A House
The housing prices of California have skyrocketed and it simply makes no sense to buy a house in the Golden State – the statistics and numbers say it all. But Chicago, in comparison, is quite affordable and offers some of the best housing deals in the country! A monthly saving for a few years, if you want to pace yourself, is enough to reach your goal of buying a house in Chicago. And what's more, is that the majority of residents here have reached their goal of buying a house in Chicago.
Median Home Value In California: $344,688
Median Home Value In Chicago: $312,489
Renting A House
In comparison to renting a house, buying a house in Chicago is a better long-term investment. You'd be saving a lot in terms of monthly rental expenses and other facility payments. But renting in Chicago may either be a pocket-friendly affair or a slightly expensive ordeal depending on the type of house or apartment you rent. While apartments are much cheaper, they lack the spaciousness that a house can provide. In comparison to California though, Chicago's average monthly rent is very low. While in California the average monthly rent is $2,395 for a one-bedroom apartment, the same apartment's rent in Chicago would be $1,895 only.
Utilities
On average, the monthly utilities would cost $375 in California, which would include the basics of water, electricity, gas, and garbage disposal. But the cost can add up quickly with added utilities like cable and internet services. In stark contrast, an average Chicagoan spends around $132 per month on basic utilities. And if you add internet services, your bill is only bound to go up by around $70. Furthermore, utilities are 7% less expensive in Chicago than in the rest of the country.
Job Market
Moving away from Silicon Valley is bound to put doubts in your mind. California's constantly growing economy and diverse job market are two of the reasons behind thousands of people moving into the Sunshine State. Especially with job opportunities in tech, film, and entertainment industries, California is a major employment hub. But Chicago is in no way an inadequate substitute to California in terms of the job market and employment opportunities. The pandemic has changed the course of many economies all over the world but the city is slowly getting back on its feet. Even in these circumstances, Chicago has surprisingly fast-tracked its job growth by many steps! So, moving to Chicago soon is a great decision in terms of employment and future job growth.
And if you thought that Chicago would lack the diversity in industries that California has to offer, then you're wrong! Chicago has a whole range of industries and job opportunities for various job roles to choose from. From marketing and advertisements to consulting and legal services to travel and media to finances and business – Chicago has a whole lot of variety to pick from!
While California is a tech industry superpower with many major companies setting up camp there like Facebook, Google, Netflix, Apple, Yahoo, and Tesla, Chicago has its own set of well-known, reputed companies that are known for their pro-employee work environment, great salary packages, and mass recruitment and training. Some of these Fortune 500 companies are listed below:
Exelon Corporation
Boeing Company
Archer Daniels Midland Company
Motorola Solutions
Jones Lang LaSalle (JLL)
United Airlines
Morgan Stanley
PayPal
Adobe
While Chicago may not offer pay packages as high and attractive as California, the city offers the best income in the whole of Illinois. Add to that Chicago's much more affordable cost of living and lower overall expenses, you're bound to save more than you spend. The difference in the median household income between California and Chicago is only 5% which goes to show in Chicago's impressive salary packages.
Furthermore, the post-pandemic unemployment rate in California is 6.3% while that in Chicago is 8.0%. But recent reports have stated that Chicago's job growth has boosted considerably. While the national job growth rate is 1.5%, Chicago's growth rate is at 1.8%. Furthermore, unlike other cities, many major companies in Chicago have gone on a mass-recruitment spree post-pandemic which has further brought the unemployment rate down.
Median Household Income in California: $96,416
Median Household Income in Chicago: $90,714
Transportation
California is a car-centric state and you will absolutely need to have a car to live here. But that's not the case in Chicago. Chicago's public transportation system is efficient enough to boast of! After all, Chicago's transit system is ranked the 6th-best in the United States. Most of Chicago's residents and commuters use public transportation rather than their own cars as they are more affordable and you'd save time avoiding all that traffic, especially during rush hours.
Chicago is an extremely walkable city, with its intuitive street grid system. Madison Street divides the city into north and south and State Street divides it into east and west quadrants, making the whole city in the form of a grid block. This makes walking around the city neighborhoods very efficient and easy to navigate.
Chicago is a great city for biking as well. With a number of protected and buffered bike lanes, and conventional lanes running throughout neighborhoods, biking in Chicago is efficient. Furthermore, with Divvy – Chicago's bike-share program, which has over 500 bike stations and over 5000 bikes placed all around the city – biking is a great option too.
Chicago's public transportation system comes under the Chicago Transit Authority (CTA), which provides transit services like subway, buses, metra-rail, taxis, and water taxis. The CTA operates 8 'L' lines i.e. subway lines and over 100 bus routes throughout the city. The subway system runs above-ground, street-level and underground, and connects major neighborhoods throughout the city. The Metrorail connects outlying suburbs to downtown Chicago. And the water-taxis are a fun, fast, and affordable way to go sightseeing or simply commute to destinations like Michigan Avenue and Navy Pier.
Chicago's Strong Points
Chicago's cost of living and housing prices is higher than the national average but is still cheaper than that of other major cities like New York, Boston, and even California. When compared to these large metropolitan cities, Chicago's cost of living as well as the housing prices are definitely affordable.
Chicago's public transportation system is considered the 6th-best in the country and is approved by a majority of the city's residents! The Chicago Transit Authority (CTA) provides various transportation services like subways, buses, and taxis, ensuring that you'll reach your destination without any fuss or hassle.
If you're a foodie, you're absolutely going to love Chicago. Chicago has a quirky and unique food scene. After all, this is the city where the deep dish pizzas and loaded hotdogs came from! The city's food scene is very diverse, and you'll find a variety of restaurants, cuisines, and ethnic food joints to enjoy!
Top Neighborhoods To Move In Chicago
Lincoln Park
Lincoln Park is ranked as one of the most desirable neighborhoods to live in in Chicago. Named after the city's largest park, this neighborhood has fantastic access to the sprawling green spaces offered by Lincoln Park. Lincoln Park is a picturesque neighborhood with manicured gardens, a hidden lily pond, and tons of lakefront gardens. This charming neighborhood is the perfect place to raise a family, with fantastic schools, and good safety. The neighborhood offers a gorgeous view of the city skyline that is Instagram-worthy! Lincoln Park definitely lives up to all its hype, with iconic restaurants, vibrant nightlife, and all of the perks of city life.
Median Home Value: $604,000
Monthly Median Rent: $1,798
Old Town
Old Town is located next to Lincoln Park and the Gold Coast and is near Lake Michigan. Right on the lakefront, this neighborhood is popular for many reasons. Old Town oozes vintage charm and is laden with a rich history. This neighborhood is a picture-perfect place with trendy boutiques, energetic nightlife with tons of mouth-watering food joints and bars. This neighborhood is known as the birthplace of modern American improv which brought to the limelight famous comics like Bill Murray, Tina Fey, Steve Carell, and many more! You'll find some of the most legendary comedy clubs in this neighborhood, so be sure to check them out.
Median Home Value: $454,500
Monthly Median Rent: $1,975
West Town
West Town is a cultural hotspot that exudes an eclectic and artistic vibe. It's turning into a trendy and hip center where you can discover cool and laid-back taprooms, funky museums, vintage boutiques and record shops, trendy music rooms, and tons of cool art – both in breathtaking galleries and on the vibrant streets of the neighborhood. Over the past few decades, a number of immigrants have moved into this neighborhood, and all this global influence has shaped it into a funky and eclectic town. With a number of restaurants and bars, antique shops, breweries, art galleries, museums, and beautiful colorful murals adorning the streets; West Town is a unique amalgamation of old-world-meets-new-world that deserves a visit!
Median Home Value: $525,000
Monthly Median Rent: $2,150
Wicker Park
Wicker Park is a neighborhood located near West Town, so it comes as no surprise that the vibrant and lively energy of West Town has made its way to this bustling neighborhood! You'll find a diverse community of people here – from funky artists and trendy millennials to business professionals and students. This neighborhood is a diverse mix of people from diverse backgrounds that provides depth and style to Wicker Park. This artsy neighborhood has something going on all the time. Whether it's a shopping spree for unique finds, trendy eateries to satisfy a foodie's mind, or bar hopping to the next party, there is never a dull moment here. The neighborhood is littered with beautiful public parks and walking trails if you need a quiet evening stroll.
Median Home Value: $518,500
Monthly Median Rent: $2,080
Lakeview
Lakeview is located on the north side of Chicago and is just a few blocks away from Lake Michigan after which the neighborhood is named. Residents love this neighborhood since it is a commuters' dream with its close proximity to downtown and easy public transportation. The neighborhood offers a classic urban lifestyle with unbeatable nightlife. From wild drag shows to baseball games, to fun country bars the neighborhood enjoys a high-energy nightlife. Lakeview is the perfect combination of shoppers' street, art and culture fiesta, and a picturesque oasis. The district has its fair share of local boutiques, record shops, bars and restaurants, music venues, festivals, and much more!
Median Home Value: $270,000
Monthly Median Rent: $1,600
Also See: 7 Best Neighborhoods In Chicago For Families | Top Neighborhoods in Chicago for Singles and Young Professionals
Things To Take Care Of When You're Moving From California To Chicago
If you're planning to bring your car along, you need to acquaint yourself with Chicago's parking traditions. If your home comes with no parking space, be prepared for endless no parking signs, tow zones, and impossible parallel parking tasks. And during winters, if you shovel a public parking space for your needs, make sure to call 'dibs!' by placing a street cone or lawn chair, since that is a long-standing Chicago parking tradition.
Winters in Chicago are freezing and brutal. With subzero winters and cold winds blowing, it's of utmost importance to stock up your wardrobe with all the warmers, sweaters, coats, and winterwear you can find. Do not forget your snow boots under any circumstances!
If you're bringing your car to Chicago, then you need to be prepared with some essentials, especially for the winters. Come armed with jumper cables, snow brushes, gloves, shovels, water, and an umbrella at all times.
California To Chicago Moving Costs
Long distance moves can be hectic and expensive. But if you research before choosing a moving company for your aid, you might be able to score one at an affordable price. On average, the cost of moving from California to Chicago would be approximately $3,200. Of course, the exact cost would vary depending on the actual distance of the move, the number of items, additional services like loading and unloading, packing supplies, and transportation fees.
Summing Up
Moving to a new city can be a daunting experience. And without the right planning, prior research, or good help, the whole moving process can get even more nerve-wracking and stressful. So, having basic knowledge of the new city and its pros and cons can help put your mind at ease. Also, hiring the right moving company that fits your budget, one that offers all the services you need, is insured, and is licensed can go a long way toward making your move stress-free and hassle-free.
See also: Best Moving Companies In California
FAQs On Moving From California To Chicago
Is Chicago A Good Place To Live?
Chicago's affordable cost of living, budget-friendly housing prices, trendy and diverse food scenes, beautiful parks and waterfronts, reliable and efficient public transportation system, and the cultural and sports activities make Chicago a well-rounded and fun city to live in.
What Salary Do You Need To Live In Chicago?
To live comfortably in a one-bedroom apartment in Chicago, the average cost of living for the year would be approximately $43,200. On average, a Chicago resident's median income is about $59,000. Depending on whether you're a student, a young professional, or whether you have debt or loans to pay, covering all the costs can be a challenging feat.
Can You Survive Without A Car In Chicago?
It is completely possible to live in Chicago without a car. With Chicago's intuitive grid system, walkable streets, and numerous transportation options provided by the Chicago Transit Authority (CTA), you don't necessarily need a car to travel or commute on a daily basis. With transportation options like the 'L', public buses, taxis and cab services, and rental bikes available easily, commuting for work or college would not be much of a hassle at all.
Also Read: Moving From California To Seattle – Expert Tips & Advice