Moving To Kentucky | 2022 Cost of Living and Relocation Tips


VanLines Inc
Secure Storage
Easy Booking Process
Fully Trained Employees
GET QUOTE

Colonial Van Lines
Storage Services
Long-Distance Moves
Corporate Relocations
GET QUOTE

Moving APT
Available Nationwide
Award-Winning Movers
Extensive Vetting Process
GET QUOTE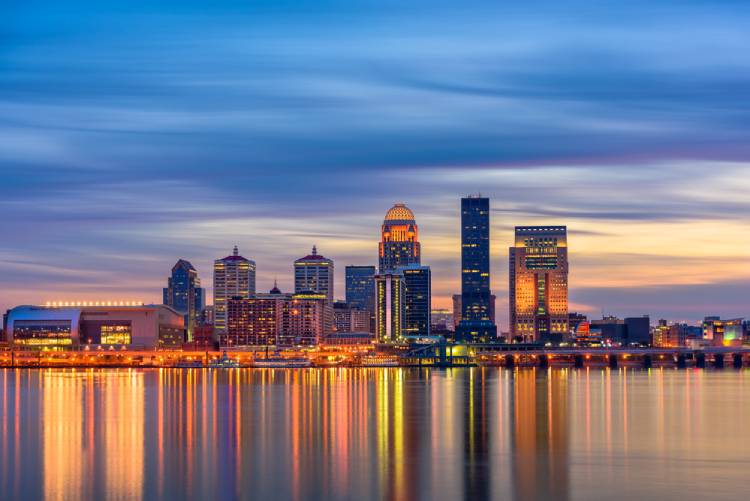 Every side of America has a different personality. Like many others, you too would likely be very well aware of how the culture, cuisine and lifestyle particularly adopted by the Southerners of the US lies on a completely different tangent from the rest of the country. Now if the Southern states have been on your radar, you've probably come across the idea of moving to Kentucky more than once. This is because the most loved speciality traits of Southern culture is something people easily find in Kentucky.
The blues, rock 'n' roll, charming southern accents, contagious hospitality, close-knit churches, community choirs, potlucks, deep-fried dishes, barbecues, dirt roads, lush rolling hills, white fences, balmy weather and thoroughbred horses – need we go on? Clearly the list is endless when it comes to the things that make up the state's personality.
However, this doesn't entirely paint a complete picture of Kentucky for you. Think of these as just the general qualities of the state. When it comes to deciding if you're ready to move here, there's got to be more questions weighing your mind. Which is why in this blog, we'll be uncovering more of the state's profile for you, so it can eventually help you decide if Moving to Kentucky is a decision that makes sense for you or not.
Weather In Kentucky
The Bluegrass State of Kentucky has four different seasons – summer, winter, spring (with a good amount of rain) and autumn. The state's coldest month is January while the hottest month is July.
Summers – When it comes to the summers in Kentucky, on an average the state enjoys around 189 days of sunshine. The hot season lasts from June to September and the heat levels are referred to as 'Indian summers'. June and August are the months when the skies are most clear and temperatures range from 27-31 degree celsius. Summers in Kentucky also call for visits to water parks, state fairs, golf courses and picnics to Kentucky Lake, Barkley and Cumberland.
Autumn – The heat slowly begins to step down by the end of August and makes way for autumn. You can expect to see the leaves burst into colors by mid-September. The crumbly colorful leaves of autumns in Kentucky attracts a lot of tourists who wish to take part in the various fall festivals and traditions. One of them being hay bale rides while picking apples and pumpkins. Fall lasts for the whole month of October and weatherwise, it is considered to be the best months for the state.
Winters – By the beginning of November, temperatures begin to drop lower everyday, paving the path for the winters. The first snowfall that the state captures is roughly in the month of December. But even the snowiest months aren't too bad to bring the city to a standstill. Winters in Kentucky can get chilly. But by the month of March, you will see it stepping away.
Spring – March brings in the season of Spring to Kentucky that lasts till the month of May. Although the skies remain clear on most days, the state is also prone to occasional rainstorms and thunderstorms during spring. This makes the weather conditions pretty unpredictable during these months. However, with the absence of snow, the peak period of spring tends to be the most pleasant time with lakes and trees returning to life.
Key Takeaway – The state experiences a good deal of balmy weather, but this is of course debatable, depending on the area you will reside in. The months facing extreme weather conditions would be July (for the heat) and January (for the oppressive cold). It is believed that the beauty of the state is seen in its full glory from mid-September to mid-November, which is considered to be the most pleasant months of the year. Do note that Kentucky weather can seem to fluctuate a lot. So, you have to prepare for the rain or the snow falling at strange times of the month even though the skies may seem clear.
Transportation In Kentucky
Roads In Kentucky
The state of Kentucky is surrounded by 7 states namely – West Virginia, Virginia, Tennessee, Missouri, Illinois, Indiana and Ohio. If you're considering taking a trip to any of these states, you can easily utilise the 6 interstate highways serving the state of Kentucky. Below is a description of where these roads can lead you:
Interstate 24 – Runs from mid-western states to southeastern states. Linking Illinois, Tennessee and Kentucky
Interstate 64 – This highway connects with other major interstates namely I-65, I-71, I-264 and I-265. Links people to the big cities i.e Louisville, Frankfort, Lexington and Ashland.
Interstate 65 – Has interchanges with 3 of the state's parkways, links people to the cities of Bowling Green, Elizabethtown, and Louisville.
Interstate 69 – Begins at Tennessee and links it with the state of Kentucky with multiple stops en route.
Interstate 71 – Begins in Louisville (Kentucky) and this road helps connect one to Cincinnati (Ohio).
Interstate 75 – Meets with other interstate highways to bypass through the Southside of Kentucky.
In addition to the interstate highways, Kentucky also has an excellent 7 parkway system to connect residents to all the areas of the state. Residents can also avail of taxis in the big cities to get around. Do note that for taxis, Yellow cab in Louisville and Blue Grass Taxi in Lexington are the 2 well-known companies.
See also: Kentucky DMV Change of Address
Airports In Kentucky
The state's largest and most extensive airports are:
Louisville International Airport of Louisville
Cincinnati/Northern Kentucky International Airport (CVG) of Cincinnati+Covington
Blue Grass Airport of Lexington
Among these, Louisville International Airport is the busiest since it is also home to the UPS's Worldport, which is the largest automated package handling facility in the world. That's not all, it's also a massive contributor to the economy of Kentucky.
Trains In Kentucky
'Amtrak Cardinal' is the train service that helps residents of the state travel across the state borders. This train journey runs through Chicago, Indianapolis, Cincinnati, Washington D.C and New York. The four stations that fall in Kentucky are Maysville, Ashland, South Shore and Covington.
Apart from these, you can also opt for Greyhound buses and local public bus systems for intra city transport. But in reality, it's more feasible to have access to a private vehicle to get around the city.
Job Market In Kentucky
In the earlier days, Kentucky's economy largely depended on the agricultural sector, which still exists. But the economy is also slowly leaning to non-agricultural sectors. With the era of manufacturing and technology taking over economies globally, Kentucky's economy has definitely got onboard to adapt with changing times. In present years, healthcare, manufacturing, energy fuel production and retail are the top performing industries in the state. The automobile manufacturing in particular is booming – something that's evident in the fact that the state stands 4th in the assembling and manufacturing of trucks and automobiles.
You may recognise your car's brand in this list. We say that because there are more than a few big companies that have their automobiles assembled in the state of Kentucky. The Chevrolet Corvette, Cadillac XLR, Ford Escape, Ford Super Duty trucks, Ford Expedition, Lincoln Navigator, Toyota Camry, Toyota Avalon, Toyota Solara, Toyota Venza,and Lexus ES 350, to name a few. Overall, the stats show that Toyota and Ford are the big players here.
Lastly, we can't forget the bourbon production industry, since Kentucky is the world's bourbon capital. The state produces and is responsible for the ageing of 95% of the world's bourbon whiskey. Kentucky roughly has 50+ distilleries that are constantly expanding to produce fine bourbon for the world. Goat farming, corn production and beef cattle are the additional contributors to the economy.
When it comes to the job market, reports show that the manufacturing and production industry is leading the economy of Kentucky from several aspects. While agriculture based services are next in line because Kentucky is still one of the largest producers of farm produce, tobacco and bourbon.
Renting in Kentucky
According to reports by HomeSnacks, the rent in Kentucky is 33% lesser than the national average. Which means it could probably be possible to rent a much bigger space in Kentucky than most other states in the US. However, this is only an assumption and could be true only for those who have been paying way more rent in their former state.
To put things into perspective, let's do a comparative analysis with the tentative rent price in the neighboring state of Tennessee.
1 bedroom home in Kentucky – $866
1 bedroom home in Tennessee – $1,100
4 bedroom home in Kentucky – $1,587
4 bedroom home in Tennessee – $1,650
We've taken the average median rent to highlight that annually things could still look pretty affordable in the state of Kentucky. Depending on the state you would be shifting from, it's possible to make a good chunk of savings in the Bluegrass State. We'd also like to mention that renting a property in certain parts of the city like Louisville and Lexington are cut out to be much more expensive. Mainly because these are the state's most densely populated areas.
Education
Top-Rated Kentucky Colleges
1. University of Louisville, Louisville
2. University of Kentucky, Lexington
3. Centre College, Danville
4. Berea College, Berea
5. Transylvania University, Lexington
6. Bellarmine University, Louisville
7. Murray State University, Murray
8. Spalding University, Louisville
9. Asbury University, Wilmore
10. Georgetown College, Georgetown
Top-Rated Kentucky Schools
1. Fort Thomas Independent Schools, Fort Thomas
2. Murray Independent Schools, Murray
3. Beechwood Independent Schools, Fort Mitchell
4. Boyle County Public Schools, Danville
5. Pikeville Independent Schools, Pikeville
6. McCracken County Public Schools, Paducah
7. Somerset Independent Schools, Somerset
8. Russell Independent Schools, Russell
9. Oldham County Public Schools, Buckner
10. Bowling Green Independent Schools, Bowling-Green
Cost Of Living In Kentucky
Before you convince yourself on a location, the most important factor to consider while moving houses is the cost of living. Upon reviewing the stats, it is possible that people relocating here could get more value for the dollars they put in. On an average, the cost of living is 7% lower than the national average, while housing is 22% lower than other states in the US. Moreover, Kentucky has also been ranked as one of the most affordable states to live in. However, things could look way more expensive in Louisville – the largest city of the state. As stats convey, Louisville is 4% more expensive than the rest of Kentucky.
To put things in perspective, here is a comparison of the estimated cost of utilities for some of the top cities in Kentucky.
Average cost of utilities in the city of Richmond – $185
Average cost of utilities in the city of Louisville – $142
Average cost of utilities in the city of Bowling Green – $182
Average cost of utilities in the city of Lexington – $146
For the above stats, we've referred to data from Numbeo. These are just the rough estimates to help you get an idea of the average cost of utilities in few of the well-known cities. It also proves that where you decide to live will have a large impact on the costs you'll pay, so let's brief you on some of the top cities you could consider for the move.
Top Cities To Move To In Kentucky
1. Bowling Green
Based on Livability scoring, the city Bowling Green is the only Kentucky city that made it to the '2020 Top 100 Places to Live in the United States'. Which is why it makes our list too. The city is mainly appreciated by residents, tourists and students for its location. If you choose to live here, you can easily plug into the music city of Nashville in Tennessee, which is just 50 minutes away. The cities of Lexington and Louisville are not too far out either (approximately 2 hour drive). The central location not only lets residents enjoy the vibes and career opportunities of the big cities, but also have the advantage of disconnecting themselves from city noise.
Median price of homes sold: $179,790
Median rent: $843
2. Lexington
The city of Lexington is the second largest city of Kentucky and has been ranked as one of the best small cities to live in the US. Moreover, the city is home to historical period buildings, the remarkable Kentucky horse park and the University of Kentucky. United Parcel Service, Toyota Motor Manufacturing Kentucky, and Amazon.com are few of the notable companies that run their operations in the city. If you sense the smell of peanut butter in the air, it is because a Jif peanut butter plant is also located in Lexington. Here's a fun fact: it produces more peanut butter than any other factory in the world. The city has loads to offer young professionals. Chevy Chase Ashland Park is a residential area you will surely fall for.
Median price of homes sold: $214,870
Median rent: $914
3. Frankfort
Frankfort is the capital city of Kentucky and is known for having some of the most tastefully done houses and period homes. Although the capital city, Frankfort is a comparatively small town with ancient historical landmarks, dozens of parks and close-knit communities. The city can seem overly quiet – perhaps a reason for you to head to the bigger cities for events and cultural fairs. Overall, the city is growing to see more and more new businesses open and boasts of being family-centric.
Median price of homes sold: $150,050
Median rent: $909
4. Louisville
The city of Louisville is recognised as the largest city in the state and is home to a handful of companies and institutions. Kentucky Fried Chicken, Walmart, UPS's Worldport global air hub, Ford Motor Company are few of the organizations that have their headquarters in the city of Louisville. This part of the city is also home to six 4 year universities including the University of Louisville, which is why it's common to see a lot of college students in certain parts of town. Cherokee Gardens, Belknap, Crescent Hill, Highland Douglass and Germantown are some of the popular neighborhoods in the city.
Median price of homes sold: $187,166
Median rent: $949
5. Fort Thomas
The city of Fort Thomas is known for its family-oriented atmosphere and is presently named the safest city of Kentucky. The well-established school systems and parks in this town make it a perfect place to raise a family. Fort Thomas is also located on the Southern bank of the Ohio river which is why the city enjoys some stunning views. The communities here to an extent form cliques – a reason why everyone could know everything about everyone. Since Fort Thomas is also very close to Cincinnati (10 mins apart), residents have access to the city's museums, concert spots, music festivals, restaurants and more.
Median price of homes sold: $246,824
Median rent: $870
FAQs about Moving to Kentucky
Is Kentucky a good state to move to?
Kentucky is a great place to move to if you're drawn to the Southern way of life. By this we mean that it lives up to the cliche image of a slow paced life and friendly communities. The weather is overall balmy, so you don't have to worry about harsh winters. Kentucky is also a big state with a lot of open green spaces to explore. It's most likely that big city problems of crowding and high cost of living won't follow you to Kentucky, so this makes it a good state to move to.
What do I need to know about moving to Kentucky?
You must know that Kentucky is largely a rural state. The state is filled with both large open spaces and off the grid towns. Few of the booming trades are linked to the sectors of manufacturing, production and agriculture. Housing and costs of living here are dramatically low in comparison to the national average. The pace of life is generally slow but if you love big cities, you'll find yourself enjoying the vibes of Louisville and Lexington.
How much do you need to make to live in Kentucky?
Typically, a single person would need 40k-50k to live comfortably. An amount around 30k would also be alright and not extremely painful to get by. Overall, this is just a ballpark figure to give you an idea of things. If you like to live on the fuller side, anything beyond 60k is more than enough. This is mainly because Kentucky ranks among the most affordable states to live in the country.
How bad is it to live in Kentucky?
The lifestyle in Kentucky is in contrast to those of big metropolitan cities. From 1 to 10, it would probably stand near a 5 in terms of being progressive and cosmopolitan in nature. So, if you're someone who likes a fast paced life and would like to have a variety of career nurturing opportunities coming at you, then Kentucky would be the antagonist for you. That's with the exception of Louisville and Lexington, where you may find 'big-city' traits.
Is Kentucky expensive to live in?
No, Kentucky stands amongst the most affordable states to live in the US. The overall costs of living is 8% lower than the national average in Kentucky's largest city Louisville. Moreover, there's an even bigger margin in terms of housing (20%), utilities (6%) and groceries (11%).
What are the pros and cons of living in Kentucky?
Some of the pros of living in Kentucky are:
Tons of big spacious houses
Lots of open naturally beautiful spots
A quaint countryside
Low cost of living
Friendly close knit communities
Well connected to hubs like Cincinnati, Nashville and Indianapolis
Some of the cons of living in Kentucky are:
Lacks variety in job opportunities
Large percentage of below average school systems
Public Transit options are limited
Places of interest are spread out
Infrastructure needs improvement
What is the most dangerous city in Kentucky?
Paducah is the most dangerous city to live in Kentucky. According to crime rate reports by NeighborhoodScout, 1 in 8 people are susceptible to a violent or property crime in Paducah. Oak Grove and Mayfield also fall next in line of dangerous cities of Kentucky.
How long do you have to live in Kentucky to be considered a resident?
Any non-resident that wishes to become a Kentucky resident must spend at least 183 in the state during the tax year.
Are taxes high in Kentucky?
Taxes in Kentucky are below the national average, so it's safe to assume that taxes aren't too high. To break it down, there would be a flat 5% tax on incomes and residents have to bear a 6% sales tax.
What is the highest paying job in Kentucky?
Medical aid related jobs are the ones with the highest pay in Kentucky. But do note that the job market can be a hit and miss. Also, wages are generally low. The average median annual income in Kentucky is $48,392, which is lower than the national average that stands at $55,322. In popular hubs like Lexington and Louisville, wages are considerably higher.
What is considered a low income in Kentucky?
It is considered that a figure way below 30k (annually) is a low income to earn in Kentucky. A single person should ideally earn somewhere between 40k to 50k to afford a basic lifestyle without much worry about not having enough for savings.
What is the safest town in Kentucky?
The state of Kentucky is relatively safer than most other states in the nation. Overall, it registers a crime rate that is much lower to the national average, which is why Kentucky does have a ton of safe towns. Among them, Greenville, Columbia and Fort Thomas are the safest towns to live in Kentucky.
Why is Kentucky the worst state to retire?
As per various reports, factors that contribute to Kenctuky getting a bad rap for retirement is tied to the lack of high standard medical facilities. Although the affordability aspect draws retirees in, the quality of living is a bit too modest for retired folk.
What is the best place to live in KY?
Lexington, Louisville, Fort Thomas and Bowling Green are some of the best places to live in Kentucky. These cities not only have lots of character but enjoy central locations too. But in the end, it depends on what you're looking for in a city. For instance, Northern Kentucky is practically more ideal for those seeking job opportunities, as it lies in close proximity to big cities like Cincinnati.
---
Our Take On Kentucky
The Bluegrass state of Kentucky is fortunately blessed with good soil because of which it serves as a perfect gateway to the comfort of the countryside. Cumberland Falls, Red River Gorge, Mammoth caves, Daniel Boone National Forests and horse racecourses are just a few of the gems residents of the state enjoy. In comparison to other states, Kentucky is one that's smaller in size. But this never really stops the state from constantly growing its economy and improving its standard of living. In most regions, the pace of growth and lifestyle isn't identical to big cities. Although, Kentucky isn't far behind since it also has its own share of fast growing tech cities like Louisville and Lexington. All in all, you will find that the state has lots to offer to anyone thinking of moving to Kentucky.
See also: Best Moving Companies in Louisville KY