Major Rental Laws And How They Affect Your Tenancy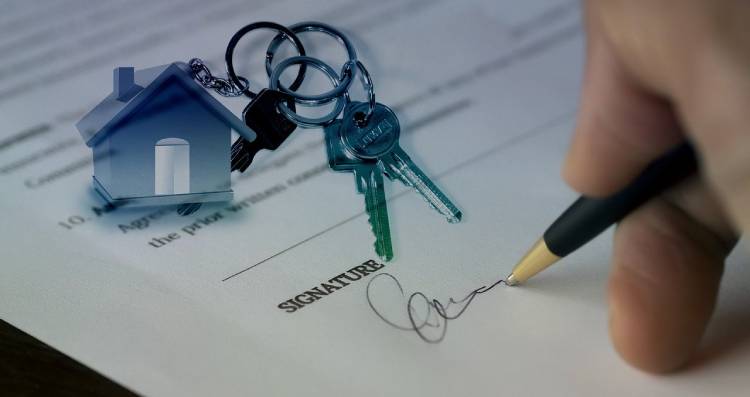 While there are a ton of things that you need to take care of when you move to a place of your own, the legal aspect is something that you need to be very well aware of. There are many landlord-tenant laws in place, some of which are enacted by the state while others are federal.
Let's talk about a few landlord-tenant laws in place, what they mean, and how they affect you. Chances are you might swing through your entire lease without ever needing to use this knowledge, in which case we would congratulate you, and ask you for this amazing landlord's number! But, on the off chance that things go sideways, here's what you should know.
Procedure Of Obtaining A Lease
The legally binding contract between the owner and the person temporarily staying on that property is called a lease. The lease is generally formed of three parts: the rental agreement, the renting of the property, and the termination of tenancy.
Rental Agreement: The agreement that legally binds the tenant and the landlord is a little more than just that. In fact, there are certain rules, that are enforced by law, that you need to follow when it comes to signing a lease.
The landlord is legally required to let a potential tenant inspect the rental property and investigate the appliances, utilities, and electrical systems. However, the landlord is allowed to reject the inspection under certain circumstances.
Some landlords may charge 'screening fees'. While it's legal to charge this fee, some landlords choose to not do so.
Landlords hold the authority to collect a security deposit from their tenants. This security deposit is refundable at the end of the lease validity. It can be used for repairs beyond the normal wear and tear, and the tenant shall receive the amount remaining after said expenses.
Landlords can also request a tenant screening report, which is governed by the Fair Credit Reporting Act (FCRA), and offers information about the tenant.
Before signing any contract, or even making payments, the landlord is required to give the tenant a copy of all pending inspections for any issues that have been complained about.
Last but not the least, the lease is the final document that seals the deal between a tenant and a landlord. This can be oral, written, or a proper formal document. However, if you have more than 12 residential units, a lease is only valid if it's on paper.
There are a few laws that only apply to specific states. But here are the federal laws that are in place to help secure tenants as they rent a place. You may read our article on Rights and Obligation of Landlords and Tenants to know more about this.
Also Read: How to Renew Rental Lease
Fair Housing Act
Passed in the year 1968, the federal Fair Housing Act (FHA) is basically the mothership when it comes to preventing any sort of discrimination against a tenant when they try to rent a place for themselves.
The law basically states that a landlord cannot discriminate against potential tenants on the basis of their gender, religion, sexuality, race, familial status, or disability. This law also forbids any sort of discriminatory advertising, which can be used as a tool to avoid getting certain groups of people to ever enquire about their rental units.
The people who are affected by discrimination by a landlord, before, or after signing the lease can file a complaint with the Department Of Housing And Urban Development, which is a federal department and can be accessed from any part of the country.
Refusal Of Children
According to the Fair Housing Act, landlords do not have any authority over the number of children or their movement on the rented property. This includes situations like accessing the lobby or other common areas or having the families with children live only in certain parts of the property. The only exception to this law is any housing serving/housing older persons.
Fair Credit Reporting Act
A law passed in 1970 protects potential tenants from unsolicited background checks/judgement by the landlord by the means of their credit report.
The Fair Credit Reporting Act (FCRA) has clauses that state the procedures and situations for a landlord, amongst other potential seekers, to obtain the credit report of an individual. The entire law basically comes down to one thing: a landlord has to seek permission before running a credit report, and has to justify the claim if the credit report is the reason for their rejection.
Landlord's Ability To Choose A Tenant
While this law might not necessarily help a tenant, it's definitely better to be on the clearer side of things. Speaking of the law, this one states that landlords are free to choose or reject any tenant for their rental units. This means that the rejection can be based on character judgements that pertain to a tenant's credibility as a tenant.
However, if one can prove that a tenant's rejection was discriminatory, based on a particular group of people, or any personal characteristic, a lawsuit can be filed against the landlord. This can consequently earn the landlords a fine along with other forms of legal punishment.
Acceptance Of Service Animals
Service animals working with their owners/handlers are also protected by federal law in America. Under the Fair Housing Act and Americans With Disabilities Act (ADA), landlords are not allowed to refuse service animals or evict a tenant in case they get a service animal after signing the lease.
However, the ADA does make a difference between service animals and emotional support animals, the latter of which can be denied by the landlords. A service animal has to be registered, vaccinated, and licensed according to local laws. The failure to match these criteria will result in any obligation lifted off of the landlord for a 'reasonable accommodation' to the animal.
Disclosures About Lead Hazards
Up until 1978, almost all the apartments and houses in America were finished with lead-based paint. Not very long after these paints became mainstream, it was discovered that the fumes and dust that they create is toxic and can cause severe health issues in high doses. Hence, all landlords are required to provide their tenants information about the paint used inside the home, if the home was built before, or in, 1978.
As part of the information provided, the landlord has to submit a 'lead warning statement' attached to the lease along with a pamphlet that has information about identifying and controlling the hazards caused by lead-based paint.
Anti LGBTQ+ Discrimination
In 2012, the Housing And Urban Development Department, or HUD, passed a rule that prevents any landlord or homeowner from rejecting a tenant from leasing their units on the basis of their sexual orientation and gender. The HUD also has specific statutes that are in place specifically for LGBTQ+ identifying individuals. These statutes were passed after the HUD realized that there was severe discrimination against the community, leading to inaccessibility to housing.
Discriminatory Housing Advertisements
The Fair Housing Act passed by the HUD prevents homeowners from posting advertisements that are discriminatory. In fact, discriminatory housing advertisements have been deemed illegal, making them a punishable offence, with the consequences being fines and loss of the authority to rent their property anymore.
Discriminatory advertisements are those that indicate the preference for a specific kind of tenant. For example, phrases that indicate discrimination, like 'no wheelchairs' or 'no children.' This law also states that any indication on an advertisement, whether worded or verbal, that can be interpreted to be discriminatory can be questioned and/or used against the advertiser in a legal situation.
Victims Of Violence
If a tenant realises that there's an imminent threat to their safety in the leased house, they're allowed to terminate the lease as soon as possible. If the tenant's children are also named on the lease, this law extends to them as well. Some of the conditions that pertain to this law are domestic abuse, criminal sexual behavior, and stalking. You can read our article on Process of Breaking a Lease.
Known Criminal Activity
If there's any illegal activity being conducted on the rented property, the landlord is allowed to terminate the tenancy after reporting to the authorities. A landlord is very much responsible for keeping their property safe. However, if this law is misused, there are legal repercussions to the landlord as well.
Safety Features
While this law is not enforced in all states across the US, landlords in some jurisdictions are required to provide their tenants with a few basic safety features like fire extinguishers, front door peepholes, carbon monoxide sensors, window locks, and deadbolt locks on exterior locks. Typically, some of these features, if not all of them, are provided by the landlords in good faith.
Illegal Lockouts
While there's no specific federal law that prohibits the landlord from locking out or freezing a tenant, doing so will have the landlord ending up on the bitter end of a lawsuit. After a lockout of this nature, it will be considered that the landlord has 'taken the law into their hands.' Due to this, the courts will side with the tenant if they do sue.
The only way to have a tenant out of the property is through proper procedure. This also protects the tenants from any sort of wrongful eviction or even the threat of a situation like that.
Eviction Laws
There are laws in place that state that a landlord is allowed to remove a tenant from their property. The procedure to make this a legal action is called eviction. A landlord can evict a tenant for reasons like non-payment of rent, violation of the terms on the lease, failure to vacate the property after the end of the lease agreement, or for substantial damages to the property.
One thing to remember is that every landlord has to go through proper legal procedures before throwing a tenant out. Failure to follow the procedure might cause the eviction to be termed as illegal, causing the landlord to face repercussions.
Also Read : Things To Know About Home Eviction | Your Options as a Tenant Being Evicted
Collection Of Security Deposit
Just like the last one, this isn't necessarily a federal law; every state in the US has some law in place that allows the landlords to collect a security deposit upon signing a lease or when the tenant moves in. Additionally, the upper limit on a security deposit is also decided by the state and not the federal system. Hence, the actual amount that you'll have to pay will vary from state to state.
Conclusion
If it's your first time looking for a place to rent, we know how petrifying the mere thought of this task can be. When you add the legal aspect of everything, you might start feeling like living in a van by the river isn't so bad after all. However, these laws are fairly simple to understand with a little bit of time and patience. The most important thing you might want to remember all these major rental laws are in place to protect a 'good' tenant. Now, you know what a good tenant is and you can definitely be one. So, no worries, right?
That being said, do read up on the landlord-tenant laws that are applicable in the state, county, or city that you're moving to. All the best!
FAQs
What Makes A Lease Legally Binding?
If a lease meets all the legal criteria set by the federal, state, and county laws, the lease can be legally enforced. The criteria typically consist of an 'offer,' 'acceptance,' and 'consideration.'
What Makes A Tenancy Agreement Invalid?
If a lease is signed under circumstances like fraud, duress, or similar situations, it can be contested in the court of law and declared void at the request of one of the parties involved.
How Long After Signing A Lease Can You Back Out?
While there's no decided period given to the tenants as a pass to move out after they move in, there are some states that provide the signers with a window. Typically, it's one to three days, during which the tenants can back out and void the contract.