Importance of Home Inspection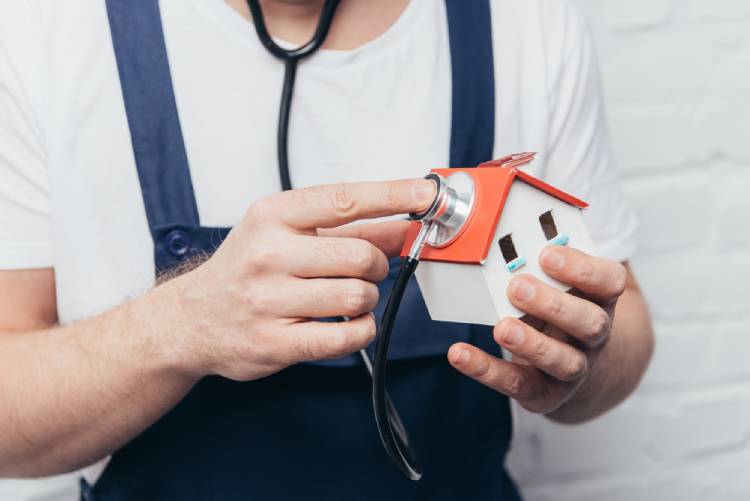 For many people, buying a new house is one of the most significant investments they will ever make. And yet, most people don't get a home inspection before buying their new home. What's wrong with this picture? The answer is surprisingly simple: it's all about fear and risk aversion. It's scary to imagine that there could be problems in your new house that you wouldn't know about until after you buy it and move in. But the truth is, if you don't have an independent professional who can inspect your potential purchase for any hidden problems or defects, then how do you know what condition your future home really is in?
Many things could go wrong when you're not looking! For example:
Leaky roofs
Faulty electrical wiring
Structural damage
Burrowing pests
The list goes on and on, but the point is that every single house will have problems to some degree. When you buy a home without a home inspection, you're basically rolling the dice and hoping for the best.
Buyers should always ask for a home inspection before signing any purchase contract. There are plenty of reasons you need to get an inspection, but ultimately it comes down to risk management. Without one, you're completely exposed and open to countless possibilities of loss. Whether or not that's worth the gamble is up to you!
Why get a Home Inspection done?
1. Discover Problems with the House
A home inspection helps you to identify problems that might not be readily apparent when you're looking at the house in person. For example, if there's a crack in the foundation or some mold growing on the walls, it can be hard to tell by looking at them. But these are essential things for your inspector to note.
2. Know if You're Getting a Good Deal
During your inspections, you will also be able to see whether the house is in good condition overall compared to other houses of similar age and size in the area. This helps you know how much money you should offer for the home when it comes time to negotiate with the seller.
3. Have a Chance to Fix Problems
Even if your inspector finds a few problems, you'll have the chance to negotiate with the seller over who's going to pay for any necessary repairs. In some cases, you may also be able to fix things on your own before buying the house. For example, you might just need to patch up that crack in the foundation to make it good as new.
Also See: Fixes that are Mandatory after Home Inspection
4. Have a Good Inspection Report
In addition to making sure you don't miss anything important, having an experienced inspector do an excellent job for you will make the difference between a mediocre inspection and a detailed report with plenty of pictures. A bad report might not be worth much to you, but a good report will help you know the exact condition of the house and give you some negotiating power.
5. Know-How Much It Will Cost to Fix Problems
Before you buy a home, it's always best to be as informed as possible. When you do your inspections with an experienced inspector, they will ensure that all necessary repairs and replacements are accounted for. You'll be able to get a detailed breakdown of what you can expect to fix up and how much it will cost you.
See Also: How to Patch and Repair Dry Wall
6. Protect Your Investment
After you buy your house, it's yours, and there's nothing anyone can do about it. But before the purchase goes through, all sorts of things could go wrong. You could lose your deposit, or worse, you might get sued because there's something about the house that wasn't disclosed to you before the sale. And unfortunately, most people don't even know they have rights in cases like these until it's too late! You can go through our article on who pays for repair after Home Inspection in our Article
7. No More Hidden Expenses
If you're buying a home that you want to live in for a long time, it's always best to avoid hidden costs or problems. A home inspection will help you find out everything about the house, so there are no surprise expenses when you move in.
8. Less Stress When Moving In
When you have all of the information needed before you buy your house, it helps make your move a lot easier. There will be no worries about structural problems or costly surprises along the way. All of those issues and their related costs and solutions can be discovered and addressed before you ever even sign on the dotted line!
As you can see, there are plenty of reasons why you should always get a home inspection done before you buy a new house. They're not just for the new homeowners, but they're great tools for real estate agents and brokers as well!
Also Read: Home Inspection Contingency : How to Negotiate
What does a Home Inspection Covers?
A standard home inspection includes a thorough physical examination of the most vital components of a house. These include:
Exterior Inspection
Exterior walls: look for cracks, crumbling brick, and other structural problems.
Foundation: look for any cracks, leaning of exterior walls, etc., which could mean the foundation needs some attention.
Decks/porches: look for rotting wood or loose or sinking posts into the ground.
Grading: look for grading issues (i.e., too far away from the house, drains towards the house, etc.)
Gutters/downspouts: look for proper drainage of downspouts and check all downspout extensions for obstructions or breaks.
Exterior doors: make sure they are solid wood or metal, not hollow-core or fiberglass with plastic windows.
Windows: look for rot, previous repairs that are not done well, and excessive dirtiness, which can interfere with the proper operation of the windows.
Garage or Carport: check that it is in good shape and provides enough space for your car without obstructions.
Roof: look for signs of leakage or previous repairs that have been done improperly, missing shingles, peeling paint on the flashing, etc.
Soffits/fascia: look for evidence of wood rot and excessive dirtiness, leading to water damage.
Interior Inspection
Plumbing: look for leaks, signs of corrosion, dirtiness, which can indicate a lack of proper care.
Appliances: check all appliances to see that they are connected properly and insulated, so they don't interfere with other circuit breakers.
Heating/cooling units: check the furnace and the central air conditioning system. Check for proper insulation of the furnace, water heater, and any other units inside the house. Make sure all ductwork is in good shape and insulated.
Electrical: check all electrical outlets and switches to ensure they are in good shape and work properly. Check any extension cords to see that they are not overloaded. Use the circuit breaker panel to check for tripped breakers, corroded terminals, etc.
Fireplace/woodstove: look for previous repairs that have been done correctly, signs of rot or water damage, not enough clearance to combustibles (trees or shrubs, etc.), evidence of animals in the chimney.
Kitchen Appliances: make sure to check the stove, refrigerator, oven, microwave, garbage disposal, dishwasher.
Laundry Room: make sure to check the washer/dryer, water supply lines, and all plugs.
Fire Safety: check the smoke detectors to ensure they are correctly connected and functional.
Attics/Crawlspaces: look through the insulation for previous repairs where none should exist. More info on crawlspaces here.
Bathrooms: Ensure nothing is leaking, and the faucet turns on and off easily. Check for mold in showers and bathtubs. You may read our article How to Clean a Bathtub.
Basements: make sure there are no signs of previous leaks or flooding. Look in the crawlspace for water ground and insulation evidence, which can help insulate the basement (and keep it dry). Also, check all the pipes and connections to make sure they're not rusting and the insulation of exterior walls is up to par.
Read Also: Questions Every First Time Home Buyers must ask?
What is Not Covered in a Home Inspection?
A home inspection is not a guarantee of the house. It does not cover structural issues hidden from sight, such as termite damage, mold, or previous water and flooding damage.
Only visual indications may be evaluated during a home inspection. It's not a complete check, so keep in mind that inspectors can't look for any of the following:
Interior walls
Sewer lines
Behind electrical panels
Septic tank systems
Floor creaks and warps
Swimming pools
Toxic mold
Asbestos
The purpose of a home inspection is to identify any items that may need immediate attention and should be repaired before moving in. This will give you peace of mind and the opportunity to negotiate the price of the house (and do proper research and planning to fix the item(s)), or know you're getting a good deal.
The best thing you can do before hiring an inspector is to get your comprehensive list of what you want to be inspected, preferably done by an expert in this field.
An inspection will not guarantee that everything works perfectly, but it should give you a good idea of any significant issues that you need to be aware of.
You may also read our article on Pros and Cons of Pre-Listing Home Inspection.
How much does a Home Inspection Cost?
Home inspections generally cost around $300-$500. If you're buying a house that's more than ten years old, it may be worth the investment to get an inspection performed by someone experienced in this field (i.e., not just your average everyday Joe or Jane). Check for reviews and make sure they are licensed and insured!
Here are types of inspections and their average costing:
Structural Inspection – Roughly $300
Termite Inspection – Roughly $250-350
Radon Abatement System Inspection – Roughly $400
Mold Inspection for the presence of black mold – Roughly $100-200.
To estimate remediation, the cost can run anywhere from ~$500 to ~$2000.
However, a complete inspection might cost you more. For example, suppose you're buying a newly built house. In that case, the housing company might be responsible for checking everything before selling it to you, so additional inspections would need to be done by the buyer (for insurance reasons).
Hire someone with experience and good knowledge of your local area; they will know what codes are required in your state.
Post-Inspection
Your contract should detail what, if any, problems your inspector found during their inspection. If there were no problems with the house, it might state "structural soundness confirmed" or something similar. If there were minor problems or code violations (i.e., leaky faucet), they would usually mention this in detail in the report.
Is it Worth Getting a Home Inspection Done?
If you are buying a home, it is always worth getting an inspection done.
Even if the house looks nice on the outside and nothing appears wrong, there can still be significant issues under the surface.
On top of this, your state may have specific legal codes or regulations that private inspectors must follow, which means they can't always spot everything (such as all current and past termite damage).
If you're selling your house, it's also worth getting the proper inspections to protect yourself from any unknown issues.
Most states require a home inspection before selling a house, and some also inspect houses that are up for rent or sale, regardless of how long it's been since the previous owner lived there.
When you buy a new house from the builders, they may pay for an inspection (it's part of their contract with you), but it's always worth asking what they're going for. If you don't ask, you may not have an inspection at all!
However, this doesn't mean skipping your own home inspection. The builders' inspectors are often generalists, so if there are issues with the house that aren't obvious, their inspector might not spot them, which means you're not protected.
Before buying, ask what the property is being inspected for and who will be performing it. It's worth getting your own inspection report just to compare the two to see if both come up with the same results (or different ones).
A home inspection is an investment. If you're buying a house, make sure to get one done. It can be money well spent!
Frequently Asked Question and Answers
What is included in a house inspection?
The purpose of a house inspection is to point out the issues with the home. That means you're going to get details about all the problems with your building as well as any updates for improving it, such as an overhaul on the heating system or having new doors fitted.
What happens during a house inspection?
The inspector will first go through the outside of your home. Once they're done, they will then go inside, where you might see them checking all sorts of different things like the insulation in the walls, foundation problems, and also any appliances that are no longer working (if it's an older building).
Is it worth getting a home inspection?
Absolutely! A home inspection is an inexpensive way to protect your investment. It's definitely worth checking out what problems there are with the house to decide whether or not you want to purchase it.
What are the benefits of hiring a private inspector?
Private inspectors often have more experience looking at homes and checking all the details. They will also check for any problems your state may legally require before buying a home, such as past mold damage, termite infestation, etc.
What does an inspector look for during the inspection?
The inspector will check the overall structure of the house. This does not just mean looking for holes in the walls but also searching for any damage, cracks, or problems with the foundation.
They will also check all the appliances and ensure they are working correctly, especially if it is an older house that hasn't had a lot of updates since being built. Usually, the inspector will check every room in the home and common areas.
Who typically performs a home inspection?
A home inspection is often done by private contractors who have years of experience looking at houses. They will use their knowledge to point out any potential problems with your building so you can decide whether or not it's worth buying.
Are there any regulatory agencies that regulates home inspection?
In some states, there are laws that govern home inspections. This means the inspection has to meet specific criteria to be legally valid. There is usually an expert who will oversee things like how often you can inspect the house and what they look at during each visit.
Also See: Top Listed Out of State Moving Companies | How to Sell House for the First Time