Work from Home Design Ideas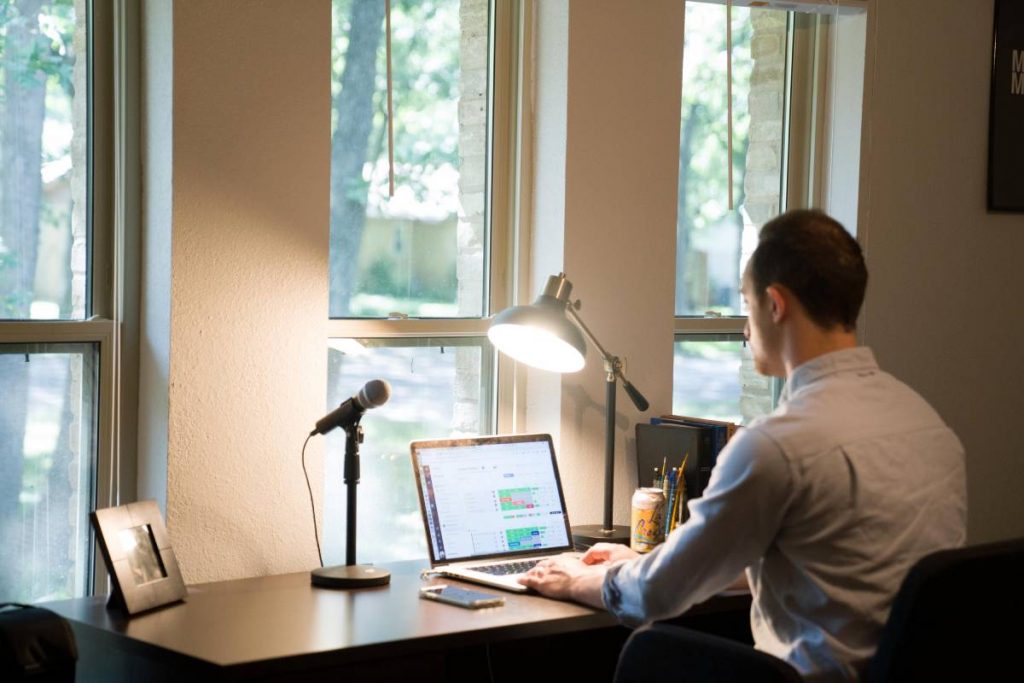 As cities across the USA began to close to combat the spread of Coronavirus, an increasing number of people were faced with a new daily reality: working from home. For many, the term has connoted the struggle to establish a routine—where do I plug in my computer? Should I put on real clothes? A good home office setup is vital for productivity. But what if your house isn't large enough to accommodate a separate office?
All are being forced to adjust to precautionary social-distancing measures as Corona-related fears endanger our lives at an alarming rate. The primary effect has been seen in the temporary closure of offices worldwide. Work and productivity cannot be stopped, and thus working from home is becoming the new norm. A dedicated workspace will boost your creativity and focus, and the good news is that you can create one in almost any home.
20 simplest ways to design your home office
1. Consider going monochromatic.
When working in a small space, sometimes less is more. If you've converted a small den into an office, consider a simple color palette that will look crisp, chic, and completely professional. A "boring" color scheme is sometimes the best way to add depth to a small space.
2. Select a Desk with Storage.
Some things you must have in your office (such as the perfect pen for taking notes), but clutter can make a small office appear even smaller. If you don't have a closet or space for a filing cabinet, consider getting a desk with built-in storage to hide all of your essentials.
3. Locate a Corner
Consider seldom-used corners and nooks when deciding where to put your desk in your small home. Look for unused wall space in your living room, kitchen, or bedroom, and tuck in a small desk. A writing desk can look stylish depending on how much space you need for your work.
4. Make a Workspace
We love how inventive this home office design is, especially if you have a few odd nooks and crannies that go unused. Consider converting a narrow hallway or an alcove into a home office. The additional built-in storage keeps this small space tidy and clean.
5. Make a Walk-In Closet Work for You
Consider giving up some of the space in your walk-in closet for a desk if you have one. Though it may appear strange to work next to hangers full of clothes, it can provide a great sound-proof space for taking calls (prep your background for those Zoom meetings).
6. Make Use of Your Staircase Landing
Is there no room for an office? Take a look at this lovely work-from-home setup at the top of a stairwell. This adorable perch is ideal for anyone who needs a small nook to work in but doesn't need a lot of storage space. Choose a secretary desk that includes some hidden storage.
7. Select a Double Desk
If you, along with your partner, work from home but only have enough space for one office, consider a longer desk area with enough workspace for two. Can't find the ideal desk for your room? A tabletop and a few filing cabinets serve as a low-cost custom desk.
8. Locate a Window
When it comes to a suitable environment for productivity, natural light is essential, so try to arrange your work desk near a window or in a room with plenty of natural light. If you can't find a bright spot, consider investing in a realistic light therapy lamp to brighten up your space.
Also Read: Insulating your Windows during Winter
9. Add Indoor Plants
Adding a few indoor plants to your office space is a great way to make it feel more cozy and welcoming. Pick plants that are simple to care for so that you can concentrate on your work rather than pruning.
See also: How to Start Indoor Herb Garden
10. Include a Standing Desk
Working from home can entail sitting for extended periods, so outfitting your workspace with a sitting-standing desk is the best way to encourage yourself to move around more during the day.
11. Include Wall Storage
Small offices frequently lack storage space, so think vertically. Consider installing a pegboard or wall shelving unit to store your essentials and display a few trinkets.
12. Incorporate Vintage Items
Small office spaces can instantly feel chic with a few purposeful accessories. We love decorating with vintage pieces because it's a simple way to add personality to a small space.
13. Create a Nook
Work with your home's architecture. Use the natural lines of your space to your advantage and find a nook or corner ideal for a small work area. Install a few shelves for extra storage and concentrate on good lighting.
Also Read: 10 Colors That Make a Room Look Bigger
14. Utilize a Closet
A seldom-used closet can be easily converted into a dedicated office space. To create a compact office anywhere at your place, measure a piece of wood to fit the wardrobe perfectly and remove the doors.
15. Maintain Cleanliness
Keeping clutter to a minimum is critical when you have a small yet functional office. Keeping your small space clean will make it appear larger and more open.
16. Include a Background Image
Consider removable wallpaper if you want to easily transform a corner of a room into a dedicated office. Wallpaper can easily set out a room and create specific spaces in your office, giving it a purposeful feel.
17. Consider thinking vertically.
Choose a desk with built-in vertical storage if you have wall space but not floor space. Look for a desk with a chic and minimalist design to avoid feeling bulky or taking up too much optical space in your room.
18. Utilize an Attic
If you have an unfinished attic, you could turn it into a lovely little work-from-home setting. Ceilings with angles and slopes and exposed rafters can provide the ideal backdrop for a creative workspace.
19. Rethink Your Workstation
If you do not have a room for a traditional desk, consider something a little more unusual, such as a bistro table. A round table is ideal for smaller spaces and allows you to move around more freely.
20. Assemble a Desk from a Shelf
Say goodbye to the traditional desk in favor of a shelf. A piece of reclaimed wood can certainly create a rustic work surface. Because you can use the wood to your exact specifications, this idea is ideal for limited square footage.
How can you make working from home more enjoyable?
Some people adore working from home, and they can't think of anything better than spending the day with their laptops clad in pajamas. Others miss the structure and casual conversations with coworkers in their offices. Working remotely for those who can do it, whether you like it or not, not every job lends itself to this kind of resilience; it is common for many of us due to the pandemic. There is a wealth of information on avoiding pitfalls while remaining productive and sane.
Here are some of the simplest things you can do to make this experience more enjoyable and productive.
Take good care of your body
You don't need to invest in a full-fledged home office setup; instead, pay attention to how your body feels while working from home. Working from home has the benefit of letting you change positions more frequently than working in an office. Experiment with various postures, whether you're sitting in a chair or standing at your kitchen counter.
Utilize your commute
How long was your daily commute before the pandemic? It can easily take anywhere from half an hour to two hours (or more) round trip for many people every day. It also adds up quickly. The key is to be calculative about how you spend that time. Schedule it in your calendar, just like you would a meeting. It does not have to be at the same time as your commute.
Make a sensory environment
Most workplaces have a joyless sensory landscape with dull color palettes, synthetic carpets, and humming HVAC systems. Add in the noise from open-plan seating, as well as the fact that many spaces are frequently too cold or hot, and the typical office can be a deeply unpleasant place to spend time, let alone get focused work done. When you work from home, you can be the workers in the study who have complete control over their environment — and create a sensory landscape that works for you. Look for ways to incorporate pleasant sensations into your work environment. Display an image that will give your eyes something to rest on while looking away from your screen. Play some natural sounds. Choose a brightly colored mug for this occasion.
See also: Warm Colors vs. Cool Colors in Home Design
Get some fresh air
The lack of daylight exposure in workspaces is one poorly designed aspect of many traditional offices. Most workers' only light source is the dull fluorescents above them during the day. You have more control over where you work at home, so if possible, choose a space near a window. If you don't have ample natural light in your room, use lamps to make it brighter. A daily dose of bright artificial light can also help let you keep the 24-hour internal clock in sync, just as too much blue light from our screens can keep us awake at night.
Make your workplace eco-friendly
Adding greenery to your workspace is a simple way to make it more cheerful. Plants that might struggle in the dim light of an office can thrive in your home, and you get the reward of being able to enjoy them when you're not working.
Conclusion
Our homes will significantly impact our lives as we begin to embrace the new normal. As a result, now might be a good time to make positive changes to the places where you spend most of your time.
Frequently Asked Questions
What is the ideal size for a home office?
A home office can vary greatly, but the average home office is 50 to 150 square feet. Some people, however, are perfectly content with a home office space as small as 30 square feet, whereas others would prefer up to 200 square feet for storage and workspace.
Should you position your desk near a window?
Windows will always be on your side. You'll be distracted if you face the view. Work at your desk and take in the scenery when you're on a break.
In what room of the house should a desk be placed?
You can place your desk as close to a source of natural light as possible. In addition, you should position your desk as close to a natural light source as possible. Some people prefer to face the window but place the desk perpendicular to it if that is too distracting.
What design trends have become obsolete or are no longer fashionable?
Interiors that are all white or have over-the-top tacky designs are definitely out of style. Extremes are also out. Mixing and balancing the spaces with some statement pieces is a good idea.